NBA Expert Betting Picks (Saturday, March 7): Our Staff's Favorite Bets for Hawks-Grizzlies and 76ers-Warriors Favorite Bets for
Credit:
Joe Murphy/NBAE via Getty Images. Pictured: Ja Morant (12) of the Memphis Grizzlies.
Saturday's NBA schedule features six entertaining games and our experts are betting on these specific matchups:
8 p.m. ET: Atlanta Hawks at Memphis Grizzlies
8:30 p.m. ET: Philadelphia 76ers at Golden State Warriors
See the bets they're making below.
Saturday NBA Betting Picks
---
Odds as of Saturday and via DraftKings. Get up to a $1,000 sign-up bonus at DraftKings today or see more offers and reviews for the best online sportsbooks.
---
Brandon Anderson: Hawks at Grizzlies
Spread: Grizzlies -6.5
Over/Under: 232.5
Time: 8 p.m. ET
Memphis and Atlanta both look like they have increasingly positive futures, but the present is another story right now with injuries besetting each team. The Grizzlies are struggling to get by without Jaron Jackson Jr. and Brandon Clarke, while Atlanta could be without Trae Young for a second straight game.
Memphis was blown out in Dallas last night, and they really need wins like this to keep their position in the playoff race. The team has really struggled to score without Jackson and Clarke, going under in five straight games.
The key here is Trae. He is the Alpha and the Omega of this Atlanta offense, and he is questionable tonight. Atlanta has little to gain by pushing him back before he's ready, and the Hawks over/under dropped a full eight points when Young was announced out against Washington last night.
I am getting my money in early today, knowing that the line could drop quickly once Young is announced out again tonight. Even if he plays, the Grizzlies have gone under and eight of their last 10, and 233 leaves some margin for error. After all, these teams just combined for 215 points on Monday head to head, and Trae was playing in that one.
The PICK: Under 233
[Bet now at DraftKings. NJ, PA, IN and WV only.]
Mears: How I'm Handicapping Tonight's Total
Update: The Warriors ruled Curry OUT with an illness after the analysis was published.
The over/under in this game has been all over the place already. It opened at 223 and then got heavily bet up right out of the gate, getting up to an even 227 at some books, which is where sharp bettors bought it back: We tracked two separate steam moves on the under at 227 early this morning.
As of around 10 a.m. ET, the majority of tickets (60%) are on the over, but way more of the total money (62%) wagered is on the under, further highlighting the sharps buying back the number once it got too high in their opinion.
I think the biggest question here is around the 76ers, but let's first start with the Warriors.
Curry returned on Thursday and my hypothesis then was that the over was going to provide some value. The reasoning is pretty simple: A lot of people love to focus in on on/off differential numbers for players — how they affect their team's offensive and defensive efficiency marks. But that's just a piece of the puzzle.
In fact, perhaps even more important is how a player affects his team's pace, which is I think is an underrated part of evaluating totals in the market. And the data is pretty clear: Steph might have the greatest impact on his team's pace of any player in the league.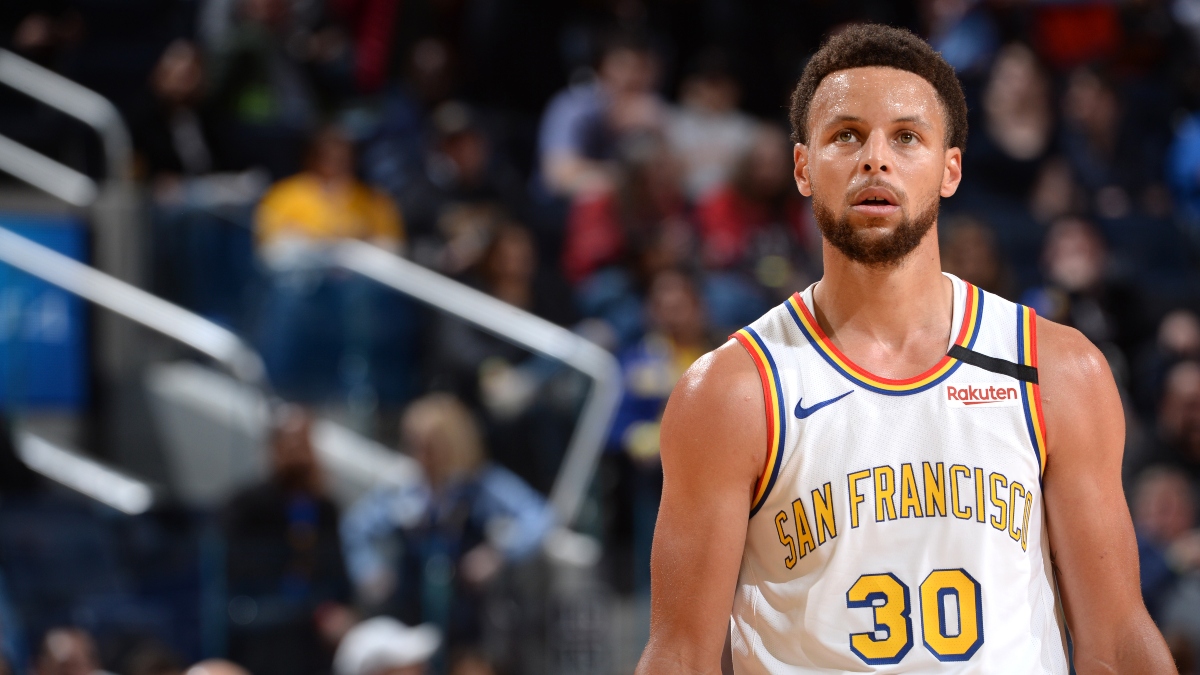 And we saw that Thursday: The Warriors, who haven't played very fast this season, increased their possessions against the Raptors. The over hit with ease as a result, even despite the Dubs losing by eight at home. I would expect the same thing: Steph will push the pace when on the floor.
That's a variable I'm confident in, but I'm not so sure about Philly. The data on lineups without Richardson, Embiid and Simmons — who are all likely out again today — is muddied by the fact that the sample we're looking at largely includes bench units vs. bench units.
Those lineups have been very good offensively and very good defensively. Some of them, including tonight's projected starting lineup, have been pretty good at pushing the pace. Against the Kings on Thursday, they excelled in a fast-paced game, although most of their damage came in the halfcourt. It's a very weird sample to analyze, as it's very unrepresentative.
Looking at some other games without their star players, against the Lakers they got out in transition, but the game overall was pretty slow, which is how the Lakers like to operate. In the game before, they didn't really get out in transition, but the game overall against the Clippers was fast-paced.
My theory is that without their star players, the Sixers don't really have a strong identity and can be swayed into playing their opponent's style. And I think with Steph back on the floor, the Warriors will adapt to his style, which is to play with increased pace.
Yes, I'm worried about the Sixers, who have been absolutely miserable on the road this season, especially offensively. But they've also been pretty bad defensively, and we know the Warriors are bad defensively.
So we have knowns: bad defenses. And we have unknowns and things we have to guess on: pace and offensive efficiency. I think the current over of 225/225.5 is likely not fully accounting for the uncertainty — i.e., it's assuming this will be a slow-paced game, and I don't think we can know for certain that's true; in fact, I would lean toward it not being that way.
Given all of that, I would lean towards the over here yet again.
PICK: Over 225.5
How would you rate this article?