NBA Betting Trends, Notes & Stats: Pelicans, Cavaliers Rising in Power Ratings, Teams ATS After Playing Pacers, More
Credit:
Getty Images/Matt Roembke, Action Network. Pictured (L-R): Jayson Tatum, Kevin Durant, Donovan Mitchell, CJ McCollum, Devin Booker.
Here's a look around the NBA betting trends you need to know from the last two weeks, starting with our look at the top-10 teams in my power rating.
There are power rankings, and there are power ratings. Power rankings are subjective determinations of team strength. Power ratings are used by handicappers to evaluate what the spread should be.
My power rating evaluates how many points a team is better or worse than an average team. Here are the top-10 teams by my numbers, with manual adjustments.
This is not subjective, and I'm not always going to agree with them. It's one way to view the value of teams.
Power Rating Top 10

No. 1. Boston Celtics (+16)
This is just an absolutely ridiculous number for a team that's been absolutely ridiculous.
Larger samples should drag these absurd figures down as the season goes along, but the Celtics were +12 two weeks ago, and now they're higher, despite the loss to the Miami Heat last Friday.
I wrote about Boston's offense and its ridiculous performance on Friday. Put simply, if they continue to play like this, the Celtics are the runaway NBA title favorites, and their number (+375 at some books, +400 or longer at others) should be way shorter.
So, do you believe they're this good?

No. 2. Brooklyn Nets (+13.5)
I know, I know, I know. This number is nuts. The Nets are 13-11.
So how are they this high? They have the third-best halfcourt offense, the fifth-best halfcourt defense and are 16th in transition offense and defense.
The Nets are 11-5 since starting the season 2-6. They have Seth Curry and T.J. Warren, who were both out to start the season, back in their lineup — they're surging.
The star players get so much credit, but two guys who really need to be acknowledged for their contributions are Yuta Watanabe, who leads the league in 3-point percentage among qualified shooters, and Nic Claxton, who is allowing just 0.89 points per possession in pick-and-roll coverage on switches.
No. 3. Cleveland Cavaliers (+8.5)
The Cavs are 10-1 vs. teams under .500 and 5-7 vs. teams over .500. That's not damning; that's the profile of a good team. Teams that are especially good vs. teams over .500 tend to regress, either in the regular season or playoffs.
The Cavs are the team closest to having a top-five Schedule-Adjusted Offense and Defense, per Dunks And Threes, with the sixth-best offense and the No. 1 defense (overtaking Milwaukee this past weekend).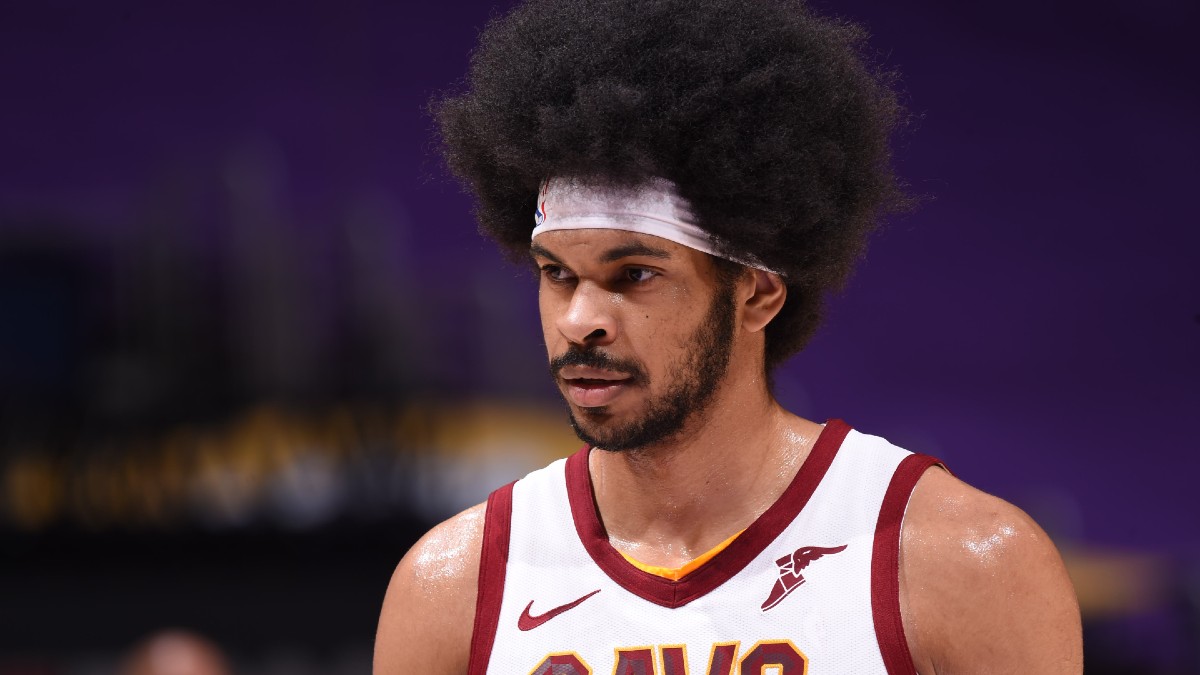 Jarrett Allen is No. 1 in Defensive EPM, he's No. 3 in his team's Defensive Rating with him on-court, and he's averaging 11 boards and 1.6 stocks per game. He's +4500 at FanDuel for DPOY and certainly worth a look.
No. 4. New Orleans Pelicans (+7)
A central component to team strength, not just in the regular season but the playoffs, is having multiple solutions to the problems you'll face.
The Pels have looked good with their starting unit, looked good without Zion Williamson and looked good without Brandon Ingram and CJ McCollum. They're finding answers to different questions, which sets their ability to throw different approaches at opponents.
The Pelicans are the favorite to win the division at +140 at SuperBook, but are +160 at DraftKings. They should be the favorites.

No. 5. Utah Jazz (+6.5)
When the Jazz went on a slide, losing eight of 10, there was a lot of "Oh, see, they're just as bad as we thought" commentary.
But they were without Mike Conley, who is back to running and shooting after his knee injury, and the team is providing updates on him daily instead of just saying he's out indefinitely.
They also hit a brutal stretch of their schedule. Eight of their last 14 games have been either their third game in four nights or rest disadvantage games, including back-to-backs.
This is all to say that Utah is still probably going to regress, but I'm not sure we're going to see a massive fall off to lottery range without more injury issues. Utah has the No. 1 Schedule-Adjusted Offense, and that's usually enough to keep you up over a 30-win pace.

No. 6. Phoenix Suns (+6.5)
Phoenix is 7-3 vs. teams under .500 and 8-4 vs. teams over. 500 — that's incredible balance. I said earlier about Cleveland that most teams wind up under .500 when facing teams over .500, but the truly elite teams put up records like this.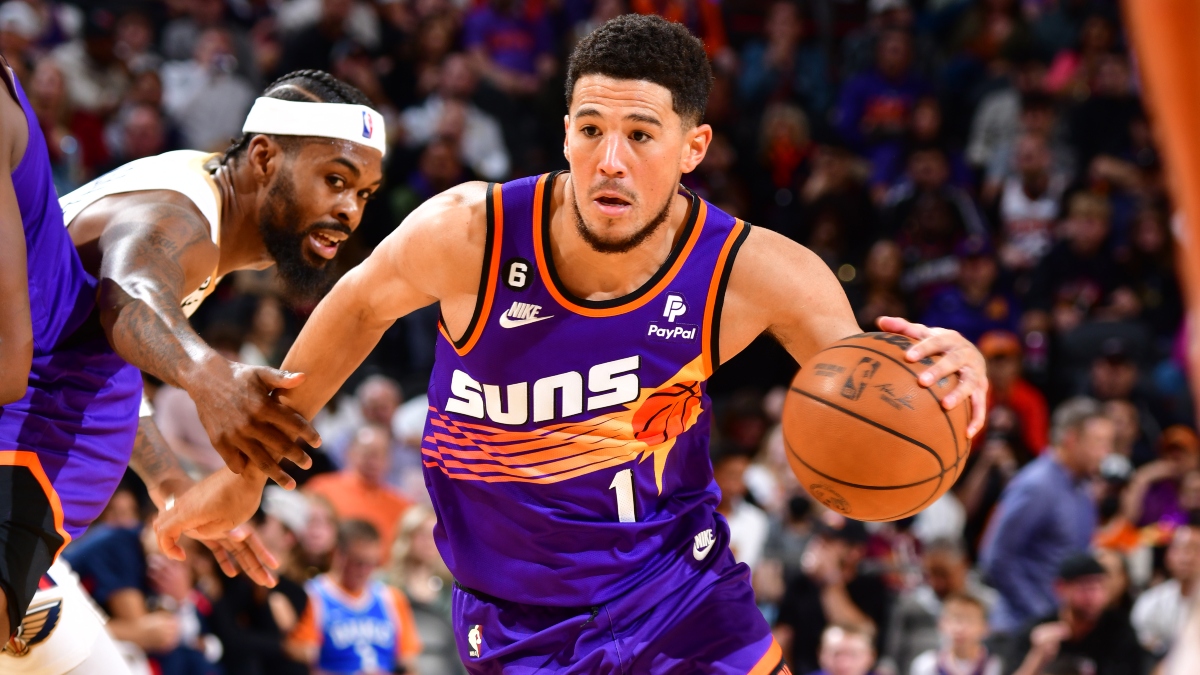 One betting note: The Suns are just 1-4 SU and ATS as a road favorite this season, and 14 of their 22 games have been at home. So maybe be cautious with them on the road.

No. 7. Golden State Warriors (+6)
The Warriors are 7-3 in their last 10, but they're still just 2-10 on the road — truly bizarre stuff.
While everyone frets about their road record, they are 11-1 straight up and 9-3 ATS at home. They're also 7-2 ATS when favored by more than six points.
I continue to believe the Warriors have the best current value as a buy-low spot to win the West and the NBA title.

No. 8. Dallas Mavericks (+5.5)
Dallas is 4-7 straight up and 3-7-1 ATS against teams under .500 this season — another truly bizarre note.
Their ATS wins have come against the Suns, Grizzlies, Nets, Nuggets, Warriors and Knicks. Five of those six teams are currently in the playoff picture. They have straight-up losses to the Magic without Paolo Banchero, the Wizards without Bradley Beal, the Nuggets without three starters, including Nikola Jokic and the Pistons without Cade Cunningham.
My number is too high on them, but it does bode well for their long-term prospects if they can just, you know, stop sucking.

No. 9. Sacramento Kings (+5)
LIGHT. THE. BEAM.
The Kings have just been a joy to watch and are playing great basketball. Their home court performance has been good (7-4 ATS), but their road performance has been just as strong at 7-3 ATS.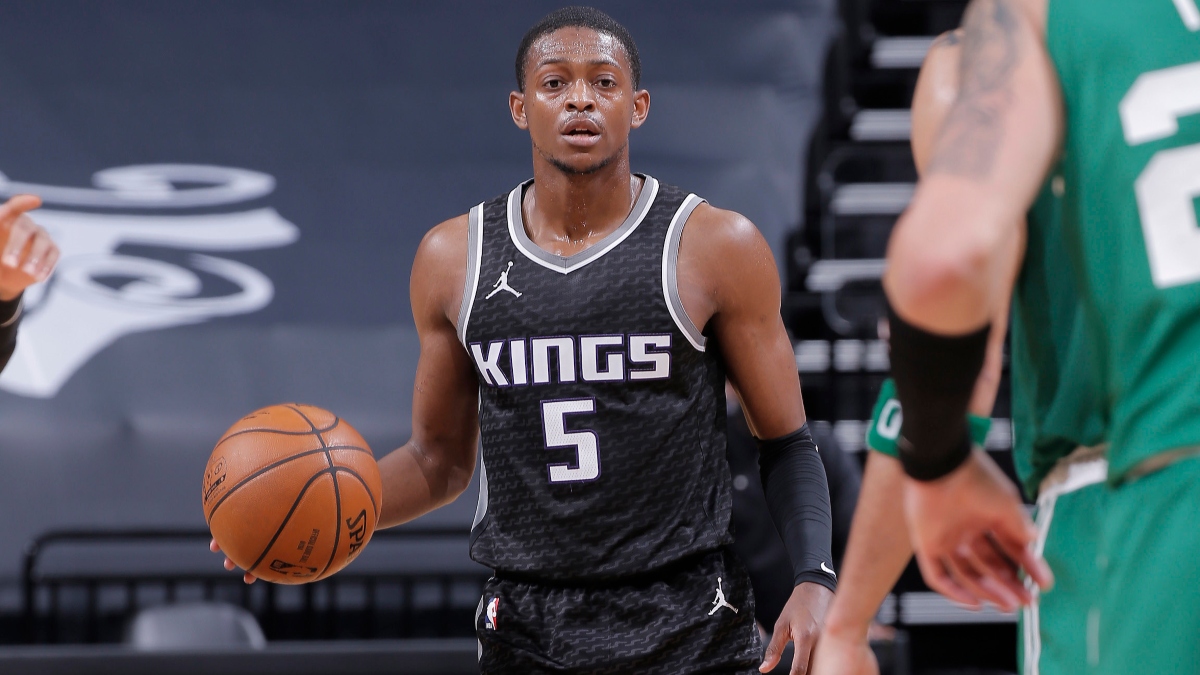 Do you want a good comparison for the Kings? The Celtics, the best team in the league, are No. 1 in Schedule-Adjusted Offense and 19th in Schedule-Adjusted Defense. The Kings are second in Adjusted Offense and 23rd in Adjusted Defense.
Just sayin'.
No. 10. Philadelphia 76ers (+4)
The Sixers weathered the injury storm. James Harden is set to return on Dec. 5, and Tyrese Maxey could be back in 2-3 weeks. The question is whether the return of Harden will hurt their sixth-ranked defense.
Next five teams: Bucks (+3.5), Heat (+2), Timberwolves (+2), Nuggets (+1) and Hawks (+1).
---
NBA Betting Trend: Can't Out-Pace 'Em
You can always find a trend, but for it to be useful, you need to be able to apply some logic to it. It does no good to say "The Rockets are X-Y ATS against the Kings in the last 10 years," given how many different iterations there are of the Rockets and Kings in that time.
But one trend I've been interested in how teams perform after they play a very specific team. You get used to one style or go through a bruising, tough, taxing game, and then the next game you're a little flat. Or, you play an easy team and you're well-rested.
This season there are two teams where opponents struggle after playing them, and it makes a lot of sense.
The Bucks are a big, physical, bruising team. They just wear you out; trying to guard Giannis Antetokounmpo is exhausting for 35 minutes in a night. As a result, opponents are 6-13-1 ATS this season after playing the Bucks.
Since Mike Budenholzer took over as the Bucks coach, opponents are 175-199-9 ATS (46.5%) after playing the Bucks. They're also 45.5% straight up in that spot.
The other team is the Thunder, where opponents are 7-15-1 ATS (33.3%) this season after facing them. Nuggets coach Michael Malone compared playing them to "a root canal" as they are just well coached and play with discipline.
And then there's … the Pacers?
Teams are 9-14 SU and 8-14-1 (36%) ATS after facing Indiana this season, according to Bet Labs.

Going back to last season, teams the game after facing Indy are 37-66-2 (35%) ATS. That's a lot of games.
Then you've got that even straight up, teams are 47-58 (44%). Favorites after playing the Pacers the last two seasons 19-36-1 (34.5%) ATS. And when teams played the Pacers at Gainbridge Fieldhouse in the previous game, they were 16-37-1 (30.2%) in their next game.
OK, so what's the reason for this? What is it about Indiana — a team that tanked at the end of last season and is off to a good-not-great start this season — that makes it tough for teams after they play the Pacers?
The Pacers play at the second-fastest Pace and third-fastest offensive Pace behind the Kings and Thunder. But really, this goes beyond any particular team construct.
Of all opponents going back to 2003, teams have the third-worst ATS record against Indiana at 47.8%. (The median is 50.1%, for perspective.)
But it's more pronounced this season. Whether it's style of play, the travel in and out of Indiana, or some unknown factor, it's something to watch.
---
Notes & Stats
The Celtics are the most profitable team in the NBA against the spread the last two weeks (6-2), with the Heat (4-1-1) and the Lakers (5-2) right behind them.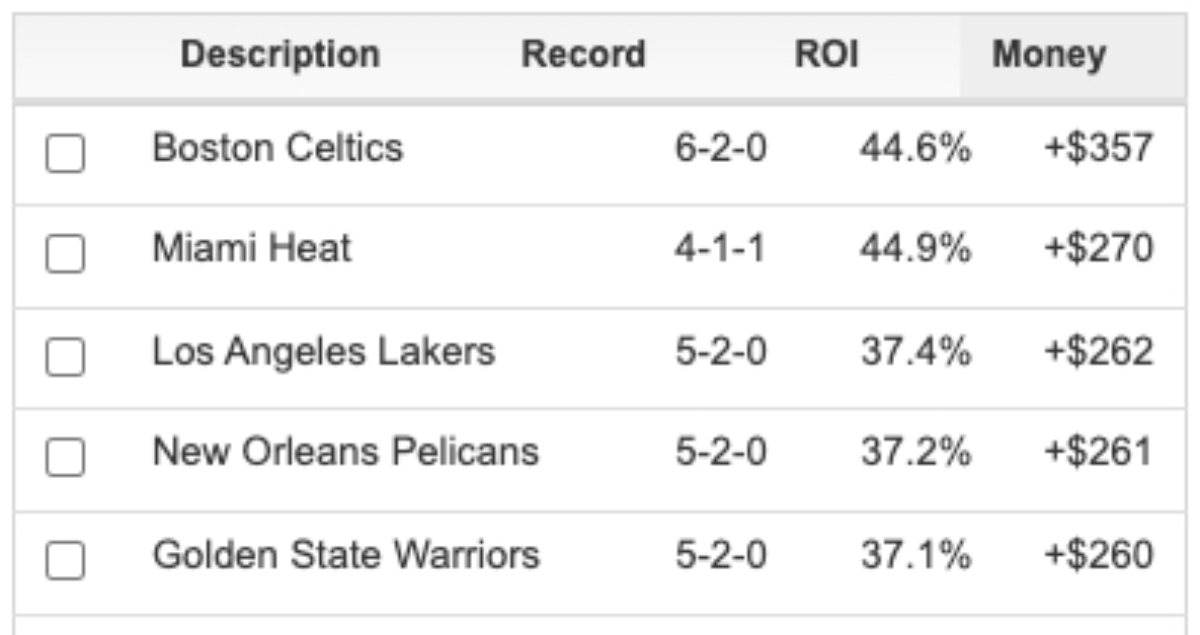 The team with the best ATS margin the last two weeks? Your Los Angeles Lakers at +7.58 points. The market has been slow to adjust to their improved play, while Anthony Davis is likely playing a bit above his usual head. I wouldn't anticipate these lines being soft through the next two weeks.
The Wizards' defense has imploded, as the over has hit in six of their last seven games. The Wizards, despite losing five of those six, have gone over their team total in all six.

The Cavaliers have held their opponents under their team total in five of their last six games.

Dogs that cover in the NBA have won outright around 63% of the time since 2003. This season? Dogs that cover have won outright over 70% of the time. So make sure you're sprinkling that moneyline in the right spots.
How would you rate this article?
This site contains commercial content. We may be compensated for the links provided on this page. The content on this page is for informational purposes only. Action Network makes no representation or warranty as to the accuracy of the information given or the outcome of any game or event.