NBA All-Star Saturday Predictions: Our Staff Picks a Winner for the Dunk Contest
Credit:
Jonathan Bachman/Getty Images. Pictured: Aaron Gordon #00 of the Orlando Magic competes in the 2017 Verizon Slam Dunk Contest.
Is high-flyer Aaron Gordon our staff's favorite pick for this year's Dunk Contest?
See our full analysis of All-Star Saturday's most anticipated event.
There may not be another competition in sports that is as highly anticipated and equally as disappointing as the NBA's Dunk Contest has been outside of a handful of spectacular years.
Every All-Star break there's a significant amount of hype and excitement around the field, but often the results to match up. This year's field, however, feels like it could meet, if not exceed expectations.
The 2020 field features three former participants: Lakers center Dwight Howard (2007, 08, 09), Orlando Magic Aaron Gordon (2016, 2017) and Miami Heat forward Derrick Jones Jr. (2017). Milwaukee Bucks guard Pat Connaughton is the only first-timer.
So who's taking home this year's hardware? Our staff picked their winners for Saturday's premiere event at All-Star Weekend in Chicago.
Wob: Derrick Jones Jr.
OK, so, this is an event which relies on judging to determine a winner. It's the NBA's version of boxing.
To win, you have to accomplish several things.
1. Ooh and aah the crowd: The crowd's reaction often times solicits what numbers the judges will hoist.
2. Be original: At this point, it feels like every dunk has been done. It sucks, but it's just the truth. Like jokes on the internet, someone has probably said it at some point before you, but that doesn't mean you can't remix it with your own style. Figure out a way to make the audience go: "Holy s***, what was that?" and it's a fast-track to the trophy.
3. Finish the dunk: This should be a given, but every year somebody tries something ludicrously ambitious that sounded great in the film room, but is embarrassing as hell once performed in public.
4. Get air time: When you're in the air longer, you can do more things. If you're schtick is gimmicks because you're a 27th-year center who can't jump over a credit card anymore, the crowd will not be impressed. I promise you this.
5. Embrace nostalgia: This weekend, especially in Chicago where Michael Jordan reigned supreme, if you're able to pull off a tribute dunk to His Airness, it carries extra weight.
If you have the bunnies to attempt a free throw line dunk from BEHIND THE FREE THROW LINE (only Derrick Jones Jr. has this ability), it's an automatic win.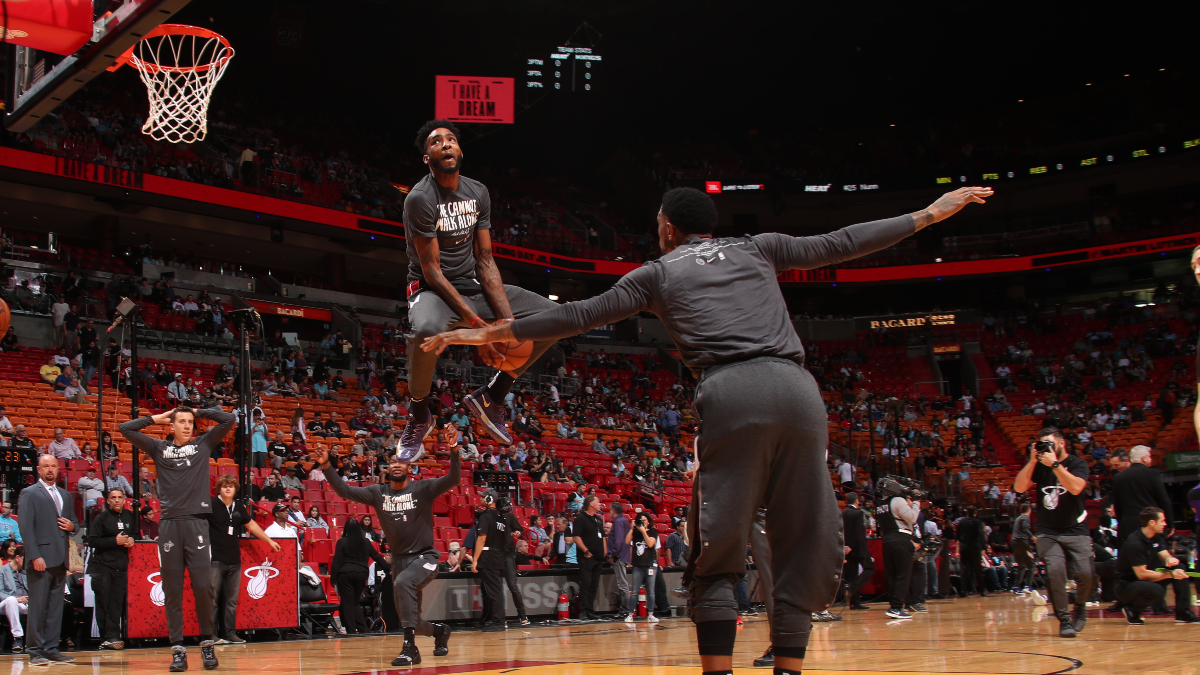 Kobe is also in play, as the entire weekend will be a memorial of his legacy. If you go for a Kobe dunk, I say these words with all sincerity, YOU BETTER MAKE IT.
Jones is the only one on the list with the ability to check every box.
Aaron Gordon has the "I was robbed" narrative from his previous dunk contest campaign against Zach LaVine, and it will surely carry weight with the judges. I just don't know what dunks he has left that he didn't attempt in what is now the greatest dunk contest of all-time.
The clip is empty, and the make up call policy will not be strong enough to override Jones' ability to re-define human physics. One of these days, DJJ is going to take off for a dunk and just never come back down. I hope that day is Saturday.
---
Matt Moore: Aaron Gordon
He's the best dunker in the competition. He's the most fun dunker. He has the longest elevation. He cares enough to participate again. His B-game is better than anyone else's.
I love Jones as a dunker. But he's a violent dunker, and violent dunkers tend to miss off the back iron trying to throw it down too hard. I'll take Gordon.
---
Matt LaMarca: Dwight Howard
I know Howard has become a bit of a punchline, but this dude put together one of the greatest dunk contest performances I've ever seen.
Of course, everyone remembers his "Superman Dunk", but I would argue that his first dunk that evening was just as impressive:
Quite simply, there are very few big men in the history of the NBA who can fly like him. He's obviously getting up there in age a bit, but being 34 doesn't exactly mean he's ancient.
I'm expecting him to turn back the clock, so I think grabbing him with the worst odds in the entire field is appealing.
---
Brandon Anderson: Derrick Jones Jr.
It's too bad we can't bet on what type of dunk will win the Dunk Contest, because it's in Chicago and it's an absolute mortal lock that someone is doing the free throw line dunk, which will make the crowd go absolutely berserk.
Howard has never done anything good from the free throw line in his life, and there's no way Pat Connaughton can jump that far. I think Jones is the most likely one to pull it off, and he's also got the most typical size for a winning dunker.
Sorry Aaron Gordon, looks like you come up short again.
How would you rate this article?