Moore: The Weirdness Surrounding the NBA Finals and Why the Raptors' Stock Is Peaking
Credit:
Kyle Terada-USA TODAY Sports. Pictured: Steve Kerr and Steph Curry
Kevin Durant won't play in Game 4 of the NBA Finals. He didn't even practice, as he was expected to do.
As the injury lingers, the weirdness surrounding the NBA Finals grows and Golden State's margin for error shrinks.
Matt Moore reports from Oakland, where the Raptors appear to have a decided advantage as uncertainty engulfs the other side.
OAKLAND — Everything is … askew.
The NBA Finals have become a weirder circus than usual this week. A minority owner — a term that will be extinct within the calendar year, by the way — laid hands upon a player before shouting obscenities at him, which eventually earned him a one-year ban from all NBA activities and a fine of a $500,000. (A fine, by the way, that may take upwards of a half hour for him to scrounge from his cushions.)
There was the controversy around the wife of the Warriors' majority owner asking Jay-Z for his drink order in front of Beyonce, who looked annoyed. There was Klay Thompson being held out against his will by the medical staff. There was Toronto going supernova from 3-point range. There was another bad game for Draymond Green. There was a meaningless 47-point performance from Stephen Curry, who might as well have been trying to out-swim the tide, a "quiet" 30-point performance from Kawhi Leonard and even a top-level, great Kyle Lowry game.
But the weirdest part came the day after all of that, and of course, it had to do with Kevin Durant.
When the line for Game 4 dropped Wednesday night, it indicated that Durant was unlikely to play. The sense from everyone in Oakland, though, was that it was still on the table. Steve Kerr himself had told reporters that Durant was set to scrimmage, if even with the non-rotation players, on Thursday, with practice as the last threshold to cross before he was cleared to play.
Then, on Thursday … well … none of that happened. Kerr said Durant was out for Game 4, definitively. And the description?
Misspoke?
I have nothing to report on this being anything but the truth. Kerr says he misspoke, and hey, you're in the Finals, dealing with a lot of questions about a lot of things, and it's a simple slip by Kerr or by the training staff in the plan for Durant. It's just … weird.
To review: Durant suffered the injury on May 8 vs. the Rockets. An MRI confirmed a mild calf strain the following day. The original diagnosis was for 2-4 weeks. Durant on May 24 confirmed that the injury was worse than previous calf strains he'd had:
Durant traveled with the team to Toronto for Games 1 and 2, and Steve Kerr described him as a "longshot" for Game 2.
OK, so he wasn't going to play in Game 2, but that description indicated that it was conceivably possible for him to play in that game, back on June 2. Durant himself had given a positive update on May 31, the day after Game 1.
Durant didn't play in Game 2.
He didn't play in Game 3.
Now he won't play in Game 4.
Durant hasn't been on the bench during his absence. There's nothing uncommon about this; a lot of players have a hard time emotionally when they can't play, physically sitting in bench seats with their injury, or are getting treatment during games. Kevin Garnett didn't sit with his squad in 2009 during his injury and his devotion to his team was without question.
He has, however, been present after the games, on camera, in the locker room:
There's been a lot of attention paid to the location of the ice, nearer to the Achilles, but you're not going to find a doctor saying that's definitely an Achilles injury, you're not going to find any reason why the Warriors would lie about it, nor that if it were an Achilles injury why he wouldn't already have had surgery on it and be in recovery.
The reason I bring all of this up is that none of it makes sense. There's no deductive conclusion from looking at all the weirdness, at least not one that I'm primed to see. League personnel when queried have been similarly confused. Again, things seem "weird" with KD, which continues to be a weird trend with him even if this is isolated to his injury, specifically.
There are Occam's Razor answers, to be sure. The recovery time was nebulous from the start and simply did not follow an optimistic or even average outlook. It lingered, as calf injuries tend to do. At any other point in the season, this is no big deal.
But at the earliest, we won't see KD until Game 5. The Warriors win Game 4, and they've kept themselves alive. Do they need Durant? If they lose, they're on the edge of oblivion. Is there any point?
Here's the bigger problem: The Warriors now have to win three of four over the Raptors. With Durant, is that possible? Sure. It's possible without Durant. Three A-games from Golden State and no A-games from the Raptors gets the job done. With Durant their A-game bests Toronto's giving them a better margin for error in the other games.
But the percentages have dropped. The Warriors are no longer safe when things go haywire, even with Klay Thompson back. This is a real battle and the Warriors have a limit on their RPM that has not existed in previous years. The Raptors, conversely, have shown over the past seven games that they are riding a wave of momentum. The timing makes an already difficult terrain treacherous for the Warriors.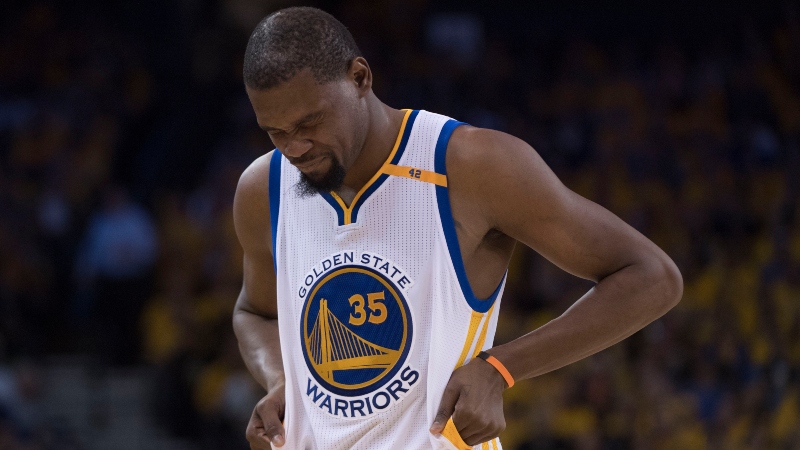 All of the uncertainty has propelled the Raptors to being favored to win the Finals, ending a 1,100+ day streak for Golden State. And even with the movement, the Raptors are still the better betting value of the two.
The Warriors have to hit every note perfect from here on out. They may get the best player in the orchestra back, they may not, but there's no way of knowing whether he'll be in tune or not.
Either way, the curtain is opening on this final chapter and no one's quite sure what's going to come out of the strings and horns.
But from all signs?
It's going to sound pretty weird either way.
How would you rate this article?