Moore: How to Read Toronto's Game 3 Blowout and the Mysteries that Will Swing the NBA Finals
Credit:
Credit: Cary Edmondson-USA TODAY Sports. Pictured: Danny Green and Steph Curry
The Toronto Raptors won Game 3 of the NBA Finals in blowout fashion, taking a 2-1 series lead.
Matt Moore analyzes what is (and isn't) sustainable from Wednesday night and how a few looming mysteries -- Kevin Durant's health chief among them -- could change everything.
OAKLAND — It's a trap.
Trying to work through all the variables in Game 4 of the NBA Finals between the Warriors and Raptors is fraught with complications.
The Raptors won Game 3 because:
Klay Thompson was out with his hamstring injury, which meant that not only could the Raptors send as much help as they wanted at Steph Curry, but upon rotation, they didn't have to worry about a single player scoring off the bounce.
The Raptors shot 17-of-38 from 3-point range, the most 3-pointers made by a visiting team in Finals history.
Kyle Lowry finally had a good game, scoring 23 points on 50% shooting with nine assists.
Kawhi Leonard had a "quiet" 30 points, six boards and six assists.
Danny Green and Fred VanVleet combined to shoot 9-of-16 from 3, far from an outlier performance, but still not something you expect to get on a nightly basis.
Kevin Durant missed the game with continued rehab from his calf injury.
The Raptors held the Warriors to a 110 offensive rating despite 47 points from Steph Curry, in large part due, again, to the injuries.
So we have an incredible game from the Raptors, in which they got everything they need to win, and a game where almost everything that could go wrong for the Warriors went wrong. The result was proof of the very bar it takes for Golden State to not have a shot at winning: no Klay, no KD, no Looney, a bad shooting night for everyone else, and a phenomenal Raptors performance. You do all that and the Warriors have no shot. Anything less and the Warriors are within range.
In a game that was within 12 before the Warriors finally ran out of gas as the Raptors kept hitting haymakers, let's apply Klay Thompson who is likely to play in Game 4 and Kevin Durant, a maybe.
Is that enough for Warriors -5.5 to have value?
Not yet. Toronto had several games vs. Milwaukee that felt unsustainable. Remember Game 5? The Raptors needed 18 3s, including seven from Fred VanVleet, and an incredible fourth quarter to beat the Bucks by six. And while the Raptors regressed a little offensively in Game 6, their defense propelled them to a series-clinching victory.
Milwaukee missed a world of uncontested looks in that series, but no one on the Warriors is forcing open looks with only Curry as a real perimeter threat. If Klay Thompson returns, the Warriors are closer, but the Raptors remain able to best them with their best shot.
The Raptors' A-game still beats the Warriors anything-less-than-A-game without Durant.
So it comes down to Durant. Again.
After the game, the Warriors didn't seem panicked, but they were never going to panic. You panic when something you desperately want that you've never had slips away. You panic when facing the letdown of something you've poured yourself into. The Warriors have established such a high baseline that they're just here. It's not that they don't want it, or haven't worked for it. But there's no emotional cost to falling short. If they lose this series? Well, the rationale is pretty simple: We were hurt, and it's really hard to win three in a row and four of five. The stakes are just lower for them.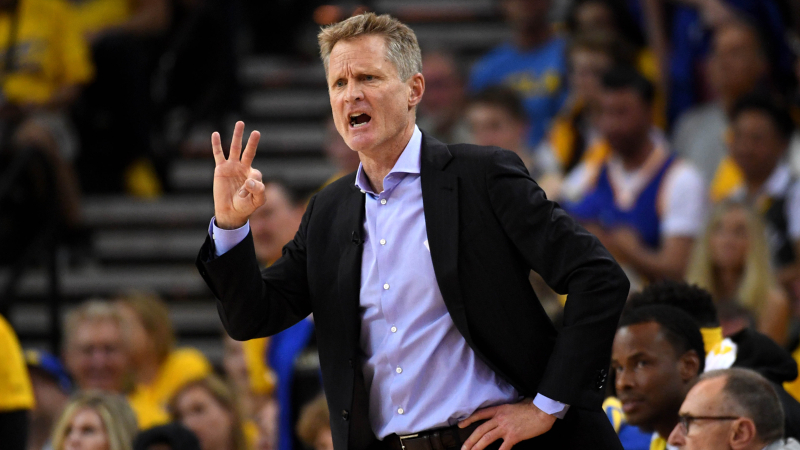 The Raptors are even-keeled, because you take on the personality of your best player, league executives often say, and Kawhi Leonard is absolute ice. So neither team is on the edge of excitement, neither team is too high strung.
Back to Durant: The line indicates KD is not expected to play. When we talked to bookmakers in-between Games 2 and 3, they indicated that fully healthy, the Warriors would have been 9-point favorites in Game 3. The pre-game movement of the Warriors from -5 all the way down to -2.5 at some books indicates that the Game 4 line reflects Klay Thompson playing and KD still being out.
Durant is expected to practice 3-on-3 and 5-on-5 tomorrow, according to media reports. If that goes well, the line may very well shift to Warriors -7.5 at the very least. But at that point, the value has to be on the Raptors. They've shown too much firepower and the Warriors' big problem in this series has been their defense.
The Warriors gave up a 124 defensive rating in Game 3, marking the fifth time this postseason they've given up a 120+ defensive rating, after giving up six total in the four prior Kerr postseasons. Durant and Thompson fundamentally raise the Warriors' defensive floor, but even with those players, they're just not the same defensive team they've been for whatever reason, even beyond the injuries.
Can Golden State win a defensive slugfest with an even standard performance from 3/5 of the Raptors' offense? Will Durant be able to move well enough to defend? Will Thompson?
At this very moment, Over 216 seems like the best number on the board, given where all things stand.
But … Durant looms.
Durant getting buckets on his own in isolation forces the Raptors to take the ball out, helping the Warriors avoid bad cross matches and contain Toronto's athleticism in transition. Durant's defensive presence improves the rebounding and limits Toronto second-chance points. Durant's length allows the Warriors to better contest shots at the rim and gives Kerr the flexibility to play smallball viably with Green at center.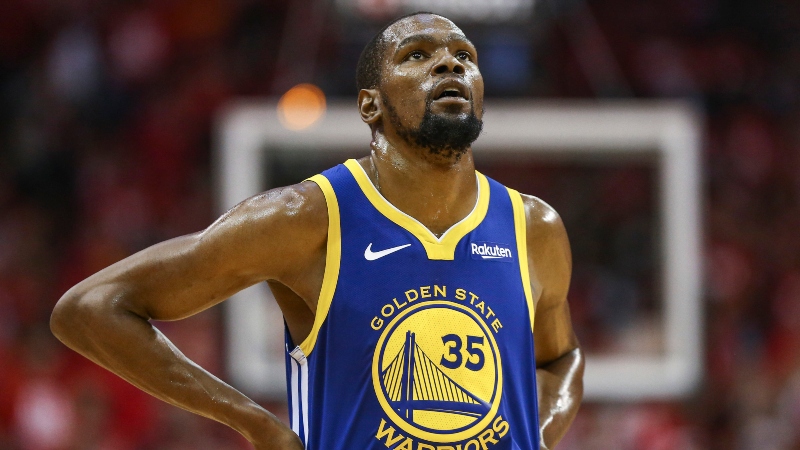 Everything changes with Durant, and yet it doesn't change enough to have absolute confidence in Golden State. So while Toronto has value right now, it might actually have more value if Durant returns.
Game 3 was winnable for the Warriors … until Thompson was a late scratch. But the Warriors do appear to be nearing the end of their energy reserves.
One way or another, this series could turn quickly. A Raptors win on Friday all but ends it, past 3-1 histories good and bad for the Warriors be damned. This is the first must-win for the Warriors since 2016, Game 7. They've found a way so often. But who knows who "they" will be on Friday. And until we know that, there's very little way to determine when to get in.
Media and league folks who often have definitive feelings about this series have no real feel for it, and that hasn't changed after an injury-plagued random Game 3 lost to the ages. Narratives are building, the Raptors can at least see the edge of history on the horizon, but there's still too much we don't know, too much we have to figure out. Until then, tread lightly.
How would you rate this article?