NBA Finals Betting Trends: Lakers Streaky Shooting, Live Betting Opportunities, More
Credit:
Fernando Medina/NBAE via Getty Images. Pictured: LeBron James #23 of the Los Angeles Lakers during Game 3 of the NBA Finals.
We are three games into the 2020 NBA Finals and a one thing has become apparent: The Miami Heat will not go quietly into the night. After back-to-back blowout wins by the Los Angeles Lakers, Jimmy Butler and the Heat had an impressive win in Game 3.
With a decent sample size of information in front of us, our NBA crew is looking at some key trends that can help us place some winning bets as the series carries on.
Matt Moore: Fade Lakers 3-Point Shooting
The Lakers are somehow bombing from 3-point range. A scout texted me the other night to ask where this came from with LA, with the Lakers having been such a low 3-point volume team all season.
The Lakers shot more than 40 3-pointers in a game just three times during the entire regular season and playoffs entering this series. They've attempted 40 or more twice in the three Finals matchups. That's just a huge rate for a team that ranked 23rd in 3-point attempts per 100 possessions in the regular season.
The Lakers are shooting with confidence, but that's beginning to border on hubris. In Game 1, the Lakers shot 39% from 3-point range, with Danny Green (AKA Icy Hot as he was known in San Antonio) finally having a big shooting night. But since then, it's cooled off.
Over the past two games, Green is shooting 1-of-12 combined from 3-point range. Kentavious Caldwell-Pope is shooting 3-of-14, and LeBron James is shooting 4-of-13 from deep.
Now, it's been fine because Markieff Morris, Alex Caruso and Rajon Rondo have all shot better than 40% individually. But it's a sign that what was so dominant in Game 1 might be starting to regress.
The Lakers went over their team total in Games 1 and 2, easily, but went under by 9 points in Game 3. This is not an offensive juggernaut. Given the likelihood of Frank Vogel reining in the shooters a bit with more focus on quality shots in Game 4 and the continued likelihood of some shooting regression from a hot stretch, there might be value on the under, at least on the Lakers side.
Brandon Anderson: Lean On Live Betting
We have a series! We have a series? We have a series.
I can't really make up my mind, which is pretty consistent with both these teams during the postseason. I never really believed in the Heat against the Milwaukee Bucks or Boston Celtics. The favorites just looked like the better team and I never caught on to what the Heat were doing to win over and over again until it was too late.
With the Lakers, I continue to see this supremely flawed team that's over reliant on two superstars, one of whom tends to disappear for stretches at unexpected times. I see a bunch of unreliable role players who sometimes hit 3s or make the right defensive rotation but sometimes give me that distinct 2018 J.R. Smith feeling. But unreliable is sometimes good too.
Sometimes it means getting Rondo, Caldwell-Pope and Green hitting a string of 3-pointers. So far, those two superstars have been enough along with one or two winners from that night's role player roulette.
And so here we are in the Finals. The Heat do not look like the better team, but keep making plays anyway and stole a game late with energy and confidence that they were the better team and that they'd pull away late. The Lakers do not look like a complete champion, but their superstars continue to find a way and they're finding just enough role players to work.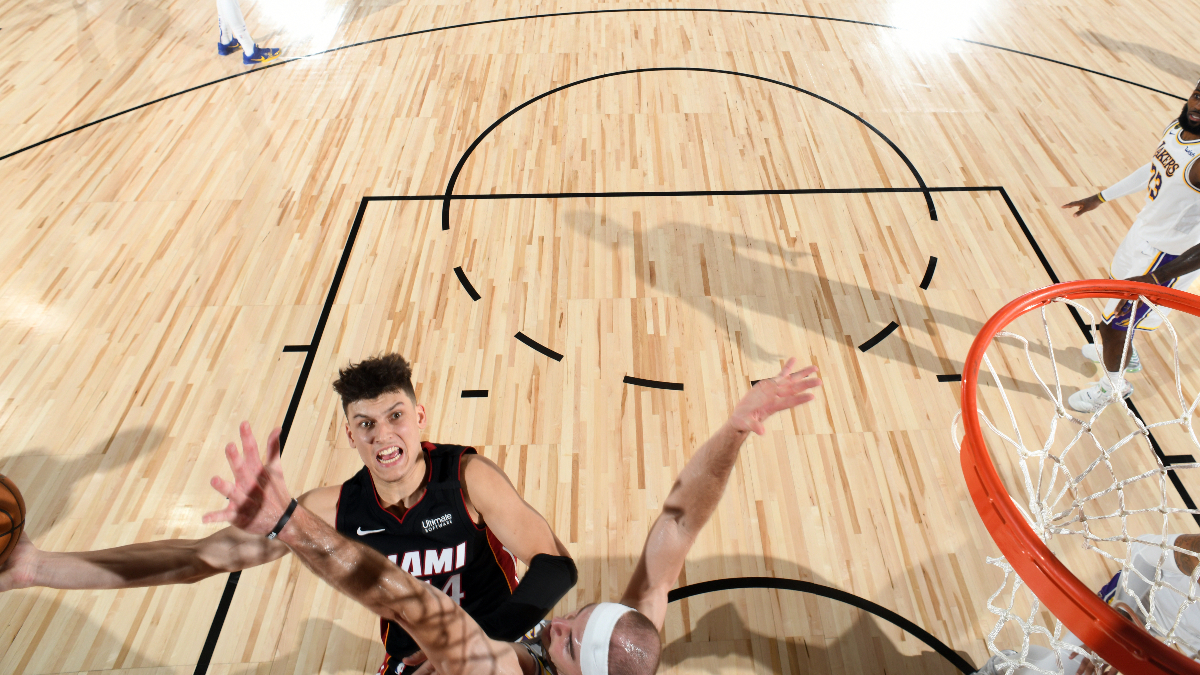 The thing that keeps sticking with me from Game 3 was how the Heat had that look again where they just kept coming and coming. The Lakers are not in danger yet. Bam Adebayo is questionable for Game 4, so even if he does play, I don't expect him to be great.
If LA takes care of business, that feels like a wrap. Exhausted or not, it's hard to see James and Davis losing three in a row to this banged-up squad. But LA is teetering on the precipice.
The longer the Heat have life, the more dangerous they get. That's exactly how they've played every game thus far. I'm not ready to pick the Heat — but I can no longer count them out anymore either.
To win this series now, the Heat have to win three games with their backs against the wall. Even as I see the belief in Miami's eyes, that's a steep task. It's too steep to pick the Heat straight up, but at +850 (BetMGM), they certainly have my attention. Can the Heat win this more than 10% of the time? Yeah, I think so.
So how am I betting this series going forward? I'm not super interested in laying heavy odds to back the Lakers. I think the best play is watching for live opportunities in game, knowing how this Heat team bounces back mentally.
There's a good chance the Heat will fall behind by double digits early another time or two, and I want to be ready to jump on those odds. At the very least, I think Miami has one more big comeback and push in them and can take another game. From there, this bubble resolution is anyone's guess.
Raheem Palmer: Beware, Kelly Olynyk
Kelly Olynyk has become an unlikely X-factor for the Heat in the Finals. Over the past two games he's averaging 20.5 points, eight rebounds and 1.5 assists on 56% shooting.
After the Heat scored just 101.6 points per 100 possessions in Game 1, increasing Olynyk's minutes has their offense humming as they put up an offensive rating of 125.1 in Game 3 and a 117.7 Offensive Rating in Game 4.
Given his ability to space the floor with his perimeter shooting, he's opened up driving lanes for teammates. Butler will rightfully get much of the credit for Miami's upset Game 3 victory, but there's only so much you can help on his drives when he's surrounded by four shooters in Olynyk, Jae Crowder, Duncan Robinson and Tyler Herro.
In 11 minutes during Game 4, that lineup had an Offensive Rating of 142.9 and a net rating of 47.2. In fact, lineups with Olynyk had a 154 Offensive Rating in Game 3.
With the potential return of Bam Adebayo in Game 4, you have to wonder how Miami balances their 4-out lineups with the defense and rebounding that Adebayo provides. You also have to wonder if the Lakers will eventually play Olynyk off the floor given his defensive deficiencies.
How would you rate this article?