Moore's NBA Free Agency Primer: Best Fits and Best Guesses for KD, Kawhi, Kemba, Other Top-20 FAs
Credit:
USA Today Sports. Pictured: Kevin Leonard, Kawhi Leonard, Kemba Walker
NBA free agency begins at 6 p.m. ET on Sunday, with marquee names such as Kevin Durant, Kawhi Leonard, Kemba Walker, Kyrie Irving and more all hitting the open market.
Matt Moore runs through each of his top-20 free agents and analyzes the reported suitors, the best basketball fit and his best guess for where each will sign.
I want to be crystal clear here. I want zero question about my level of ignorance in this situation. No one knows where the big free agents are going. If those guys have decided (which is likely), it hasn't been filtered down into concrete terms across the league.
There are indications of where guys aren't going, for sure. Kevin Durant's not going to sign with the Magic. Is that helpful? But we are now 48 hours away from free agency starting, and so much noise continues to swirl around everything.
So to get you ready for the official open of the NBA's Silly Season, here's a look at the top-20 free agents, along with what their free agency means for the league, a look at where — just based on the basketball factors — they should go, and my gun-to-my-head-please-don't-put-a-gun-to-my-head best guess on where they'll end up.
---
1. KEVIN DURANT
What you're getting: The best player in basketball … with a torn Achilles. A top-level MVP caliber talent. A 7-foot 50-40-90 shooter who's also a top-level defensive player. A lot of burner accounts to track. A year-long try-out for your medical and training staff.
Reported suitors: Warriors, Nets, Knicks
Best basketball fit: Nuggets. It gives him a low media profile for a team with willing passers on a West contender with a player in Nikola Jokic he has always complimented. He'll never go there, but it makes the most sense.
Best guess: Nets
Durant's injury is obviously both a huge concern and complication. There's not a clear sense of how Durant feels about the Warriors' medical staff after they cleared him to play before tearing his Achilles. That is the one injury that still alters NBA careers forever, but Durant is also such an outlier in terms of talent that if he comes back at 80% if for the rest of his career, he's still better than 95% of the league.
The Nets give him good coaching and a stable front office. He can potentially play with Kyrie Irving, and if not, he's got a group of hustle junkies and cap space to sign guys he wants while he builds his media empire. The Nets with KD in 2020-21 are instant contenders.
---
2. KAWHI LEONARD
What you're getting: Arguably the best two-way player in basketball, the two-time and reigning Finals MVP. The best isolation defender in the game. An efficient scoring factory who gets buckets in whatever way your offense is designed.
Reported suitors: Raptors, Clippers, Lakers
Best basketball fit: Raptors. They won the title. This is not difficult to figure out.
Best guess: Clippers
If it were the Raptors, couldn't he have just put it to bed on the night of the title by having his camp let folks know? Or at the parade? Or any time in between? Why is this still a thing?
I'll put it this way: Whenever a star of Leonard's stature has held multiple meetings, they rarely return. Returning is usually a low-drama affair and all indications are that Leonard's will be the opposite. I'll bank on the hometown draw, along with building his own LA empire to compete with LeBron.
---
3. KEMBA WALKER
What you're getting: Dynamic, playmaking, super-scoring guard in a smaller package at 6-foot. Eighty percent (at least) of Kyrie Irving with none of the headaches. A willing and surprisingly physical defender who can only do so much due to his size. A great floor leader and teammate who can make big shots.
Reported suitors: Hornets, Celtics, Lakers, Mavericks
Best basketball fit: Lakers
Best guess: Lakers
If Walker is leaving Charlotte, it has to be to maximize what he is. There's been a world of talk about Kemba and the Celtics to the point where ESPN's Adrian Wojnarowski described Boston as the favorite. But the Lakers opened max cap space and he makes more sense there.
Kemba provides a bridge for LeBron James and Anthony Davis as a shooter and a point guard who can create when James is on the bench, he's in the same age range as both of those guys vs. someone like D'Angelo Russell who's much younger, and he's low maintenance which this Lakers team desperately needs.
---
4. KYRIE IRVING
What you're getting: A top-three individual scorer in the league who put together the best playmaking season of his career last year. A chemical accelerant and destabilizer who desperately needs to delete both YouTube and Instagram from all of his mobile devices. A complicated player with complicated views who has won a grand-total of four playoff games (vs. the Pacers without Victor Oladipo) without LeBron James at his side.
Reported suitors: Nets, Knicks, Lakers, Clippers
Best basketball fit: Spurs. Low media presence so lower chance of him causing a ruckus and then getting mad at everyone else for it. High IQ basketball players and maybe Pop can get him to believe in things like actual history and physics.
Best guess: Nets
The Nets were the favorite a week ago so they're probably already moving on because that's how fast this league moves. But Irving has had interest there for months according to league sources and it affords him all the great things about New York without all the Knicks-iness of the Knicks. It's largely a blank slate but there's enough talent that he can win with. Best of luck with the New York media, man.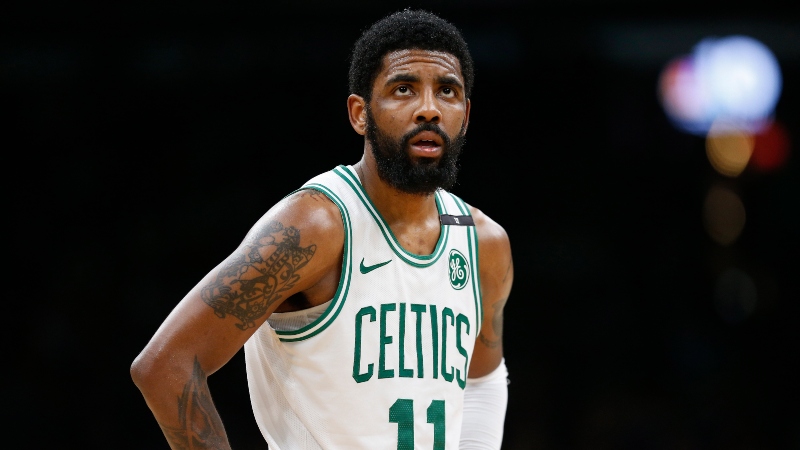 ---
5. KLAY THOMPSON
What you're getting: The second-best shooter in NBA history. The Game 6 Man. A low-maintenance star who can't create much on his own but will battle through anything to help you win. A player with a lot of playoff miles coming off an ACL tear. A top-flight defender and excellent chocolate milk pitchman.
Reported suitors: Warriors, Lakers
Best basketball fit: Pretty much anywhere: There's just not a team I can point to, even ones with star shooting guards, where you couldn't plug Klay in and win.
Best guess: Warriors
Klay has always been pretty smart and open about the fact he realizes what he has with Steph Curry in Golden State and has never shown any real desire to change. Unless the Warriors screw around with him — which they'll kind of hint at around the edges but then not do — Thompson will be back in the Bay by All-Star break.
---
6. JIMMY BUTLER
What you're getting: A real pain-in-the-ass for everyone: opposing players, coaches, teammates, his own coach, the front office, probably the mail room guy, everyone. (l'm sure he treats arena staff well, it's just a bit.) A tenacious and fierce two-way player who can go get you the biggest bucket, is an underrated playmaker, and a terrific defender. A former Tom Thibodeau player (🚨🚨🚨) over the age of 30 (🚨🚨🚨) coming up on a near-max deal (🚨🚨🚨).  An avid Taylor Swift fan.
Reported suitors: Sixers, Rockets, Lakers
Best basketball fit: Bucks. An alpha dog in Giannis Antetokounmpo, a modern system with a smart coach. A title-ready team that needs a perimeter player who can get a bucket on his own but also spot-up around Giannis. Plus it's a Midwestern state, so Butler's love of country music translates.
Best guess: Rockets
Houston's been working on that plan for a long time, and they're so close to it I want to believe Daryl Morey can pull it off. I don't have a lot of faith in the Sixers for the simple reason that Butler didn't really choose them. He was drafted and extended by the Bulls, he was traded to the Wolves and then traded to the Sixers with the understanding he might leave. This is the first team where he gets to choose. Jimmy Butler in cowboy boots at the presser next to Harden and a grumpy CP3. Let's make it happen.
---
7. AL HORFORD
What you're getting: A selfless, do-it-all center on the other side of 30. Probably the second-best passing big man in the game. A low-usage, low-maintenance, high-efficiency center you can pair with another center or a power forward. A player who in 12 years of NBA service has missed the postseason one time.
Reported suitors: ???
Best basketball fit: Celtics. If they land Kemba Walker there are zero reasons not to run it back with a team that went to the ECF two years ago and largely was scuttled by the gale force winds of Kyrie Irving's Illuminati fever dreams.
Best guess: ???
There are reports of a four-year, $100+ million offer for Horford. If that's the case then maybe he's pursuing money and that puts a lot of weirdo teams in play. If he wants to win a title, there's the Lakers or potentially the Warriors if he took an extreme discount. Trying to figure out what Horford wants is inscrutable because his agent and camp aren't out there leaking everything every 30 seconds. The guy just does his job.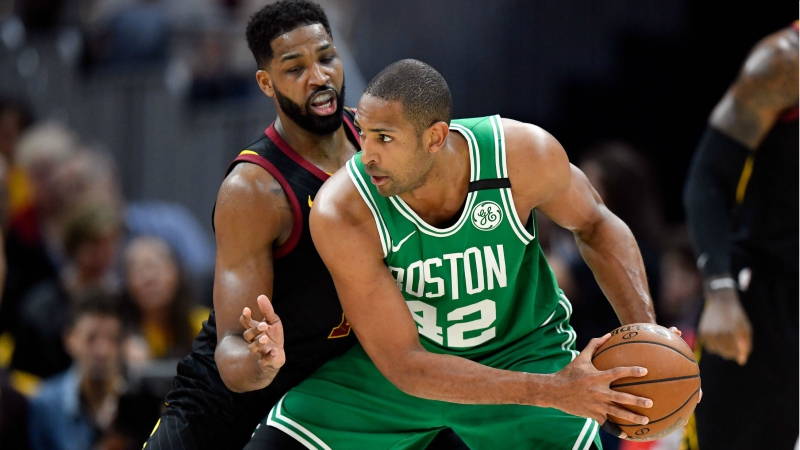 ---
8. KHRIS MIDDLETON
What you're getting: A versatile shooter-scorer who has had some quietly great playoff moments. Can have a big game when you need him to. Kind of DeMar DeRozan but efficient. Not an elite defender but also not a bad one. Has worked his way up from the bottom and has good perspective. Ready to cash in on his moment.
Reported suitors: Bucks, Lakers, Knicks
Best basketball fit: Lakers, Pacers. I'll admit, I want him on the Pacers just so he can slowly work his way through playing for every Central Division team. I want him to sign on with the Bulls at the end of his career and then retire with the Cavaliers.
He would fit well with Indiana, though, with Oladipo running more point when he gets back. Middleton fills the vacancy of Bojan Bogdanovic at maybe a higher level and is always better suited to be an underrated small-market guy than an overpaid big-market guy, even if he's making the same money in both places. With the Lakers, he'd help James and Davis by providing a shooter who can run a little pick and roll and anchor some bench units.
Best guess: Clippers or Knicks
Both teams have too much cap space and if they come up empty on the big name stars, things get serious in a hurry. He's too good a player to pass up but shouldn't be "the big signing" of the summer. It's going to set up bad things for him and the team both.
---
9. MALCOLM BROGDON
What you're getting: Super-smart, high-efficiency guard who can play either position. Willing and able to run an offense or generate his own shot. A 50-40-90 player with good defense. Comes with a drop-foot concern that's worth being aware of going in.
Reported suitors: Bucks, Knicks, Clippers, Bulls
Best basketball fit: Pelicans. Put a high-intelligence, efficient shooting guard with Jrue Holiday and Zion Williamson, let the Lakers kids anchor the second unit, and go to town.
Best guess: Bulls
Lot of reports about the Bulls and league sources have echoed those, as well.  They'll have the money, and they value him. Brogdon needs to make the most of this contract, and while Milwaukee wants him back, there is a number — a high number but a number — where they'll walk.
---
10. BROOK LOPEZ
What you're getting: Splash Mountain. One of the most underrated rim protectors in the league (on account of his low block rate, he deters opponent with position and verticality, not athleticism) who also doubles as one of the best perimeter threats in the league. The player who unlocked much of what made the Bucks elite last season. A slow center who can be attacked if forced to switch. A smart player who loves geek culture and doesn't want the spotlight. He just does his job.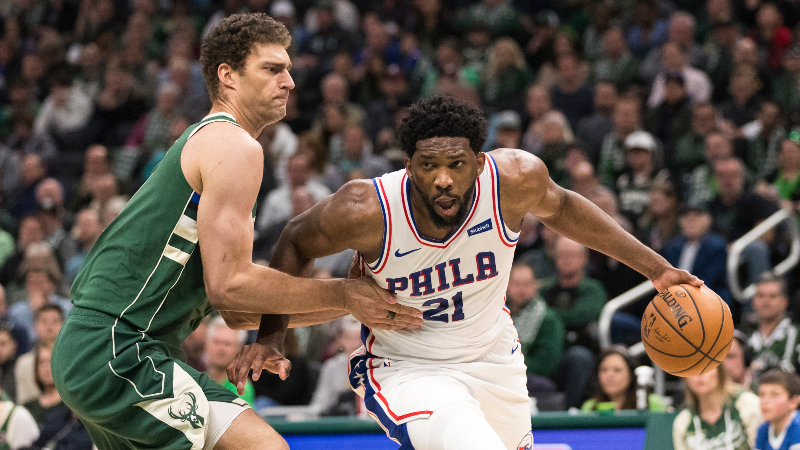 Reported suitors: Bucks, Lakers, Pelicans
Best basketball fit: Pelicans
Best guess: Pelicans
Jrue Holiday and Zion Williamson with Lopez spacing the floor and providing the interior size next to Zion? Sign me up.
---
11. NIKOLA VUCEVIC
What you're getting: A super-efficient big man who gets you consistent production in points and rebounds. Not a good defender, but a bit underrated; he can contain well enough in the right scheme. Low maintenance guy who has just put up numbers year after year on a bad team, but in recent years has actually made an impact. Walks the thin line between empty stats and underrated production.
Reported suitors: Knicks, Celtics
Best basketball fit: Kings. The speed at which the Kings play is an issue but he sets really good screens for De'Aaron Fox and Buddy Hield and will be best served as an underrated guy in a small market.
Best guess: Knicks
The Knicks have to get someone, right?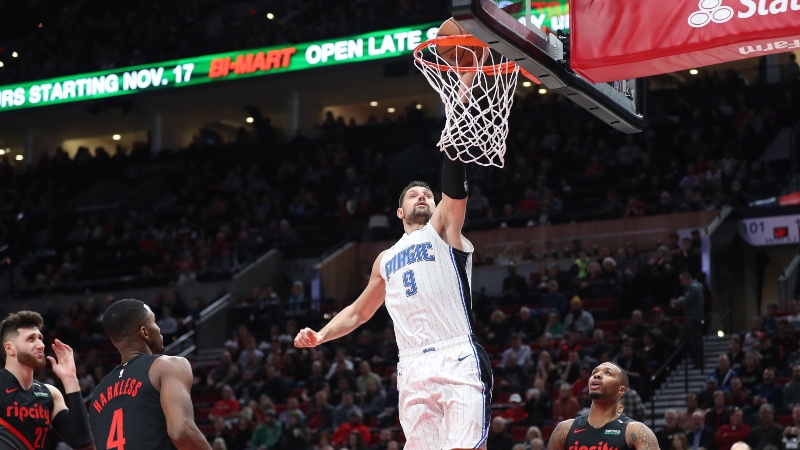 ---
12. JONAS VALANCIUNAS
What you're getting: A big man in his prime who can do everything but hit from deep. A solid mid-range pick-and-pop weapon who battles on the glass and has quietly become super effective defensively. Capable of long stretches where he absolutely annihilates mismatches. One of the few Raptors to step up in the playoffs before the 2018-19 team.
Reported suitors: Grizzlies
Best basketball fit: Mavericks. He's the actual big man they're looking for and have been looking for. You can play him next to Porzingis and he provides coverage for Porzingis' rampant injuries.
Best guess: Grizzlies
There's every expectation Memphis is going to re-sign him to a big deal, even though it means putting a player in his prime with two guys who can't rent a car yet.
---
13. BOJAN BOGDANOVIC
What you're getting: Quality shooter at every level with a little bit of playmaking. Willing defender if physically vulnerable. Nice fill-in-the-blank piece on the wing.
Reported suitors: Pacers
Best basketball fit: Sixers. He fills the absence of their free agent scorers without the usage requirements or big contract. He's just a quality replacement option.
Best guess: Pacers
The Pacers have a ton of room and need him back.
---
14. D'ANGELO RUSSELL
What you're getting: High-ceiling, low-floor scoring guard with no defensive aptitude to speak of. Fearless and able to live up to his confidence. Mistake-prone but young. When Russell looks good, he looks amazing, and when he looks bad, he looks awful. Will cost a lot, which is why he lands this low.
Reported suitors: Nets, Lakers, Suns
Best basketball fit: Grizzlies. How about Ja-Russell-Jaren Jackson as a young and upcoming three-headed dragon, like in Godzilla?
Best guess: Lakers
They can get him at below his max, have signed a third star, and add another relevant piece.
---
15. ED DAVIS
What you're getting: A valuable high-impact, low-production guy. Every time he's on the floor, his team outscores the opponent. He does all the dirty work and has grown into being a smart, efficient player who plays within his limitations.
Reported suitors: Nets, Lakers
Best basketball fit: Celtics. They will need a big and Davis would work well in their system, especially defensively.
Best guess: He'll wind up getting a big-money offer from someone not on this list.
Davis is good and executives know it; someone will realize they can get him on a bargain while the contenders try to sell him on a veteran minimum deal.
---
16. ROBIN LOPEZ
What you're getting: A great defender, rebounder and passer with a great attitude.
Reported suitors: Bulls, Celtics, Warriors
Best basketball fit: Warriors
Best guess: Bulls
The Bulls just tend to do things like "overpay to keep a veteran around even though he's not as valuable to them as he would be to a contender."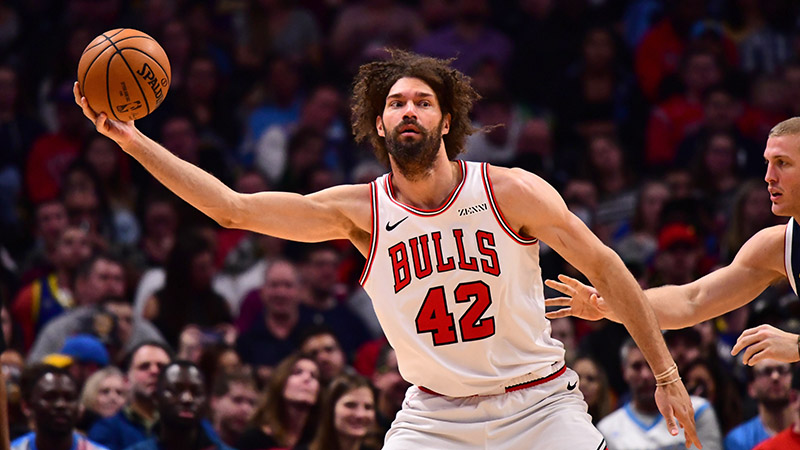 ---
17. TOBIAS HARRIS
What you're getting: A versatile scorer who can fill in the gaps in the offense any which way from Sunday. A severely limited defender whose defensive drag isn't really understood because of his size.
Reported suitors: Sixers, Clippers, Knicks
Best basketball fit: Timberwolves. Minnesota would be very dangerous with Harris as the secondary scorer behind Karl-Anthony Towns instead of Andrew Wiggins.
Best guess: Knicks
This has always seemed like the nightmare scenario. Harris is really good and a helpful player but not a superstar. Except … the Knicks have too much cap space and it has to go somewhere.
---
18. JULIUS RANDLE
What you're getting: Hyper-versatile undersized power forward with short arms. An economy-class Draymond Green or a super version of Ed Davis.
Reported suitors: Knicks, Lakers, Bulls
Best basketball fit: Kings. Give a fast-paced offense with those guards a big who can run the break with the ball, pass, and switch defensively (after a down year on defense in New Orleans) and watch the Kings fly.
Best guess: The Bulls putting in a big offer for Randle despite having Lauri Markkanen and Wendell Carter Jr. seems like the kind of thing they would do.
---
19. THADDEUS YOUNG
What you're getting: A veteran combo forward who was worthy of Defensive Player of the Year consideration last year and who is a gifted inside passer. Plays within himself.
Reported suitors: Suns, Lakers, Mavericks
Best basketball fit: Spurs. A smart veteran who deserves to play on a team that runs its team the right way.
Best guess: Lakers
Young may go the ring-chasing route, he's got the opportunity to go chase a ring and then pick up his last big contract after.
---
20. J.J. REDICK
What you're getting: Pure shooter
Reported suitors: Sixers, Lakers, Spurs, Nets
Best basketball fit: Lakers. They need his shooting badly and he can handle the circus.
Best guess: Sixers
If he goes back to Philly, it'll be on a cheap deal.
How would you rate this article?