Our Staff's Favorite NBA MVP Bets: Is Giannis Antetokounmpo the Inevitable Choice?
Credit:
USA TODAY Sports. Pictured: Houston Rockets guard James Harden (13), Milwaukee Bucks forward Giannis Antetokounmpo (34), Golden State Warriors Stephen Curry (30).
The 2019-20 NBA season tips off on Tuesday October 22.
Our crew makes their favorite picks to take home the NBA MVP after the 2019-20 season.
The NBA season is fast approaching and the only thing more wide open than the race for the Larry O'Brien trophy is the race for the 2019-2020 Most Valuable Player award.
Reigning MVP Giannis Antetokounmpo leads the field as the favorite, but the rest top five consists of three former winners — Stephen Curry, James Harden, LeBron James — and Los Angeles Lakers forward Anthony Davis.
Below our NBA crew makes their preseason picks for who will take home the hardware this season.
Staff favorite MVP bets
Wob: James Harden (+700)
Remember when the T-1000 in "Terminator 2: Judgement Day" gets shattered into pieces and then turns into a puddle and reforms?
That's the version of Harden we are about to witness this season. He has somehow, someway added more moves to his arsenal on full display during the preseason.
He's somehow, someway better at scoring. Harden's consistent originality leading to historical achievements is so unique that it should define his legacy more so than his postseason results.
That will change this season with the addition of Russell Westbrook, a star who is willing to accept the role of Robin not only because of their friendship, but because of Harden's evolution.
Harden has never had support like this, on or off the court.
Matt Moore: Three-player position: Harden +700 |  Anthony Davis +700 | Damian Lillard +2800
You can substitute the Antetokounmpo at +275 for Harden if you'd rather — their odds should be even, which shows you the value on Harden right now.
I look for multiple positions early with the hopes of one surviving eliminator style until mid-season when the MVP race has pretty much calcified into 1-3 candidates.
I like this combination for a plethora of reasons. Harden has been an MVP top-two finisher in four of the past five seasons. The Rockets would have likely finished with 55-60 wins without injuries to Chris Paul and Clint Capela last year, which might have closed the gap.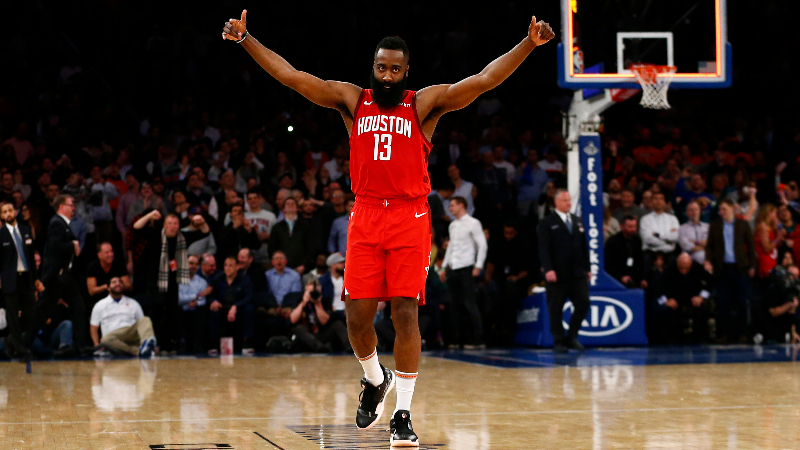 He's coming out firing in preseason and even with Westbrook absorbing a chunk of usage, it increases the odds of an increased assist rate for Harden which he needs more than last year's scoring binge, honestly.
Davis is one of the bigger liabilities at the Westgate for MVP, and at +700 with a Lakers team that is media-beloved and narrative-laden, the number is attractive. If the Lakers finish 55-2 wins or above with a conference-leading record, Davis might be the one to absorb the MVP votes if LeBron does indeed take a playmaking role.
Lillard has been flirting with consideration for MVP the last few years and is in his absolute prime. I want to take a swing with the number this high because if he drags the Blazers with a subpar cast to a top-three seed he's going to start picking up "It's time we stop overlooking this guy" momentum.
Matt LaMarca: Giannis Antetokounmpo +275
Some people might cross Giannis off the list simply because he won this award last year, but that would be a mistake. Winning back-to-back MVPs is actually more common than you think.
Curry achieved the feat in 2015 and 2016, LeBron has done it twice, and Steve Nash and Tim Duncan did it in the early 2000s.
Giannis also has far less competition for this award on his own team that some of his teammates. Harden has to share the ball with Westbrook. Kawhi Leonard has Paul George. LeBron has Davis.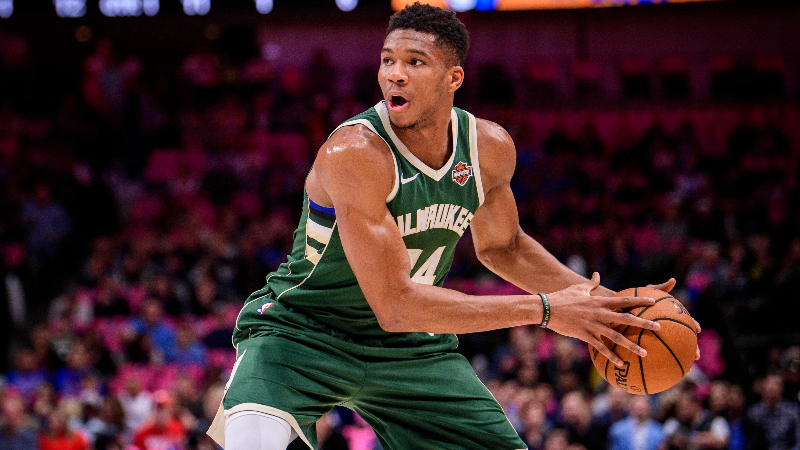 Giannis just simply needs to do more than his top competitors on a night-to-night basis, and the fact that the Bucks have the highest over/under in Vegas doesn't hurt either.
Also, don't forget that this guy is known as the "Greek Freak" for a reason. He won the MVP last year at just 24 years old without even having a reliable jump shot. Expect him to enter this season with a few new options in his offensive repertoire.
He should continue to get better, which is a scary proposition for the rest of the league.
Malik Smith: Anthony Davis +700
As soon as Davis injured his thumb in the preseason, I remembered that he takes almost as many trips to the locker room in a game as he does to the free throw line.
Despite that, I like him to win MVP after seeing his growing on-court connection with LeBron and especially after realizing he's been quite dominant in limited minutes dating back to last season.
But the biggest reason is that the MVP winner over the past 10 seasons has typically gone to the player who leads the NBA in player efficiency rating — nine of the past 10 winners led the league in PER.
Basically, elite players who can fill up the box score in multiple areas tend to get the nod. Davis has finished top-five in PER in four of the past five seasons and the last player who led the league in PER but didn't win the award was Davis, who lost out to Stephen Curry in 2014-15.
The other factor is obviously team success. Seven of the past 10 winners were on a team that led the league in wins and the Lakers play in a Western conference that somehow managed to get deeper. Still, I'm betting that the combo of James and Davis (if healthy) will make the Lakers a top contender in the league.
Davis' main competition is clearly the reigning MVP, who has a much easier path to leading the league in wins, but I can't pass up on getting 7-1 odds on arguably the most talented player in the NBA.
Brandon Anderson: Nikola Jokic +1200
I agree that Giannis is the most likely MVP. The winner almost always comes from a top-2 seed, and Antetokounmpo's numbers might actually go up this season if he has to play more minutes for a slightly worse team without Malcolm Brogdon and Nikola Mirotic. But at +275, the odds are not a great play.
The Nuggets were near the top of the West all last season despite getting little from Gary Harris and Will Barton all year. Add those two, Jerami Grant, and Michael Porter Jr. plus a heavy dose of continuity in a league of massive turnover, and Denver has a great opportunity to get out of the gates quickly and establish Jokic in the early-season narrative.
He's going to have the numbers, and unlike most of the other obvious MVP candidates, he has no partner in crime to steal the spotlight away. If the Nuggets finish second or better in the West, Jokic will be a top three MVP contender.
How would you rate this article?