Warriors vs. Suns NBA Odds & Picks: Expect Tired Legs Before All-Star Break (March 4)
Credit:
Jesse D. Garrabrant/Getty Images. Pictured: Steph Curry (30) and Kent Bazemore (26) of Golden State.
The Suns, winners of their last 12 of 14 games are rolling after their latest win over the Lakers.
Golden State is on the latter half of a back-to-back after a lengthy road trip.
Brandon Anderson explains why there may not be too many points in the finale before the All-Star Break.
Editor's note: Draymond Green and Stephen Curry have been ruled out for Thursday's road game against the Phoenix Suns.
Warriors vs. Suns Odds
Warriors Odds
+5 
Suns Odds
-5 
Over/Under
223 
Time
10 p.m. ET
TV
NBA League Pass

Odds as of Wednesday night and via PointsBet.
We did it, y'all. We made it to All-Star Break. This is the final game before the break, and then it's finally a week off for the exhausted players and fans after a frenzied whirlwind first half.
The Warriors may not have much left in the tank. Golden State is on the second night of a back-to-back. The Warriors spent the back half of February cavorting all over the East Coast with a big trip, and now they're bouncing around the West Coast — LA a few days ago, up to Portland last night, now back in Phoenix tonight. Golden State was missing its centers for most of that, and Klay Thompson is still in street clothes. This is a tired team.
The Suns? They're flying high after Tuesday night's win over the Lakers, even without Devin Booker down the stretch. That win pushed Phoenix into the West 2-seed and into the national limelight. The Suns have won 12 of 14, with the two losses by just seven points combined, and they'll no doubt hope to head into the All-Star Break on a high note.
Will the Warriors have anything left in the tank to push them?
Golden State Warriors
Remember the panic around the Warriors at the start of the season? Golden State lost the opener to Kevin Durant's Nets by 26, then fell to the Bucks by 39 on Christmas a few days later. Everyone panicked and wrote off Steph Curry and the Warriors, but there was just one little problem: Draymond Green wasn't playing yet.
Golden State has been a totally different team with a healthy and motivated Green on the floor. The Warriors entered Wednesday with the No. 4 Defensive Efficiency in the entire league, per Basketball Reference. Their defense has gotten better and better as the season has gone along. Check out the red Warriors line on their efficiency graph below:
Draymond is an absolute wrecking ball defensively, and he changes everything for this team on that end. Green is getting help from role players like Kelly Oubre and Andrew Wiggins, but he's the engine here.
Draymond has become the engine of the offense too. I saw someone on Twitter call him Assists Rodman, and I can't get it out of my head. Green had a dud against the Lakers his last time out, but he was averaging 11.7 assists per game over his previous 12 games, with just 7.3 points. Golden State leads the entire league in assists per game at 28.0. Green is essentially doing everything but scoring.
The scoring falls mostly on Curry, and he's playing at an MVP level again. The problem is that he's just not getting much help, outside of Green's creation. Curry has a 119 offensive rating this season on the court. When he's not playing, Golden State plummets to 91 points per 100. That is a massive, catastrophic drop-off, and it's why the Warriors still rank bottom 10 in Offensive Efficiency overall, despite Curry's heroics. They basically can't win unless he has a huge game because they can't score enough.
So can Curry have a big game on the second half of a back-to-back against a tough defense hitting on every cylinder?
---
Phoenix Suns
The Suns have suddenly emerged as the West 2-seed at 23-11, ahead of both LA squads. Phoenix entered Wednesday ranked third in the NBA in Net Rating at +6.1. While this may feel a bit surprising, perhaps it shouldn't be.
Phoenix has only lost by more than eight points twice all season. The Suns started the season strong and have been strong in recent weeks. They did swoon in the middle, but that was because about half the team was missing and in health protocols during that stretch. When Phoenix has been whole, the Suns have had a dynamic bench that dominates stretches of games. Phoenix has also taken a serious step forward defensively this year, and the Suns are finding their offense lately too.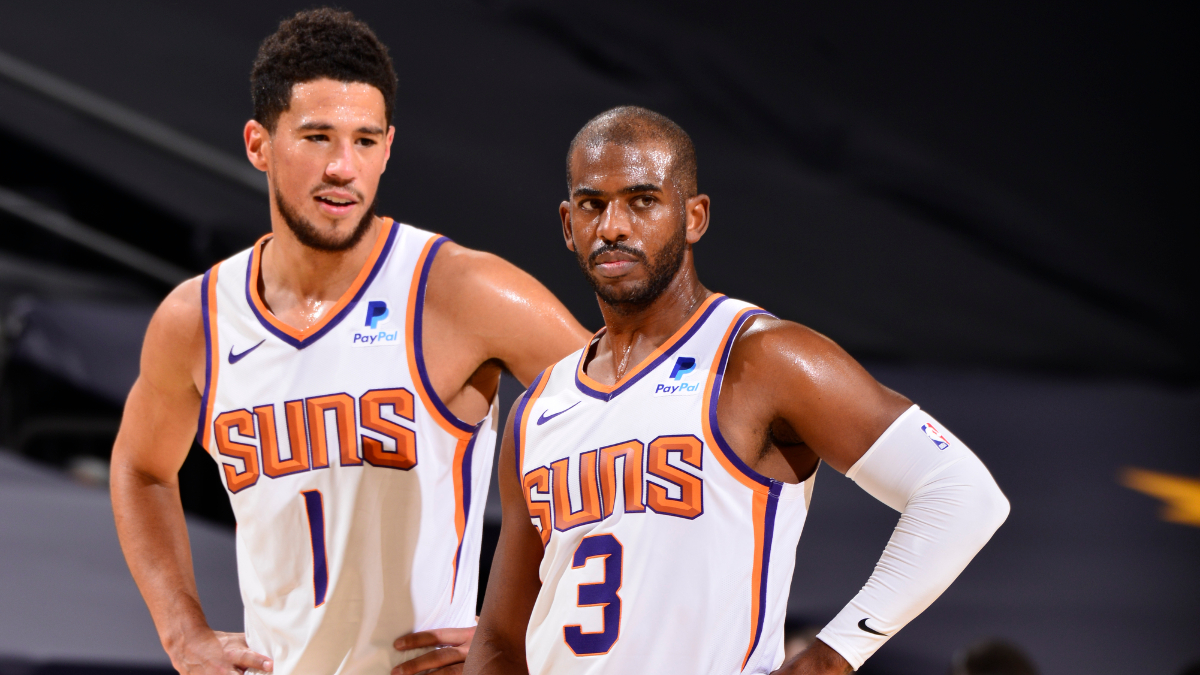 Chris Paul just wants to win, and he's been sacrificing some scoring and shots lately to elevate Devin Booker. Booker's scoring is back up after an early-season dip, and the balance between these two has pushed the offense forward while role players like Mikal Bridges, Cam Johnson, and Dario Saric knock down shots.
Phoenix rebounds well and plays a lot of defense, and Curry will surely have his hands full with CP3 and Mikal hounding him all night. The Suns allow the fewest assists per game of any NBA team at 21.9, which makes for an interesting contrast with the Warriors' ball movement. Phoenix also allows the second-fewest threes per game and the second -lowest 3-point percentage at 34.3%.
The Suns also play the league's second-slowest pace, so that affects some of those "lowest" numbers of course, but will the Warriors be able to score if they're not getting those Draymond assists and Steph threes?
Warriors-Suns Pick
If it's not obvious yet, I hate this spot for the Warriors. It's a road game on the second night of a back-to-back, and the team is exhausted and ready for a break.
Even the little matchups favor Phoenix. The Suns will have a big rebounding edge. The Warriors also foul opponents as much as anyone, and the Suns typically rank dead last in free throw rate but hit 84% of their freebies, second best in the league. That means more easy points for the Suns, while the Warriors may not find scoring so easy to come by.
Still, I'm terrified of betting against Steph Curry because Curry has dominated Chris Paul in recent years and can do this all on his own if he gets hot. So while I lean toward the Suns, I'm going another direction here, especially with the high line.
I'm taking the under instead and banking on a combination of great defense, slow pace, and tired teams. Maybe the Warriors just don't show up. Maybe it's a tough game with both defenses controlling things as the Suns slow the pace way down against a tired Warriors squad. Heck, maybe Steph does have a big game, but the Suns can't match it. The game under gives me a little margin for error for that big Curry game while still playing the overall trends that favor a low scoring game here.
I'll take the under at 223 and play it down to 221.5.
Pick: Game under 223 (bet down to 221.5)
How would you rate this article?
This site contains commercial content. We may be compensated for the links provided on this page. The content on this page is for informational purposes only. Action Network makes no representation or warranty as to the accuracy of the information given or the outcome of any game or event.