Sunday NBA Odds & Picks for Clippers vs. Bucks: Back Underdog L.A. To Down Injured Milwaukee
Credit:
Justin Ford/Getty Images. Pictured: Kawhi Leonard of the Los Angeles Clippers.
The Clippers and Bucks meet for the first time this season Sunday in a potential NBA Final preview.
Milwaukee has disappointed so far this year and will be without key players for this showdown.
Brandon Anderson explains below why he thinks Los Angeles is an obvious pick despite opening being tabbed the underdog.
Clippers vs. Bucks Odds
Clippers Odds
+2.5
Bucks Odds
-2.5
Moneyline
+110 / -135
Over/Under
235.5
Time
3:30 p.m. ET
TV
ABC
Odds as of Saturday night and via BetMGM.
We wrap up February with a special Sunday afternoon treat. It's that special few weeks on the calendar where the NFL is in the past and March Madness is still to come. That means some of the best NBA games of the season as the league saves its finest matchups for these primetime weekend spots.
This battle between the Clippers and Bucks might well be a Finals preview. Los Angeles and Milwaukee have been among the top five title favorites all season and remain among the betting favorites, though last year these were arguably the two biggest disappointments in the Orlando bubble playoffs. Both teams were title favorites then too, but neither one even made the Conference Finals.
We can only make so much of this regular-season matchup since no one will truly believe in either one of these teams until we see it at the highest level. Still, anytime you get Giannis Antetokounmpo on Kawhi Leonard with Khris Middleton and Paul George in support, you know you're in for a treat.
So which team has the edge in this prime Sunday afternoon treat?
Los Angeles Clippers
The Clippers have quietly taken care of business in a very methodical way this season. It's easy to hang onto the team that choked against the Nuggets in last year's playoffs, but this year's regular season version has been very steady.
Leonard and George lead the way. The two superstar wings have both played fringe MVP-type ball, floating around 50/40/90 shooting all year with an endless barrage of tough shots taken and made. Nic Batum and Serge Ibaka have been the perfect additions to this team. They appear to have stabilized both the locker room and the defense and are clearly the next most valuable guys on this team. That has pushed players like Patrick Beverley, Lou Williams, and Marcus Morris into more comfortable supporting roles.
The Clippers are 24-11, second in the West behind only the Utah Jazz. They trail only the loaded Nets in Offensive Rating, per Basketball Reference, and rank first in the NBA in both 3-point and free-throw percentage. That's been true for the bulk of the season so far. LA has shooting at every position, and they started hot and have stayed that way.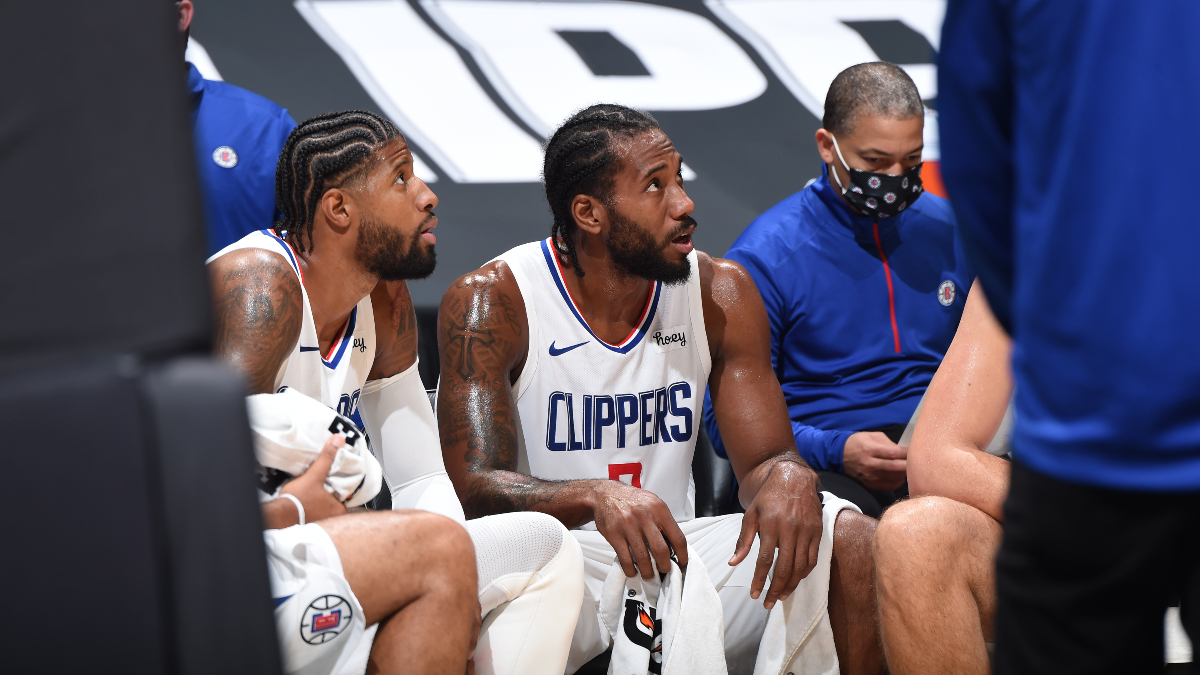 It's hard enough to play good defense in the NBA these days as it is, but it's just about impossible if the opponent can hit tough shots consistently against good D, which is the case with these Clippers. They're not doing anything special by way of drawing a ton of free throws. They're not bombing from deep. They're not invincible inside the arc. Mostly they're average at all those things — they just hit more shots than every opponent. It turns out that's pretty important.
I'm still waiting to see exactly what this defense will be. It's relatively average right now, though probably closer to fringe top 10 when you account for the 17 combined games missed by Kawhi and PG. Those two, Beverley, Batum and Ibaka are all positive defenders, so it certainly feels like the defense should be better than average, but there's little defense to speak of off the bench. One area the Clippers have been strong statistically is on the glass. LA ranks top five in defensive rebounding percentage, so that helps get the ball back into the hands of the deadly Clippers offense.
Our Raheem Palmer wrote a terrific piece this week extolling the Clippers. This team — the version we're watching play ball right now, this year — is very good. They're much more versatile than last year's squad, with a deadly small-ball unit to boot. Perhaps it's time we shake off our perception of last year's chokers and accept that this version of the team is quite good.
I do have one significant concern — I'm not sure the Clippers are particularly battle tested against top teams. LA began its season with quality road wins at the Lakers and Nuggets. Since then, they've played only seven games against teams currently in the top five in either conference, and LA is just 2-5 in those games.
Of course, they were missing PG for one of those games and both wing stars for another. When both PG and Kawhi play, the Clippers are 17-5 on the season, even after an ugly loss to the Grizzlies this week. That's a 64-win pace in a regular 82-game season. The Clippers are pretty good.
---
Milwaukee Bucks
The Bucks swept this season series last year, though Leonard and George sat out one of the games. Giannis put up 65 points, 27 rebounds, and 13 assists across the two games, but that was MVP Giannis and this year's version hasn't quite measured up — neither the player nor his team.
It's starting to feel like these aren't last year's Bucks either. Milwaukee is just 20-13, under a 50-win pace in a normal season. This team played well above a 60-win pace for most of the last two seasons, so that's a catastrophic fall.
Dig a little deeper, though, and the Bucks are still pretty good. They rank second in Net Rating, one spot ahead of the Clippers, and second in Basketball Reference's Simple Rating System. The underlying metrics are strong and suggest the Bucks have been quite unlucky. Milwaukee's expected record is closer to 24-9, which, voila, puts the Bucks right back at that 60-win pace. The Bucks have one of the best offenses in basketball and are shooting just as well as LA this season. Milwaukee ranks top five in the NBA in both 3-point and 2-point percentage.
The Bucks still do some things at an elite level. Like all Mike Budenholzer teams, they basically never foul or turn the ball over. That's always a Bud strength, and it's good for a few "free" points in games against most opponents. Milwaukee also leads the league in defensive rebounding.
Those numbers are for the full-season Bucks, though, and that's where the problem comes in. Jrue Holiday did practice with the team Saturday but appears likely to play Sunday, according to ESPN's Adrian Wojnarowski, who said Holiday has been working on his conditioning since returning to practice.
On the court, the Bucks have really struggled without him.
Milwaukee gave up everything but the kitchen sink in its trade for Holiday. The deal left the bench barren, and only Bobby Portis has been reliable for what was once a feared bench unit.
Portis has been starting with Holiday out, since Bryn Forbes was offering nothing as a starter initially. That has stabilized Milwaukee's starting lineup but dug an even deeper chasm for the bench unit, which is now Forbes, Pat Connaughton and just about nobody else worth noting.
The season-long Bucks look undervalued right now. Antetokounmpo is starting to round into MVP form after a slow start, and Middleton will bounce back eventually from the slump he's been on over the past couple weeks. Holiday is terrific, and the healthy best five from this team will be very dangerous.
But that's not the Bucks team that will play on Sunday. This version is missing Holiday at his peak and lately, they've also been missing Middleton. Giannis has been a monster over the last couple weeks, but even he can't do it all himself against top teams. We've already seen that play out over the past couple playoffs.
Clippers-Bucks Pick
I think the wrong team is favored here.
If Holiday hadn't just missed almost three weeks and Middleton was playing better, then sure, I can see making Milwaukee the favorite, especially at home. The season-long numbers make this look like a bit of a coin-flip matchup, one that would be heavily dependent on which team's jumpers are falling any given night.
But this version of Milwaukee should not be favored against the Clippers. LA is actually healthy and remember, the Clips are 17-5 with Leonard and George on the court this season. Milwaukee's defense hasn't been as good this season, and the Bucks' M.O. of taking away points in the paint is relatively useless against a team that doesn't attack the paint much anyway.
The Clippers also don't really try to force turnovers and don't get to the line a ton, so that negates those typical Budenholzer strengths. LA's bench should have a serious advantage, too, with Williams finally getting going the last few weeks.
The wrong team appears to be favored here, and I'm grabbing the Clippers +2.5, which is where the line moved after the report of Holiday's potential availability came out.
You never know how the jumpers will fall with these teams, but I like how the matchup stacks up for LA.
Pick: Clippers +2.5
How would you rate this article?