Lakers vs. Mavericks NBA Odds & Picks: Bet Hinges on Health of Porzingis (Saturday, April 24)
Credit:
Glenn James/NBAE via Getty Images. Pictured: Los Angeles Lakers' Andre Drummond, left, and Kristaps Porzingis of the Dallas Mavericks.
Dallas and L.A. meet for the second time in three days following the Mavericks' 115-110 victory on Thursday.
Anthony Davis finally returned to the floor for the Lakers after missing significant time with an injury.
The result of this game may hinge on the status of Kristaps Porzingis.
Lakers vs. Mavericks Odds
Lakers Odds
+2
Mavericks Odds
-2
Moneyline
+110 / -130
Over/Under
216.5
Time
8:30 p.m. ET
TV
ABC
Odds as of Saturday morning and via PointsBet.
It's the second half of a Dallas Mavericks versus Los Angeles Lakers duplex in primetime Saturday on ABC. Needless to say, this is a big game.
Being Dallas won the first game Thursday, a second victory by the Mavericks would pull them within 1.5 games of the Lakers for the No. 5 seed in playoffs. It would really put Dallas within one game since it would clinch the tiebreaker.
That fifth seed is a coveted spot these days in the West since it means a likely first-round matchup with the Jamal Murray-less Denver Nuggets. On the flip side, the loser here falls closer to the No. 7 seed and a play-in game matchup.
The Mavericks earned a 115-110 win on Thursday, with Anthony Davis making his long-awaited debut. However, he  didn't do much and Dallas led the whole way before holding on late. The Lakers cruised to victory over Dallas earlier this season on Christmas, but LeBron James was playing in that game.
This is the final meeting of the season, with plenty on the line.
Los Angeles Lakers
The Lakers, who sit at 35-24, are No. 1 in Defensive Efficiency like they have been all season. The offense has really disappeared as of late, winding up near the bottom of the league over this recent stretch without Davis and James.
Davis played a little under 17 minutes in his return, going 4 of 10 from the field and 0 for 2 from the line, tallying just four points and four rebounds. He looked more himself on defense, both individually and as a unit, but it's clear this will be a slow, cautious ramp up in his minutes.
It's clear Davis is on a strict minutes limit, and though Los Angeles would love to get this win, the team has its eye on the bigger picture. Expect something around 20 minutes from Davis, perhaps even 24 minutes maximum.
The Lakers have dominated on defense, even without their two superstars, so it's only fair to expect the defense to be even better now that Davis is back. The Lakers rank top seven on all four factors on defense, per Basketball Reference.
They've had a great defensive shot profile  and dominate the glass, plus that advantage has only grown with Andre Drummond. The big man racked up 19 rebounds in Thursdays game.
The Lakers also force a ton of turnovers, but couldn't do that against the Mavericks, who take care of the ball. Los Angeles has managed to stay around .500 without James because of defense and due to the fact it's winning the possessions by holding big edges in rebounding and turnovers.
The Lakers' half-court offense has struggled with James. It's been downright bad without him. They still don't have much 3-point shooting, and they're not even top 10 on 2-pointers anymore now that Davis and James have been absent. It's unfair to expect Davis to do much to elevate the offense just yet, especially because the team is so unfamiliar playing with him and not James.
The Lakers have only ever played four games with Davis and not James, three last season and Thursday against the Mavericks. They're 1-3 now, both straight up and against the spread, in those contests. The win was against the league-worst Golden State Warriors last season, while they lost the other two games by 40 points combined. The offense is scoring under 107 points per game in these games, and that falls below 104 points without the Warriors meeting.
---
Dallas Mavericks
The Mavericks have won two in a row, but had lost four of five before that. Dallas has been a tough team to get a handle on. Dallas started the season an ugly 8-13, but are 24-13 since Feb. 1. That's still not great, but it's a 53-win pace over a typical season and would put it much closer to those top West teams than the play-in teams they're fraternizing with these days.
So what changed? Early on, Dallas couldn't get its full lineup on the court. Kristaps Porzingis missed the first few weeks and was ineffective early in his return, plus Dallas dealt with a bunch of key health protocol absences as well. As Porzingis returned and got healthy, so did Dallas.
Of course, that's the problem. Porzingis injured his ankle Thursday and didn't return. Now, he's a question mark for this game. Maxi Kleber has been a key player for Dallas, but he's also questionable with a back injury.
It's no coincidence Dallas won two of the first three quarters against Los Angeles, but had to hold on for dear life late without Porzingis. Losing these two players would be an especially big loss against a big Lakers team just getting Davis back.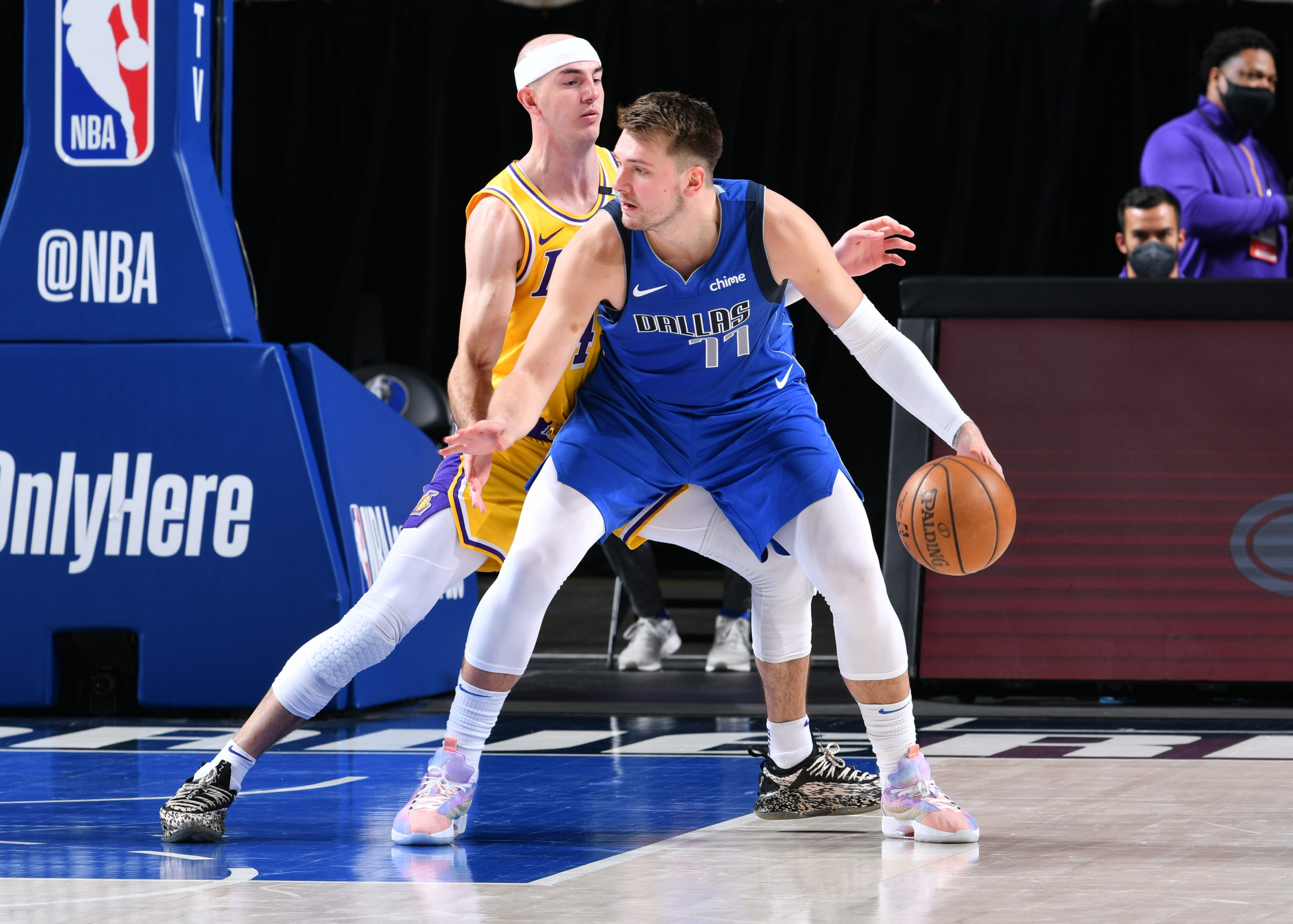 The Mavericks are around the top third on offense and near the bottom third on defense. Those metrics have waxed and waned a bit, but they tell a familiar story. Dallas's defense hasn't been good and its offense has been better but inconsistent.
The Mavericks rank top five in the NBA in 3-point attempts, but below average in 3-point percentage, so that explains the inconsistency. Defensively, they are typically good limiting 2-pointers, which should help against the Lakers, but only if Porzingis and/or Kleber are out there.
Porzingis has undoubtedly been disappointing. There's no question about that. However, there's also no question he's the second best and second-most important player by a sizable margin, especially in a matchup like this.
If he's missing, that's a key help defender out and it changes the offense, thus reducing this team to Luka Dončić and a rotating cast of shooters like Tim Hardaway Jr. and Jalen Brunson.
Lakers-Mavericks Pick
So, what did we learn from Thursday's game? Something and nothing all at once.
The Lakers dominated the glass. That should continue to do so if, especially if Porzingis or Kleber are out. The Mavericks won the turnover battle. That should hold up too, even with Los Angeles good at forcing turnovers.
One key stat that might not hold was a huge Dallas advantage at the free-throw line. The club took 36 shots there, compared to just 17 for Los Angeles. That's not typically an advantage area for the Mavericks. The Lakers got monster games from both starting guards, though.
Dennis Schroder had perhaps his best game with the team, collecting 25 points and 13 assists. Teammate Kentavious Caldwell-Pope racked up 29 points, including six 3-pointers. However, that won't repeat itself.
Even if the shooting cools off, there should be plenty of scoring. These teams combined to score at least 56 points in the first three quarters Thursday before an ugly 21-20 final stanza. The game finished with 225 points, even with that slow fourth quarter, and scoring should only go up with more Davis.
One play here is an Drummond rebounding over on his total.  Dallas doesn't have an answer for his rebounding prowess. He's getting a rebound ever 2.5 minutes for the Lakers, and averaging 30 MPG over the last three games.
Even a few more Davis minutes shouldn't take away from Drummond at center with Marc Gasol ailing. It probably won't even impact his rebounding much since Davis plays further from the rim these days. I expect at least 12 rebounds from Drummond, and probably more like 14 or 15 in the game.
Other than that, let's keep the play here simple. With the line so close to a Pick'em, our decision on this game should depend on Porzingis. No matter how disappointing you think he has been, he's still important to Dallas. If he sits, I'll take the Lakers to find a way. If he looks good to go, the Mavericks look like the better play.
Watch for Porzingis news, then make your play accordingly before the game.
Pick: Mavs -2 (if Porzingis plays; play the Lakers if he sits)
How would you rate this article?
This site contains commercial content. We may be compensated for the links provided on this page. The content on this page is for informational purposes only. Action Network makes no representation or warranty as to the accuracy of the information given or the outcome of any game or event.