Pelicans vs. Bucks Odds & Picks: Bet on One-Sided Game in Milwaukee (Thursday, Feb. 25)
Credit:
Jesse D. Garrabrant/NBAE via Getty Images. Pictured: Giannis Antetokounmpo (right) and Zion Williamson.
If someone told you there were two aliens playing in the NBA, Giannis Antetokounmpo and Zion Williamson would be among your first two guesses.
Those two Thursday in a battle for the future of the NBA, and the Bucks may be perfectly suited to negate the Pelicans' strengths.
Brandon Anderson breaks down the matchup and shares his betting pick below.
Pelicans vs. Bucks Odds
Pelicans Odds
+9
Bucks Odds
-9
Moneyline
+320 / -420
Over/Under
240
Time
9:30 p.m. ET
TV
TNT
Odds as of Wednesday night and via FanDuel.
You know TNT execs were drooling over this one between the Pelicans and Bucks. These are two of the most fun teams in the NBA, in large part because we get to watch two of the league's most unique superstars in Zion Williamson and Giannis Antetokounmpo.
On the one side, we've got the two-time reigning MVP, a man who can get from half court to the rim with three or four steps like some sort of Gumby or the stretchy Space Jam Michael Jordan come to life. On the other side, Zion is basically a Monstar. A modern day Charles Barkley, Williamson is a beast of a man with the footwork of an angel along with a soft touch.
Let's put it this way. If someone told you right now that there are two aliens playing in the NBA and asked you to guess, Giannis and Zion would be among your first two guesses. There's simply nothing or no one else like them. And now we get to see them face off for the second time this season.
New Orleans Pelicans
Of course, this is not a one-on-one battle, so we'll have to watch the teammates, too, which is decidedly less exciting. The Pelicans have been a disappointment. New Orleans is 13-17 on the season, though the underlying metrics suggest the Pels are closer to a .500 team.
New Orleans has been a disaster on defense. Zion is a serious liability on defense for now, and Brandon Ingram has struggled on that end, too. New Orleans brought in Eric Bledsoe and Steven Adams to help defensively, but those two haven't done the trick and really gum up the offense and any spacing, so it's a double whammy.
Heading into Wednesday, New Orleans was allowing the most 3-pointers in the league at over 16 per game, and they also ranked 29th in the NBA in defensive effective field goal percentage. The Pels are allowing 3s at an historic rate, and while that means they're not giving up as many shots inside the arc, they haven't been effective defending there either. Just about the only positive for New Orleans on defense is that they're a terrific rebounding team with all that size, so that limits second chances.
If the Pelicans play well, it's because of their offense, and that's the problem, really. They can sacrifice the few defenders they do have for a better offensive team, but that only turns a trainwreck of a defense into a Chernobyl meltdown instead, and the upgrade on offense isn't making up for it.
New Orleans can't shoot. That seems like a problem in 2021. They aren't hitting many 3s, and they get to the free throw line a lot but miss way too many freebies. Really, the offense is only as good as it is because Zion is an absolute superstar. Williamson is averaging a slash line around 25/7/3, and his passing has improved a ton in February, too. Zion is taking 15 2s per game and hitting over 60% of them, an absurdly efficient combination we haven't seen for decades, and he's getting to the line almost eight times a game.
Williamson is also a beast on the offensive glass and has an incredible second leap, so that's another area where he and the Pels get easy buckets. In fact, New Orleans leads the league in offensive rebounds with more than 11 per game. The Pelicans might be the best rebounding team in the league. They're also getting another good season from Brandon Ingram, who's slashing around 24/5/5 and is a handful of buckets away from a 50/40/90 season.
The problem is the rest of this roster just isn't working around those two, and we still don't even really know if that duo works together. Lonzo Ball and Josh Hart have their moments but can be streaky. Kira Lewis and Nickeil Alexander-Walker are the future but are not ready yet. Bledsoe and Adams haven't fit.
Zion is truly special, but when he doesn't carry them, they just don't have enough.
---
Milwaukee Bucks
The Bucks sit at 19-13 but are absolutely better than that record, at least at full strength. Many advanced metrics still rate this team as the second best in the NBA behind only the scorching-hot Utah Jazz. Milwaukee has a +7.6 Net Rating, per Basketball Reference. The offense has ranked in the top three all season, and the defense is at least above average to good, depending on the day.
Still, this has been a rough patch for the Bucks. Milwaukee has won three in a row now, but the Bucks had lost five in a row before that, their worst regular season stretch under Mike Budenholzer. The Bucks sorely miss Jrue Holiday, who looks like he'll still be out Thursday. Milwaukee blew up its depth to go all in for Holiday as a third star, and he's been a perfect glue guy, defender and secondary creator. Without him, Khris Middleton has slumped over the past couple weeks and it feels like the Bucks have tanked a bit.
Dig a little deeper though. Four of those five losses in the streak were against the Suns, Jazz and Raptors (twice). Those are not bad losses, especially without a player like Holiday. The only real "bad" loss in that stretch was to the Thunder. Of course, the three wins since then have come against the Thunder, Kings and Wolves, so it's not like that's impressing anyone, either.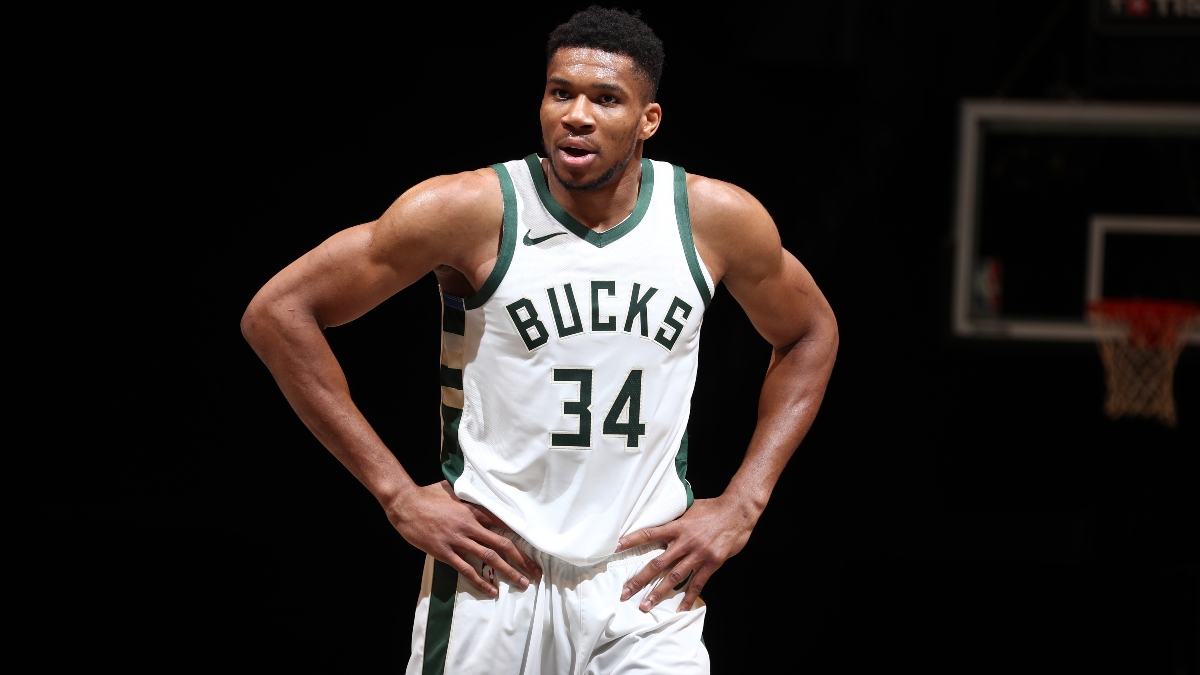 The Bucks have been hitting shots all season. The numbers have started to regress a little, but Milwaukee still ranks top-five in both 2- and 3-point percentage. The Bucks are getting good shots and hitting, well, most of them.
They're also one of the league's best rebounding teams. Milwaukee leads the league in defensive rebounding percentage and ranks first in total rebounds per game. And like all Budenholzer teams, they rarely foul or turn the ball over, meaning no freebies for the opponent.
One area Milwaukee has definitely struggled this season is that the Bucks' bench has been terrible. Bobby Portis has done well enough, but there's very little else there, and the bench is even weaker with Holiday missing and Bryn Forbes elevated into his starting role. The Bucks will need to figure out that bench issue by May and June — but the Pels' second unit probably isn't strong enough to punish them much.
Pelicans-Bucks Pick
I'm starting to nibble on some Bucks futures, because I think this team is underrated right now, sitting at +300 at DraftKings to win the Eastern Conference. I still think Milwaukee is the second-best team in the East, and they're only going to get better once they get Holiday back and see more of a return to MVP form for Antetokounmpo.
That's not the Bucks team we get here without Holiday, but I think the recent losses and Holiday absence buy us a bit of value here. I don't like this matchup at all for the Pelicans. You beat the Bucks by bombing 3s, not taking them down inside the arc. Milwaukee ranks third in the league in 2-point percentage on defense, so the Bucks should make it hard for Zion to do his usual tricks, and the Bucks barely ever foul so that limits Pelicans free throws. The Bucks are also just as strong on the glass, negating another New Orleans strength.
I think New Orleans struggles to score at their usual rate here against a defense suited to negate the Pelicans' strength, while the Bucks should be able to name their number against this defense.
The Pelicans have already lost 11 times by double digits, and I wouldn't be surprised to see a 12th here. It doesn't help that the Pelicans play in New Orleans less than 24 hours before this tip in Milwaukee, and we could get a big game from All-Star snub Middleton, too.
I like the Bucks. I'll grab them at -9 and would play to -10.
Pick: Bucks -9
How would you rate this article?