NBA Odds, Picks & Predictions: Moore's Warriors vs. Lakers Bets for Game 3
Credit:
Keith Birmingham/MediaNews Group/Pasadena Star-News via Getty Images. Pictured: LeBron James #6 of the Los Angeles Lakers.
The Los Angeles Lakers are following a pretty good formula for beating the Golden State Warriors.
They stole Game 1 with a good game plan and caught the Warriors tired after a seven-game series with the Kings.
They tried some things (that didn't work) while forcing the Warriors into some early adjustments that they can counter as they go home, while pulling up in Game 2 and letting that one go.
Now they regroup for back-to-back home games at Crypto.com Arena. Let's dive into the big takeaways in this series so far and my bets for Warriors vs Lakers Game 3.
Golden State Warriors vs. Los Angeles Lakers
LeBron James Is Just a Guy
LeBron James is averaging 22-11-5 in the playoffs, far from a role player stat line but not star numbers either. He's averaging 23-9-4 against the Warriors through two games.
It just has not felt like James is James in this series. He has not felt like a dominating force. He hit some 3s in Game 2s first quarter. He's had some outrageous blocks already.
But if James isn't going to be the best player in any game in this series, the Lakers' chances go way down. Is Game 3 that game? Can he out-duel Stephen Curry in a game? Because if every game, Curry is better than James, you're not just relying on the inconsistency of Anthony Davis, you're moving your margin of error way closer to zero.
Age (and injury) rob you of your consistency, not your peak. If James has a monster Game 3, it can swing not only the game, but the series.
---
Want more NBA Playoff Analysis? Check out the Buckets Podcastfor everything you need to bet the NBA.
---
Road Assistance
We have some weird trends to sort through here with the Warriors.
The Warriors have won a road game in 28 straight playoff series, an absolutely ridiculous, flat-out stupid stat.
Additionally, the Warrior are 37-22 straight up (63%) and 34-25 (58%) in road playoff games after the first two games. (They are, however, 1-4 in such games when it's a 1-1 series headed to Game 3.)
However, the Warriors were also the worst road team in the league this season, the worst road team as a defending champion in NBA history, and lost the first two in Sacramento (the first time in the Kerr era they have ever gone down 0-2). They rallied and won two of the final three in Sacramento.
But are they over the road woes?
Can they silence a raucous Lakers crowd (well, upper bowl at least)? By the way, the Warriors are 1-3 SU and ATS at the Crypt since the start of last season when they returned to contender status.
The Anthony Davis Zig Zag
Social media is filled with posts about Davis' performance zigging every other game. If you want a different perspective on his performance, look at his shot charts: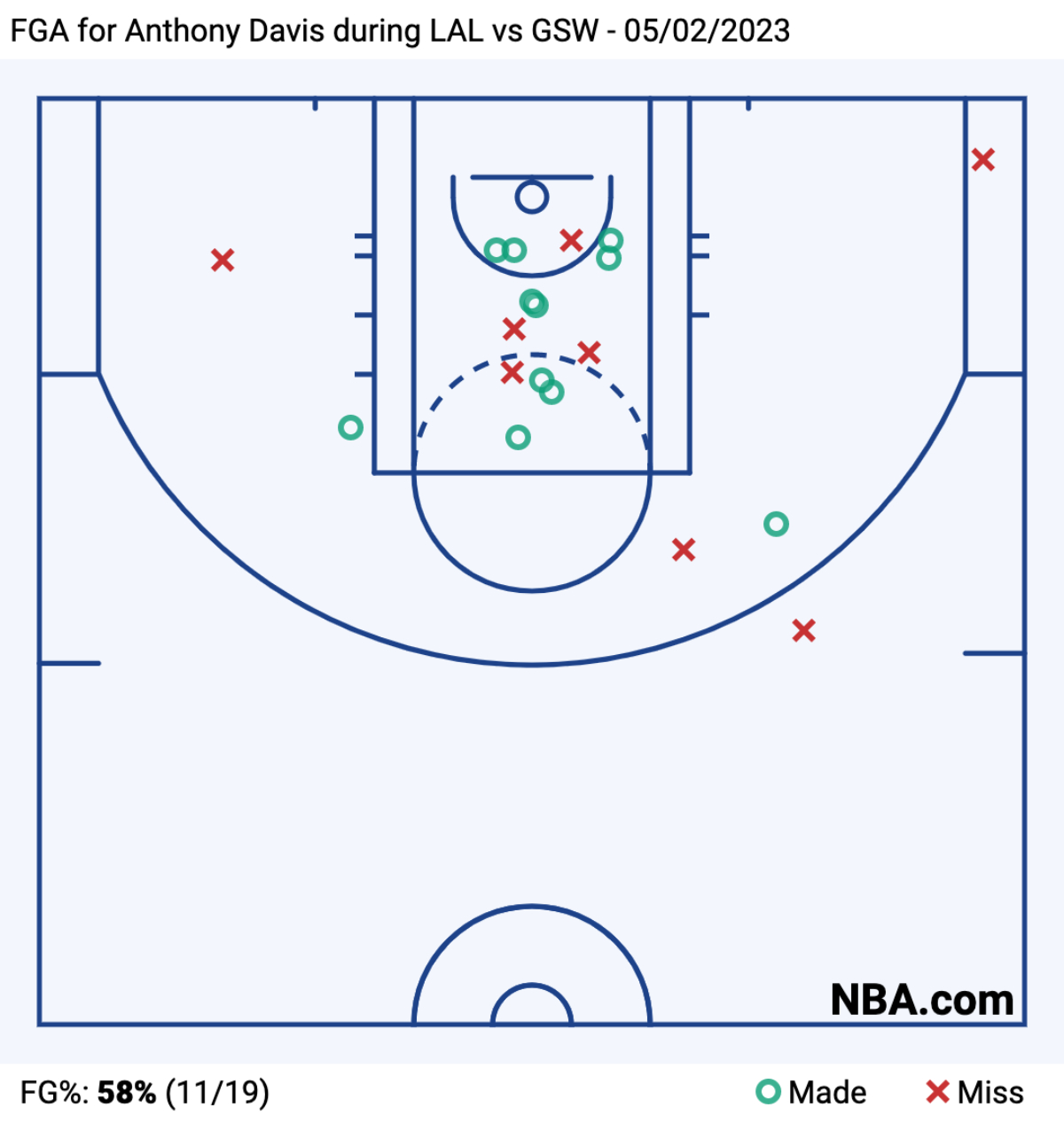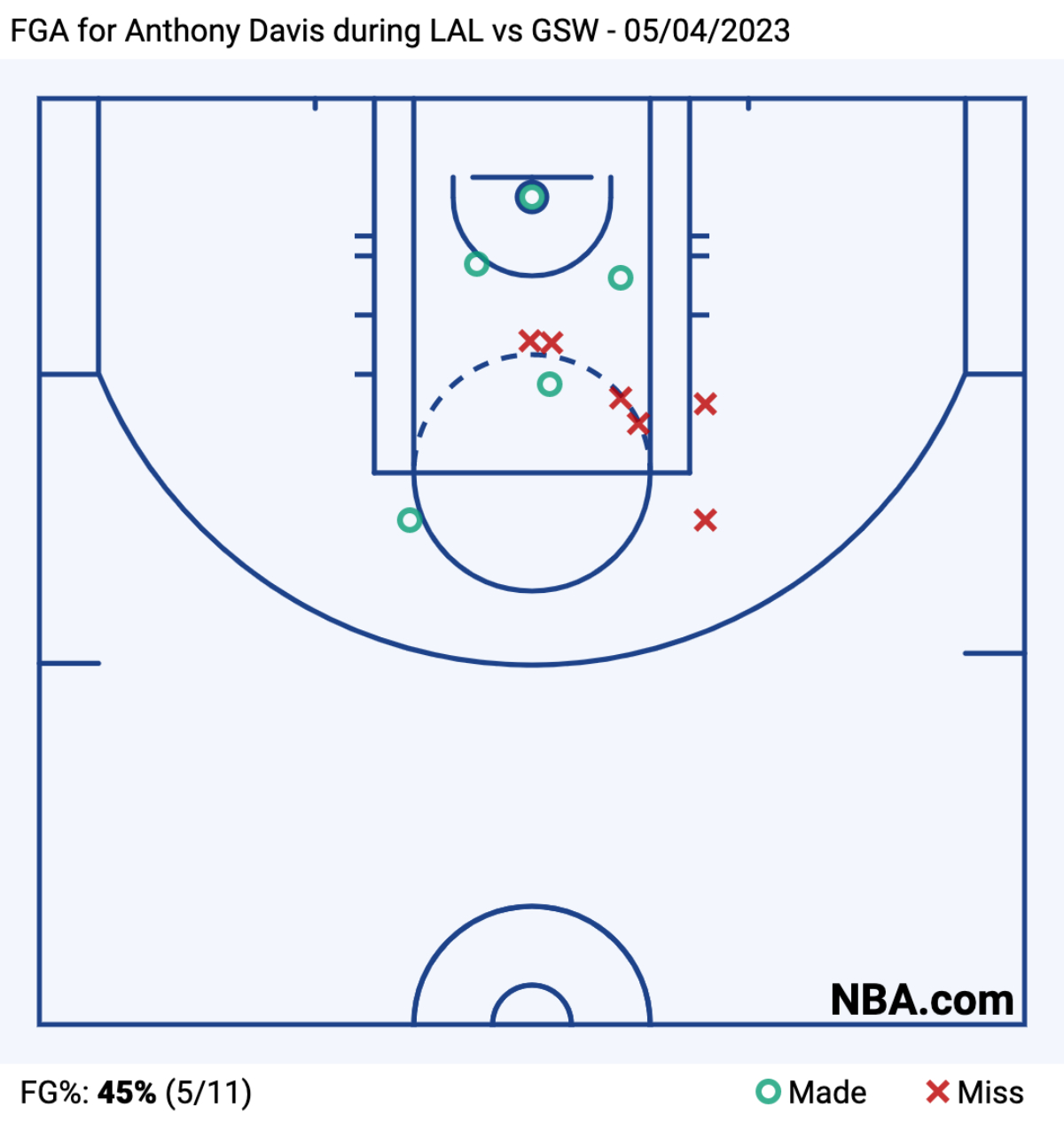 You'll notice he had two shots in the restricted area in Game 1 and one shot in Game 2. But in the first game, he hit his short jumpers. In the second, he missed those.
That's about what it comes down to. Much like Kevin Durant and other great tall scorers, his game isn't going to adapt too much. If he's facing a small frontcourt he can bully, he'll score on lobs and drives. If not, he'll either hit his jumpers or he won't. That's the makeup, essentially.
An interesting adjustment Steve Kerr made, that was due in part to Kevon Looney's illness that held him to 11 minutes, was only playing one big. If Davis is facing Draymond Green, as talented as Green is as a defender, he needs to win that matchup and not settle. Forcing the issue not only can get Green in foul trouble, but effectively breaks the Warriors' defensive game plan.
Does Davis take on that challenge? Or does he just take more jumpers? Does he just make them?
These are questions you need to answer when it comes to Game 3, and I don't have a great answer for you, because Davis is as talented as he is inconsistent. He will not attack the matchup the right way, I feel confident in that. It just may not matter.
Draymond Green's Aggression
Green was skittish in Game 1, and the Warriors were terrified of attacking inside vs. Davis. In Game 2, they ran actions to make him cover more ground or get him higher up the floor, and in doing so, opened the lane.
Green was aggressive, dunking and playing with force. The Warriors spacing the floor and attacking to counter got the Lakers out of their bully ball paint-packing. It also helped that Klay Thompson hit shots.
But Green is key here. In Game 1, he was tentative, a non-factor. Green doesn't have to have a great scoring game. He has to keep them honest and do all the other stuff he does.
Warriors vs Lakers Bets
Curry under 7.5 first quarter points (-106): Curry has been weirdly passive on the first handful of possessions each game. He went over this in Game 1 but then had just five in Game 2.
Some of that was the coverage that the Lakers (inexplicably) threw at Curry, which allowed him to become a playmaker. But even with an increased amount of pick-and-rolls, Curry didn't really get into things until later.
I'm expecting the same here.
Pick: Curry Under 7.5 1Q PTS
---
Under 228: I somehow snuck this one out with a bizarre garbage time drought late in the game in Game 2. I'm going to keep playing it. These two half-court offenses are not good. The Warriors got things going with an explosive Thompson game and the Lakers largely surrendered things. At home, it seems likely the Lakers will look to slow down the Warriors.
Maybe I'm wrong and these two teams are super efficient monsters who haven't looked it all year. But I'll take my chances with one of them coming up short and ugly in a game with much better defensive capability than offensive ceiling.
---
I don't want either side. I lean towards Warriors moneyline +130. I think the Warriors win this series, but am not sure they get this game.
How would you rate this article?
This site contains commercial content. We may be compensated for the links provided on this page. The content on this page is for informational purposes only. Action Network makes no representation or warranty as to the accuracy of the information given or the outcome of any game or event.