NBA Odds & Picks for Raptors vs. Heat: Miami Can Ride Its Defense To A Cover On Wednesday
Credit:
Michael Reaves/Getty Images. Pictured: Miami Heat star Jimmy Butler.
Raptors vs. Heat Odds
Raptors Odds
+2
Heat Odds
-2
Moneyline
+107 / -129
Over/Under
215.5
Time
8 p.m. ET
TV
SUN
Odds as of early Wednesday morning and via DraftKings.
After their Eastern Conference Championship run, expectations for the Heat were high entering the year. Unfortunately, injuries and a devastating COVID-19 bug dropped them into a nasty 3-10 rut in the middle of this young season. Getting back to health now, Miami found its way, winning seven of the last 10.
While the Raptors have not experienced the same injury misfortune, their season follows the same story as the Heat: A disappointing 2-8 start left Toronto in a hole at the beginning of the season. Now the Raptors have bounced back, winning nine of their last 13.
After slow starts put both teams behind the 8-ball, recent success brought each back to relevance. However, only one can continue their current run and walk away victorious on Wednesday night. Let's dig deeper to see which team has the edge.
Toronto Raptors
Over their last 13 games, the Raptors displayed the well-disciplined and excellent fundamental play that led them to the 2-seed last season. The result has been excellent: Their nine wins over that span rank third-best in the NBA. Not only have they won, but both sides of the ball stepped up, leading to the fifth-ranked Net Rating in that time per NBA.com.
While improving to this magnitude takes a full team effort, Norman Powell's play improvement stands out above his teammates. In their first 19 games, Powell averaged 14.3 points on 42.9% shooting. Over this 13-game run, his numbers shot straight up to 21.5 points per game on 52.6% shooting.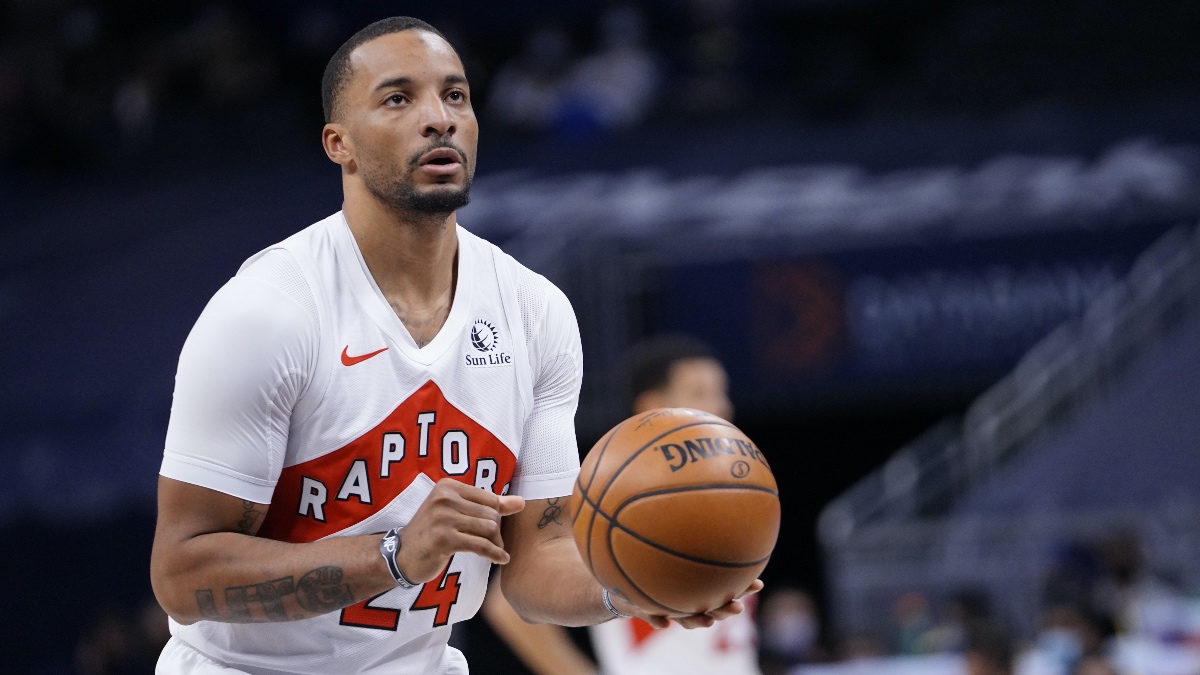 Powell's excellent play forced him into the starting lineup, even when Kyle Lowry and OG Anunoby returned from injury. Once healthy, someone had to go though, which moved center Aron Baynes to the bench and forced the Raptors to play a more small-ball style.
This revamped style started hot, winning their first four games with it. Proof of concept takes more than four games, but two victories over Milwaukee and one over Philadelphia were a great start. Unfortunately, a rematch against Philadelphia ended the new starting lineup's run.
Miami will be an excellent test of whether opponents just needed to adapt to Toronto's new lineup or if this recipe will succeed.
---
Miami Heat
The toughest competition the Heat have faced this year is their injury report. Fighting through injuries and COVID-19 forced them to play a mismatch of players and not develop a steady rotation. The results speak for themselves: 14-17 falls far below their early-season expectations.
Key pieces Avery Bradley, Goran Dragic and Tyler Herro all sat out on Monday. Bradley is out again on Wednesday while Dragic and Herro are listed as questionable.
The Raptors' most important player, though, is healthy now — Jimmy Butler played in their past 13 games, helping lead the Heat on a 8-5 run. His offensive efficiency still needs improvement, though: He's shot only 42.7% from the field and 22.2% on 3-pointers over the past 13 games.
Butler's main value as a leader comes from his intangibles, though — any slacking will not be tolerated. Who could forget his famous practice with the Timberwolves, when he called out their best players for their effort? Bringing that same passion in his return with the Heat, their defense has leapt to second in Defensive Rating per NBA.com.
Unfortunately, their excellent defense has been paired with a disastrous offense so far. Even returning their star hasn't helped considering they still sit 22nd in Offensive Efficiency since Butler's return.
The defense will need to continue to carry the team until reinforcements — in the form of Herro and Dragic — arrive.
Raptors-Heat Pick
Miami and Toronto enter Wednesday looking to continue their climb in the Eastern Conference standings.
The Raptors will likely focus on what they do best: Hitting shots from behind-the-arc. With a 38.3% 3-point rate, they currently ranks seventh in the league. While relying on what you do well makes sense on paper, they'll be on the second night a back-to-back. That means tired legs for their three best scorers: Pascal Siakam, Norman Powell and Fred VanVleet.
Not only will the Raptors fight exhaustion, but the Heat play highly active and intense on defense — they're not the team you want to face after battling with a team as good as the Sixers.
The Heat's defense relies on crisp fundamentals to succeed and rarely look for the flashy play. Dedicating to clean play is why the Heat's defense remains potent despite ranking 23rd in steals and 29th in blocks per 100 possessions. With their already-elite defense having an additional edge against the Raptors, the Heat will be able to hold the Raptors' offense down.
A slowed Raptors attack will prevent the Heat from getting into a shootout and keep the game gritty the way they like it. While Miami's offense has done little to impress all season, it will have what it takes to get Miami what it needs to win.
Back the Heat and their elite defense to keep their run alive.
Pick: Heat -2 to -3.5
How would you rate this article?