Wizards vs. Nets Odds & Picks: Target the Total in Sunday's Showdown
Credit:
Nathaniel S. Butler/NBAE via Getty Images. Pictured: Kevin Durant #7 of the Brooklyn Nets.
It's Russell Westbrook vs. Kevin Durant in Brooklyn on Sunday, as the Wizards go for their second straight win.
The Nets started the season looking like legitimate title contenders, but they have slowed down since a pair of dominant wins to start the season.
Malik Smith is targeting the total in his pick for this game, explaining why he's on the under.
Wizards vs. Nets Odds
Kevin Durant vs. Russell Westbrook may not count as a revenge game anymore, but that doesn't mean Wizards vs. Nets won't be must-see TV on Sunday. Oddsmakers expect a high-scoring matchup with the over/under opening at 241 and going as high as 242.5.
Will these two offenses out on a show, or is there some value in betting an off night for one, or both squads? Let's take a look at the matchup and find out.
Washington Wizards
If you've been watching the Wizards so far this season, it is becoming clear that scoring is their primary focus is offense and defense is, well, optional.
The Wizards put up 120 points on the Orlando Magic in their second game but gave up 130. They scored 130 against the Bulls on New Year's Eve but allowed 133 to a team that ranks 21st in Offensive Efficiency entering Saturday.
(Maybe optional is too kind of a description for how they've approached defense.)
Their first win of the season came without Russell Westbrook in the lineup, which isn't concerning on its face but worth paying attention to as the season progresses.
Back to the defense. According to NBA Advanced stats, the Wiz have two five-man lineups that have played 24 minutes together this season. One has allowed 75 points per 100 possessions, the other has allowed 148.2 points per 100 possessions.
Yes, the sample is small, but it is still their most-used lineup this season. There's no reason to believe that Scott Brooks won't play that lineup for a significant amount of time on Sunday.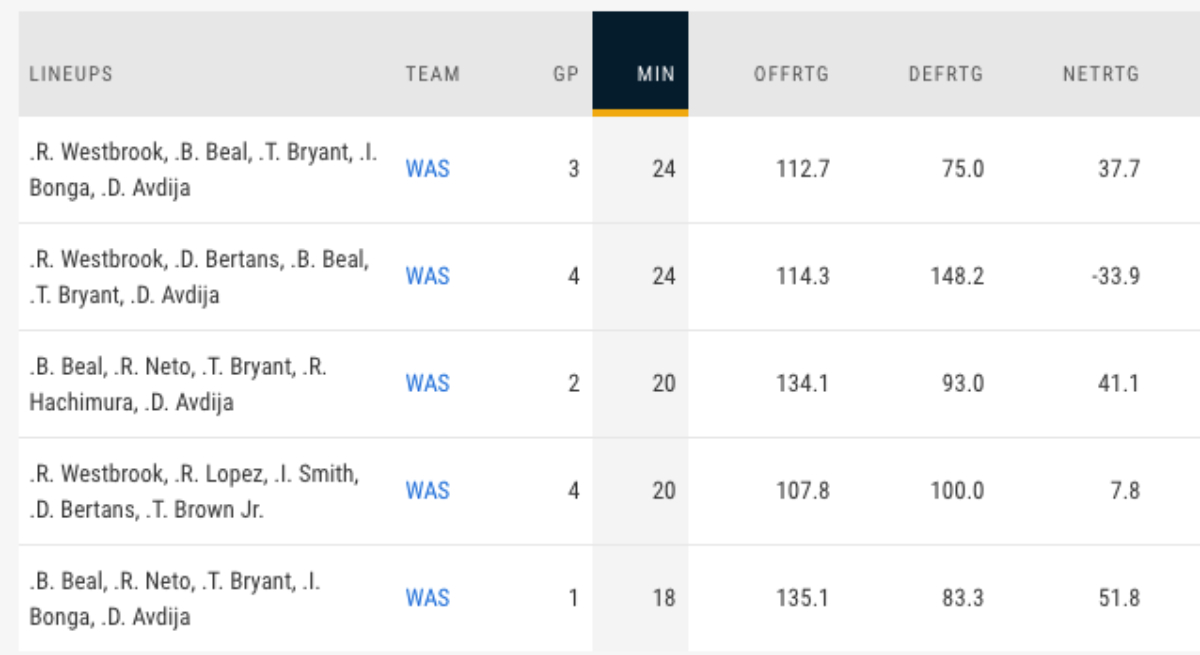 Eventually that Defensive Rating will regress to the mean (or maybe that lineup with Bertans should just never see the floor again), but in the seventh game of the season, I think we can expect this team to continue to be a row of turnstiles on defense.
---
Brooklyn Nets
The Nets looked otherworldly in their first two games this season, but have quickly come back to earth since. The defensive numbers were fantastic early, but the Nets are now closer to the middle of the pack after playing the high-powered Atlanta Hawks twice in a row. Losing Spencer Dinwiddie as another strong defender in their starting and backup units will have some long-term impact.
Offense is and likely will be a certainty for this Nets' team all season. With Kevin Durant and Kyrie Irving at the helm, the Nets rank eighth in Offensive Efficiency (111.4) entering Saturday, just above the Wizards.
To illustrate how much the production falls on Durant and Irving's shooting ability, the Nets rank third in the NBA with 28.3 points off Pull Up shots. Durant and Irving account for 20.4 of those points — they score more points on those shots as a tandem than 17 teams in the NBA. The Wizards are allowing opponents to shoot the second-highest percentage inside of 10 feet, an area where Durant (56.5%) and Irving (59.4%) excel this season.
With both players still slowly rounding into form after injury riddled seasons, the Nets' offense will only get better as the season progresses. But so far, this duo has shown they can carry a heavy load.
Wizards-Nets Pick
The Nets have already been involved in two games with a total at or above 240 points and they have split the over/under in those two games. Historically, it has been profitable to fade high totals like this one, according to our Bet Labs database.


The Nets' defense is questionable; we still don't know if they are the team from the first three games of the season or the past three games. Both teams rank in top-10 in Pace, which means we could see a back-and-forth matchup.
Still, this total feels like it's just too high. The Nets, for all their offensive firepower, have gone under in five of their six games this season. And while the defense is still a work in progress, we have seen the Nets defend at a high level when they want.
I'll trust the trend here and fade this massive total.
The Pick: Under 242 (down to 240)
How would you rate this article?