NBA Player Prop Bets & Picks: Fade DeMar DeRozan & Other Stars On Thursday Night
Credit:
Logan Riely/NBAE via Getty Images. Pictured: San Antonio Spurs star DeMar DeRozan.
We've been fading stars all week here at The Action Network, and it feels like the right week to fade — we're one night of basketball away from an All-Star Break, and boy do we need it.
Rosters have been ravaged by injuries and COVID protocols and everyone needs a break. That's led to a ton of blowouts lately as well as wonky stats and minutes totals with teams just trying to get to break and catch their breath. And that means under opportunities for stars. We're playing three more of them tonight.
For those who are new to this article, we'll be using the Action Labs Player Prop tool to compare our NBA projections to the props posted at a variety of sportsbooks. Each bet is then graded on a scale from 1-10, with 10 being the best possible grade.
Below, I have laid out three prop bets that I'm playing, the case for each bet and the best books to find odds on those player props.
NBA Player Prop Bets
DeMar DeRozan Under 8.5 Assists (-134)
| | |
| --- | --- |
| Thunder at Spurs | Spurs -6.5 |
| Time | 9 p.m. ET |
| Best Book | PointsBet |
The Spurs are hilariously shorthanded as they hit their oops-even-shorter All-Star Break. They're missing Rudy Gay, Derrick White and Devin Vassell. Keldon Johnson is available but played only 10.5 minutes on Tuesday. LaMarcus Aldridge is questionable, too, and it would be a surprise to see the Spurs rush him back with the break coming.
All those names missing have pushed DeRozan into an even bigger role than usual, and he's had a huge week keeping this team afloat. He had 32 points and 11 assists in a win over the Pelicans, then recorded 11 dimes each against the Nets and Knicks this week. He's now averaging 7.3 assists per game, a career high in maybe his best and most efficient season ever for the surprising Spurs.
And all that recency bias has me thinking under.
Yes, DeRozan has three straight games with 11 dimes, but he has only one other such game all season. It's also worth noting that two of those games came against the terrible Pelicans and Nets defenses, two of the least resistant units in the league.
The Thunder are a far better defense, ranking top 10 in the NBA, so it will be a steeper challenge for DeRozan.
Even with this hot recent stretch, DeRozan has gone over 8.5 assists only nine times in 28 games. That means he's gone under this line almost 68% of the time. That's why we're using recency bias against the books here and thank them for pushing the line too high as a response to this hot week.
This is our top prop play on the board tonight, with nearly a 17% edge in our favor. We project DeRozan at 6.9 dimes, and I'll play the under here to -170.
---
Eric Bledsoe Under 4.5 Assists (+104)

| | |
| --- | --- |
| Heat at Pelicans | Pelicans -2 |
| Time | 8:30 p.m. ET |
| Best Book | FanDuel |
This is another opportunity to fade recency bias.
Eric Bledsoe had 10 assists last night against the Bulls, matching his season high. With 12 points and five rebounds, too, it was one of Bledsoe's most productive games this season. He played nearly 42 minutes.
Zoom out and look at the bigger picture, though, and you'll see that Wednesday was Bledsoe's first big assists game in a long time. In fact, it was the first time Bledsoe went over five assists in almost two full months. His last game even six assists was way back on Jan. 8!
And that makes sense. The Pelicans have completely transformed over that period. First, Brandon Ingram was taking on a bigger playmaking role, and lately, it's been Zion Williamson. Zion has seen his touches and assists go up, and Ingram is still dishing, too. That has marginalized Bledsoe quite often, and it's why he's averaging just 3.6 assists per game since that Jan. 8 game.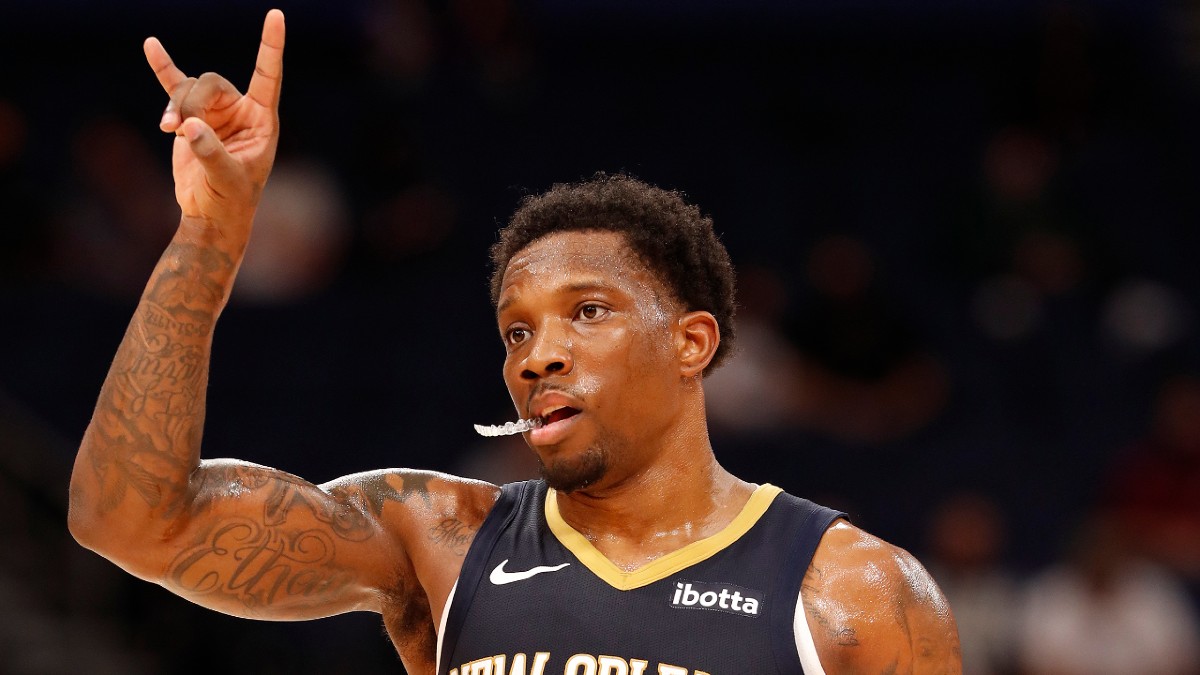 I'm not afraid of those 42 minutes, either. In fact, they're part of the reason I'm fading Bledsoe here. Remember, that happened just last night! This is the second night of a back-to-back, and Bledsoe could cede many of those minutes to other teammates to balance playing time out for fresher players who don't have tired legs.
Bledsoe has played 25 games since Jan. 8. He's gone over 4.5 assists only six times over that stretch. That means he's hitting the under 78% of the time, and he's gone over by more than half an assist only once, which was on Wednesday night of course. That glass ceiling gives us a great chance of an under, and I love getting plus juice here. I'd play the under to -120.
---
Russell Westbrook Under 0.5 3-Pointers (+176)

| | |
| --- | --- |
| Clippers at Wizards | Wizards +6 |
| Time | 7 p.m. ET |
| Best Book | FanDuel |
Ever enjoyed a good roller coaster ride?
Because betting on Westbrook to play a full game without hitting a single 3-pointer is about to be the ride of our lives.
Westbrook is one of the worst volume 3-point shooters in NBA history, full stop. He recently passed 1,000 3s for his career, but he's made barely 30% of his 3,306 attempts for his career. He's made only a third of his in two different NBA seasons, and he's been below 30% four seasons running.
He's not a good 3-point shooter.
But a magical thing appears to be happening — Westbrook has finally stopped trying to shoot 3s. Well, mostly. Since the start of February, Westbrook is down to 3.1 attempts beyond the arc per game. It's still not nothing, but it seems like some magic coach out there finally convinced Russ to stop popping eight inefficient treys per game.
Over that stretch, Westbrook has made only nine 3s in 15 games. What's even crazier is that six of those makes came in two games! Tuesday night against the Grizzlies, he hit a couple threes in the opening minutes and finished 3-for-7 on the night, and he went 3-for-8 against the Raptors a month ago. That makes sense.
Russ is still Russ, and he's going to try his hand early on — and if he hits that first shot, you know a few more are going up.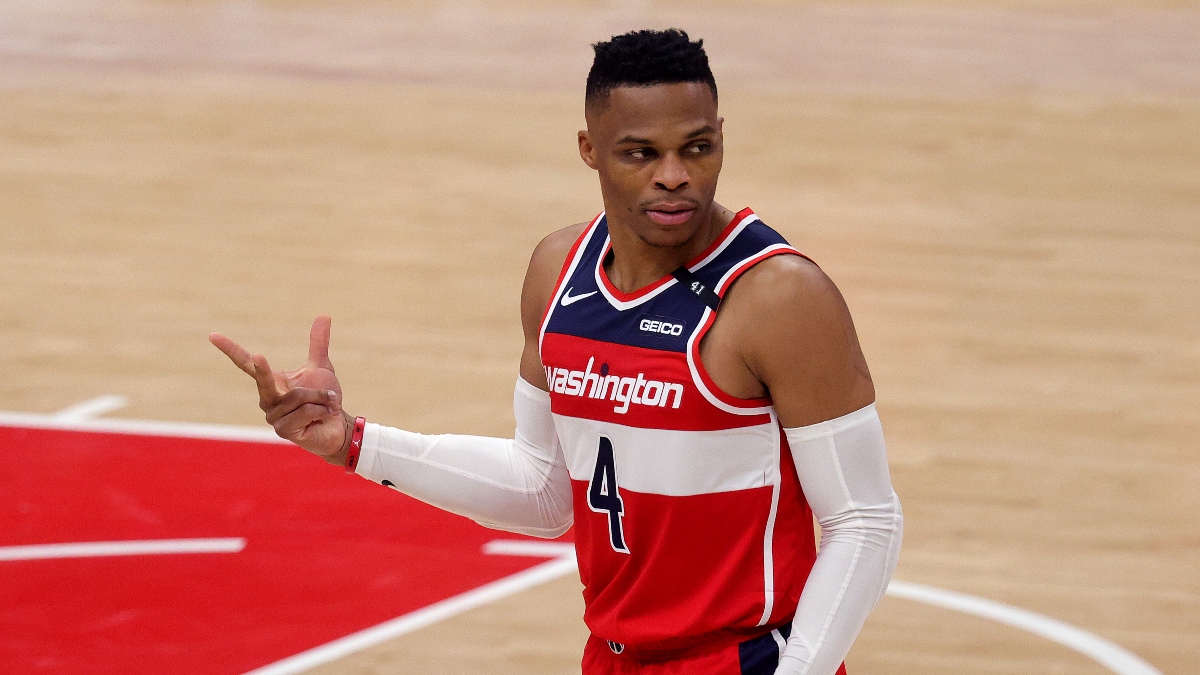 But who cares if Russ hits 3s? Once that first shot falls, we're already sunk. But when the first shot misses, the shots disappear. Take those two "volume" games away, and Westbrook has three makes in 30 attempts across 13 games since the start of February. That includes 10 games without a single 3-point field goal.
The odds here are way off. This line implies a 27.6% chance of Westbrook not hitting a 3-pointer, but he's finished 10 of his last 15 games without one. That's a 66.7% chance! That would imply a line of -200 here, not +176.
Look, it's still Westbrook. He's liable to go happy-go-jacky at any moment, and it would be just like Russ to go all game without a single attempt and then sink an 80-footer at the buzzer in a 25-point loss to send us into the All-Star Break. We'll have to take our chances.
Get on that Russ roller coaster as we head to break. That +176 under is way to juicy to pass up.
How would you rate this article?
This site contains commercial content. We may be compensated for the links provided on this page. The content on this page is for informational purposes only. Action Network makes no representation or warranty as to the accuracy of the information given or the outcome of any game or event.