Clippers vs. Suns Game 2 Player Prop Bets, Picks: 3 Picks for Tuesday's NBA Playoffs, Including Paul George & Devin Booker (June 22)
Credit:
Michael Gonzales/NBAE via Getty Images. Pictured: Paul George.
Without Kawhi Leonard and Chris Paul again, the secondary stars for the Clippers and Suns have value in the player props market.
Paul George and Devin Booker had huge Game 1s, while Deandre Ayton took advantage of a mismatch down low against Los Angeles.
Brandon Anderson, who is red hot during the playoffs with his prop picks, lays out his 3 best bets for the game using the Action Labs Player Props tool.
We're headed to Game 2 of the Western Conference Finals on Tuesday night, and the Phoenix Suns already have a 1-0 series lead over the Los Angeles Clippers. Chris Paul remains out in COVID-19 protocols, while Kawhi Leonard is out, rehabbing his injured knee.
Both of these teams are built around a pair of stars and with one out for each, the second star stepped up for each team in Game 1. Devin Booker and Paul George had huge nights, and we're betting on them to repeat the feat in Game 2.
We're killing it so far these playoffs, at 44-18 so far on our props. That's a 71.0% hit rate through two rounds, and we're up 21.73 units on playoff props, a sparkling 34.0% return on investment. Let's keep it rolling in the Conference Finals.
For those who are new to this article, we'll be using the Action Labs Player Prop tool to compare our NBA projections to the props posted at a variety of sportsbooks. Each bet is then graded on a scale from 1-10, with 10 being the best possible grade.
Below, I have laid out three prop bets that I'm playing, the case for each bet and the book to find the best odds on those player props.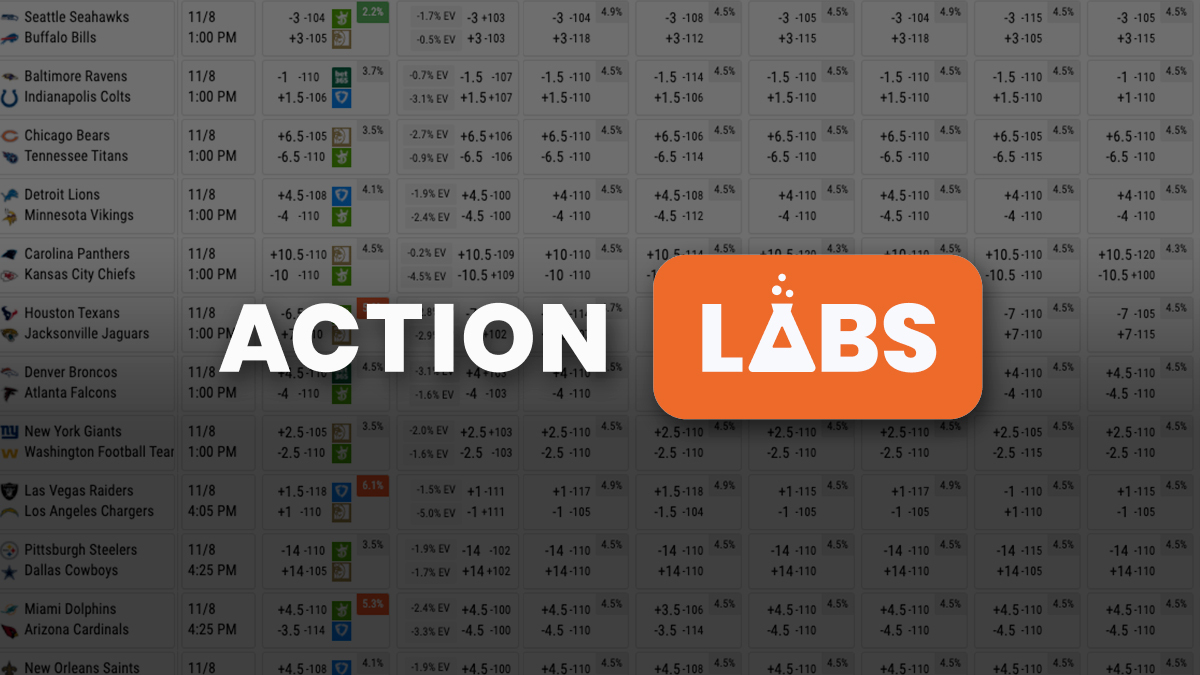 NBA Player Props & Picks
Paul George, over 3.5 3-pointers (+142)

| | |
| --- | --- |
| Clippers vs. Suns | Clippers +6 |
| Time | TV | 9 p.m. ET | ESPN |
| Best Book | DraftKings |
Playing 3-pointers is always about volume more than anything else, and George is getting all the volume he can handle right now.
PG has scored at least 20 points in every game this postseason, and he's had at least 27 points in six straight now, stepping up as Leonard played through injury and then missed the past three games.
And with George in a bigger spotlight, he's thriving in that old familiar role. Over his past five games, he's averaging 32.2 points per game thanks to some terrific shooting after a slow start to the playoffs in the first round. George is making 45% of his 3-pointers in his last five, and he's doing it on huge volume, attempting 9.8 treys per game and making 4.4. That includes 7-of-15 in Game 1 of this series, doubling this line and hitting the over with ease.
George went over 3.5 made 3s in only 22 of 54 regular-season games, hitting this over just 40.7% of the time — but that's actually right in line with the juice we're getting here since +142 implies a 41.3% hit rate. But that number isn't particularly relevant because it includes many games with fewer minutes played and, of course, most of them include Leonard taking quite a few shots. With Leonard out and Marcus Morris ailing, George has to absorb a huge scoring load on the wing.
George has attempted at least eight 3s in five of his last seven playoff games and when a shooter as good as him gets that many shots up, the makes are quick to follow. During the regular season, when George attempted at least eight threes, he went over 3.5 makes in 18 of 29 games, suddenly increasing that hit rate from 40.7% on the season to 62.1% when his attempts were up like they are in these playoffs.
The Clippers have to get all they can from George in this one, lest they go down 0-2 for a third straight series. Expect him to get a ton of 3-pointers up, which would give him a good chance at making at least four.
We project him at 3.9 makes, and I love this at +142. Shot variance is always a gamble, but the numbers are in our favor and I'll play this over down to +115.
---
Devin Booker, over 6.5 assists (+115)

| | |
| --- | --- |
| Clippers vs. Suns | Suns -5 |
| Time | TV | 9 p.m. ET | ESPN |
| Best Book | BetMGM |
Booker picked a heck of a time to have the game of his life, didn't he?
With Paul missing in Game 1 against the Clippers, Booker did a little bit of everything, putting up a monster line. He racked up 40 points on 15-of-29 shooting and added 13 rebounds and 11 assists for a stunning 40-point triple-double to lead the Suns to victory.
With CP3 officially out for Game 2, Booker looks set for another huge night. The Suns will certainly need as much as they can get from Book. He's going to need to be both scorer and creator for Phoenix. There were long stretches in Game 1 where he was the only real guard creator on the floor for the Suns, so they're asking a lot of him.
That means a very heavy usage rate for Booker, and it should mean plenty of assist opportunities. Those 11 assists in Game 1 matched Booker's high for the season. His next highest total was eight. He's done that in a few other games, including twice in these playoffs, but one of the other games was the only other time Booker played without Chris Paul this season, against the Cavs in February. So in two games without CP3 this year, Booker has 19 total assists, an average of 9.5 per game.
It's not like this is a new role for Booker. He played without Paul his entire career before this season after all, and he averaged 6.6 assists per game over the past two seasons. That's right about where this line puts Booker, but the line fails to account for the higher minutes he's playing in the playoffs or the way his teammates are improving around him.
It also fails to account for this faltering Clippers' defense, which Booker sliced and diced on the pick and roll. And as Los Angeles sells out to stop those Booker pull-up jumpers, that can really only create more passing lanes and assist opportunities.
We're projecting Booker at 7.1 assists. I'm not sure he's going to have another 40-point triple-double — he was 22-to-1 to have a triple-double in Game 1, by the way — but just seven dimes will do the trick for us. I'll play at any plus number, and you can grab this at 5.5 at some books if you prefer a safer play.
---
Deandre Ayton, over 24.5 points + rebounds (-115)

| | |
| --- | --- |
| Clippers vs. Suns | Suns -5.5 |
| Time | TV | 9 p.m. ET | ESPN |
| Best Book | PointsBet |
If Booker racks up assists again in Game 2, you can bet a handful of them will come to Deandre Ayton.
Ayton is positioned to have a monster series against the Clippers. LA thrived playing small ball the first two rounds, but they did that against big men like Kristaps Porzingis and Rudy Gobert, who were not consistent enough offensively, either as lob threats or in the post, to punish the Clippers.
Ayton is a mountain of a man, and he's shown an ability to punish small lineups, especially with a guard like Booker getting the ball to him repeatedly in the paint.
Ayton has five 20-point games already these playoffs, including in Game 1 when he shot 10-of-14 for an efficient line. He'll also have a giant advantage on the glass against this smaller Clippers team, and both teams shot well in Game 1 so they're sure to regress and leave more rebounding opportunities in Game 2. Ayton has recorded double-digit rebounds in seven of 11 playoff games, and he has at least seven in all but one of them.
The Clippers have no matchup for Ayton. When LA plays Ivica Zubac, he's getting killed in the pick-and-roll. DeMarcus Cousins looks like he should play limited minutes against bench units.
The Clippers live and die by their small-ball unit, and that puts the spotlight on Ayton, with the chance to have a huge series. He'll probably top this line on points alone at some point this series.
Ayton has gone over this number in eight of 11 playoff games (73%), and we project him at 16.6 points and 11.5 rebounds, which is 28.1 and easily clearing this number.
I'll play to -135 and wouldn't be surprised to see this number rise as the series goes on.
---
How would you rate this article?
This site contains commercial content. We may be compensated for the links provided on this page. The content on this page is for informational purposes only. Action Network makes no representation or warranty as to the accuracy of the information given or the outcome of any game or event.