NBA Player Props & Picks: Steph Curry, Cole Anthony, Bruce Brown Are Top Bets For Wednesday (February 16)
Credit:
Gina Ferazzi / Los Angeles Times via Getty Images. Pictured: Warriors guard Steph Curry
Wednesday's NBA schedule is so stacked, that three player props just isn't enough.
Brandon Anderson dives into the Action Labs prop tool to find six bets on tonight's slate.
Read on to find out where he sees value, including his bet on Stephen Curry.
It's an odd time in the NBA, as we inch toward the All-Star Break and recover from the trade deadline at the same time. Many teams are largely sitting this week out with an extra week of rest coming for key injured players.
At the same time, most of these teams are playing their last game for a week, so this could be an opportunity for extra minutes for the guys who are out there. Does that sound like prop opportunities to you, too?
We'll be using the Action Labs Player Prop tool to compare our NBA projections to the props posted at a variety of sportsbooks. Below, I have laid out three prop bets that I'm playing, the case for each bet and the best books to find odds on those player props.
NBA Player Props & Picks
Cole Anthony Under 6.5 Assists (-140)
| | |
| --- | --- |
| Hawks vs. Magic | Hawks -5 |
| Time | 7 p.m. ET |
| Best Book | DraftKings |
It's been a rough rookie season for former Gonzaga point guard, Jalen Suggs.
Suggs was expected to be one of the top four picks in this draft along with Evan Mobley, Cade Cunningham and Jalen Green, but Suggs surprised on draft night when he slipped to Orlando, and his disappointing performance in the preseason helped explain the slight drop. The regular season didn't start much better. Suggs shot under 34% from the field, including 26% on 3s, and averaged just 3.6 assists per game.
When an injury sidelined him for all of December and half of January, it looked like it might be a lost season for Suggs. Since returning from injury, though, Suggs is starting to find his footing. He still can't make a shot from deep to save his life at under 20% this past month, but he's scoring 12.6 points per game with a field goal percentage up to 41% now –not exactly great, but far improved thanks to Suggs getting to the rim better and hitting almost half of his 2s.
But the biggest jump has come in Suggs's playmaking. In 14 starts since returning, Suggs is up to 5.6 assists per game with at least five in all but four of those games, and he had his first NBA double-double with 20 points and 10 dimes over the weekend. And his Potential Assists are up to 11.7 per game over his last five full games, including 13 in each of the last three.
So what's that all mean for Cole Anthony? Well, it means Anthony isn't getting quite as many assists these days, and that's the angle here.
Anthony is averaging only 3.6 assists per game over the last five full Suggs games, way down from Anthony's 6.1 average from the rest of the season. He's recorded five or fewer assists in every one of those games, hitting this under with room to spare in all five.
The only time Anthony has had more than five dimes since Feb. 2 was a game against the Blazers in which Suggs left in the first quarter, but Suggs just played the second-most minutes of his career on Monday, so he should be good to go. Anthony's Potential Assists have dropped from 11 to 10 to seven over the last three games, so at this rate, he might not even top 6.5 potential assists — let alone actual assists.
I'll play this under to -160.
---
---
Bruce Brown Over 16.5 Points + Rebounds + Assists (-105)
| | |
| --- | --- |
| Nets vs. Knicks | Knicks -4.5 |
| Time | 7:30 p.m. ET |
| Best Book | DraftKings |
File this under the motif of: "Welp, someone has to do some stuff for the Nets, right?!"
The Nets are playing tonight, but it's more like the "Nets" are playing. Kevin Durant is still out injured. Ben Simmons is officially in Brooklyn, but not playing yet. Kyrie Irving plays in road games, but not road games also in New York like this one, so he's also out. And lest you forgot, James Harden is gone.
That means tonight's Nets are the Patty Mills and Seth Curry show, also featuring eight other men on the court because that's the NBA rules no matter how little we want to watch the rest of Brooklyn's roster or really anyone on the Knickerbockers.
One of those eight men should be Bruce Brown, who has kind of been the epitome of "someone has to do some stuff for the Nets" over the past couple years. We're not totally sure what position Brown plays or what he'll do from night-to-night, but the man is ready to soak up minutes when needed, and he typically fills up the box score.
On Monday night, Brown played his biggest minutes of the season with 38 and had a huge game with 19 points, six rebounds, six assists, five steals, and three blocks in a win over the Kings. We probably won't see Brown match his game of the season, but we don't need a line anywhere near that high.
Still, if the minutes are there, he typically produces.
In 10 games with at least 28 minutes this season, Brown is averaging 10.1 points, 4.7 rebounds, and 2.2 assists. That includes six games with double-digit points, four with at least six boards, and three with four or more dimes. That's why we're playing this PRA combo prop, since we don't know exactly how Brown will show up in the box score, just that he'll likely be there somehow, some way.
Brown has gone over 16.5 PRA in six of those 10 games, and remember, that's with just 28 minutes — and he'll likely see more than that tonight. And actually, those averages undersell Brown's median output of 18 PRA over this stretch since he had two complete duds in big-minute blowout losses. Without those two games, he's over 20 PRA per game.
And as always with props, if we lose, it doesn't really matter how badly we lose — so we may as well play the over and hope we fade one of those donuts.
We project Brown at 20.3 PRA, right around his typical outcome with this expected number of minutes, so I'll play the over 16.5 PRA to -125. I may also play Brown's over 1.5 steals + blocks combo prop. Remember, he had eight stocks last game, and he's gone over that line in six of these 10 games of 28+ minutes. That one's at +110.
Stick to just the PRA if you're not willing to risk losing both in a bad Brown game, though.
---
---
Steph Curry 30+ Points (+210), 35+ Points (+560)

| | |
| --- | --- |
| Nuggets vs. Warriors | Warriors -5.5 |
| Time | 10 p.m. ET |
| Best Book | FanDuel |
Night after night, our props tool continues to hammer Steph Curry overs. And at this point, who can blame it? Even with a long slump, Curry remains top five in every MVP conversation and the Warriors are still the second-best team in the NBA.
Steph is averaging 25.8 points per game this season, including 4.7 3s per game on 38%. Heck of a year for a "slump," huh?
Curry's traditional props put him at 24.5 points and 4.5 made 3s tonight, right at those season averages. But, like our tool, I believe books are underestimating Steph — mostly because he's finally turned the corner and moved past that long slump. In fact, just this week I wrote about why Steph Curry might still be a smart value bet in the MVP race, with numbers there on how he's broken out of this slump over the past 15 Warriors games once Klay Thompson re-assimilated to the lineup.
That's why we're getting aggressive here.
We all know Steph can pour in the points at a moment's notice. Just Monday night, it looked like Curry would put up a monster line against the Clippers. He scored 16 points in the first eight minutes, including a trio of 3s in under a minute, a perfect 6-for-6 start. Curry slowed down from there, but his eight 3s were still his most since before Christmas.
We're projecting Curry at 29.7 points and 5.3 treys tonight, making both of those overs the top plays in our tool, but I'm using this as a chance to get more aggressive. If Curry has a good game, then he's only a couple shots away from a great one — and if he misses and goes under, he's often going under by quite a bit anyway.
Curry has 18 games of 20 or fewer points and seven with 15 or fewer. That means we could go way under here. But he also has 13 games with at least 30 points, including four of these last 13 while busting out of this slump. That means he's scored at least 30 in 25% of his games, even including the long slump, so I'm taking a shot at 30-plus with +210.
And you know we have to sprinkle a couple alternate overs from there, too. You know how Steph has scored 30 in 13 games? Well he's had 35 or more in 10 of those, and that line is at +560. That implies a 15% hit rate, but he's done it in 19% of his games.
I'll split my bet between those two, then sprinkle on a 40-point game at +1300. He's done that six times already, and he's hit 39 and 40 during this recent stretch.
If Curry is going to make a run at this MVP, a big game against Nikola Jokic would be a great place to start. Plus, it's the last Warriors game for a week, so maybe we get a few extra minutes and shots up, too. Steph had eight 3s on Monday night.
Let's see if that slump is really finally behind him.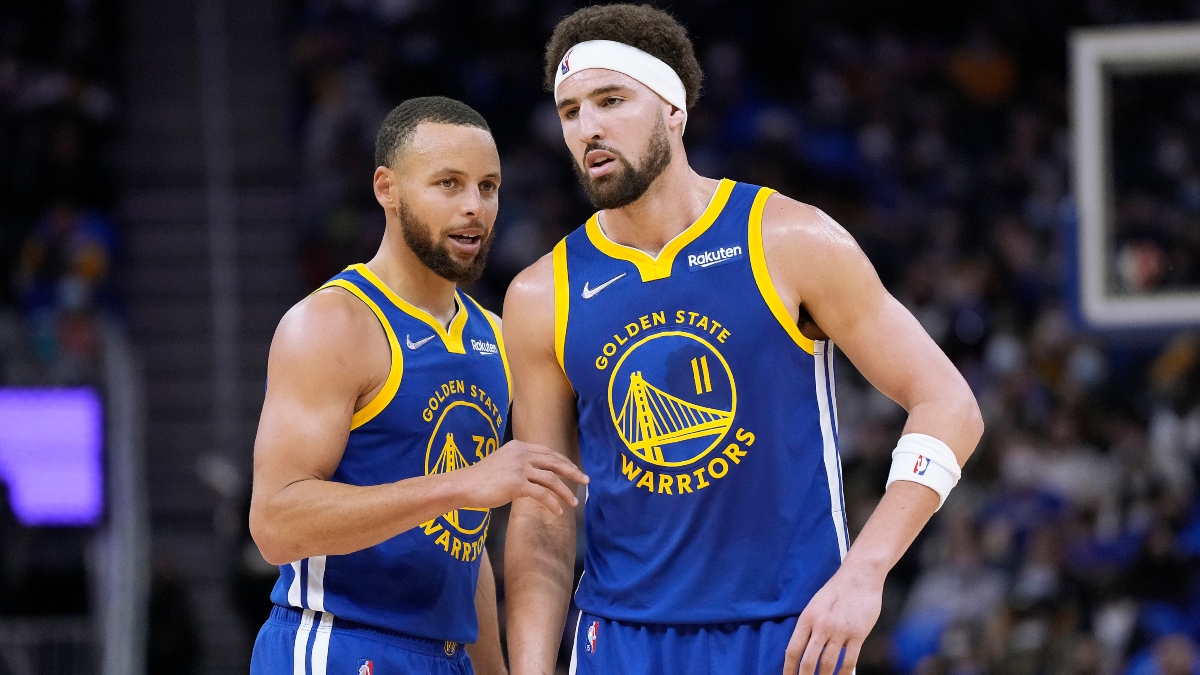 Bonus Prop Bets
Buddy Hield Over 2.5 Assists (+105) at DraftKings: Hield has 13 assists in three Pacers games, including games of four and eight dimes, and he has 27 Potential Assists. With Domantas Sabonis gone and Malcolm Brogdon out, there's plenty of playmaking to go around, even with Tyrese Haliburton cooking.
Justise Winslow Over 9.5 Rebounds + Assists (-120) at DraftKings: Winslow is filling up the box score as a Trail Blazer. In four starts with Portland, he's averaging 12.5 points, 7.5 rebounds and 4.0 assists, going over this RA combo in all four starts and playing almost 34 minutes a night.
Jusuf Nurkic Over 10.5 Rebounds (-115) at DraftKings: Nurkic has double-digit rebounds in seven straight, averaging 14.0 RPG in 32 MPG. He's gone over 10.5 boards in 18-of-20 games when he plays at least 31 minutes. This could also be a spot for an alternate over. Nurk has nine games of 16+ boards, including three of his last six. You can play that one at FanDuel for +430.
How would you rate this article?
This site contains commercial content. We may be compensated for the links provided on this page. The content on this page is for informational purposes only. Action Network makes no representation or warranty as to the accuracy of the information given or the outcome of any game or event.