NBA Player Props Betting Forecast: D'Angelo Russell, Mikal Bridges Trending Up Post Trade Deadline
Credit:
Ned Dishman/NBAE via Getty Images. Pictured: D'Angelo Russell #1 of the Los Angeles Lakers.
The NBA trade deadline has passed, the Super Bowl is over, and everyone's eyes have turned to the hardwood as we inch closer to the NBA All-Star break and the final stretch of the regular season.
Which teams made significant moves to their rotations and how do we adapt to that in the betting market? This week will be a tricky one with fewer games, but two teams — the Los Angeles Lakers and Brooklyn Nets — are the most interesting from a player props perspective.
Let's dive into this week's NBA player props betting forecast.
NBA Player Props Betting Forecast

New-Look Lakers Ready to Make Noise in the West?
Schedule: Mon. at Trail Blazers | Wed. vs. Pelicans
The Lakers shook up their entire roster at the trade deadline in an effort to optimize the roster around LeBron James and Anthony Davis.
In: D'Angelo Russell, Davon Reed, Jarred Vanderbilt, Malik Beasley, Mo Bamba, Rui Hachimura
Out: Damian Jones, Juan Toscano-Anderson, Kendrick Nunn, Patrick Beverley, Russell Westbrook, Thomas Bryant
The Lakers improved their playable roster significantly at the deadline and have finally ended the saga around Russell Westbrook. Now, they look to climb out of the 13th spot in the West and make a push for the playoffs. Currently, they sit three losses behind the 10th-place Thunder and just four losses behind the Mavericks. They have a chance here.
While the Lakers missed out on Kyrie Irving's star power, their trades at the deadline may address more issues. The Lakers needed more than just Irving, they needed players who fit alongside James and Davis while also providing depth.
One of the hallmarks of successful teams around James has been reliable 3-point shooting. He's an excellent facilitator and the Lakers were unable to capitalize on their 3-point opportunities — making just 34.2% of their 3s this season.
Now, with Russell and Beasley, the Lakers are adding proficient 3-point shooting. Russell is shooting 39% from beyond the arc this season and Beasley — who is having a slightly down year by his standards shooting 35% — is a career 38% 3-point shooter. This should bring better spacing to the Lakers' offensive attack.
In their debut Saturday against the Warriors, Russell was shot 1-of-3 from deep and Beasley went 0-for-6. I expect that to regulate. On the season, Russell averages 2.7 3s on 6.9 attempts and Beasley has 3.0 made 3s on 8.5 attempts. Their 3-point prop lines were set at over 2.5 (-120) and 1.5 (-150) respectively. In their last 20 games, they've each exceeded these lines in 13/20.
The Lakers take on the Blazers on Monday night, and they allow opponents to shoot 37.6% from deep, the second-worst mark in the league. I'll be looking to play some 3-point overs.
These trades should benefit James as well. He's averaging 7.0 assists per game this season on 12.9 potential assists per game, per NBA Advanced Stats. LeBron's passing dashboard is uninspiring — he passed to Westbrook and Beverley 15.8% and 12.9% of the time and combined they netted James for 2.0 assists on 6.0 attempts per game. Just removing them from the lineup should help that conversion rate.
Additionally, it was just one game and without James, but Russell made 62 passes in his Lakers debut — that is about 20 more than Westbrook's per game mark, and that should help to open up this Lakers' offense to complement their second-fastest Pace of Play.
Note: LeBron James has been ruled out of Monday's game with ankle soreness. For real-time injury updates, check out our FantasyLabs NBA news page.
---

Where's Brooklyn's At?
Schedule: Mon. at Knicks | Wed. vs. Heat 
The Kevin Durant era in Brooklyn has officially come to an end Nets completely restructured their roster. Kyrie Irving was traded to the Dallas Mavericks while Kevin Durant made his way to the Phoenix Suns in a trade that brought back Mikal Bridges, Cam Johnson and a slew of draft picks.
In: Cam Johnson, Dorian Finney-Smith, Mikal Bridges, Spencer Dinwiddie
Out: Kessler Edwards, Kevin Durant, Kyrie Irving, Markieff Morris, TJ Warren
The Nets are no longer title contenders as currently constructed and the loss of Durant cannot be understated. He's one of the best players in the world and coupled with Irving's departure, there is plenty of usage to go around. Durant (31.9%) and Irving (30.9%) commanded Usage Rates that ranked in the 98th and 97th percentile respectively, according to Cleaning the Glass. I expect this to stem almost directly to Mikal Bridges and Spencer Dinwiddie.
Dinwiddie and Bridges held Usage Rates of 27.5% and 25.7% respectively in their first game together. That's a slight uptick for Dinwiddie on the season, but for Bridges this is significant. His 25.7% Usage Rate last game is higher than his overall Usage Rate with Phoenix when Booker was out (21.5%) and on the season as a whole (18.5%), per Cleaning the Glass. On a team with no clear No. 1 guy, he'll be one of the primary options on any given night.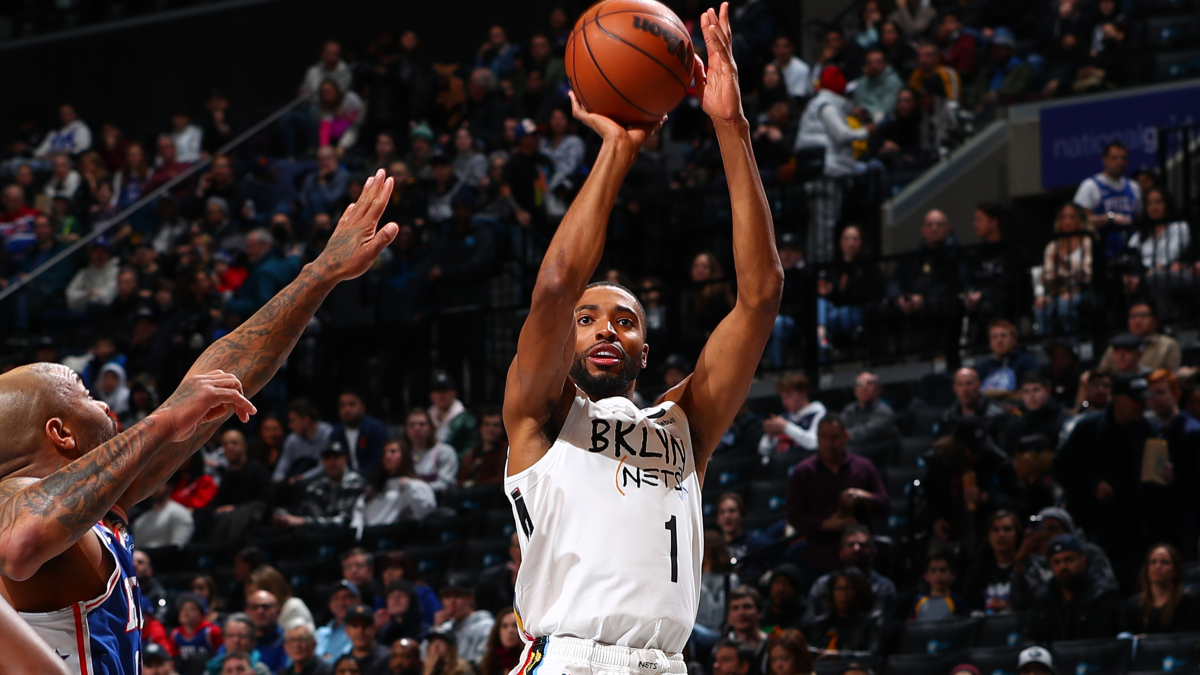 We saw Bridges fill in as a scorer for the Suns without Booker and he can do the same for the Nets. Bridges is averaging 17.3 points per game on the season, but the splits with and without Booker are significant. His points per game jumps to 19.0 without Booker and there is no one of his ilk on the Nets.
He's continued to improve as a scorer as he has grown more accustomed to the role as well. In his past 15 games, Bridges has averaged 22 points while logging at least 20 points in 12 of them. I expect this to continue as Brooklyn determines whether or not they can build around him for the future. His points prop on Monday night is set at 18.5, and I'm on the over.
As for the rest of the team, I'm curious what we see from Ben Simmons. He has seen his usage decline each year of his career — down to 18.3% this season — his minutes were slashed down to 20 and 16 minutes in the past two games with Dinwiddie active and he's been removed from the starting lineup. He was averaging just 7.2 points, 6.4 rebounds, and 6.3 assists per game (19.9 PRA) in 26.8 minutes per game.
While I think lineups where he is surrounded by shooters could be successful for Brooklyn, he has not earned the right to have that increased opportunity. I doubt he will have prop lines in the near future, but his usage should not impact Dinwiddie or Bridges.
I'm also curious to see how Johnson is used moving forward as well, he's been on a scoring tear, but he had struggled to get into the rotation prior to the deadline moves. I'd tread lightly when looking to bet on his props.
How would you rate this article?
This site contains commercial content. We may be compensated for the links provided on this page. The content on this page is for informational purposes only. Action Network makes no representation or warranty as to the accuracy of the information given or the outcome of any game or event.