The NBA Playoff Primer: What Separates Good Regular Season Teams from Good Playoff Teams?
Credit:
Al Bello/Getty Images. Pictured: Kevin Durant #7 of the Brooklyn Nets and Giannis Antetokounmpo #34 of the Milwaukee Bucks.
The NBA spends six months building a regular-season hierarchy, developing storylines and ecosystems, establishing the good and bad teams, and then the playoffs come, and you can throw out about 70% of it.
The playoffs are an entirely different animal.
This is nothing new. There have always been good regular-season teams that looked inept in the playoffs and sleeping giants in February who became juggernauts when the weather got warm.
However, the league has evolved on multiple fronts, and that means the factors that determine whether a team will rise or shrink in the postseason have changed too.
Whether you're a bettor trying to get ahead of futures and matchups or just want to know which teams are sleeping giants and paper tigers, here's a guide to the modern playoffs and the factors that separate the teams that are all bark, and those that have bite.
DEFENSIVE PROBLEM SOLVING
Defenses win championships, as the old axiom says. With the way the game has evolved, though, the regular season has become less connected to the DNA of playoff basketball, so we have to amend that cliche.
You can't be a bad defensive team and win the NBA championship, we have plenty of evidence of that. Even in the NBA's offensive apex over the past decade, the Golden State Warriors were the only championship team to finish outside of the top 10 in Defensive Rating (11th overall in 2018).
However, over the past five seasons, a shift has occurred in terms of playoff success. Of the five NBA Finals runners up during the past five seasons, the loser has been top-10 in defense just once — the 2016 Warriors.
Now, there's noise in there: the Cavaliers were a once-in-a-lifetime team built around a once-in-a-lifetime player who made four straight Finals; the past two runners up, Warriors (2019) and Heat (2020) were 11th and 12th in defense respectively.
But we've also seen teams that were great defensively in the regular season fall apart in the playoffs, even if their offense was top-15. The league has evolved to a place where what works 90% of the time in the regular season but doesn't work in the playoffs. Not only do you need to be good defensively, but you need to be able to solve the problems the opponent presents to you.
The obvious examples are the two most recent Eastern Conference champions, the Raptors and Heat. Both teams were able to tailor their defense to whatever the opponent presented. They could switch the pick-and -roll, trap, and drop. They could play any combination of zones, including matchup zone and throw teams out of shooting rhythms.
Compare that with the teams that have been elite at one type of coverage, and the results say quite a bit. The most commonly used defensive scheme in the NBA against the pick-and-roll is what's called soft or drop coverage.
The screener's man retreats to keep the guard in front of him and contest if the pass goes to the screener on the roll, while the ball handler's defender goes over the top of the screen. This allows you to keep help defenders on 3-point threats.
The problem is two-fold with drop. The one thing that scheme surrenders is off-the-dribble jump shots from ball handlers.
And in the playoffs, where starters play more minutes and the best players are always present, that usually means a ton of open looks for jump shot assassins.
In last year's playoff, the team that had the highest percentage of drop plays was the Bucks at 45%. The second-highest was the Clippers at 26%. You will remember both of those teams from such hit films as "Knocked out in the second round" and "embarrassing postseason collapses."
However, it's too simple to just say "avoid teams that play drop." There are situations where that's still the best option.
Say you're playing the Sixers. There's no real pick-and-roll threat you have to be concerned with; most of Philly's offense revolves around post-ups from Embiid. Instead, you would want the ability to drop effectively to contain Embiid and use disruptive doubles.
Individual matchups certainly matter as weak points will be targeted in playoff environments. If you are a slow big, teams will try and put you in pick-and-roll. If you're a small guard, teams will try and involve you in screen action or attack you with bigger wings. (Posting up smaller players on switches usually works out poorly for a variety of reasons, contrary to common logic.)
You don't need to be a great defensive team, you just need to be able to play great defense against the opponent you face in a given playoff series.
"It comes down to your nimbleness over the first 46 minutes of a game defensively," one person involved in team-building said this week. "You have to have a flexibility."
I asked Monty Williams how he has liked the Suns' ability to adjust defensively and execute new gameplans, something that is going to be crucial for them in the playoffs: pic.twitter.com/Paya7KCysH

— Kellan Olson (@KellanOlson) April 16, 2021
So who are we talking about?
BROOKLYN NETS
Yes, I know, the Nets can't stop anybody.
Brooklyn ranks 24th in Defensive Rating, 22nd in halfcourt defense per Cleaning The Glass. There's no way to justifiably say they have a good defense. They haven't shown any evidence of to support that … in the regular season.
But the Nets have used a switching defense more than any other in the regular season. They rank ninth among all teams in points allowed per possession using switch, and fifth among teams who have used it at least 750 times.
Much of this is their lineup versatility.
Nicolas Claxton is a key here.
The numbers with Claxton stand out. There's a lot of discussion about what Jeff Green brings as a small-ball 5, and he'll have his turn. But the numbers are substantially better with Claxton, especially in switch situations.
These numbers are why the Nets, for all their defensive miscues, are actually fifth in points per possession allowed in pick-and-roll situations, including passes.
If the Nets face the Bucks, they can switch everything to prevent 3-point shots and can use length and athleticism to layer a defense vs. Giannis Antetokounmpo.
If they face the Sixers, they have advantages they can seize on in that matchup too. Brooklyn doubles in the post more than any other team in the league, and has the second-best defense when sending a hard double. Joel Embiid turns the ball over a stunning 21% of the time when faced with a hard double in the post.
Against other teams, they can play drop with DeAndre Jordan against, which will help limit their problems on the offensive glass.
CHARLOTTE HORNETS
Don't laugh.
The Hornets rank 15th defensively, but they're good in all the key areas. They rank second in switches this season, and third in points allowed using the switch. The Hornets are also No. 1 in the percentage of times using zone, and seventh in the league in points per possession allowed using zone, fourth among teams with at least 100 zone possessions defended.
Relevant to this? The weakness in switching is always the big getting matched up on the smaller player, but Cody Zeller, PJ Washington, and Bismack Biyombo (!) are all top-12 in fewest points allowed per possession when switching.
Charlotte has the capacity to tailor its approach to what it needs, and not having bigs who can be played off the floor is a big deal, defensively.
There are other questions with the Hornets, especially in terms of their overall talent, but looking specifically at their ability to solve for what an offense presents, the Hornets are going to be undervalued in the market.
DENVER NUGGETS
Denver plays a remarkably even distribution of styles. They prefer to play at the level of the screen in 1-5 pick-and-rolls with Jokic using his quick hands to disrupt and crowd ball handlers, forcing them to make tough rotations to the weak side. Since adding Aaron Gordon, they've begun switching everything else, to great success.
The Nuggets' defense has been poor for most of the year, but they are top-10 in their past 15 games and 13th since March 1. The more important thing, however, is that they aren't dependent on any one style.
Opponents will try to counter by putting their quicker guard in space against Jokic.Except, as Nuggets assistant coach Wes Unseld Jr. once told me, that's a choice Denver has to make.
"Why would we just allow you to put him in space?" Unseld remarked at the time.
Most bigs struggle in space, but the Nuggets use a scheme that makes the likelihood of needing to switch onto a guard with Jokic very low. They can play drop if the situation calls for it, but their ability to be a chameleon defensively is one reason they have outperformed playoff expectations the past two seasons.
"We can play different coverages with our starters and our bench, mixing and matching based on what we need," Michael Malone said after the Nuggets' win over the Clippers Saturday.
One team that has a lot of red flags right now, but also sends up warning signs in this department: the Lakers.
In 2019-20, the Lakers used the 11th-most switches, allowing the 13th lowest per chance. This season, the Lakers have switched the fifth-fewest times, and are ranked 24th in points allowed per possession. They are not the same team as last season.
---
Check out our free NBA odds page, which automatically surfaces the best line for every game. Subscribe to our NBA Insiders tool at Action Labs to beat the market with our cutting edge player projections, injury news and betting thresholds.
---
MAKING THE SHOTS YOU DON'T WANT
For as much as we've talked about defense and the struggles teams have in the postseason, offense is even harder in the playoffs.
Closeouts are harder. Rotations are sharper. Fewer shots are surrendered without contest.
This is where that star power really shines.
The best offensive players in the NBA are ones who make low percentage shots at a high percentage rate. You need to make tough shots, and you need to convert them at a good rate.
There are a few ways we can try and quantify this. You know who the tough-shot makers are — Damian Lillard, Stephen Curry, Jimmy Butler — but there may be some names that aren't as familiar.
There are a few ways to quantify the things we know by sight.
Here are the top 20 players in effective field goal percentage on contested pull-up jumpers this season, per Second Spectrum data.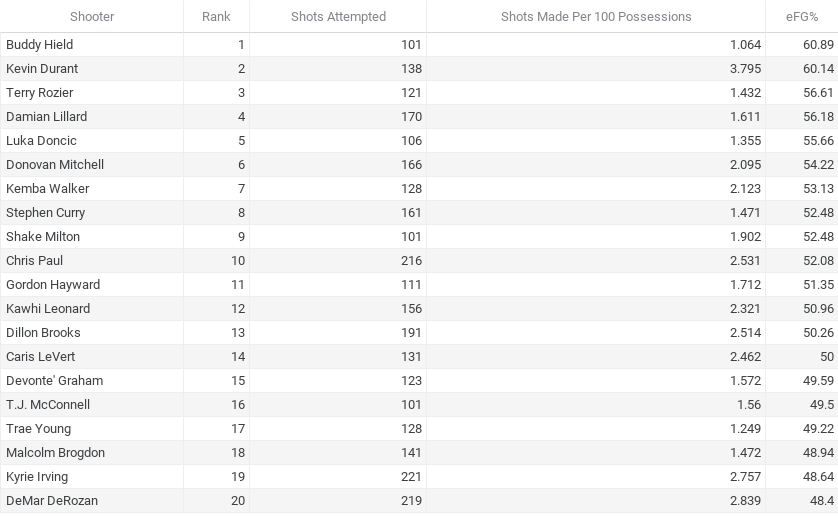 Notice the names on this list: Luka Doncic, Lillard, Curry, Kawhi Leonard. Yes, you have names of lesser-known players like Buddy Hield and Terry Rozier there, but those might be important to note on how they might be overlooked in a playoff series. (Especially Shake Milton, coming in at No. 9 on this list.)
Maybe most notable fact is that the Nets have the No. 1 and No. 5 players in most pull-up shots made per 100 possessions. The Nets built their team on the precept that the regular season doesn't matter (even as they battle for the No. 1 seed) and that in the playoffs, the overwhelming talent of Durant, Irving, and James Harden would be enough to beat anyone.
Sunday's game against the Bucks showcased the challenge in those situations, as predictable shots are easier to defend, and the Bucks knew where the shots were going. Irving and Durant shot 5-of-15 in the fourth quarter. Then again, no Harden and the Nets had a chance to tie on the final possession, and that's with Irving and Durant both struggling in that quarter.
Once again, we see the Hornets, here, with Hayward, Terry Rozier, and Devonte' Graham in the top 15. I'm not here to tell you they're going to make the conference finals. I am saying that the way Charlotte has played, especially given injuries to LaMelo Ball and Hayward, suggests they are better equipped for a postseason run than some of their peers.
There's also Donovan Mitchell, who is sixth among all players in eFG% with at least 100 attempts. This is crucial for Utah. They are No. 1 in the league in eFG% on contested pull-up shots. But their offense has run into problems vs. switching defenses and pressure on-ball that take away the impact of Rudy Gobert's gravity.
If the Jazz are going to make the run they envision, it won't be on the shoulders of Gobert but Mitchell.
Then there's this: PBPstats.com has a metric called "leverage" applied to possessions. It breaks down possessions by how influential they are on winning probability within the game. (For more on the metric, click here.)
Here are the top 20 players by points per 100 possessions in those situations.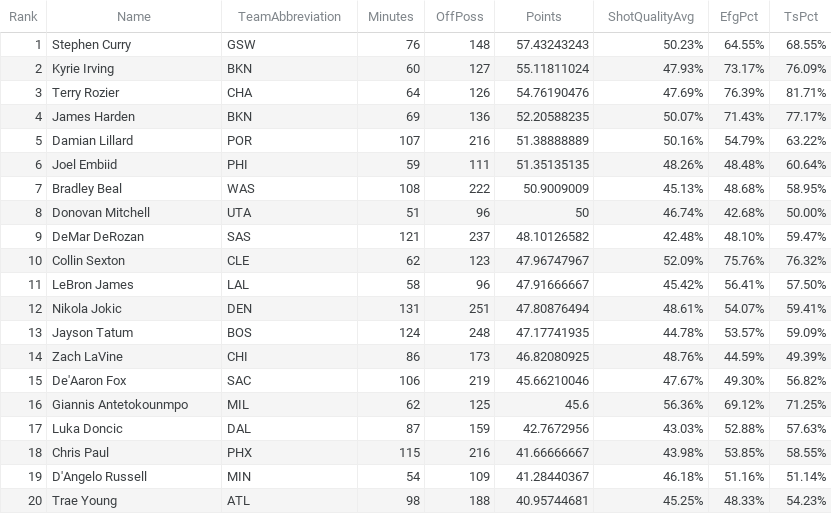 So in the possessions that swing games most, you have guys like Curry, Harden, and Lillard at the top. Again, Rozier pops up here, which may seem odd, but he's honestly just been that good as a jump shooter this season..
These two data points highlight a few teams. Once again, the Nets profile very well. And again (surprisingly), the Hornets look good. Meanwhile, Doncic and Trae Young's comfort in those situations don't match up with their reputations.
Certainly, those players can have a great series and help swing things. But it's important to note the gaps between where they've been this season and the top players.
REPLACEMENT DEPTH, NOT LINEUP DEPTH
Depth is a misunderstood concept in the playoffs.
On the one hand, there's an idea that stars are all that matter and that bench role players don't matter. This isn't true, of course. Big performances from rarely lauded players in crucial minutes have shaped every competitive series throughout the league's history.
On the other hand, "I like this team, they have the best depth in the league" is also an overstatement of its importance. It doesn't matter if you're equally good in players 1-10 or even 3-12 with two stars. You need to play your 7-8 best and keep it tight.
However, the key is being able to replace what you need.
Go back to the 2017 Western conference semifinals between the Spurs and Rockets. Houston had flipped the matchup on its head and was surging. Kawhi Leonard went down late in Game 5. He didn't play in overtime, nor did he suit up in Game 6.
Jonathon Simmons stepped in that game, scoring 18 points on 8-of-12 shooting and was a +32 in his 32 minutes.
Simmons, by the way, played in China this season.
It's not about Simmons being an exceptional player, but instead being a long, athletic forward who could play defense, rebound, and make jump shots (in that series, anyway). Simmons wasn't Leonard, but he was a reasonable facsimile at the same time that Harden's struggles opened the door.
The playoffs are often a war of attrition and injuries are going to occur. Do you have the roster to be able to replace what's missing, rather than the quality of the player?
If you lose a quality defender, rebounder, and spot-up shooter, and your replacement option struggles with defense and physicality but is more comfortable with the ball in his hands, it doesn't matter if the back up is good or better than the injured player, your team construct has shifted.
This, of course, hurts top-heavy teams. There is no way to fill in for what Nikola Jokic does for the Nuggets. If you lose LeBron James, there is no replacement.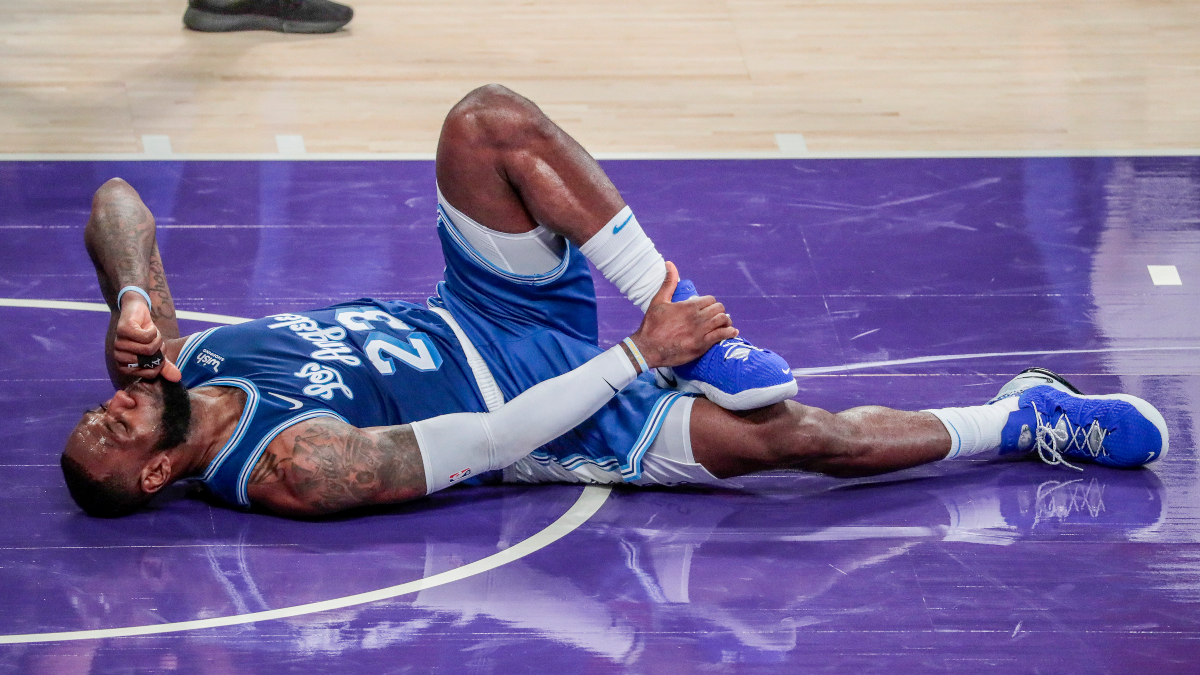 However, if the Jazz were to lose Joe Ingles, they have Bojan Bogdanovic who can provide much of the offensive workload, and Royce O'Neal on the defensive side. If Phoenix loses Jae Crowder, there's Cam Johnson and Dario Saric. If the Clippers were to miss Reggie Jackson or Patrick Beverley for a game or two, they added Rajon Rondo.
Sometimes it requires shifting approaches. If the Suns were without DeAndre Ayton for a game, they could start Frank Kaminsky, but they could also go small-ball with Dario Saric at the 5. However, that may not be tenable if they face an opponent with a big front line like Denver or the Lakers, or even a team like the Blazers with Jusuf Nurkic.
But when you're evaluating a playoff team, consider what their exposure is to a variety of injury outcomes, and if those outcomes occur, don't look at the drop in talent between the injured player and the replacement, but in terms of the skills and production, the player has to replace.
---
3-POINT MAXIMIZATION
This one gets a little tricky.
The way to contextualize it is that 3-point shooting is crucial for underdogs.
Since 2014-15, lower seeds that made more 3's than their opponent were 100-75 straight up (57%). Lower seeds that made fewer 3's were 57-212 (21.2%).
Maybe the most startling number? Teams seeded higher than their opponent who made fewer 3's since 2014-15 are just 75-100 (42.9%) straight up and 52-120-3 (30.2%) ATS.
It's an equalizer.
The Lakers were 24th last season in made 3's per 100 possessions in the regular season and 23rd in attempts. Fast forward to the playoffs, and the Lakers averaged more makes and attempts.
The top-five teams in 3-point makes per 100 possessions in the playoffs failed to make it out of the second round. Then again, the bottom five teams only had one team make the second round (the Clippers).
So the key here is that the Lakers improved their biggest weakness in the postseason. Can they do that again?
The Sixers are 25th in 3-point makes per 100 possessions, behind the Lakers in that category. The Grizzlies, Pelicans, Spurs, and Wizards are all bottom five in that category, which is going to be a problem when those are all play-in or play-in-hopeful teams.
On the other side, Utah, Portland, the Clippers and Milwaukee are top five.
But even this doesn't have enough context.
Good defenses will collapse the paint and dare shooters to beat them. The secret is that the better defenses can target the right guys and the good offenses have the extra guys to make the big shots.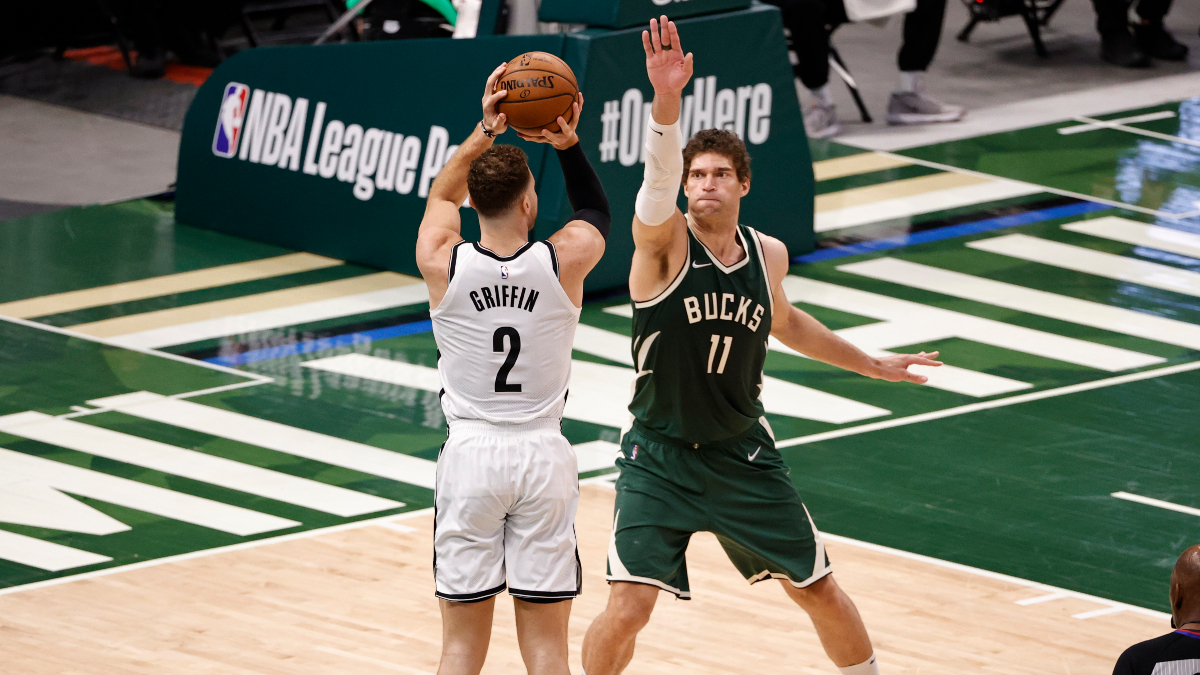 Here's a good example: the prevailing idea about the Bucks is that they just let everyone shoot. That's not the case. They target the biggest 3-point threat and stay home on those shooters well.
In 2019, they stayed home on Kyle Lowry and OG Anunoby …  then Fred VanVleet killed them. In 2020, Jae Crowder made more 3's vs. Milwaukee in their series against the Miami Heat than Duncan Robinson.
You need to have the superstar to draw the defensive attention, a shooter they have to respect and then another shooter to punish that respect.
Those teams that can't hit 3's are always going to be up against it in the modern playoffs.
---
COACHING MATTERS
There's so much disregard for NBA coaches. The power dynamics in college and the NBA are flipped. There is an ongoing reticence in analytics and front office corners to believe that coaching has that much impact outside of a handful of guys in a handful of playoff games. But those margins can decide series and championships.
A surprising element in postseason play is that very rarely do teams enter a series with pre-adjustments. Coaches almost always want to try and play their regular season team approach to start a series, i.e. "do what we do," and then only make adjustments when forced to.
This is pretty insane, considering how often teams are facing tactical matchup problems even if they're heavily favored.
Some coaches recognize and make the adjustments they need, and some don't. We wrote last year on the Bucks and Mike Budenholzer. Budenholzer has, quite noticeably, started trying new schemes and approaches this season, about two years late, but still.
On the other hand, some coaches shift and adjust, getting better as series go along. These adjustments are almost always on the defensive end. We mentioned Miami and Toronto in that first defensive section. I would add Michael Malone in Denver to that list, after changing his approach in both the Spurs series in 2019 after going down 2-1 and in both 3-1 comebacks last season.
Some coaches we don't have a good feel for. Quin Snyder has his hands tied due to certain personnel limitations. We've never seen Monty Williams with a team this good in the postseason. Doc Rivers has incredible highs (winning the 2008 Finals, solving LeBron in 2010, the Clippers' win over the Spurs in 2015) and incredible lows (multiple 3-1 collapses). Who knows with Steve Nash.
But if you have a coach who struggles to find solutions within a series, it's a major limitation. You don't have to be a chess master, but you had better know how to move the pieces on the board.
---
Here's how a sample of playoff teams look under these guidelines:
EAST
Nets: The Nets are probably somehow undervalued. All their defensive metrics under the hood show a better team, they have the shotmakers, and they have more answers fully healthy. Even the loss to the Bucks? No Nic Claxton, who will be a key part of their defense. Brooklyn really is made for the playoffs.
Sixers: A little bit concerning. They're limited in 3-point volume and defensive versatility with Embiid, but Embiid's leverage scoring and Shake Milton's pull-up game is encouraging. A lot of it depends on what you think about Doc.
Bucks: Budenholzer's trying, Jennifer. They've tried adding wrinkles to the defense. They've shown different lineups and looks. Jrue Holiday adds another tough shot creator.
Hawks: Versatile, Nate McMillan is an underrated playoff coach, but honestly the biggest question mark is Trae Young. They also don't shoot enough 3's to hang as an underdog under that principle.
Knicks: Good defensive versatility. Is Barrett ready to make those pull-up shots? Thibodeau's teams tend to struggle when the playoffs arise and everyone plays hard.
Celtics: Sleeping dragon. Versatile defensive set. Jayson Tatum's outstanding in high-leverage situations. They bomb threes. For as disappointing as they've been, there's something there that should be better than in the playoffs.
Heat: Defensively, they check every box. Jimmy Butler can do the heavy lifting on making tough shots. They are lacking another creator, though. Spo is a big coaching edge.
Hornets: I think I've made my case, here. Honestly, a little too much. I keep writing about the Hornets and how they check all these boxes and I'm still like "wait, the Hornets?!"
West
Suns: Everything looks terrific. Hyper-versatile. Chris Paul and Devin Booker can hit high-leverage shots (Booker's efficiency has been a little behind this year but I think he can be better in playoffs). Coaching, roster versatility.
Jazz: 😬. Bound to drop coverage. Gobert can switch a little, but you don't feel good about it over the course of seven games. Mitchell's pull-up game helps. Snyder needs to show he can out-coach a team that isn't handcuffed to Russell Westbrook. Three-point shooting helps, but will those looks go down?
Nuggets: They'll miss Murray. But Jokic and their defensive personnel both impact things. Denver's well-built, style-wise for the playoffs and Malone has been better than advertised.
Clippers: 😬. If Serge Ibaka isn't healthy, they're bound to Ivica Zubac. Zubac's numbers on switches are actually pretty good… but they just don't let him do it hardly ever. So they're bound to drop by habit. Leonard and PG can both rise up. Your feelings on Ty Lue should dictate your assessment.
Lakers: I can give you all the warning signs, but they're the one team best built to break this guide. James lives for the playoffs and Davis hit a high percentage of key shots last year from range. They are not as versatile as last season, but they're still the Lakers.
Mavericks: Drop heavy, Luka's efficiency has been good, not astounding. They don't have other guys to make you pay. Carlisle's obviously a positive. Their three-point volume means they'll be a good play for over wins in the first round if they make it.
Portland Trail Blazers: Can't change up their defense. Great shotmakers pull-up and in high leverage situations. Stotts has one of the worst ATS marks in the playoffs. Three-point volume gives them a chance. They can't solve defensive problems, though.
Memphis Grizzlies: Really bad all over. Low 3-point volume. High drop rate. Low switch rate. Inexperienced head coach.
San Antonio Spurs: The opposite of the Blazers, where the defensive versatility is there and they have the pull-up shooter in DeMar DeRozan, but their offense just isn't efficient enough overall.
Golden State Warriors: Steph renders all rules and guides moot. That's just how it goes.
How would you rate this article?
This site contains commercial content. We may be compensated for the links provided on this page. The content on this page is for informational purposes only. Action Network makes no representation or warranty as to the accuracy of the information given or the outcome of any game or event.