Moore: NBA Power Rankings, Betting Analysis for All 30 Teams
Credit:
USA TODAY Sports. Pictured: Clippers forward Kawhi Leonard (2), Bucks forward Giannis Antetokounmpo (34), Lakers forward LeBron James (23).
Power rankings are excellent for getting a sense of the general contour of the league… but they don't tell you how those teams are performing vs. the betting market. We're bringing you a new prototype of power rankings here at The Action Network.
My rankings below are based on overall win profile (quality wins minus bad losses), Net Ratings (via NBA.com) and the eye test, with a slight weight towards preseason expectations.
Below I've ranked each team 1-30 (you can probably guess who I have at No. 30) and added some nuggets on how to capitalize on their early performance thus far. Teams with a higher rating are those I think are playing best right now, as well as how confident I am in them.
Note: Against-the-spread data entering Thursday's games.
1. Los Angeles Lakers
Their win profile isn't stellar, but you play who's in front of you. The Lakers have quality wins vs. Miami, Phoenix, Dallas and Utah and are 8-0 vs. teams under .500. The Lakers are the only Western Conference team top-10 in both Offensive and Defensive Rating, and they are just now starting to catch up shooting-wise to expected percentages.
LeBron is a serious MVP candidate, Frank Vogel is a serious COY candidate and the Lakers are back on top where they belong … at least that's what their fans think.
The Lakers, predictably, are the most public team in the league. They have the most games in our system this season in which they've gotten 51% of the betting money, and the lines are almost always exaggerated. That said, they are 9-5 ATS. They're 4-1 as less than a two-possession favorite (-6) so you should trust them in big games, despite that opening-night Clippers loss.
2. Milwaukee Bucks
The Bucks have the toughest schedule so far in the league and yet the second-best record and Net Rating. The team isn't as good as last year's, but Giannis Antetokounmpo is somehow better.
The market adjusted hard on the Bucks this season. They've covered only twice in their last seven games and are 1-4 as a double-digit favorite. The Bucks are still great, but they're not the juggernaut they were last year, at least not yet.
3. Denver Nuggets
Nikola Jokic's annual November slump may be subsiding. The defense has held it down for them, but they haven't popped yet. They need more from Gary Harris.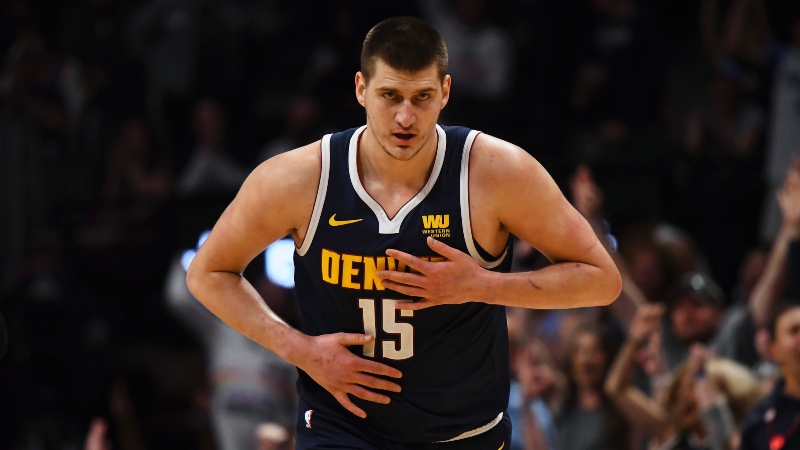 Give them a little bit. They're 3-4 ATS as a home favorite but were great there last year and just knocked off an excellent Rockets team and covered. There are no real sweet spots with this team, because they play to capacity in fits and spurts.
4. Houston Rockets
You know about James Harden and you know about the offense, yet they're the fifth-best defense over the past nine games. Houston's turning into another regular-season juggernaut.
The Rockets are 2-4 as a road favorite, so the market's still a little too high on them. That's not surprising given their analytics and track record. They have covered four of their last five against teams under .500, however. That's a good spot for them as they can trounce bad teams.
5. Boston Celtics
A loss to the Kings takes them down just a notch, but they have both offensive balance and surprisingly great defense. They should be much worse defensively; we'll see if that catches up with them. But their balance is as good as any team's, and they have wins vs. the Raptors and Bucks. Brad Stevens' scrappy underdog season is in full effect.
The Celtics are 4-1 as a dog this season. You want to bet them pretty much any time the scrappy underdog team is a dog. As a favorite, they're 4-3-2; you want to chill there. They can hang even with the elite teams like the Clippers.
6. Toronto Raptors
Pascal Siakam is a man-dragon and the Raptors have course-adjusted on defense. They logged a big win vs. the Lakers without Kyle Lowry last week.
The Raptors are 7-1 as a favorite this season. Specifically, they are 3-0 vs. teams over .500 when favored. They're a sneaky good spot to trust the public on, going 7-3 with more than 50% of bets behind them (via Bet Labs).
7. LA Clippers 
It says more about the chasing teams that the Clippers are this high because there are a lot of bumps. Kawhi Leonard's load management may mean they don't have homecourt from the second round on.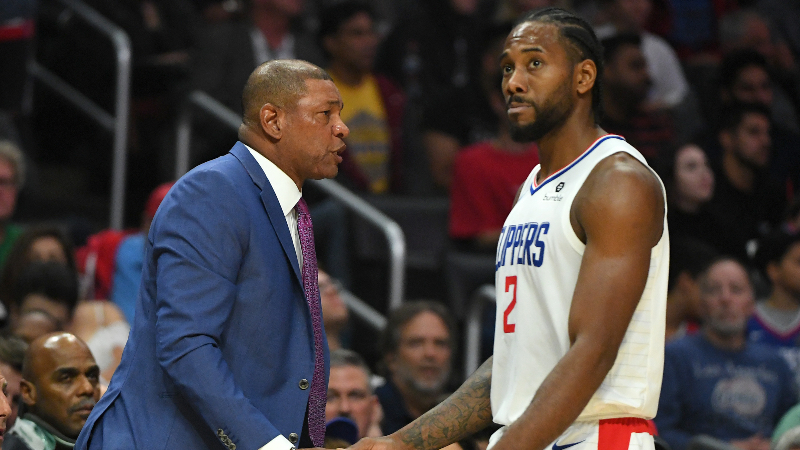 They're 7-3 at home, mostly because those are the games Kawhi has played more. But overall, their performance is very mixed. They're a little overrated by the market, going 2-4 as more than a 5.5-point favorite this season.
Pick your spots carefully, and always wait to make sure Kawhi is playing. The Clippers are 4-1 with Leonard playing as less than six-point favorites.
8. Utah Jazz 
Their offense is underperforming, but they're still winning enough. Mike Conley badly needs to get going offensively, however. They may need another perimeter weapon.
The market keeps trusting them and they keep burning the market. The Jazz are 5-9 ATS this season overall. The sharps, however, are killing it by fading them this year. Utah is 1-6 ATS when less than 50% of the money is on them.
9. Miami Heat
They have shot more than five percentage points above their expected eFG% in almost half their games, and above it at some level in eight of 12. This team is good but probably not as good as the record says.
They're undefeated ATS at home. There are a lot of signs this team has underperformed, but they just keep rattling off wins as the best ATS team this season. There will come a regression and then will be the time to fade them, but I can't blame you for just blindly backing them at this point. Good teams, bad teams, all teams, they've just covered.
10. Phoenix Suns
A hot start is beginning to fade, but their win profile is still solid with wins over bad teams and a few signature victories. Getting Deandre Ayton back in 12 games will help considerably, just for having a big man down low. The defensive slippage is alarming, though. Injuries to Aron Baynes and Ricky Rubio take their legs out, like Thursday vs. the Pelicans.
Is now the time to start fading them? They've covered just twice over their last seven games. They were -2.5 vs. the Celtics, which was basically free money to fade them.
11. Dallas Mavericks
Their defense is starting to turn into a pumpkin, but Luka Doncic may be such a warlock he can still pull enough rabbits out of hats. I worry about a slide.
Their defense slips on the road, but their offense still cooks. The over is 5-1 for the Mavs on the road. Betting on them is tricky because they've been favored too often. If they hit a losing streak, that'll be the time to buy back in once they stabilize.
12. Philadelphia 76ers
Well, the Process is starting to look like maybe it didn't win as much as we thought after it won more than we thought after it looked like it didn't win as much as we thought. Check back next week when it flips again.
This team needs to be better. They're good as an underdog (3-1 ATS), but otherwise it's all middling. It's hard to find value because they look like world-beaters one minute and are scraping by the Knicks the next. Betting them is infuriating.
13. Indiana Pacers
The Pacers are one game behind their expected win-loss record, with a top-five defense. When Victor Oladipo gets back, look out. The under is 8-5-1 and consistent across multiple splits. The offense is explosive but inconsistent, so it's going to be a sweat at times. Take the under when they're playing solvable offenses.
14. Minnesota Timberwolves
The Karl-Anthony Towns suspension really hurt them, as have illnesses to Jeff Teague and Andrew Wiggins. At full strength, their defense is much improved. They can't win with just offense.
Wolves is another name for road dogs. They're 4-1 ATS as a road underdog this season, which vibes with their whole identity. Better than you think and able to hang. A big key in their otherwise middling ATS record has been the absences of Teague, Wiggins and Towns.
Also, the under is 3-0 since they got Towns and Teague back. They're an underrated defensive team at full health.
15. Orlando Magic
Wait, the Magic have the ninth-best Offensive Rating in the last five games? Where the hell did that come from? They couldn't hit water if they fell out of a boat onto a planet literally covered in nothing but water two weeks ago.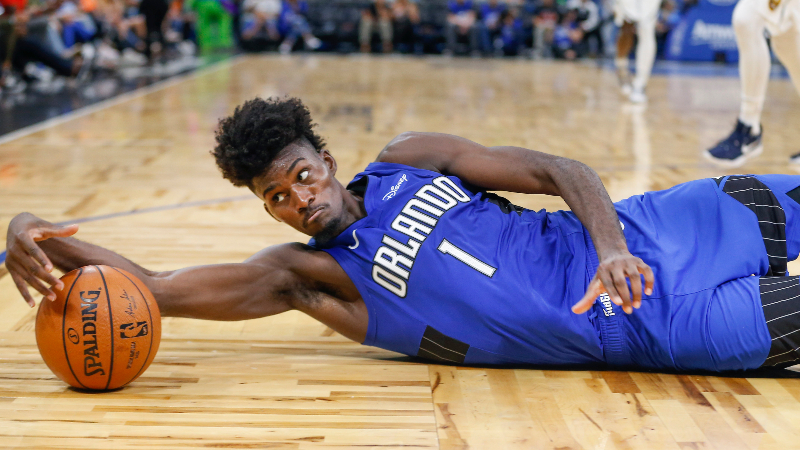 Fade the Magic. They're 4-9 ATS on the season. Home, away, whatever, it's not good. Notably, they're 1-4-1 ATS as a dog. They just can't hang with any of the good teams this season.
16. Charlotte Hornets
What can we give Devonte' Graham for an award? Most improved? Second-year Rookie of the Year? Something?
The Hornets are 4-1 in games decided by three points or less this year after being one of the worst teams in the league in that category the past three years.
The market has mostly adjusted on them (8-7), but they are notably +$438 on the season on the moneyline when less than eight-point dogs (5-4). That's a narrow sample but indicative that when they're not absolutely outmatched, they have a good chance at winning outright.
17. New Orleans Pelicans
I don't want to make too big of a thing out of this, but the Pelicans are playing much better since Lonzo Ball left the lineup with injury. It's just a fact, regardless of correlation.
I hate to be this guy… but the Pelicans are also 5-1-1 ATS without Lonzo Ball, and the under for a team that was dead last in defensive efficiency at one point is 6-1 in that span. If Ball's out, take the under.
18. Sacramento Kings
They're back from the dead, I guess. The Kings are thriving with De'Aaron Fox and Marvin Bagley out. Dead cat bounce or resurgence? They have covered eight straight. While the market will surely adjust, an upcoming road trip might provide some value.
19. Cleveland Cavaliers
Four losses in a row after their promising start. Kevin Love and Tristan Thompson being out periodically matters, but that Knicks loss was B-A-D. I'm putting them on the smoke-and-mirrors watch list.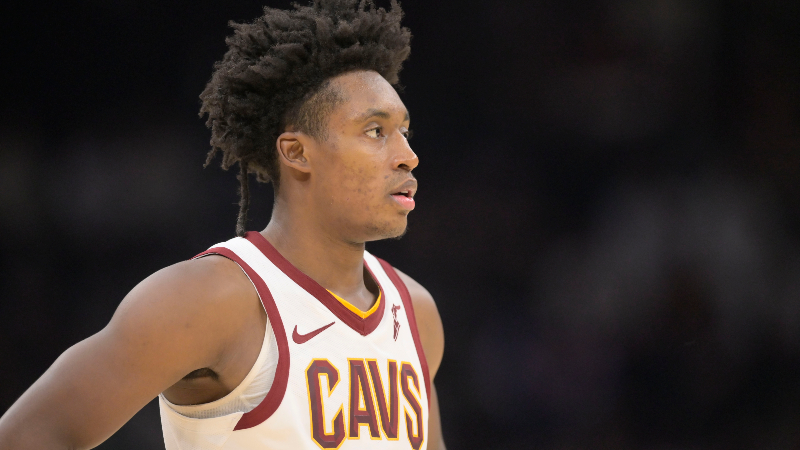 They're on a four-game ATS losing streak. Some of that is without Love and/or Thompson, but it's enough to think it may be safe to fade the Cavs again.
20. Washington Wizards 
I've told myself about five times in the past four days, "The Wizards are running Davis Bertans-Mo Wagner pick-and-rolls and winning with them." Scott Brooks is doing some pretty imaginative things on offense.
They're the best underdog ATS team in the league at 7-1 and second-best overall. It defies convention, but the Wizards are just able to score with literally anyone to the point of being competitive. Specifically pick spots like against the Spurs — offensively limited teams — playing at Verizon.
21. Oklahoma City Thunder
This is about what we expected. OKC is better than bad, worse than good and can't score. The Steven Adams injury problems are concerning. The Thunder are 6-3 as a dog, including 5-1 as more than a five-point underdog. They don't lose big, they're too tough, too slow, too scrappy on both ends.
22. Atlanta Hawks  
Trae Young is spectacular; he's legitimately as good as Luka Doncic. But the Hawks are much worse, especially without John Collins. Without Young they're scoring 89.6 points per 100 possessions, which is basically the basketball version of throwing boulders at a trash can and missing wildly.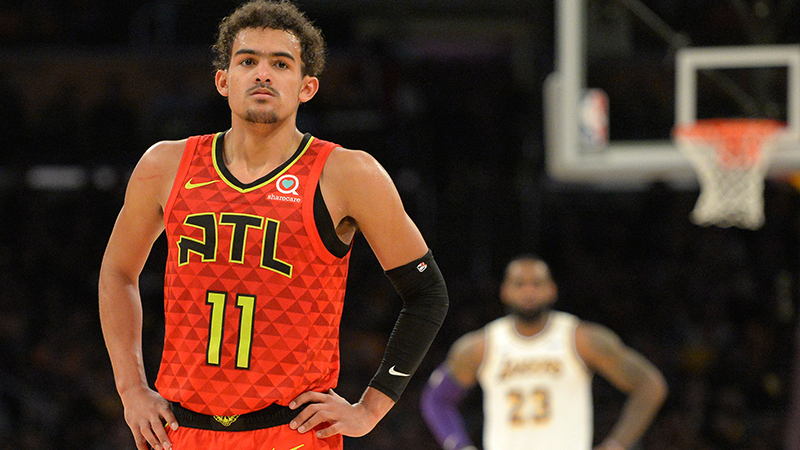 They are 2-6 in their past eight games ATS, but most of that came on a West Coast road trip against powerhouses. They covered vs. Denver and just failed to cover vs. the Blazers. They're also without John Collins and Kevin Huerter. Back at full strength vs. East teams, they're a good play.
23. Brooklyn Nets
Well the defense is terrible every game. Now with Caris LeVert out, they are struggling to score, too! The good vibes of last year's team are gone… but they started out rough last year, too. The Nets are 2-5 ATS against teams with a 103 defensive efficiency or lower. They can't beat competent defensive teams.
24. Detroit Pistons
Game analysis: Congratulations to the Pistons for being the only team that could ever make me constantly say, "Man, they need Reggie Jackson back" aloud. They are 2-8 ATS in their last 10 games.
Here's a spot: Wait for Jackson to get healthy and then jump on them. The on-off-court differentials are massive for their performance with and without Jackson.
25. Chicago Bulls
They're shooting below expected values, their record is beneath their expected mark statistically, they're under .500 against the spread. They are wildly disappointing, and most things point to the coaching staff.
They're one of the most maddening teams to bet this season. Here's one: The Bulls are 5-9-1 ATS in the second half with a bottom-five fourth-quarter differential. They're a good team to live bet to get a sense of whether their offense has it or it doesn't.
26. Portland Trail Blazers
They legitimately thought they upgraded in the offseason. The Zach Collins injury crippled them, but really when you say things like, "The Zach Collins injury crippled them," you were already in trouble way before.
The Blazers are 1-3-1 ATS at home, the second-worst mark in the league, and that's rapidly going downhill with the Collins injury. Signing Carmelo Anthony is as sure a sign of desperation as anything. Their last cover as a favorite was against Atlanta.
27. San Antonio Spurs
Last season I kept yelling about how the Spurs starters had bad Net Ratings and they were getting by with their bench. Then their bench got worse. And yet I still bet the over on their win total. I blame myself, honestly.
They're the worst ATS team in the NBA, on the league's worst slide, with no answers in sight. Fade them as a short dog or favorite in any scenario, and take the over (11-4 in Spurs games this season). Their defense is broken.
28. Golden State Warriors
Draymond Green and D'Angelo Russell are playing and they're still this bad. That's a worrisome sign no matter how much Stephen Curry and Klay Thompson help. The supporting cast is bad.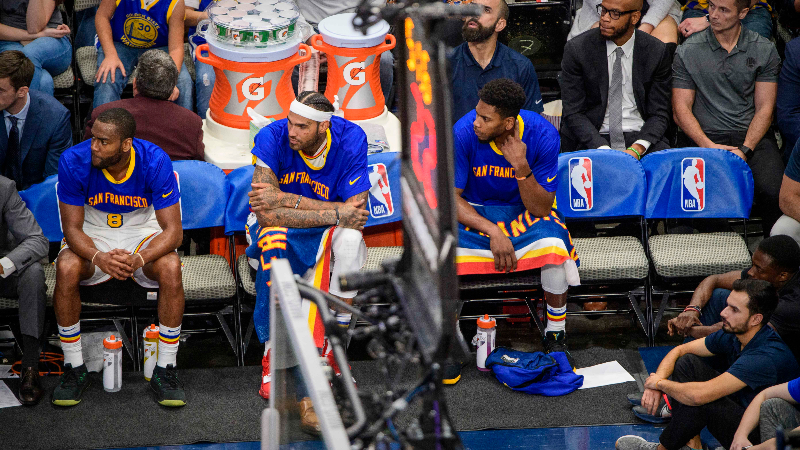 The lines are all over the place with how many injuries they have and the G-League roster they're fielding. It's not a bad look to fade them vs. the good teams, however.
29. Memphis Grizzlies
The Grizzlies will have their occasional fun frisky win, but they are who we thought they were: too young to know how to win yet. They've covered three of their last five, but they're going to be maddeningly inconsistent. Also never bet them as a favorite, as they do things like lose to the Warriors by 19. Kids gonna kids.
30. New York Knicks
This team sucks, as it has sucked every year for two decades. Even in 2013 they were actually a sucky team in disguise. Nothing will change until Dolan sells. I may just write this as the blurb every week.
I have bet on or against the Knicks five times this season and am 0-5. If I trust them, they fall apart, like against the Bulls. If I fade them, they hang with the Sixers. There is no way to seemingly predict what they're going to do, and I highly recommend avoiding them like the Bubonic plague.
How would you rate this article?