NBA Schedule Release: Bet the Pacers & Lakers Early, Wait on Bucks & Cavaliers Futures
Credit:
Brian Fluharty/Getty Images. Pictured: Tyrese Haliburton #0 of the Indiana Pacers.
The full 2023-2024 NBA schedule is out, so it's time to get excited for 1,230 games of regular season goodness.
It's easy to think all schedules are created equal and that things even out over the course of the season, but that's not necessarily the case. Schedules wax and wane over an 82-game season leaving easier spots on the calendar to bet futures, and there are other factors like rest disadvantages, long road trips or heavy miles traveled. I used Positive Residual's great tools to analyze the upcoming schedule for all 30 teams.
I'm already eyeing up NBA futures for the new season. Here are five specific takeaways from the schedule release that will impact how — and when — I'll bet associated futures this season.
1. I'm even more all-in on the Indiana Pacers and need to bet them right away to start the season.
The Pacers have the second-softest strength of schedule before Thanksgiving, so Indiana is set up to get off to a great start. They play nine of their 14 games at home and never head farther west than Indiana, their 4,167 air miles traveled are under 40% of what a few teams play. That of course means plenty of games against the softer Eastern Conference too.
I love the Pacers this season. Tyrese Haliburton is an All-NBA caliber guard set to lead a team that had a great offseason, adding plenty of defense in Bruce Brown and rookie Jarace Walker while also picking up Obi Toppin on the cheap. This team makes sense and should make a playoff push under Rick Carlisle if they stay healthy.
I smashed Indiana over 35.5 wins when the lines first posted. That's up to 36.5 or 37.5 at most books now but I still like the over as I expect the Pacers to end up in the 40s and safely in the postseason picture. The Pacers also have one of the softer schedules post-All Star break so they're set up to close the season well too.
If you're not a fan of the Pacers, the Hornets have a similarly soft start before Thanksgiving if you prefer Charlotte as a sleeper. Be careful, though — they have the toughest post-ASB SOS.
2. If you're out on Houston, you need to be out right away.
In our BUCKETS reaction to opening win total lines posting, my two strongest bets were Pacers over 35.5 and Rockets under 32.5.
Well, Houston now has the toughest strength of schedule in the league before Christmas. The Rockets ease in with the Magic and Spurs during opening week, but then spend most of the fall playing a barrage of surefire West playoff teams, plus December trips to Milwaukee and Cleveland to boot.
The Rockets are one of the buzzy offseason teams after adding Fred VanVleet and Dillon Brooks along with Ime Udoka, and those moves should definitely raise Houston's floor. But winning habits aren't formed overnight, and Houston will still field a slew of young players. This thing will take time to figure itself out, and by the time it does, Houston's season might have already gone sideways with this daunting start.
Don't forget, the Rockets only get to keep their draft pick next summer if it's in the top four. Houston wants to win right now, but if they're out of the play-in picture anyway, they'll have every incentive to lose games late and keep what might be the last chance to add one final top lottery pick to a talented core.
Houston's win total is down to 31.5 now, but I still like the under and expect them to finish in the 20s.
3. If you're thinking about betting the Cavs over the Bucks in the Central Division, you may need to wait awhile first.
Spoiler alert: I'm thinking about that position.
Mike Budenholzer was practically invincible in division games, but he's gone now with the unproven Adrian Griffin in tow instead, and the Bucks get another year older and continue to lack depth. The Cavs are a young team whose four best players should all be on the upswing, and they're an outstanding defensive team with a proven winning formula in the regular season.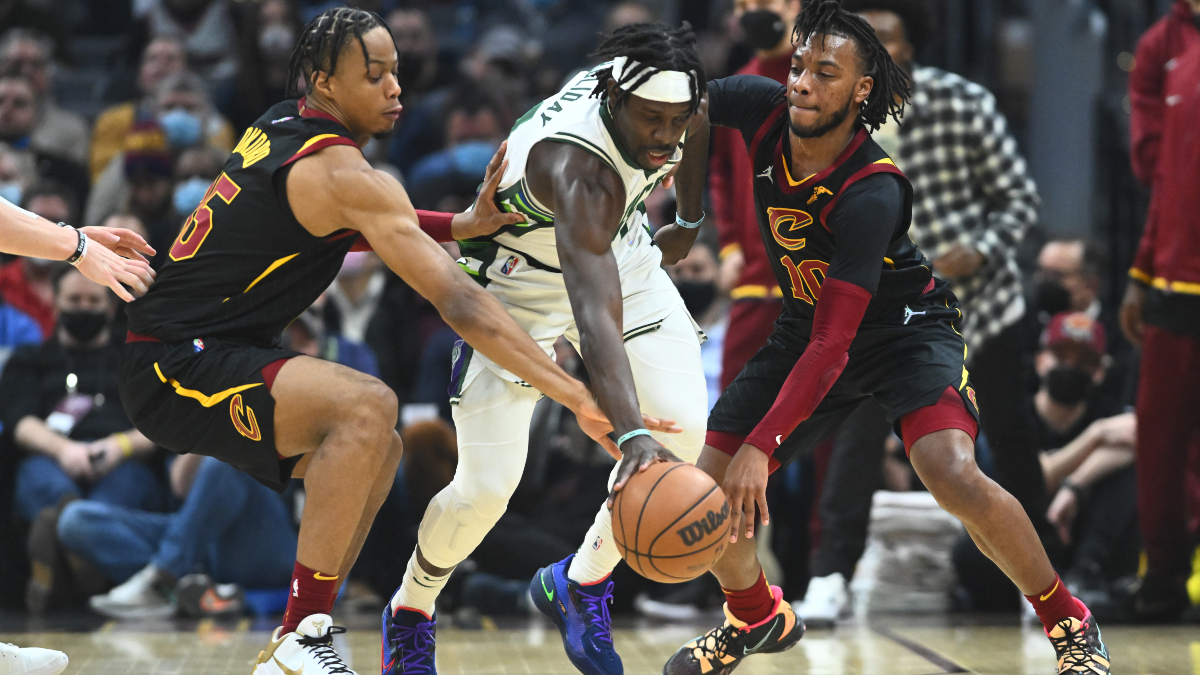 I have Cleveland ahead of Milwaukee for the regular season and will look to bet the Cavs to win the Central as +225 underdogs (BetRivers). But schedule analysis says we can probably get a better number if we wait.
The Bucks have the softest strength of schedule in the NBA before Christmas, with 16 home games tied for the most of any team, but they have the third toughest SOS from January 1 forward. Cleveland has a more difficult opening stretch through Thanksgiving but the fourth easiest SOS in the new year.
I still want Cavs division futures — but we'll probably get a better price around the holidays.
4. The Lakers can get off to yet another slow start.
It feels routine at this point that the Lakers struggle early, make a bunch of moves at the trade deadline, and try to make a run late. The way the schedule shapes up, we might get more of the same.
The Lakers have one of the toughest schedules in the league before Christmas. They play 17 road games to just 12 at home, leading to a league high 20,000-plus air miles. They'll also do that with five rest disadvantages to just two advantages.
Remember, this is a roster that basically starts fresh every year. The Lakers are missing six of the 10 guys that played the most minutes for the team last regular season, and they'll need to work new players like Gabe Vincent, Taurean Prince, Cam Reddish, Jaxson Hayes, and rookie Jalen Hood-Schifino into the lineup while juggling all the new guys they added at the trade deadline.
This team just made a deep playoff run and put a lot of wear and tear on LeBron James and Anthony Davis. James tends to take awhile to ramp up at this stage of his career, and there are always injury concerns with both. And, like usual, this roster probably isn't final and will see a trade or six before it takes its final form.
Looks like another slow start for the Lakers, which could leave them pushing to avoid the play-in once again.
5. If the Heat don't get the Damian Lillard deal done before the season, it could be an ugly start.
The Heat quietly got a lot worse this offseason, at least so far. Max Strus and Gabe Vincent — starters on a team that just played in the NBA Finals — both left for more money elsewhere. Victor Oladipo and Cody Zeller are gone too. This team is quite thin as things stand, and the Heat have an older roster of injury-prone guys coming off another deep, grueling run.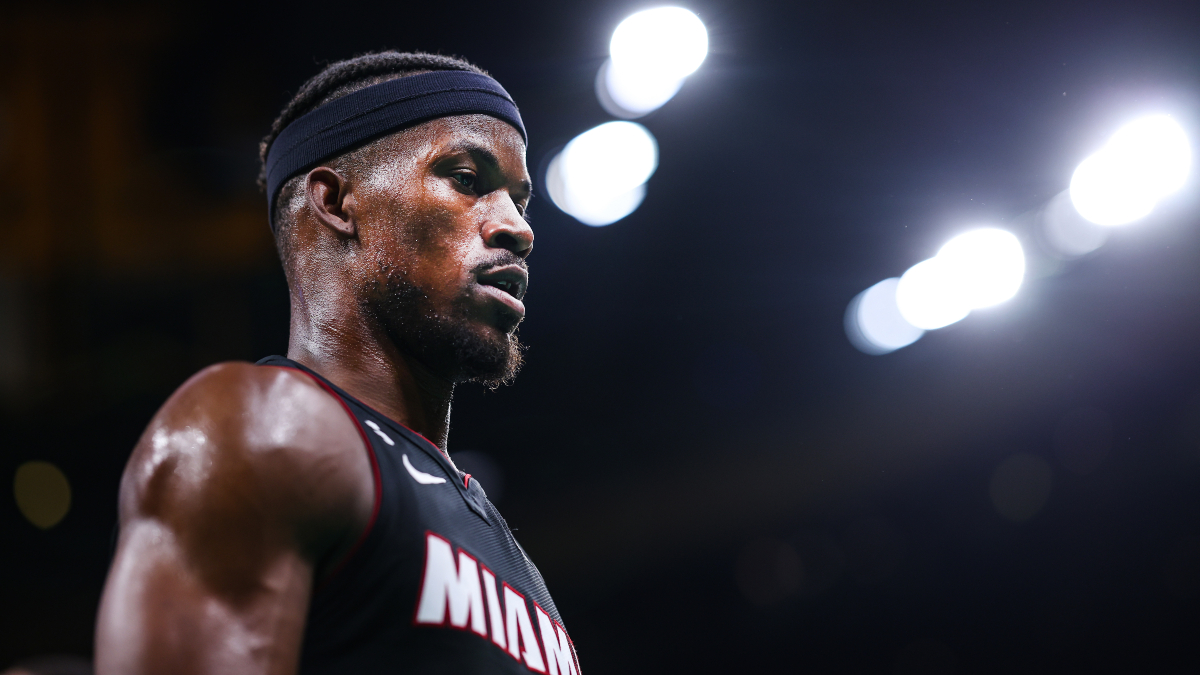 Miami has one of the toughest opening months in the NBA with a slew of road games before Thanksgiving before things ease up significantly between Black Friday and Christmas. The Heat have not been a good road team in recent seasons. If they come out a bit lethargic and just go through the motions while they wait for Lillard resolution, it could put the team behind the eight ball early.
How would you rate this article?
This site contains commercial content. We may be compensated for the links provided on this page. The content on this page is for informational purposes only. Action Network makes no representation or warranty as to the accuracy of the information given or the outcome of any game or event.