NBA Win Total Odds & Pick: Are the New York Knicks Undervalued?
Credit:
Nathaniel S. Butler/NBAE via Getty Images. Pictured: RJ Barrett #9, Julius Randle #30 and Mitchell Robinson #23 of the New York Knicks.
Check out this post for updated season win total odds for all 30 NBA teams.
---
New York Knicks Win Total Odds
| | |
| --- | --- |
| 2023-23 Win Total | 38.5 |
| Previous Season's Wins | 37 |
The Case for the Over
How Much Is Brunson Worth?
Forced to Play Better Lineups
The Sweet Spot
The Knicks' big addition this season is obviously Jalen Brunson, a dynamic creator who can run the offense at a higher level than any point guard the Knicks have had in years, decades, really.
Having a primary head of the snake, as the adage goes, is huge. It fundamentally makes life easier for an offense that had a miserable season last year, ranking 21st in Adjusted Offensive Rating.
According to Dunks And Threes, Brunson was evaluated as a +1.8 in Estimated Plus Minus last season. It isn't apples to apples when a player switches teams, but if you add his +1.8 to the Knicks' Net Rating, they move into the 44-win range. Even with the losses they'll suffer, which we'll talk about later, that gets them some gap in front of the number.
The Knicks lost some depth in the various mechanisms to clear cap space for Brunson. But they might actually have forced themselves to play better lineups.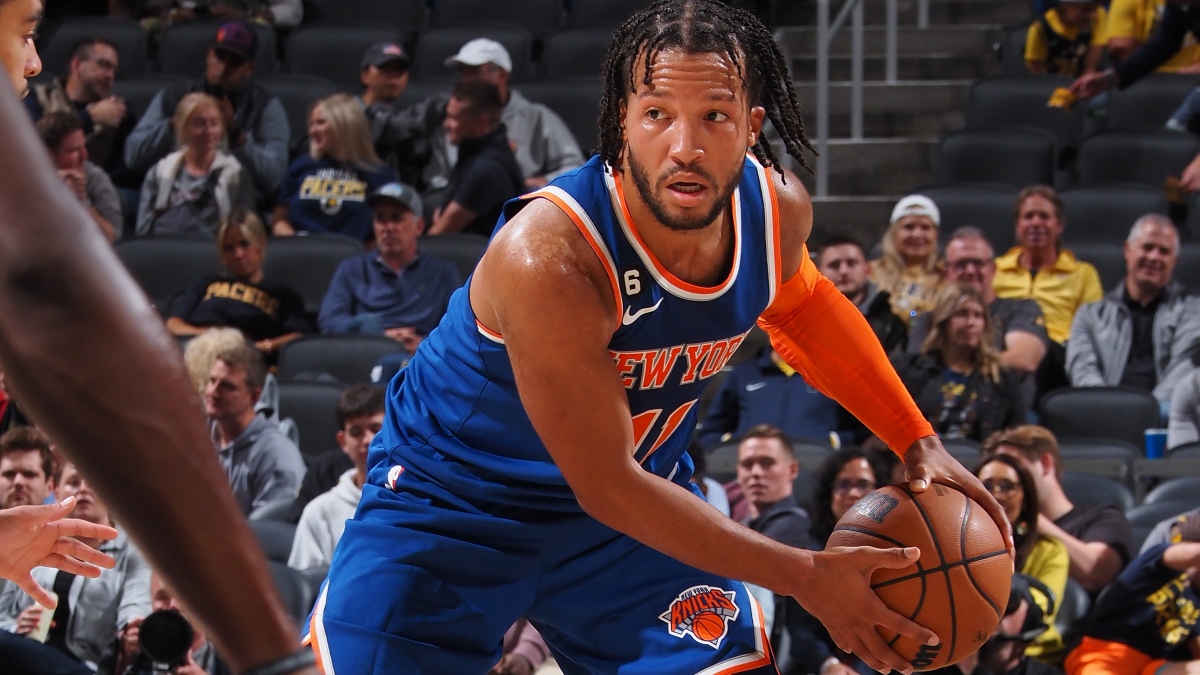 In preseason, there was a pretty clear opportunity being laid out for Obi Toppin, who was terrific in both eye test and analytics in his minutes last year. If they can find a suitor for Julius Randle — if Randle doesn't seamlessly mesh with Brunson, which is possible — then that'll open even more room. Maybe starting is too big a role for Toppin, but the bench should have better chances to save them this year.
Derrick Rose returns, and the Knicks added small-ball wrecking ball Isaiah Hartenstein, in free agency. The roster is better than last season when it underperformed.
Motivation is never a concern when Tom Thibodeau is involved, and this is close to a make-or-break year for him. The Knicks won't pivot to a tank, they want to make the playoffs.
This number is also in the sweet spot. Teams between 30 and 40 but sub-.500 have a higher tendency to go over in the last 10 seasons. Teams with poor offenses also tend to improve year over year, at least in terms of win total.
Teams with a bottom-10 offense and a win total between 30 and 40 have gone 14-9 to the over in the past 10 seasons.
---
The Case for the Under
Tom Thibodeau
Are the Upgrades Meaningful?
Underperformers Fail
Since leaving the Chicago Bulls, Thibodeau's teams are 4-1 to the under, and overall for his career, the record is 7-3 to the under. This is pretty explicable. The perception is of a team that tries hard and goes to the bone every single play, which is boosting the win total a bit more than it should be.
Thibs plays his veterans too much, and that reluctance to not play guys like Obi Toppin and Immanuel Quickley cost the Knicks dearly last season.
What's the go-to combination this season? Brunson pick-and-roll with Mitchell Robinson? Your turn, my turn with RJ Barrett, who shot 44% from 2-point range and 34% from deep last season?
Is Julius Randle going to bounce back from his disappointing season following the bounce back to this previous disappointing season?
There is a lot built on the idea of Brunson being a true superstar in a new location. Brunson was great last season when teams were focused on stopping Luka Doncic. He was great in the first-round series against the Utah Jazz because every guard that can run pick-and-roll and attack switches is great against the Jazz.
It's not that Brunson isn't an upgrade. He is. But is he enough to get a margin over this win total?
I found a curious trend when it comes to Pythagorean expected wins over the past 10 years, which is just expected win percentage based on point differential. Teams that underperformed their expected win total, so based on the stats, should have won more games, tended to actually go under.
Win totals are more closely correlated to those expected win numbers than actual wins, which theoretically results in a bit of a juiced number that's too high for underperformers and too low for overperformers.
The Knicks won 3.8 fewer games than their expected mark last season, which puts them in the 90th percentile for underperformance in the last 10 years. Teams that underperformed to that degree have gone 12-9 to the under (57%), and teams with a -1.6 mark (Knicks at -3.8) or worse went under 55% of the time.
Knicks Win Total Bet
It's a soft lean over.
So the problem is that based on the above trend, the win total should be closer to 41 wins (Knicks' expected wins mark was 40.8). At 41, I'd look for an under. But this is a full three wins under that.
This mark expects them to only be 1.5 wins better with the addition of Brunson and Hartenstein. Derrick Rose's return shouldn't be overlooked, as his on-off splits were really good the prior season.
That's too low.
I can't get pulled into an over because of Thibs and the trend for the underperformers. It's enough to keep me away.
The division is tough, the roation is thin if there are injury concerns, and I can't trust Julius Randle to have a better season than last even with a low bar.
I just can't find a reason to invest here. The Knicks could very well be the surprise team of the year with Brunson as an All-Star. That's absolutely on the table. I just don't know if it's worth betting on.
How would you rate this article?
This site contains commercial content. We may be compensated for the links provided on this page. The content on this page is for informational purposes only. Action Network makes no representation or warranty as to the accuracy of the information given or the outcome of any game or event.