Nuggets vs. Blazers Game 6 Betting Preview: Bet on Denver to Close Out?
Credit:
Ron Chenoy-USA TODAY Sports. Pictured: Denver Nuggets forward Paul Millsap (4).
Game 6 Betting Odds: Denver Nuggets at Portland Trail Blazers
Spread: Blazers -4
Over/Under: 215
Time: 10:30 p.m. ET
TV Channel: ESPN
Series Score: Nuggets Lead 3-2
---
>> All odds as of Wednesday night. Download The Action Network App to get real-time odds and live win probabilities on your bets.
---
The Blazers have dropped two straight, giving up big games to the Nuggets offense.
Can they turn things around at home to force a Game 7? Our experts weigh in.
Betting Trends to Know
As a series progresses, teams become more familiar with each other. Defensive adjustments are made and player fatigue becomes an issue, all of which contribute to lower-scoring outcomes. As a result, it has been profitable to bet the under in Games 6 and 7 of a playoff series. — John Ewing
The Blazers lost by 26 points to the Nuggets on Tuesday. Can bettors trust Portland to bounce back as four-point favorites in Game 6? Since 2005, teams who lost their previous game by 10 or more points and then were favored in their next matchup have gone 131-93-6 (59%) against the spread in the playoffs. — Ewing
Under head coach Terry Stotts, the Blazers have had a tough time bouncing back in the playoffs after a loss. Portland is 8-16 ATS (33.3%) after a straight-up loss in the playoffs under Stotts, making him the second-least profitable coach in BetLabs in this spot since 2012, Stott's first season in Portland.
Zooming out, the Blazers are 14-30-1 ATS (31.8%) in the playoffs overall under Stotts, making him the second-least profitable coach in the NBA ahead of just Dwane Casey. — Evan Abrams
Under Stotts, the Blazers are 1-9 against the first-half spread in Games 5-7 of a playoff series, failing to cover by 3.3 points per game. In the BetLabs database (since 2005), the only coach less profitable than Stotts in this spot is Erik Spoelstra. — Abrams
---
Moore: Why I'm Fading a Historic Late Series Trend
Sorry, but I'm fading Ewing's trend here.
We've seen an offensive explosion over the past few years. This is an offense-driven league, and these are offensive-centric teams. In Games 6 and 7 the over is already 2-1 this postseason and one of those was the Spurs-Nuggets dread fest. This is not a dread fest.
The Nuggets have an offensive rating above 109 in four of the five games, with their only sub-100 performance coming in Game 2 — a patented "Denver misses every open look" game.
The Blazers have no real counters defensively. They tried playing straight up, and Nikola Jokic torched Enes Kanter while Gary Harris took advantage of Damian Lillard. They tried playing small and Jokic torched Al-Farouq Aminu while Jamal Murray got separation. They have no counter for Paul Millsap. There just aren't a lot of adjustments to be made.
I asked Terry Stotts after Game 5 why they've had trouble doubling Jokic and Stotts commented that they're just not putting Jokic in position to double. There aren't many counters here to slow them down. The Blazers have to outscore them.
Denver is also running more, selectively. Off misses and turnovers, they're looking for long outlet passes to get easy buckets. Denver has three games with over 10 fast-break point in this series, and gave up double-digit fast-break points in both games in Portland in this series. Those quick baskets play a huge role in these totals.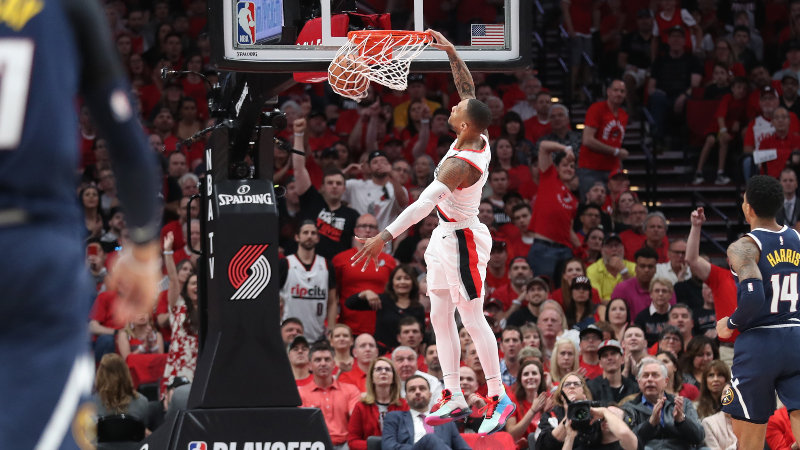 The totals in this series have been 216 or lower in four of the five games and the over has hit in four of the five games. That this line is set below 220 is quite frankly shocking. Denver has scored under its 109 total once in this series.
Portland is likely to push a lot more in an elimination game as well. They scored just 98 in Game 5, but they also appeared to have given up by the third quarter. That won't happen at the Moda Center, and given how close these teams have been in the two games in Portland, there's a low chance of garbage time stall-outs messing with it.
Denver has proven to be a prolific offensive team and has gotten better offensively with each game. Even if they have a catastrophic shooting night like they sometimes do, the Blazers will then push and hit big momentum threes in front of the home crowd to put up a big number in forcing a Game 7.
Game 7's are a different matter; those games are almost always ugly and tight, but with a line this soft, the over is an easy play, as is Denver's team total over at 106. — Matt Moore
Mears: How I'm Handicapping Game 6
I'm trying to find some silver linings for Portland here, but it's tough. They've allowed 125.8 and 215.0 points per 100 possessions over the last two games — truly atrocious marks in the playoffs. And the thing is: It could have been even worse last game.
Denver posted an Offensive Rating in the 90th percentile despite having an effective field goal mark in the 45th. The Nuggets didn't shoot very well, but they turned it over on just 6.7% of their possessions (97th percentile) and got to the foul line at a 31.3% clip (92nd percentile).
That latter point could regress: The Nuggets were just 27th this season in drawing fouls. The former shouldn't, though: The Blazers were dead last in the league in forcing turnovers.
Back to the shooting: The Nuggets honestly weren't that good. On shots classified as "wide open" by NBA.com — a defender six-plus feet away — they hit just 21.4% of them. They hit three of their 13 wide-open 3-pointers. The Blazers were a little better, posting an eFG% of 50% on their wide-open shots.
Perhaps there's one silver lining, albeit small: On "open shots" — a defender 4-6 feet away — the Blazers hit literally 9.4% of them. They didn't take a ton of them, mind you, but a couple more likely should've gone in.
Also, Damian Lillard has had a subpar series after dominating in the first round; he's a candidate to go off in any single game.
But that's about it in terms of feeling optimistic about the Blazers. The Nuggets were a superior team all along, and I think we're learning that the Blazers' first-round series said more about the Thunder than them. Enes Kanter should've been a liability in that one, and he is in this series against Nikola Jokic.
The Blazers could certainly rally and defend home court to force a Game 7, but I wouldn't take their spread.
This is a lean on Nuggets for me, although I'll probably pass on the side and hopefully get a Game 7 where I can take the best home court team in sports. — Bryan Mears
---
Editor's note: The opinions on this game are from the individual writers and are based on their research, analysis and perspective. They are independent of, and may not always match with, the algorithm-driven Best Bets from Sports Insights.
How would you rate this article?