Revenge Street: Ranking the NBA's Most Important Types of Feuds
Credit:
Photo credit: Ken Blaze-USA TODAY Sports. Pictured: Kyrie Irving and LeBron James
After watching Blake Griffin torch the Clippers and DeMar DeRozan go at the Raptors, we've realized one thing: Revenge is a big deal in the NBA.
On that note, Rob Perez (@WorldWideWob) and Justin Phan are here to rank the various revenge narratives in the league.
Revenge is a human quality that even the purest of souls can have difficulty disregarding.
Its roots stem from both love and hatred: the lust for inflicting harm on someone or something in response to an injustice suffered at their hands. You don't seek revenge unless an item you loved, tangible or not, was taken away. Reasons for seeking revenge can vary, but its emergence is often provoked by sentiments of justice and vengeance.
In the NBA, revenge is a nightly theme.
Sometimes regular-season games mean more than others, and this particular conversation has nothing to do with playoff or championship implications.
Sometimes, it's personal.
Just a couple weeks ago, we saw Blake Griffin stiff Steve Ballmer and play his best game in years vs. the Clippers, in addition to Jimmy Butler dragging the Timberwolves around like Achilles did to Prince Hector's corpse after slaying him outside the walls of Troy.
Whether it's Player vs. Player, Player vs. Coach, Player vs. Team, Player vs. City, or Player vs. Executive … there are multiple instances of basketball revenge to analyze. The characters involved just always seem to play better when retribution is obtainable.
Let us ask and answer the following questions:
What are the examples of NBA revenge?
Who was involved?
What are the circumstances of them?
What is the most powerful form?
Do the analytics of revenge prove it enhances one's basketball talent?
To do so, I've enlisted the help of fellow NBA analyst Justin Phan to provide the data behind the revenge narratives. Let's dive in.
---
"You Cheated on Me" Transactional Revenge
CIRCUMSTANCES: Have you ever dated or been in a relationship with someone who drops the "Hey, I'm not feeling well, can we reschedule?" on you?
You take them for their word because that's what any normal person would do, but when you wake up in the morning, the first thing you see on your Instagram feed is a video of them dancing on tables in the club.
Chances are nothing is ever the same and the relationship crumbles from there. But sometimes breaking up is not the end; sometimes you run into this same individual at an event in the future, and regardless of how many times you accept their apology and agree to be friends — you still want revenge.
Lies, truth manipulation and deception are all just ingredients of the recipe — combine them all in appropriate proportions and you will ultimately produce the finished product: betrayal.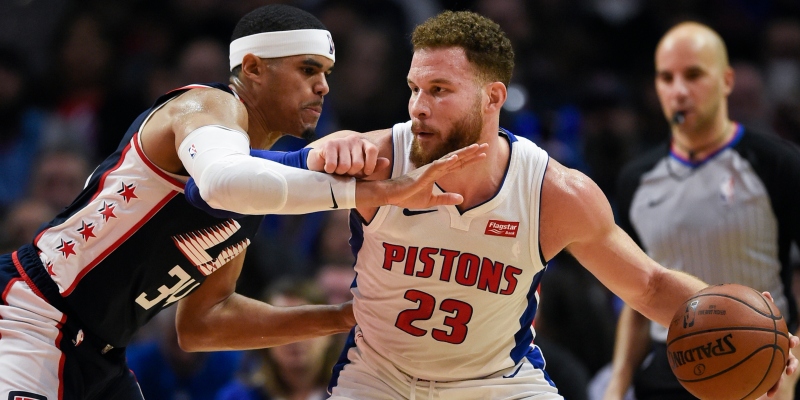 EXAMPLE: Blake Griffin vs. Clippers
THE DATA: Blake Griffin has faced the Clippers twice since being traded to the Pistons and has averaged 55.0 DraftKings points, resulting in a FantasyLabs' +9.1 Plus/Minus — the highest mark against any team he's faced since the 2014-15 season.
That sample is buoyed by a massive 44-8-5-3-1 line earlier this month in Los Angeles that was preceded by Griffin clearly snubbing Ballmer, even though he later denied it.
It wasn't just the sheer counting stats that were impressive, but it was the precision with which Griffin picked the Clippers defense apart. To post a 33.7% usage rate is one thing, but to finish with a 67.4 effective field goal percentage takes this revenge game to a whole other level.
What we learned here is that it's important to look for signs that the player isn't over the relationship quite yet, whether it's as explicit as a handshake snub or as subtle as liking a tweet in which a fan throws shade at the other party involved. Returning to the scene of the betrayal adds even more fuel to the fire.
REVENGE SCORE: 9 of 10
---
"We Meet Again" Revenge
CIRCUMSTANCES: Whether it's a former friend, colleague or lover … we all have that relationship that, when it ends, you feel an exuberant sense of relief you'll never have to see them again.
That is, until you do…
Life was better since you've cut the individual out of your life; their mere presence was poisoning the well of your tranquility. In this case, however, the stars have aligned you two to be in the same arena to face each other as adversaries.
While there may not have been a blasphemous act of treason during your time together, there has always been Cold War vibes. This is your chance to finally do something about the pent-up aggression and animosity you've kept bottled up for so long. All those times you wanted to unleash hell on them but couldn't because you needed to maintain neutrality … are long gone.
EXAMPLE: Kyrie Irving vs. LeBron James
THE DATA: Kyrie Irving squared off against his former team and LeBron James on three separate occasions last season, averaging 37.17 DraftKings points. However, it was slightly below his season-average of 39.79 DK points per game.
There are a few parameters needed for the revenge to fully come to fruition in this narrative. The game has to be competitive throughout, for one. Two of the three meetings between Kyrie and the Cavs last season ended up being decided by double-digits.
The game also has to mean something. The higher the stakes, the more likely the two scorned exes will engage with each other. An established rivalry or hatred between both teams only helps. The best duels happen when everyone else on the court is egging them on and, in this case, feeding them the rock.
It also helps if they play the same position (preferably point guard) and are able to go right at each other every time down the floor.
REVENGE SCORE: 6 of 10
---
"It's Just Business" Revenge
CIRCUMSTANCES: In this league, and often times in life, loyalty is just a word in the dictionary.
Showing loyalty is easy when it's convenient for everyone involved, and when the time comes that important business decisions need to be made around money — all of a sudden, that 'loyalty' everyone professed for each other appears to be nothing more than a false sense of camaraderie.
Relationships are severed, history is incinerated, sweat equity is diluted into mush — all in the name of the universal language: cash.
Sometimes you don't get the promotion, the extension, the big payday. You become a victim of capitalism as quickly as you were a success story. Sorry, this is a business, not a charity.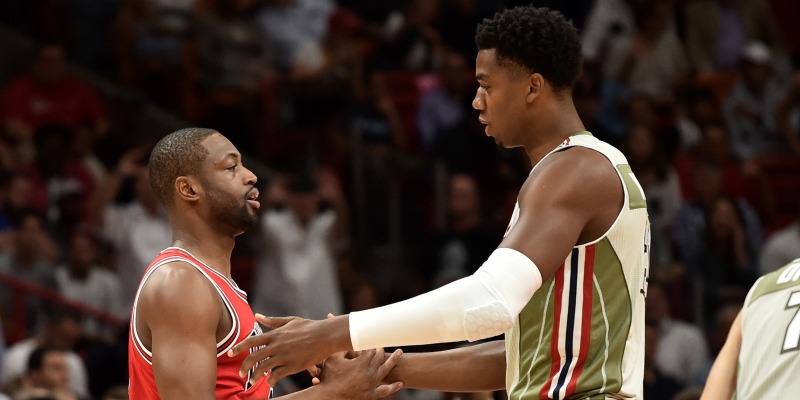 EXAMPLE: Dwyane Wade in Chicago vs. Miami
THE DATA: Dwyane Wade made the decision to leave Miami after 13 seasons with the franchise after they made him a two-year, $40 million offer that was well below what other teams were offering in free agency. He ended up signing with the Bulls for $47.5 million to form the "Three Alphas" with Jimmy Butler and Rajon Rondo.
Wade disappointed in his three games against his former team, averaging just 32.67 DraftKings points, which was well below his season average of 39.89. It wasn't for lack of trying, though, as two of his three highest single-game usage rates that season came against the Heat.
The same disclaimer applies here as it did with Griffin and the Clippers — it's important to look for signs that the player isn't over the relationship quite yet.
The Heat's focus on trying to sign Kevin Durant and re-sign Hassan Whiteside left a bitter taste in Wade's mouth, but there never appeared to be genuine bad blood between him and Pat Riley.
"There's going to be a lot of stuff that's said about me and Pat," Wade said. "First and foremost, I love Pat Riley. He's been someone who has been a figurehead in my life since I got drafted here at 21 … But I love Pat. And I will always love Pat. And I know he feels the same way about me."
REVENGE SCORE: 8.5 of 10
---
"You Told Me You Loved Me" Revenge
CIRCUMSTANCES: Also known as "it's not you, it's me."
What we had was so great, at least that's what you thought. You moved in together. You told each other you're in love. You invested in each other, both emotionally and financially. You planned the trip during which you were going to propose. Your two families got along great; their dad even gave you his blessing to make the union official.
And then out of nowhere, you come home and see all of their clothes are gone from the closet. There's a note on the kitchen counter. It's over. Good luck with your new relationship; they just couldn't let you go through with the next step, and their heart isn't in the same place. It's not your fault; someone will love you one day the way you're supposed to be loved.
This revenge, above all, is the most personal.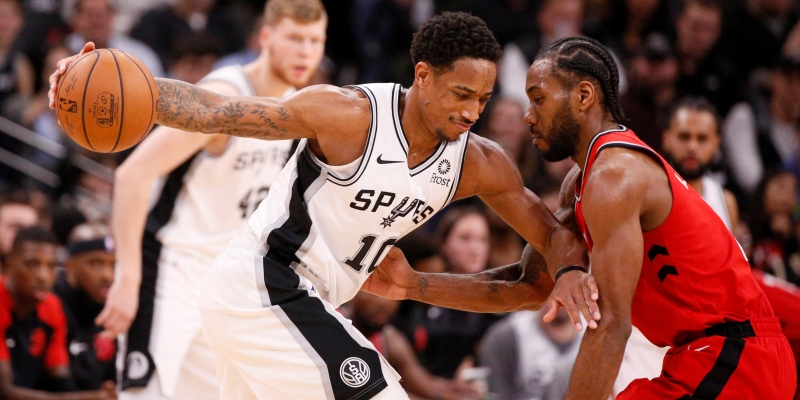 EXAMPLES: Kawhi Leonard vs. DeMar DeRozan, DeRozan vs. Masai Ujiri/Raptors
THE DATA: DeMar DeRozan didn't disappoint in his first game vs. the Raptors since being traded over the summer, recording his only triple-double this season in a total destruction of his former team.
He finished with 62 DraftKings points, exceeding his salary-based expectation by 24.22 (!!) points. DeRozan could have easily topped his season-high mark of 66.5 points if the game wasn't a total blowout from the jump.
The two teams next face off in Toronto on Feb. 22, and it'll be a prime opportunity for Leonard to answer back and stake his claim as the new King in the North. It'll be both teams' first game out of the All-Star break, meaning Leonard will be well-rested without any concerns about potential rest or his minutes being managed.
REVENGE SCORE: 8.5 out of 10
---
"Helen of Troy" Revenge
CIRCUMSTANCES: Your queen was stolen from you by someone you trusted. Not just stolen… premeditated deceit.
They played you for a damn fool and leveraged your relationship for the sole benefit of themselves. They understood the collateral damage they were causing, and they proceeded anyway. Even if it's not that deep, they're sitting courtside rooting for the enemy.
You want nothing more than to prove you were the better man all along. You want them to drown in a pool of regret and hindsight. You want to dunk the man who robbed you into middle earth. Jealousy is only a problem if you never get your way.
EXAMPLES: Ben Simmons vs. Blake Griffin/Kendall Jenner, James Harden vs. Tristan Thompson/Khloe Kardashian
THE DATA: We've covered the feud between Griffin and Ballmer already, but as we're learning, there's plenty of revenge in Griffin's heart to go around.
Here's a look at the teams Griffin has had the most success against this season by fantasy production, sorted by FantasyLabs' Plus/Minus: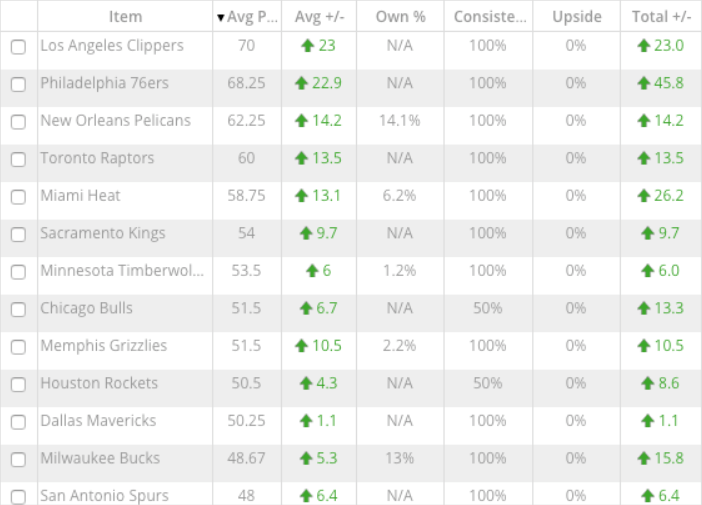 The Clippers and Sixers lead the pack with Plus/Minus marks north of 20 points, then there's a sizable drop-off to the third team.
If we're learning anything from this exercise, it's that Griffin may be the most vengeful player in the NBA.
Griffin and Simmons have squared off against each other twice this season (both sat out one of the two other meetings), and though Griffin has put up the better numbers, he's also come away with two Ls.
That couldn't be more representative of the situation — Griffin may be the alpha dog on his team, but it's meant losing his girl and getting shipped from Los Angeles to Detroit. His gaudy counting stats ultimately don't matter, as it's Simmons who's emerged as the true victor here regardless.
REVENGE SCORE: 7.5 of 10