Kevin Durant Trade: Title Odds, Betting Impact on Nuggets, Grizzlies, Suns and More
Credit:
Getty Images. Pictured: Kevin Durant, Ja Morant, Nikola Jokic.
Wake up and smell the arms race.
The Western Conference woke up Thursday morning to a new reality. There's a new top dog in town, and it's the same top dog it's been the last two years. Only bigger and meaner.
The Phoenix Suns pulled off the biggest trade in franchise history since at least their trade for Charles Barkley in the 90s on Thursday, sending Mikal Bridges, Cam Johnson, and four unprotected first-round picks to the Nets for future Hall-of-Famer Kevin Durant (and TJ Warren, who gets to come too, good for him).
In the wake of the blockbuster trade, the Suns' odds predictably spiked, moving to as short as +450 at some books.
So what happened to the rest of the conference, and how do they react? At the risk of this story being outdated in a matter of hours with Thursday's 3 p.m. ET deadline looming.
Denver Nuggets
Best Odds: +800 (DraftKings)
Imagine you're the Nuggets. The window is open. The Warriors are in real trouble. You have the two-time MVP in Nikola Jokic, who is the favorite to win the third. Jamal Murray and Michael Porter Jr. are back; each has had 30-point performance in the last week. You have the West's best record, tied for the best record in the NBA, and have been No.1 in offense, and No.10 in defense over the past two months of play.
All of that, and the Suns just went out and got Kevin Durant.
Talk about taking the wind out of your sails.
But here's the thing: Denver is still the best team. Durant is unguardable? Same with Jokic, who has Chris Paul's playmaking and Booker's shooting efficiency. He's one of one. That's always going to give you a chance.
The Nuggets have to be looking at the Suns and wondering what they need to combat Durant on Phoenix, but truth be told, the answer is not OG Anunoby or any other wing they can trade for, disrupting chemistry and liquidating future assets. It's pretty simple: they have to play better.
The Nuggets' best path to a title was always going to be to play like the Spurs of the early '00s. The other teams had star power and market power, and media savvy. The Spurs just played better, over and over again.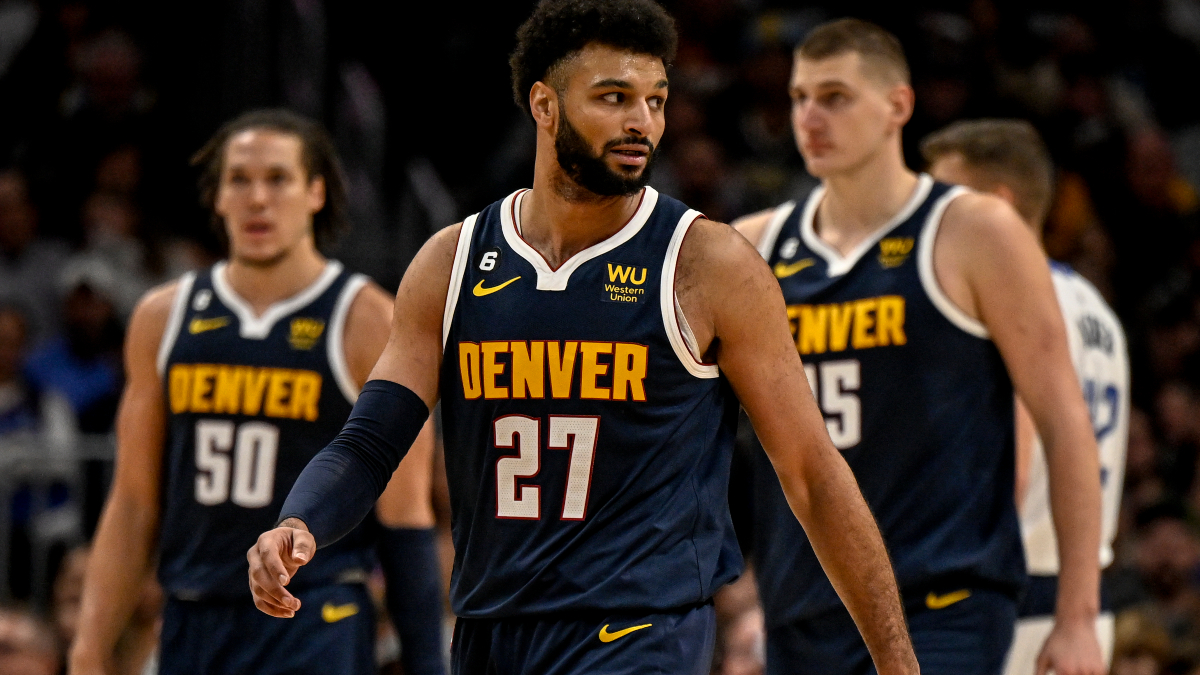 And truth be told, from their overly humble and quirky franchise cornerstone to their fiery head coach to their slithery point guard, there are some comparisons to be made.
But with the Nuggets moving down, their value goes up. The Nuggets didn't get worse on Wednesday night. The path just got harder, and the path was always going to be difficult. Denver has a four-game lead on Memphis in the loss column for the 1-seed and a nine-game lead on Phoenix.
There's a decent chance they won't see the Suns until the conference finals.
Denver vs. Phoenix would be a hell of a series. The Suns would almost have to be favored with where it stands right now before Durant has played a second with Phoenix.
But the value would be on the Nuggets. Denver has been the best team in the conference all year and the market just downgraded them without losing anything.
Denver's biggest issue is the same one all teams in the West will face in the wake of this news, and it's an important one to address.
"How will the Nuggets be able to defend the Suns with Kevin Durant?"
The answer: they can't. No one can. You don't shut down Kevin Durant unless it's the Celtics, and the Nets are once again imploding. Kevin Durant will get his, and Devin Booker will get his. You focus on making your team as good as you can. Meanwhile, Denver's offense is better than the Suns. It's better than Phoenix's has been in the last three seasons.
The Nuggets should be favored over everyone else in the West. If they reach the conference finals, they won't be +800. There's value here.
---
Memphis Grizzlies
Best Odds: +1900 (FanDuel)
The market hasn't believed in the Grizzlies from the start, but this road just got way more difficult. Memphis is 26th in half-court offense. They simply struggle to consistently get points when the game slows down.
Their defense is great, elite even. But one of their issues is that they have bigs who can play big and smalls who can bother smalls. You can't put Dillon Brooks (6-7) on Kevin Durant (7-0) because there's just no way for him to body him physically. You can't put presumptive DPOY Jaren Jackson Jr. on him because Jackson will foul out.
However, the data kind of shows that Brooks has had success. In the last two seasons, Brooks has held Durant to 32 points on 38 possessions, a stellar mark.
Still, that's with Brooklyn. With a better system and surrounding cast in Phoenix, the challenges get higher.
There has been rampant debate among Grizzlies fans about whether now is the time to cash in and make a move to consolidate their talent to get a star upgrade. The Grizzlies are one potential landing spot for OG Anunoby with their combination of young players and picks.
But trading for Anunoby is the move. No team will get out of a deal for Anunoby with Bobby Webster, Masai Ujiri with Anunoby, and any other assets left. It'll take almost everything.
Does Anunoby add another reliable shooter who can defend wings at a high level? Absolutely. Can he help cover for Ja Morant's defensive liabilities? Sure.
But the Suns will still track down Morant and force him into pick-and-roll actions. This is a big consequence of the trade for Phoenix: your defensive weak point in the backcourt will have to guard one of Chris Paul, Devin Booker, or Durant. Good luck.
The Grizzlies weren't a good bet, to begin with their combination of halfcourt struggle and habit of putting their mouth ahead of their performance. But the Suns now embody the very specific team with elite talent that the presents a difficult matchup for the Grizzlies.
Los Angeles Clippers
Best Odds: +1300 (FanDuel)
Whew. If you could build two players to try and guard Durant, you might build Paul George and Kawhi Leonard. The Clippers absolutely have the defensive firepower with their phalanx of wings to defend Durant. It's stopping the Suns as a whole, Deandre Ayton in particular, that will be a problem.
One consistent way to slow down Durant is switches. He likes to attack them, seemingly out of pride more than anything else. The Rockets' hard switch on him really disrupted him and forced the Warriors away from their best selves.
We've seen the same with Phoenix in the last few years. Teams that can switch effectively give them special levels of trouble because of how they want to run offense, creating leverages in pick and roll and then feeding the other star on the wing to take advantage of a defense out of position.
Switching defenses deny this by keeping everything in front with new rotations needed. This is why the Clippers were such a bad matchup for the Suns in 2021 when they made their Finals run, only to see Leonard go down with an injury.
The Clippers this year, however, are a little light on firepower. Their shooting just hasn't been the same as it was the last few years.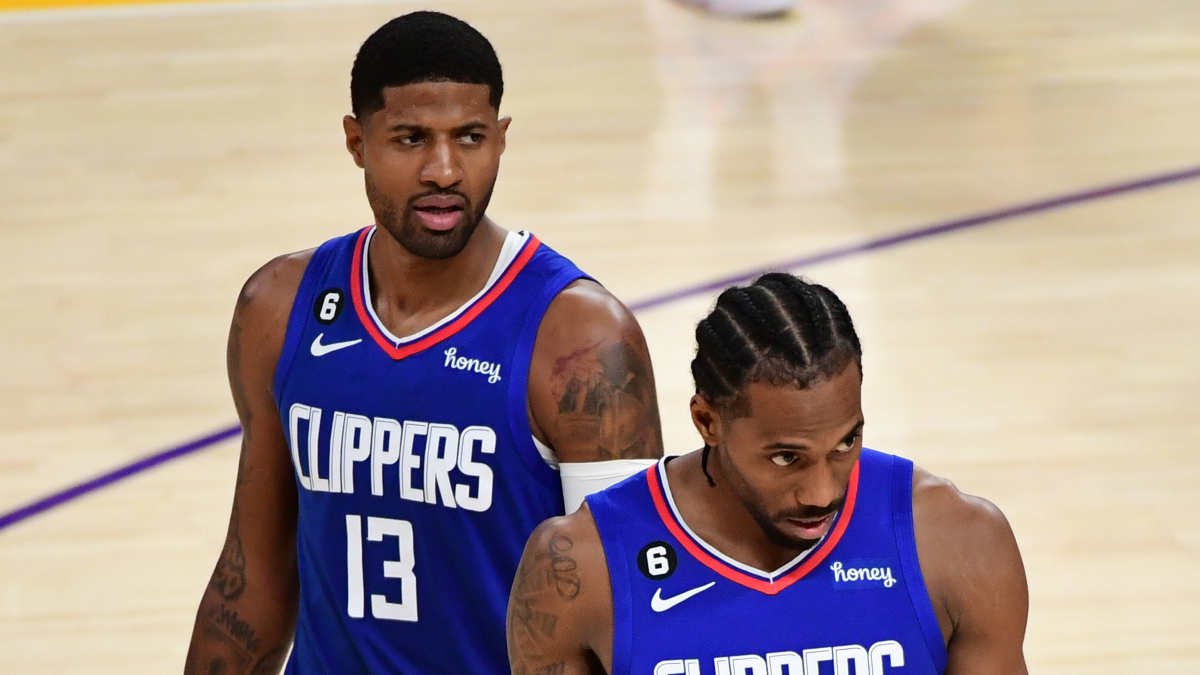 The extra shooter for the Suns will matter a lot, whether it's Damion Lee, a small-ball big like Dario Saric, Torrey Craig, or Landry Shamet.
The best way to put it is that the Clippers' best version, their ceiling, probably matches up with the Suns. But in all other matchups, anything involving less than the best from L.A. and they go from a coin-flip situation vs. the Suns to now severe underdogs, simply because of how high Kevin Durant always keeps the floor of his team.
Golden State Warriors
Best Odds: +2000 (SuperBook)
We have to see if the Warriors can a. get Stephen Curry back healthy b. make a run to avoid the play-in and c. win a friggin' road game vs. a good team before we can really accurately assess this matchup.
The Clippers, Nuggets, and Grizzlies I can make the case for betting now. Not the Warriors.
The odds are simply too high that the Warriors will be in the play-in and then have to face a top team in Round 1.
Now, the Warriors' starting unit (with Kevin Looney and not Jordan Poole) still has the best net rating of any team to play a lineup 100 minutes.
And the Warriors have never failed to win the title when Curry, Draymond Green, and Klay Thompson were available for the entire Finals, start to finish.
But barring a trade, it's hard to see the Warriors having the horses to get there. They are tired and getting more tired every game. Curry has had two prolonged absences to injury. Green's offense has never been worse. Thompson is still clicking and firing, but Jordan Poole's efficiency has suffered, and outside of Jonathan Kuminga, no one has separated themselves among the young guys.
The Warriors have the fifth-worst net rating on the road. They are 1-9 straight up vs. teams with a top-10 point differential on the road. At some point, the team has told you who they are.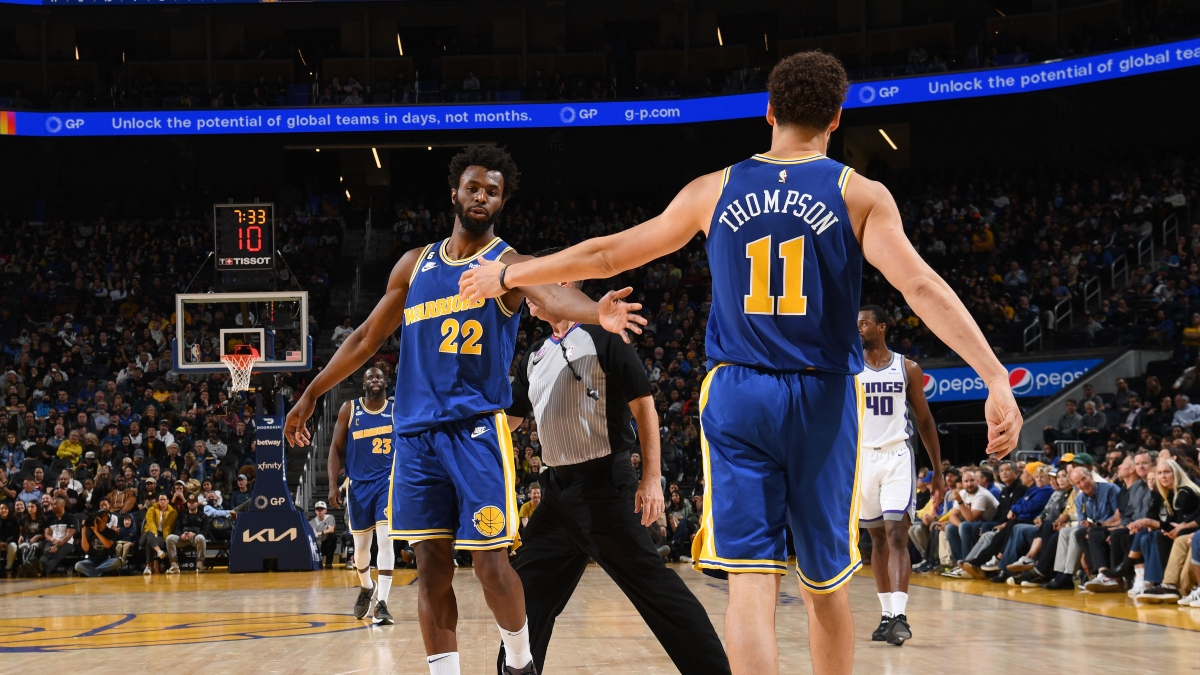 Specifically, in the Durant matchup, the Warriors may have lost a step, but they still have great options. Beyond Green, who is as close to as good as ever defensively, Andrew Wiggins has really grown in that role, and Andre Iguodala is still around in case of emergencies.
Phoenix has struggled with switching teams as I said, and much of what the Warriors do disrupts the Suns. They can play dynamite big ball against the Ayton minutes.
There's an idea that Curry has had Chris Paul's number, and it certainly feels like it, but I looked it up. Curry is 11-12 against Chris Paul in the Steve Kerr era and 6-5 in the playoffs.
Golden State matches up decently well with Phoenix. We just don't know if they will have the energy for another back-to-back Finals run, their fifth in eight seasons.
Dallas Mavericks
Best Odds: +2100 (FanDuel)
Hey, congrats, you got Kyrie Irving! You gave up two starters and two picks for Kyrie! The Suns gave up one starter, a bench player, and four picks for KD. But you guys did well, too!
The Mavericks are better with Irving, but they're not able to match up with this kind of firepower. The idea is that the Mavericks "own" the Suns after last year's playoff debacle. But what if the Suns really did have COVID? And so what if they had matchup advantages before? Do you know what helps counter a matchup advantage?
A 7-foot-tall 50-40-90 shooter. Dallas, right now, is a no-bet after the KD news.
LA. Lakers
Best Odds: +6500 (FanDuel)
Hey, congrats on a solid deal to move Westbrook for Jared Vanderbilt, Malik Beasley, and D'Angelo Russell.
You're still not in the big leagues yet.
Let's worry about the Lakers making it out of the play-in tournament. After that, we can talk about matching up with anyone at the top of the West, including Durant's Suns.
How would you rate this article?
This site contains commercial content. We may be compensated for the links provided on this page. The content on this page is for informational purposes only. Action Network makes no representation or warranty as to the accuracy of the information given or the outcome of any game or event.