The Definitive MVP Case for Joel Embiid: The League's Most Unstoppable Player
Credit:
David Dow/NBAE via Getty Images. Pictured: Joel Embiid
Joel Embiid has led the MVP pack going into the final two months of the season two years in a row. He was the odds-on favorite last season before his injury and was the odds-on favorite as late as the last week in March this season.
The fact that Embiid has claimed at worst a top-three spot in the MVP voting in consecutive years (and finished seventh in 2019) is an incredible accomplishment for any player, let alone a player with his injury history.
So what has led him here? Has Embiid been the Most Valuable Player in the NBA this season? Here's the case.
THE CASE IN SEVEN WORDS
Joel Embiid is the most unstoppable player.
There's nothing you can do with him defensively. He simply overpowers you, and if he does not, he's going to draw the foul on you. If Giannis is the most dominant in how he moves through you, Embiid is most unstoppable in that he simply breaks you.
OFFENSE
Defenders have three choices with Embiid: get beat by his combination of strength and quickness, foul him, or double him.
Let's start by what happens if you try and play Embiid one on one.
Embiid is a load. He's learned how to manage his gravity to apply pressure, and he's more willing than ever to risk falling down because of how often it draws a whistle. Here, poor Oshae Brissett gets completely overwhelmed.
So you try and put more pressure on him; use more leverage against him. Except if you're not low enough, and you're not wide enough, as Daniel Gafford is not on this clip, and it's going to be monstrous:
His touch is also incredible. Here he's got Dwight Howard, one of the best defenders in NBA history on him, and he absolutely works him with footwork and the turnaround fadeaway.
If he wants to go to the post-up one-leg fadeaway, he can absolutely do that:
Embiid leads the league in total points and points per game in the post for the third consecutive season. His efficiency did slip this season; he shot just 48% on post-ups compared to 52.3% the last two seasons. Given that those are 2-point shots close to the rim, you'd want him to be above 50%. But Embiid makes up for this by drawing free throws on a startling 25.8% of the time. He generates four free throws per game just off of post-ups.
When he puts his shoulder (and elbow) into PJ Washington, who is way smaller than him, he moves Washington off. Embiid also immediately launches himself baseline to draw the foul on the shove.
The conversation around Embiid gets warped. People don't like free throws, they don't like fouls, and they don't like exaggerating contact. However, I can tell you from watching all these possessions from Embiid, they are definitely fouls.
Let's take this one: '
There's a lot going on here, so let's slow it down. For starters, watch as Embiid turns fully away from the basket to draw this foul, as if this monstrous human being has been spun like a top. Then Embiid waits to see if the ball goes in and then launches himself baseline to sell the foul.
Now, that's a ton of selling on small contact. Embiid initiates this contact. He's moving into the defender. However, the defender is in the restricted zone and verticality only applies if the defender jumps straight up. This is a foul. It's just a foul that Embiid sells to the fullest possible amount.
Embiid leads the league in made and attempted free throws. It should be noted that Giannis Antetokounmpo actually has a higher free throw rate, and fewer people complain about his trips to the line.
Ultimately, it's a feature and not a bug for Embiid. You may not like that he draws so many calls or that he gets more calls than other players do, but that's not Embiid's fault. Great competitors take advantage of any and all opportunities to win the game afforded them, and Embiid absolutely does so.
He's adapted tricks like the rip-through move to great success as well. Please enjoy rip-through artist Chris Paul complaining about this one:
But where Embiid has really grown the past two years is in the face-up in the post. Because of the threat of Embiid shooting, Jonas Valanciunas has to stay middle on him, and that lets Embiid get to the baseline. Also pay attention to how Embiid moves into him so Valanciunas has to show his hands, or Embiid will get the rip through:
Last season he was one of the best mid-range shooters in the league. He's fallen considerably this season, from 49% to 42%, but the eye test and impact of these shots really matter.
If a smaller player switches onto a bigger one, there's a real risk of offensive fouls because of how bigs are officiated when defended by smaller players. Embiid, interestingly enough, doesn't punish these smaller players under the rim but uses the size advantage to get to his spots:
The Raptors pack the paint below, and look at how many players are in the paint against Embiid here. This pull-up jumper renders them all irrelevant:
Embiid has just a 45.3% eFG on jumpers off the dribble, but that's still 69th percentile. Having that efficiency as a threat opens up his ability to drive past defenders who fall for the pump fake, like Nikola Jokic does here:
Embiid's shot chart shows how his range has improved, and how dangerous he is from almost anywhere on the floor, especially when you factor in free throws, as this chart from Positive Residual does: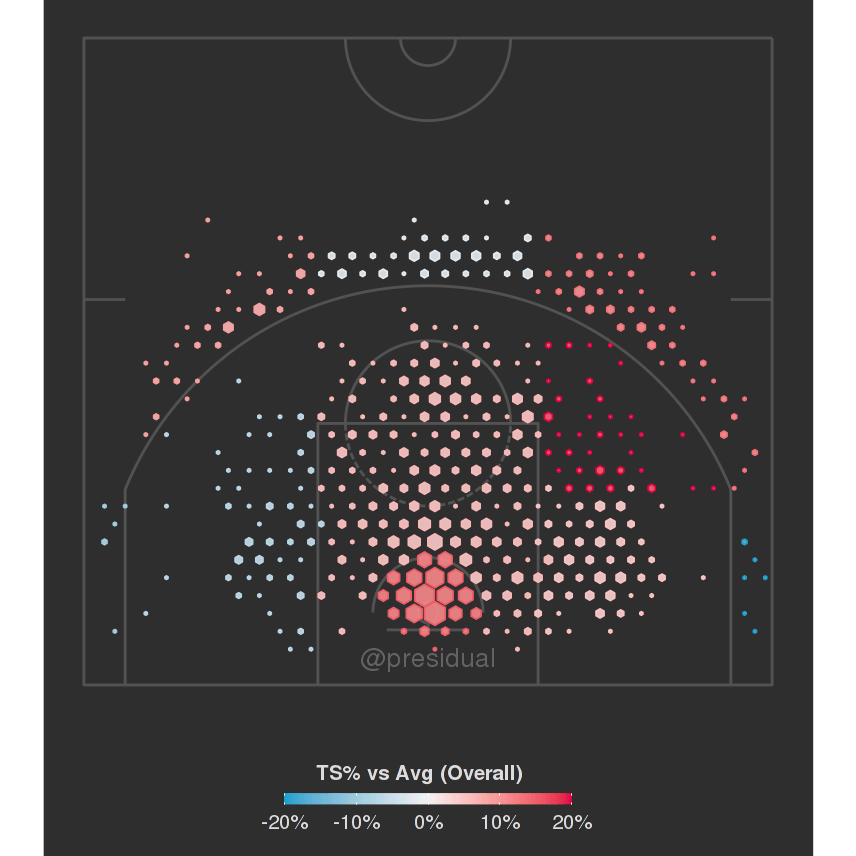 Embiid leads the league in scoring as of this writing and with only one game remaining, will likely secure his first scoring title. He also leads in points per 100 possessions by a wider margin due to the Sixers playing at a slower pace than Antetokounmpo and the Bucks.
In fact, Embiid finishes the season with the fourth-best pace-adjusted scoring season since 1974.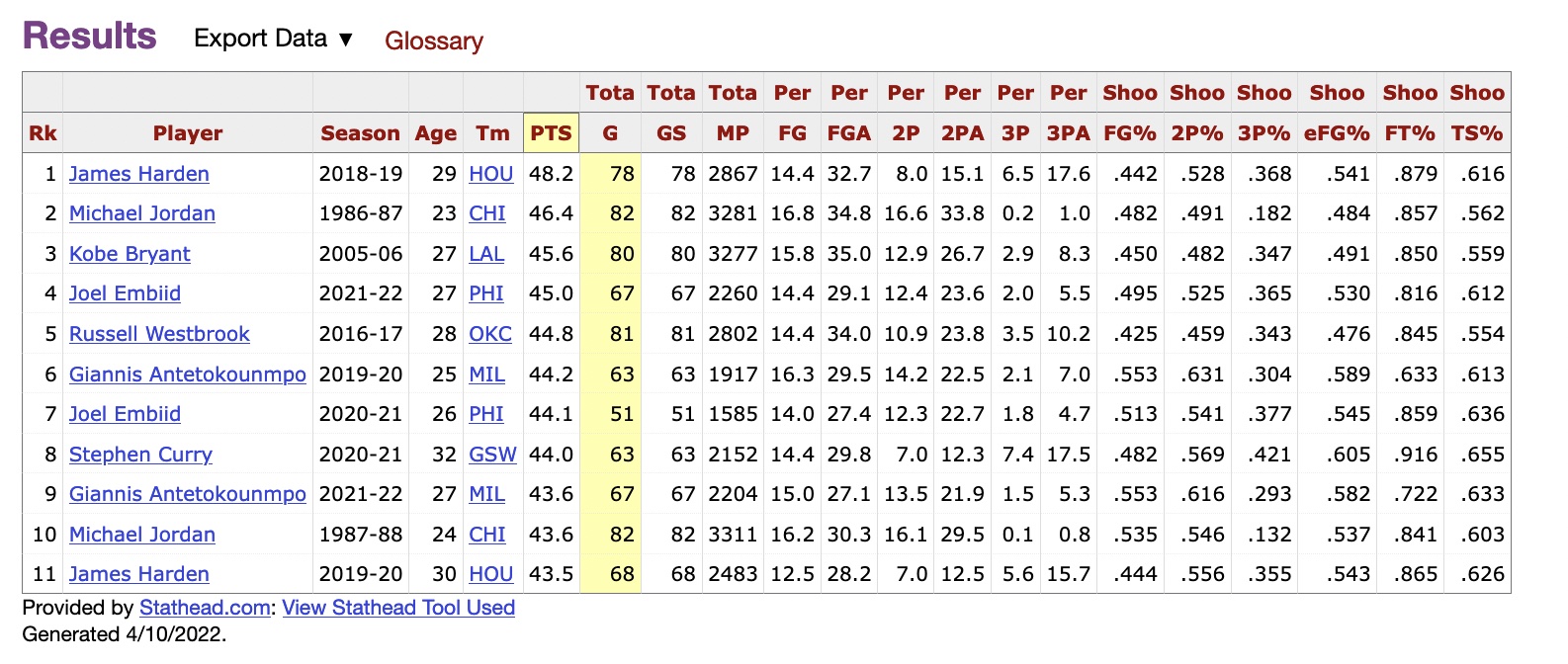 That Kobe Bryant comparison feels particularly apt there. Embiid accomplished it on better comparative efficiency, but both players led their team by way of sheer brute basketball force in scoring.
Embiid is not what I would call a special passer; it's just not his strong suit. This is why double teams have so consistently been an issue for him in terms of turnovers. Here you can see that he's got multiple read-and-react ways to punish the help coming but instead forces the pass to the cut. This isn't a one-off; you see it pretty regularly.
But he's gotten better, particularly on the move. If he anticipates the double-team, he can punish it more effectively and get the defense into rotation:
Embiid turned the ball over 20.9% of the time against a hard double last season, via Synergy Sports. That number is down to just 13.8% this season, the lowest it has been in four seasons, with way more usage.
It can still be a problem for him, though, especially if it comes from the weak side:
He's gotten much better at recognizing, feeling the double, and then adjusting when he needs to:
And his reads have gotten better, like this Jokic-like whip pass to the corner:
It's also important to note how much gravity Embiid has. Watch the defense sink on him, with four defenders creating a box on him because of how dangerous he is:
This isn't empty scoring, either. The Sixers have a 115.7 Net Rating with Embiid on-court, that's good for 13th-best league-wide.
Embiid is dangerous because he can beat defenses in multiple ways. He's not just a post-up scorer, or just a post-up and spot-up shooter. Look at his efficiency in his possessions of over 1.0 per game:
| | | | |
| --- | --- | --- | --- |
| Play Types | Rank | aFG% | %Score |
| Post-Up | 77% | 0.487 | 53% |
| P&R Roll Man | 71% | 0.615 | 60% |
| Isolation | 67% | 0.45 | 46% |
| Spot Up | 74% | 0.532 | 46% |
| Transition | 68% | 0.656 | 58% |
| Offensive Rebounds (put backs) | 68% | 0.565 | 62% |
Finally, Embiid has the best 3-point percentage of any of the three top candidates (along with Antetokounmpo and Jokic). He led the league in Usage for the team with the 11th-best schedule-adjusted offense.
DEFENSE
As you would expect, Embiid is a monster defensively. Defensive stats have become a huge talking point because there's a feeling they don't accurately assess defense (they don't) so you should just rely on the eye test.
Well, you can use the metrics or the eye test, and the result will be the same with Embiid: he's just straight up a beast out of a nightmare.
Remember that possession above where Embiid got baseline on Valanciunas? Embiid's footwork on defense is spectacular. He's so good at keeping position while showing his hands like on this play against JV:
Embiid has defended more picks in drop coverage in pick and roll this season than any other player in the league. Opponents are scoring just .950 points per possession in pick and roll with him defending the screen in drop.
You put him against a team that doesn't have a pull-up threat, and he will absolutely wreck it:
But Embiid has done a much better job on switches and playing at the level this season. Watch him step up on Dejounte Murray and contain him off the dribble until it results in a turnover:
Nikola Jokic is having a great defensive season. He's up there in so many categories defensively. However, Embiid is better than Jokic in every major pick and roll coverage, via Second Spectrum, outside of at-the-level, which Jokic a). has a lot more experience in and b). plays less of this season.
Embiid's on-ball and help defense are both great, but one of the biggest benefits of having an elite rim protector is the ability to deter drives. Watch Jevon Carter just straight up "NOPE" his way out on this play:
And the metrics back up the eye test:
Embiid is ranked in the 85th percentile overall in individual defense per Synergy Sports and 87th percentile defending shots at the rim on non-post-ups.
With a minimum of 3500 half-court matchups (104 players), opponents shoot the worst relative to their expected eFG% vs. Embiid, shooting just 51.1% eFG compared to a 54.5% expected eFG. They just simply do not get good shots with Embiid defending.
Embiid is 9th in Defensive Box Plus-Minus.
He's 4th in Defensive Win Shares.
His on-court Defensive Rating is just 107.8, good for 15th-best in the league among minute-and-game-qualified players.
Again, critics of defensive metrics are right in that they are each individually flawed. But when taken together across both player tracking and advanced data, they paint an outline that the eye test then fills in. Here's an artist's rendering of that image defensively for Embiid:
NARRATIVE: WHAT A SUPERSTAR LOOKS LIKE
Embiid's narrative has been the strongest from the start. He hasn't won the award before. He plays for an East Coast team with a rich, storied history in the NBA. He is the shining beacon of the Process Era Sixers and the fan zealotry that came with that.
He's great on social media. He talks trash to everyone. He's funny, engaging, media-friendly.
The story of this season can be painted in terms that make him look like a hero. He didn't want to alienate Ben Simmons; he mentioned his own failures in the quote where that upset Simmons after last year's playoff exit. He tried to fix things with Simmons, repeatedly, to no avail. He can't be held responsible for Simmons' decisions and absence.
Meanwhile, without his All-Star (now former) teammate, he led the Sixers to a top-four seed in the Eastern Conference despite the COVID troubles of midseason and the turmoil of an evolving roster. He managed the integration of James Harden, and truth be told, Harden hasn't taken any of the load off his shoulders.
Embiid was the front runner last year before he was injured and the front runner two months ago according to the ESPN strawpoll. What has he done to lose that standing this year?
Embiid is not responsible for the Nuggets' or Bucks' injuries. He's not culpable for the adversity others have had to go through. He's only responsible for his play.
And when Embiid has played this season, his team has won. They've won 64.7% of their games with Embiid on the floor this season. His on-court Net Rating is +7.9, and while the other candidates may have him beat there, those stats don't paint the whole picture of what he's contributed.
Meanwhile, he's led the league in scoring while being a top-end defender.
You can look at things on paper and think one thing, but if you watch Embiid dominate night after night, fouling out every center and wrecking from every part of the court while leading the league in scoring — the first time a center has done so in decades– you get a very different image.
No one has stopped Joel Embiid this season, and nothing should stand in the way of his MVP award.
How would you rate this article?
This site contains commercial content. We may be compensated for the links provided on this page. The content on this page is for informational purposes only. Action Network makes no representation or warranty as to the accuracy of the information given or the outcome of any game or event.