Moore: What to Make of ESPN's Tim Donaghy Report and Its Complicated Web of Corrupted Trust
Credit:
Jeremy Brevard-USA TODAY Sports. Pictured: NBA logo
Matt Moore examines ESPN's investigative report on the Tim Donaghy scandal and what it means.
ESPN published a capital "B" and capital "J" Big Journalism piece on Tuesday looking back at the NBA's Tim Donaghy scandal. The in-depth reporting touched on all manner of controversies, the biggest being the implication supported by expansive statistical evidence that Donaghy did in fact fix games — a claim that Donaghy and the NBA have both refuted since Donaghy's arrest and incarceration.
It features second-hand description of Donaghy privately admitting to fixing games he bet on in the mid-00s, but Donaghy did not directly comment to ESPN for the story, a rarity considering Donaghy will talk to pretty much anyone who will listen to him these days.
The story feels like a wave that was huge in diameter — spreading across thousands of miles — but low in height, barely cresting above our heads.
An NBA referee almost assuredly fixed games in the mid-00s. The NBA almost assuredly took efforts to cover up the aftermath and prevent further investigation of its officials.
This should feel monumentous, Earth-shattering, something that shakes the league to its very core.
It doesn't really feel that way.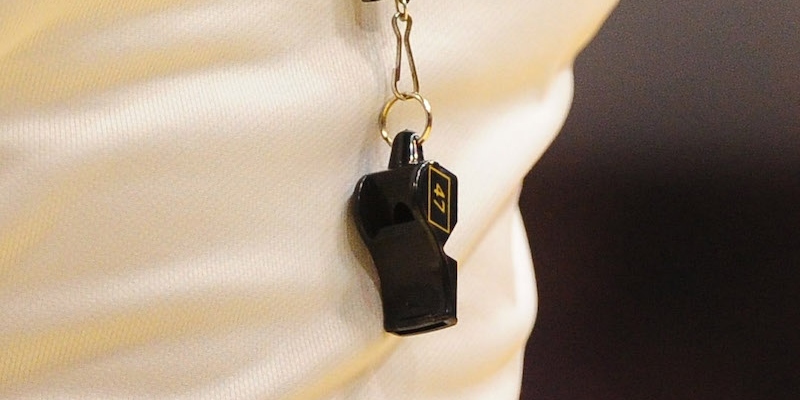 The Action Network being a sports media company that provides gambling commentary and analysis, maybe that's simply a function of my employer. But I don't think so.
What I've learned as my career has gone on is that everyone has a stake in the game's integrity. The league needs it to keep public trust to pursue revenue. The teams need it to ensure fair play and access to that revenue. The players need it to protect the immense amount of revenue they both generate and share in. Media partners need it for their own revenue streams. Corporate sponsors need it to protect the image of their investments. Fans need it to be able to believe in the product they hold dear.
And bookmakers need to protect the integrity of the game more than anyone, being the ones subject to its assaults. The gaming industry — and by proxy, companies like ours — need the game to be on the up-and-up so that it's a system worth buying into. As such, assaults on it have to be taken seriously.
That's perhaps the most concerning and impactful long-term ramification of the report: The reflection of fundamental broken trusts.
An interesting blowback I heard when I asked around about the league's drive to partner with the gaming industry on a state-by-state level after the Supreme Court's ruling last spring was about trust.
The NBA wanted state legislation to ensure that gaming operators would share their data with the NBA, which could then cross-reference that information to see if any suspicious activity was happening across operators and state lines. (For more on that, here's my interview with the NBA's head of gaming.)
The blowback I heard from industry bookmakers was that they had no intention of giving the league access to its proprietary data. For starters, bookmakers felt they had the means in place to be able to suss out suspicious activity on their own to protect their business. But secondly, there was suspicion of the league's ability to handle this issue themselves.
To be clear, there was never any indication that bookmakers suspected foul play or anything that would question integrity of the game; it was a general skepticism that the league could perform oversight better than the books.
The NBA's big splashy deal with MGM Resorts as their first official gaming partner, which has been followed up by several smaller deals, showed that large multi-national brands will always be willing to acquiesce to the rights holders for certain elements of brand access, prestige or revenue opportunities.
But the trust issues remain, and ESPN's Donaghy report only does more to complicate those matters.
On the surface, the NBA did everything it should. The league fully cooperated with the FBI. It enacted new measures to ensure referee training, oversight, education and monitoring. And it successfully painted Donaghy as a lone operator.
But the NBA was also resolute in its belief that Donaghy did not fix games, and while the ESPN report lacks a smoking gun, it casts such a measure of doubt on that claim that it brings the league's approach to the issue into question.
The problem is this quickly becomes a slippery slope.
From ESPN's report:
"In other words, Donaghy's track record of making calls that favored his bet was 23-3-4.

If one assumes there should be no correlation between wagers and the calls made by a referee, the odds of that disparity* might seem unlikely. And they are. When presented with that data, ESPN statisticians crunched the numbers and revealed: The odds that Tim Donaghy would have randomly made calls that produced that imbalance are 6,155-to-1."
So if you can't believe that the NBA was truthful in saying Donaghy randomly made calls in favor of the teams he bet on, how can you believe the league's assertion that no other officials were involved in similar situations — or that the preventative measures were really effective in correcting any potential issues?
Again, the issue is about trust, which is a stickier thing to untangle than the purely legal aspects of the case.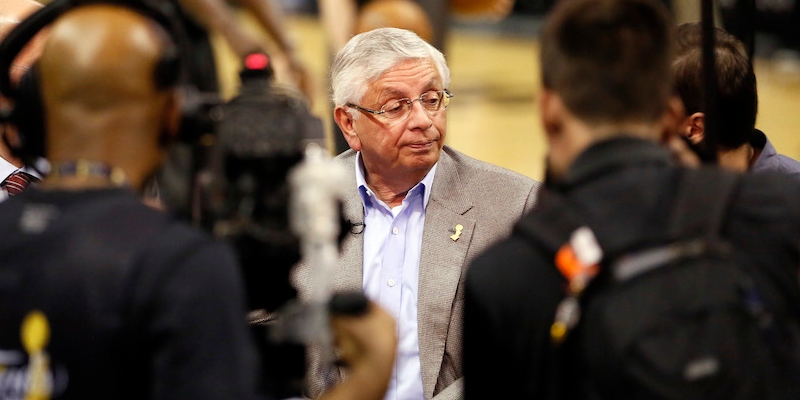 However, it's important to consider the slant of the article in its entirety.
The reporting was exhaustive from the perspective of law enforcement, naming cartoonish characters like "Rhino" and "'Bah-Bah' Battista." It provided perspective from former head of officiating Ronnie Nunn. But the league did not comment on the story and there's little to no internal sourcing of league documents, reviews or evidence.
That's in part because the league already made its case 10 years ago — a case that was supported by the legal result. From ESPN's report:
Stern's conclusion that Donaghy did not fix games would be validated by the federal investigation. Donaghy, in August 2007, and Martino, in April 2008, would plead guilty to two charges: conspiracy to commit wire fraud and conspiracy to transmit gambling information. Battista would cut a deal, pleading guilty in April 2008 only to the charge of transmission of gambling information. Martino would receive a year and Donaghy and Battista 15 months each in federal prison. But while Donaghy would admit to betting on his own games in his plea agreement, he would not admit to fixing games.
ESPN's report goes on to call all this into question using the perspective of the former FBI agent who worked the case (who wouldn't share his files) and the simple assertion that, given all the evidence, the idea that Donaghy didn't fix games seems … well, stupid. It's the type of situation when if it walks like a duck and it acts like a duck, it doesn't really matter if the duck says it's a cat — it's a duck.
The story isn't perfect — it, for example, does not provide any hard evidence that other officials were in fact gambling on their own games, only second-hand suspicion. But that shouldn't fully take away from the breadth, detail and force of the reporting on what actually went on with Donaghy, which is largely incontrovertible.
So it comes down mostly to what you trust: A report that calls the entirety of the NBA's credibility into question on the side of former agents or employees, or a multi-billion dollar sports behemoth with massive interest in protecting its game from assaults on its integrity and in protecting its game from the PR catastrophe that comes with discovery of widespread corruption in its integrity.
I don't have an answer for you other than to suggest that you approach everything with skepticism when there's this kind of money involved while keeping in mind that, in most cases, people are trying to do the best they can.
A few more thoughts on the report:
Given whether you believe the report's conclusions and that it's almost impossible to believe the NBA's stated case that Donaghy didn't fix games — considering not only the statistical evidence, but an anecdote at the end of the story from an associate who claims Donaghy outright admitted it to him — the biggest ramification from that angle is that, at best, the league unintentionally aligned its story with Donaghy's, which was found to be a lie. Donaghy fixing games and lying about it for a decade is one thing — no one believes anything Donaghy says, ever. But the league presenting that same story is a larger optics issue, even with the mountain of evidence the league has provided to support its position.
I can't decide whether it's a function of my being older, my working in a gambling-adjacent media enterprise or the general direction of Western society over the past three years that caused me to ask myself as I read the article: "Wait, didn't we already think he fixed games?" If you had asked me 10 minutes before the article was published, would I have parroted the same line about his not fixing games, just betting on them? Did I always believe he had fixed games? The report didn't produce any "Wait, what?!" moments. Instead I was left saying "Well, yeah, that make sense." But I'm not sure what the root of that was.
The next logical question you should ask is: Has the league continued to risk such dangers in the 10 years since, or do you believe it tracks every single official with regard to against-the-spread and over/under performance? The answer is you should absolutely believe the league has done whatever it has to in order to protect the billions of dollars the league generates that fattens everyone's wallets. Money might be the great corruptor, but in sports, it might be the only thing powerful enough to stamp it out.