What's Next for the Brooklyn Nets? Relief and Uncertainty
Credit:
Sarah Stier/Getty Images. Pictured (left to right): Spencer Dinwiddie (26), Nic Claxton (33) and Cam Johnson (2).
Getting the truth out of NBA folks is hard. Being honest with the media very rarely does them favors. Being honest with the public very rarely is in their best interest.
But I can't help but wonder, if the Nets could be honest, from owner Joe Tsai down to the coaching staff and players, if there isn't a sense of relief after their season ended in a loss to the Philadelphia 76ers (who were without Joel Embiid).
On one level, they're competitors, and to their credit, that team fought to the end.
On another, this year has been such an exhausting series of unnecessarily dramatic twists and turns that it's hard to blame anyone still there for just wanting a fresh start and a return to some semblance of basketball normalcy.
Through the firing of Steve Nash (remember that 7,000 years ago?),  Kyrie Irving's suspension, Kevin Durant's injury, the implosion of the team following Irving's trade demand when he didn't get a long-term contract to destroy their professional lives over a longer period of time and Durant's subsequent quiet move to Phoenix, the Nets hung together.
This team that made the playoffs wasn't designed to exist. The Nets front office did not pick this group of players to compete for an NBA season with. They were the product of a number of decisions and indecisions that left them together.
Not stuck, really. The team never seemed to be unhappy with one another. They played together, and they played hard for coach Jacque Vaughn and his staff. The coaches deserve credit for that, as do the players.
But Joe Harris, Seth Curry and Patty Mills were on the block for most of the year.
Harris was thought to be a crucial component to the Nets' formula with his shooting; now he's just someone you can remember used to be a great shooter.
Curry was the sneaky good piece acquired in the Ben Simmons trade but never fit what the Nets needed short- or long-term.
Nic Claxton was the small-ball center so many teams need, stuck in a series where they needed the traditional big man so many teams keep around but the Nets never did. Claxton was a serious Defensive Player of the Year candidate and Most Improved Player candidate this season. His utility is high, but his usage is perilous in certain matchups, like facing Embiid with shooting.
The rest of the Nets were cobbled together through trades. Royce O'Neale was the vet they snagged from Utah on a discount. Mikal Bridges and Cam Johnson were the best assets they could pry from the Suns who weren't unnamed future draft picks. Dorian Finney-Smith and Spencer Dinwiddie were the best they could get for Irving.
In the end, the Nets fielded a team with one kind-of point guard in Dinwiddie, one small-ball center in Claxton and about 15 wings. Vaughn established a good style for the Nets. Let's switch everything and fire 3s on the other end. That's a pretty successful game plan, and honestly, it would have caused a problem against a lot of teams.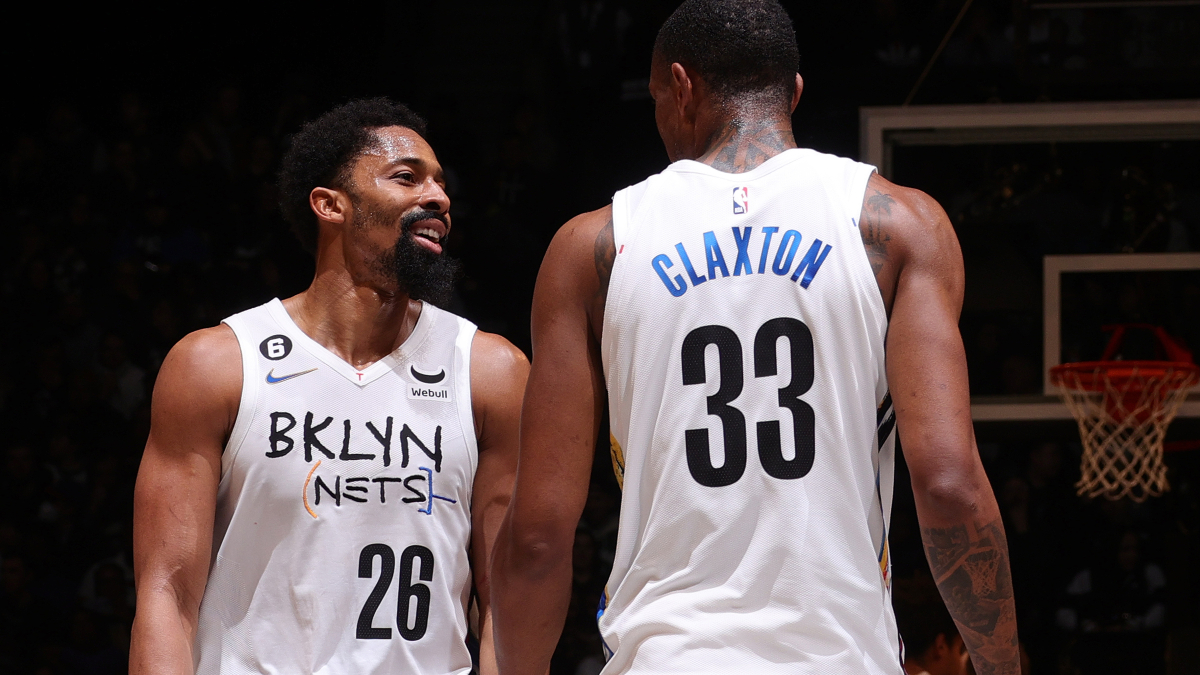 But as the Nets move forward, no other playoff team has more work to do in shaping their roster because this playoff team was not built to be one. The Nets do not have the rights to their own pick in 2024, 2025, 2026 or 2027 (including swaps).
They're not completely bereft of assets. Most of the players in the rotation for Brooklyn vs. Philly are playoff-rotation caliber players. Just not together, all on one team, with nothing to tie them together.
Bridges looks like a legit star. Even in a sweep, he showed he's developing the ability to force teams out of their preferred coverages.
Johnson equally showed he can be a key contributor. He's a restricted free agent this summer, so they'll have to address it and early signs are they'll keep him. They need to, if for no other reason than the asset unless a team is willing to overpay for him in a sign-and-trade.
The Nets have six players who are on expiring contracts next season. That makes this summer prime for dealing them. You get a full year with them before they hit free agency to evaluate whether to retain them with bird rights.
The Nets will have to first establish whether they want to build through the draft or trade. Trade is obviously a better option, given that the Nets do not control their own draft rights for the next four years.
(Have I mentioned how badly the Harden trade screwed them?)
Dinwiddie is a serviceable point guard making over $21 million. Finding a buyer might be tough. Harris is a pure shooter making $19 million, same deal.
And of course, there's Ben Simmons, arguably the worst contract in the NBA, with over $78 million left on it over two years.
Maybe most interesting will be to see how Tsai responds to the failure of his attempt at a super team. Does he prioritize using the assets available for a hard reset or prefer a revamp to reach competitiveness again, starting the cycle over?
If the Portland Trail Blazers offer a quality top-10 pick (or potentially lottery top-four) for Bridges but are willing to take Simmons, does that get it done? You get your building block for the future in exchange for the older Bridges and free up $103 million over the next two seasons. That's likely a hard sell for the Blazers, but the window is closing on Dame.
The Nets did the smart thing by not making any rash decisions at the deadline with their wings; all of them are on contract for next year. They're not losing any of them as assets. But trying to find minutes and roles for all of them next year is impossible.
More than that, the Nets have to find a direction. They can trade Bridges, Johnson, Dinwiddie, Finney-Smith, O'Neale and Curry for draft picks of various protections or values. (I'll throw Cam Thomas, who clearly drives the coaching staff nuts but is also an absolute bucket, in there as well.)
Build around Bridges? Call up the teams offering multiple firsts for OG Anunoby and offer them the player who's actually worth those hauls? Extend Claxton? Cash in the ultimate small-ball counter-measure?
The Nets have options; it's just that none of them are great. None of them show a clear path to contention.
But if there's one thing the Nets should learn from the entire Irving-Durant debacle, it's this: you're not the Lakers. No one else in the league gets to skip steps.
The Nets had actually built a good team with a great culture before those two arrived. Then the superstars arrived and dismantled it with their wishes. From coach Kenny Atkinson to Jarrett Allen to Caris LeVert and Dinwiddie, the Nets moved completely away from the process to try and placate their mega powers.
When the Heat added LeBron James and Chris Bosh in 2010, they added them in part because of their organizational culture's strength, and they didn't completely abandon it when those two showed up. Same with the Warriors when they added Durant.
If anything, the struggles of the Lakers beyond their championship season under specific circumstances is proof of the organizational rot beneath James.
The Nets have tried twice to just plug-and-play a championship formula; first with Kevin Garnett and Paul Pierce and most recently with Irving and Durant (and Harden). It's time to realize that the Nets aren't the Lakers and never will be.
The Nets can still use their free agency draw in terms of their market and getting to play for a New York franchise that isn't owned by James Dolan to their advantage.
But they have to start at the core with culture, identity and talent evaluation — all the things that were in place before Irving and Durant made their call with little consultation with the Nets.
Figure out who you want to be, and go be it. Then you can start trying to find the player to embody it instead of vice versa.
How would you rate this article?
This site contains commercial content. We may be compensated for the links provided on this page. The content on this page is for informational purposes only. Action Network makes no representation or warranty as to the accuracy of the information given or the outcome of any game or event.