Way-Too-Early 2020 College Basketball Betting Rankings: Top 10 Teams, Plus 4 Futures Bets
Credit:
USA Today Sports. Pictured: Tre Jones, Kyle Guy
Eli Hershkovich unveils his Way-Too-Early 2019-20 College Basketball Rankings featuring his top 10 teams.
Virginia (5-1) is favored to win the next title, too, but where do the newly-crowned champs land?
Eli also breaks down which four of his top 10 teams have the most valuable futures odds.
Don't let the pain seep in. Alright, it happened.
With Virginia cutting down the nets in Minneapolis, there won't be another college basketball game to bet on for the next six months. In order to deal with this travesty, let's breakdown which teams deserve an early top-10 nod for the 2019-20 season — including four futures value bets.
Disclaimer: These rankings (and futures bets) are based on prospects forgoing the 2019 NBA Draft. I'm not actually a genie (surprisingly).
All odds via Caesars Palace
10. Ohio State (75-1)
The Buckeyes (15-20 ATS) are not only reeling in three top-50 recruits, but they should retain three of their top five scorers from this past season, led by the 6-foot-9 Kaleb Wesson (14.6 points per game). If Wesson and breakout candidate Luther Muhammad (7.6 ppg) refine their respective games, OSU should challenge for a top-three finish in the Big Ten.
Ohio State's Chris Holtmann is one of the most underrated coaches in college basketball. He should take the next step, too — similar to how Texas Tech's Chris Beard rose this season.
9. Florida State (50-1)
The Seminoles (17-20 against the spread) bowed out in the Sweet 16 with a 72-58 loss to Gonzaga, but they'll return upperclassmen guards Trent Forrest (9.3 ppg) and M.J. Walker (7.5 ppg).
The key to sustaining their 10th-rated Adjusted Defensive Efficiency (90.5 opponents' points per 100 possessions) is the potential return of Mfiondu Kabengele (13.2 ppg) and his two-way prowess. I'd expect the 6-foot-10 forward to rejoin Florida State and breakout after shedding his sixth-man status.
8. Louisville (15-1)
Forget about the the Cardinals (16-16-2 ATS) blowing a 23-point lead at home against Duke. Leading scorer Jordan Nwora (17.0 ppg) should be back in the mix after entering the NBA draft process without an agent, along with four of their other top-six scorers from this season.
After boasting a top-30 finish in AdjO and AdjD, respectively, Chris Mack's bunch will produce even superior results.
7. Marquette (40-1)
The Golden Eagles (19-14-1 ATS) will be coming off a blowout loss to Murray State in the Round of 64, but they'll return their entire starting lineup guided by Markus Howard (25.0 ppg), the sixth-leading scorer in the country.
If Steve Wojciechowski's 32nd-rated AdjO (113.3 points per 100 possessions) finds a way for Howard to stave off wearing down come season's end, the Golden Eagles will be in contention for a top-three seed in the big dance.
6. Oregon (30-1)
The Ducks (23-15 ATS) proved that their talent is overwhelming amid an 11-game win streak ATS to wrap up the campaign.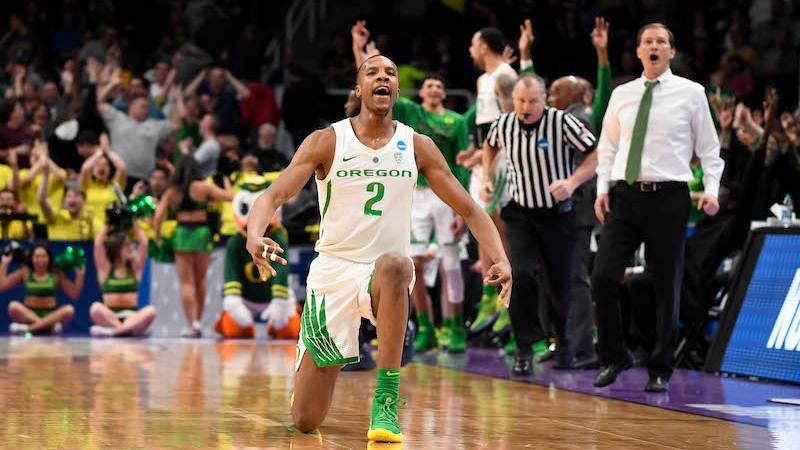 Assuming the 6-foot-9 Louis King (13.0 ppg) and point guard Payton Pritchard (12.9 ppg) return, Oregon's 13th-rated AdjD (91.7 opponents' points per 100 possessions) should be even more lethal.
5. Duke (8-1)
The Blue Devils (18-20 ATS) notched a boost with point guard Tre Jones announcing he'll return for his sophomore season. Jones will join a trio of top-35 recruits, including a soon-to-be dominant 6-foot-10 Vernon Carey.
Mike Krzyzewski's bunch won't retain its sixth-rated AdjD (89.4 opponents' points per 100 possessions) without Zion Williamson, but Jones could be an intriguing breakout candidate with more offensive responsibilities.
4. Michigan (20-1)
The Wolverines (21-16 ATS) will return at least three starters. Their leading scorer, the 6-foot-7 Ignas Brazdeikis (14.8 ppg), should also jump back into the fold following the NBA draft process.
Even without wing Charles Matthews, who will likely get drafted, their second-ranked AdjD (86.2 opponents' points per 100 possessions) will remain a force to go along with a more consistent offense.
3. Kentucky (8-1)
Whether or not Tyler Herro will return for his sophomore season, the Wildcats (19-17-1 ATS) are bringing in a trio of top-23 recruits that's paced by an athletic wing in Kahlil Whitney.
With point guard Ashton Hagans in position to take a leap in the scoring department — along with bigs Nick Richards and EJ Montgomery — John Calipari's squad shouldn't see much negative regression.
2. Virginia (5-1)
Other than soon-to-be lottery pick De'Andre Hunter (14.9 ppg), the Cavaliers (25-12 ATS) will retain the remainder of their starting lineup. Their fifth-ranked AdjD (88.7 opponents' points per 100 possessions) shouldn't shift much with its vaunted pack-line defense.
The 6-foot-9 Mamadi Diakite (7.4 ppg) could be in for a vault in productivity without Hunter's frontcourt presence, too.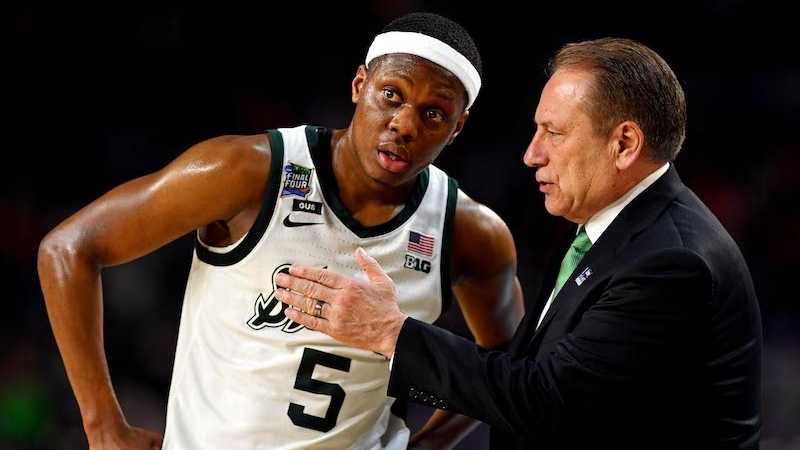 1. Michigan State (12-1)
Yes, Virginia advanced further than the Spartans (27-12 ATS), but Tom Izzo's troops should return all of their starters — as long as the 6-foot-8 Nick Ward sticks around.
Alongside Big Ten Player of the Year Cassius Winston, his backcourt mate Joshua Langford (15.0 ppg) will also be healthy after suffering a season-ending foot injury in late December.
Futures to Consider
Ohio State
Florida State
Marquette
Michigan
How would you rate this article?