Betting Arizona-Arizona State: Can Hurley Finally Beat the Wildcats?
Credit:
© Allan Henry-USA TODAY Sports
Arizona State opened as a small home favorite (-1) against in-state rival Arizona. Can Bobby Hurley finally defeat Sean Miller after starting 0-5 in this rivalry?
Follow me on twitter @jorcubsdan for in-game analysis, injury updates, and second half predictions.
---
Arizona at Arizona State (-1) | O/U: 161.5
9 p.m. ET
Arizona and Arizona State both come into this rematch with confidence. The Wildcats seemingly righted the ship after a players-only meeting sparked a big win over USC, while the Sun Devils have adjusted to the entire league zoning them by rattling off three straight wins. Let's dive into the matchup to see which team has the advantage on both sides of the ball, before making a prediction for the game.
When Arizona State has the ball
The Sun Devils looked decent offensively in the first meeting in Tucson. They moved the ball reasonably well and Tra Holder in particular penetrated with ease against Arizona's pack-line defense. Speaking of Holder, he has regained his swagger after a rough stretch in January, scoring 20+ in five of his last six.
Arizona's defense is basically a pack line in name only this year. Miller has looked and sounded like a coach at the end of his rope when talking about this defense. And for good reason. He hasn't had a defense this porous since his first season in Tucson. Even Miller's 2011-12 team that missed the NCAA tourney played significantly better defense.
The Wildcats issues on D start with their inability to contain dribble penetration. Parker Jackson-Cartwright routinely gets run over by bigger guards, Allonzo Trier lacks lateral quickness, and Rawle Alkins' foot injury limits his quickness. ASU's Holder, Remy White, and Shannon Evans all have the quickness to give Arizona's leaky perimeter defense issues.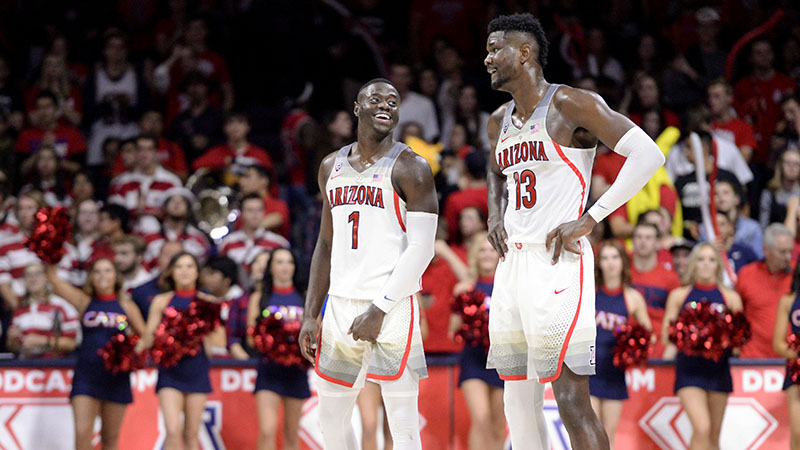 Additionally, Deandre Ayton and Dusan Ristic have struggled defending the post. Ayton is a physical specimen, but he struggles with his footwork and gets confused with his rotational responsibilities in the pack line. Ristic, a senior, is just a lost cause defensively at this point. ASU big man Romello White is undersized in comparison to Ayton and Ristic, but he scores efficiently on the block.
With that said, ASU only scores .625 points per possession when White or De'Quon Lake are doubled in the post, as neither have developed a strong pass out game. Teams that have made Ayton and/or Ristic defend in pick and roll have had major success offensively (see UCLA), but Arizona State lacks the stretch 4 to make those two leave the paint. While I expect ASU to score against the Wildcats like most Pac-12 teams, it will come via penetration and kick-outs from their quick backcourt. White and Lake simply can't exploit the weaknesses in Arizona's frontcourt (much like the first meeting).
When Arizona has the ball
Ayton, Ayton, and more Ayton. ASU has zero chance of defending the 7-foot-1 center, who posted 23 points and 19 rebounds in the first meeting. Ayton should be the focal point of every Arizona offensive possession. Even teams that have doubled the post haven't stopped Ayton inside, as the Wildcats score 1.14 points per possession (ppp) when teams do so. Considering the Sun Devils allow a staggering 1.12 ppp when they double the post, which Hurley does a lot out of sheer necessity, Ayton should eat.
Hurley rarely zones, but he probably should given this mismatch. I mentioned Trier's lack of lateral quickness holds him back defensively, but he's a terrific downhill attacker on offense. ASU's small backcourt will struggle to stay in front of him. The Wildcats will also have an advantage on the glass and can have success in transition if Miller desires. However, he may be reluctant to do so after the Cats couldn't keep up with the UCLA's fast pace in a loss last Thursday.
How I think it plays out
I expect a high scoring barnburner, as both offenses can exploit holes in the opposing defenses. However, the Arizona defense showed signs of life in terms of penetration help (a staple of the pack line) in the second half against USC last Saturday. Ultimately, Arizona can correct its defensive problems in the rematch more easily than ASU, which just won't be able to stop Ayton. Arizona makes it six straight against its in-state rival.
The PICK: Arizona +1
Photo via Allan Henry-USA TODAY Sports