Betting Florida-Georgia, Plus Other SEC and Big 12 Matchups
Credit:
© John Reed-USA TODAY Sports
Today, I'll look at the following SEC and Big 12 college basketball games on a relatively light Tuesday slate:
Florida at Georgia +3.5
Auburn at Ole Miss +4.5
Arkansas at Texas A&M -4.5
Baylor at Oklahoma -6
Follow me on Twitter @jorcubsdan for in-game analysis and second half thoughts.
---
Florida at Georgia +3.5
7:00 pm ET
Florida heads to Stegeman revitalized after thrashing Baylor in the SEC/Big 12 challenge. Conversely, Georgia has lost of five of their last six, including three straight. To make matters worse, Georgia doesn't particularly match up well against Florida. Also, Mark Fox has an 0-5 record all-time against Mike White.
Offensively, the Gators run a somewhat odd mishmash of dribble-drive and ball screen motion. They basically set ball screens anywhere on the floor for Chris Chiozza, Kevaughn Allen and Jalen Hudson. Hudson and Allen have been lethal on side ball screens. Hudson, in particular, scores 1.16 points per possession in such action, which grades out in the 97th percentile per Synergy. Georgia's defense has tanked against ball screen heavy teams of late, as Auburn and Arkansas had their way offensively. Rayshaun Hammonds is UGA's only competent defender against pick-and-roll ball handlers, but he's a liability offensively for a team that really struggles on that end. Hammonds has not scored a single point in four of Georgia's last eight games.
Not only does Georgia struggle against ball screens, they also can't iso defend vs. dribble-drive guards like Chiozza. With Fox's inclination to not "ice" ball screens and Turtle Jackson's inability to stay in front of Chiozza, the Gators should get wide open 3s all night, which is where UF makes their hay offensively. Florida hits 38.7% from deep, thanks to lethal and long outlets like Egor Koulechov, Hudson and even stretch man Keith Stone. With so much reliance on dribble-drive and ball screens, Florida's ball movement can suffer against some teams, but their scheme will exploit Georgia's weak perimeter halfcourt defense.
On the defensive end, Florida will have some issues protecting the rim against a primarily post offense with Yante Maten on the block. Per Synergy, UF grades out in just the 46th percentile nationally in post defense. White has criticized his team defense when doubling the post, so I think he will mix fronting Maten and extending his 2-2-1 zone press early to force the UGA guards into poor decisions and to obscure entry passes. Florida may also struggle keeping UGA off the offensive glass, as Maten and Derek Ogbeide rate as two of the best in the country at grabbing misses.
While UGA poses some matchup issues at the rim against Maten, White has a plethora of options to exploit the Georgia guards by forcing turnovers (UGA has the highest TO rate in the SEC) or jump shots (UGA shoots just 30% from 3 in league play). Essentially, the Gators can gamble on Maten without consequence, while UGA will struggle with the constant ball screens for Chiozza, Hudson, and Allen.
The PICK: Florida -3.5
---
Other Quick Hitters
Auburn at Ole Miss +4.5 (9 pm ET) DeAndre Burnett, who has been on a tear of late, missed the first meeting against Auburn. Not only are his per 40 numbers great, but his effect on Ole Miss as a whole has been dramatic. Per Hooplens, Ole Miss' on/off efficiency splits reflect the extreme value of Burnett.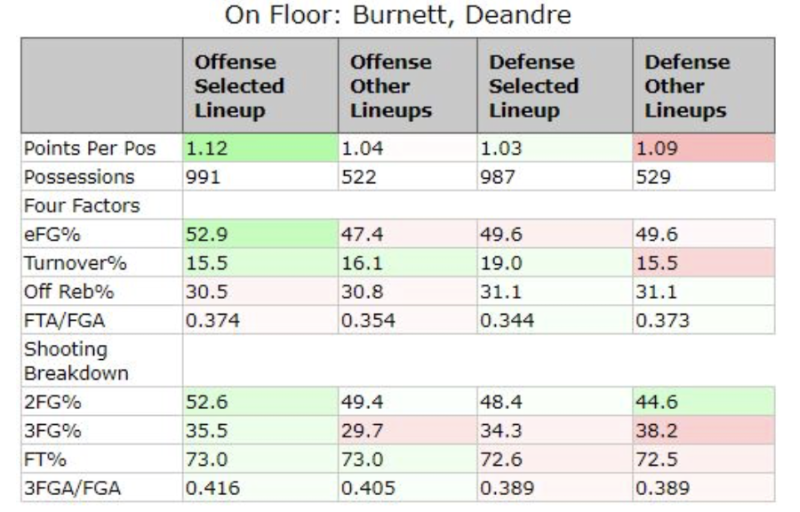 While Auburn has certainly impressed this year, I'm concerned about their ability to score in the halfcourt consistently, especially since Ole Miss has quietly defended well in transition. Per Synergy, Ole Miss holds opponents to just .926 points per possession (85th percentile). Kennedy has also had success in a same season revenge spot the past two years, with wins over South Carolina, rival Mississippi State, and what should have been a win over Florida. If Ole Miss can adjust to the "roller" in Auburn's spread pick-and-roll offense, they will contain Anfernee McLemore and DeSean Murray getting to the rim and have a chance to win this game.
The PICK: Ole Miss +4.5
Arkansas at Texas A&M -4.5 (9 pm ET) Billy Kennedy is essentially a dinosaur, as he hasn't remotely embraced pace-and-space basketball at Texas A&M. Also, opposing four-out lineups absolutely kill the Aggies, since Kennedy insists on having two immobile bigs on the floor. It happened agiainst LSU, Kansas, Florida and Alabama, just in recent memory. Kennedy believes his team will dominate at the rim as a result, but that simply hasn't happened with enough efficiency from Tyler Davis and Bob Williams.
The good news for the Aggies is that Arkansas doesn't really play four out, as Mike Anderson lacks a stretch big. Additionally, A&M has an excellent ball screen defense, thanks to Admon Gilder and Duane Wilson. The bad news is both are playing through knee injuries. Also,  Dan Gafford and Trey Thompson for Arkanas have proven to be excellent post defenders. Kennedy has dramatically slowed the pace down in College Station, as only the LSU home game has broached 70 possessions. Points should come at a premium, with both defenses adept at taking away the strength of the opposing offense.
The PICK: Under 146.5
Baylor at Oklahoma -6 (9 pm ET) When Trae Young, and consequently Oklahoma, has struggled, it has ALWAYS come against defenses that hedge extremely hard on ball screens and obscure his passing lanes. West Virginia did it effectively and Kansas State did it even better. I'm sure Scott Drew has seen how effective that strategy works, but I've not seen Baylor hard hedge on pick and roll often when I go through game film. Additionally, it would force Drew to go smaller, which he has been reluctant to do. Ultimately, this looks like it will play out similar to Baylor's game on Saturday, where Florida obliterated them with ball screens and pick and pops to Egor Koulechov and Jalen Hudson. This sets up as a massive game for Brady Manek in that regard.
Oklahoma has a soft perimeter defense. Young and Chris James both gamble defensively, leaving them vulnerable to blow bys in their pick and roll defense. This is another reason why Drew should go small, as playing Nuni Omot and Mark Vital together would cause major defensive issues for the Sooners. But I simply don't think Drew will make this change. Omot and Vital have only played together for 183 possessions, per hooplens. While a small sample size, that pairing has held opponents to .95 points per possession, which means their defense wouldn't necessarily fall off either. Unless Baylor drastically changes their lineup tendencies tonight, Oklahoma should run away and hide.
The PICK: Oklahoma -6
---
Tuesday Top Picks
YTD: 345-324-6
2H: 30-18
Florida -3.5
Ole Miss +4.5
Arkansas/TAMU under 146.5
Oklahoma -6
Akron +2