Tuesday's Big 12 Betting Guide: West Virginia-Baylor
Credit:
Manu Lecomte from Baylor's first matchup against WVU
A second consecutive Big 12 betting guide? You bet.
The Big 12 is not only the deepest conference in college hoops, but it also features the most fascinating narratives. From the Kansas Big 12 regular season championship streak to Oklahoma's recent collapse, the league has provided us with must-see TV all year. Speaking of which, I think it's still raining 3s in Lawrence.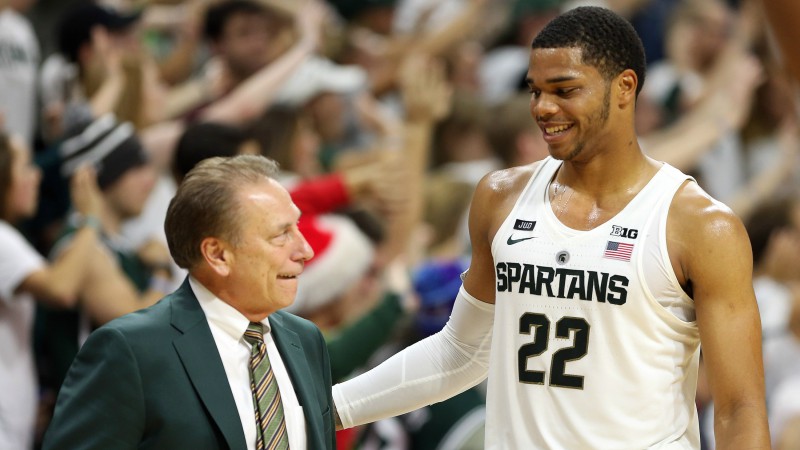 Today, we will focus on how West Virginia will bounce back in Waco after another collapse in Kansas, in addition to Baylor's recent semi-quiet February surge.
West Virginia (-1) at Baylor | O/U: 140.5
7 p.m. ET on ESPN2
The Setup
By Stuckey
Baylor is the hottest team in the country that nobody is talking about. After only winning two games in the month of January, it has won five straight to start February. That streak includes impressive home wins against Kansas and Texas Tech. One of the biggest differences for the Bears' turnaround this month has been their ability to win close games. They have won their past two games by a combined three points, after going 0-4 last month in games decided by three points or fewer.
One of those close losses came against West Virginia in Morgantown. In an extremely tight back-and-forth game that never saw a lead of more than four in the second half, the Mountaineers held on for a 57-54 win in a low-scoring affair. WVU has won four of the past five meetings with Baylor, but each team held serve on its home court last season.
The Stakes
By Stuckey
While West Virginia is simply playing to improve its tournament seeding profile, Baylor sits squarely on the proverbial bubble. A third top-25 RPI win tonight would significantly improve BU's at-large chances, especially since the Committee likes teams that are trending up.
The Big 12 regular season championship is now essentially a two-horse race between Kansas and Texas Tech, but final conference standings still matter since the top six seeds get a first-round bye in the Big 12 tourney. The Mountaineers should feel safe in regards to securing one of those coveted byes, as they sit in a tie for third place (Kansas State) with a two-game lead over the two teams tied for sixth (TCU and Texas). Baylor, meanwhile, is in fifth place with only a one-game cushion. A Bears loss could put them at risk of playing in the first round in Kansas City.
Sharp Report
By PJ Walsh
Sharp bettors hit this game early on Tuesday morning, moving the line from Baylor -1 to West Virginia -1. Mark Gallant breaks down the details in this post.
Situational Lens
By Wes Reynolds
A couple of traditional situational spots at play for Baylor, including revenge and the ol' unranked favorite vs. ranked team angle. However, I expect an angry West Virginia team after its recent meltdown against Kansas. Huggins may also get the benefit of the whistle tonight. More on that later.
Schematically Speaking
By Jordan Majewski
With both defenses extremely solid at the rim, the ugliness of the first game wasn't exactly unexpected. However, each offense can capitalize on a few defensive scheme details in the rematch.
When West Virginia Has The Ball
In the first meeting, WVU's cut-and-fill motion offense effectively shifted Jo Lual-Acuil around within Scott Drew's 1-1-3 base zone, which forced him to defend Lamont West outside of the paint at times. That's key, because otherwise Lual-Acuil dominated defensively at the rim. He swatted five shots en route to limiting the Mountaineers to 9-of-36 shooting on 2s. In fact, WVU made more 3s (10) than 2s (9), which Baylor will happily live with again in the rematch.
Baylor also effectively rebounded out of its zone defense, which is always key against WVU. The Mountaineers did snag 13 offensive rebounds, but they threw up a ton of misses. The more important 28.9% offensive rebounding rate was significantly below its season average. However, the Mountaineers didn't have big man Esa Ahmad eligible yet. Ahmad has mostly been a mixed bag in terms of his production, but he at least offers another option to shift the Baylor zone and should help on the boards.
When Baylor Has The Ball
These two teams basically mirrored each other in the first meeting. WVU shot-blocking extraordinaire Sagaba Konate swatted seven shots, which helped limit Baylor to only 11-of-32 shooting from 2. But like WVU, the Bears hit enough 3s (8-of-21) to keep it close.
For Baylor to return the favor in Waco, it will need to find ways to score inside. That onus likely falls on TJ Maston, who played just 11 ineffective minutes in the first meeting. However, he has been dominant the past two games for Scott Drew, scoring 50 points on 22-of-36 shooting against two of the best defenses in the country in Texas and Texas Tech. If Drew can keep his two bigs in Lual-Acuil and Maston on the floor together to run his usually solid HORNS offensive sets, Baylor can serve some revenge.
The foul situation will be an interesting aspect to watch all night. With Bob Huggins drawing attention to the massive foul disparity (35-2 FTAs) against Kansas, the Big 12 officials may relax the whistle. If the refs do indeed allow West Virginia to play physical, the press will be too much for the Bears, who turned it over 21 times at a 31.8% rate in the first matchup.
Matchup Analysis
By Bryan Mears
As I mentioned in the West Virginia-Kansas betting guide this past weekend, the Mountaineers are one of the most volatile teams in the nation. On offense, they rely on pounding the glass to create second chances. On defense, they blitz opponents to create turnovers. Two inherently very volatile data points.
Things shouldn't be any different against Baylor. West Virginia isn't great at drawing fouls or getting to the rim, ranking 254th and 248th, respectively. Baylor's defensive scheme is designed to limit shots at the rim, and it's been working like a charm. The Bears allow the nation's lowest shot frequency at the rim this season. As a result, don't expect many WVU shots at the rim, which are the most efficient in basketball. Fewer of those means even more volatility. Of course, longer shots mean longer rebounds against a Baylor zone that ranks 205th on the defensive glass. It's cliché to say this game will come down to a few chance bounces of the ball, but it very well might be true.
Getting Trendy
By Evan Abrams and John Ewing
What Phog? Since joining the Big 12 in 2012-13, Bob Huggins is 8-2 straight-up and 7-3 against the spread in the game following Kansas. West Virginia was listed above -500 on the moneyline for two of those wins, but Huggins is 3-1 ATS when listed as the underdog after facing the Jayhawks. In the 10 total games, Huggins is winning by 12.4 points and covering by 8.3 points on average.
Bear Stops Here: Baylor has won five games in a row SU. Over the past three seasons, Bob Huggins has faced nine teams on a five-plus-game winning streak. He is 8-1 SU and 8-1 ATS, covering by an average of 7 points per game. He is currently on an eight-game winning streak in this spot.
Second Chances
By Stuckey
Baylor notably outrebounded West Virginia 44-36 in the first meeting. Expect the glass to play a major role again. Both teams excel on the offensive glass, but struggle grabbing defensive boards (see table below). This game could very well turn into a battle of putbacks.
What's Your Favorite Bet?
Stuckey: West Virginia +1
Jordan: West Virginia +1
Wes: Over 142
Mears: Pass
Editor's note: The opinion on this game is from the individual writers, and is based on their research, analysis and perspective. It is independent of, and may not always match with, the algorithm-driven Best Bets from Sports Insights.
Pictured in top photo: Baylor's Manu Lecomte and West Virginia's Jevon Carter.
Photo via Ben Queen-USA TODAY Sports