Wes Reynolds: Five Situational Spots I'm Betting on Tuesday
Credit:
Tom Izzo and Myles Bridges are currently "fat and happy"
After not seeing any solid situational bets the last two days in college hoops, we finally have spots worth investing in Tuesday.
Keep in mind that great spots on paper don't always make the cut, as other factors (coaching, injuries, matchups, etc) also matter. And sometimes there simply isn't any value in the posted line.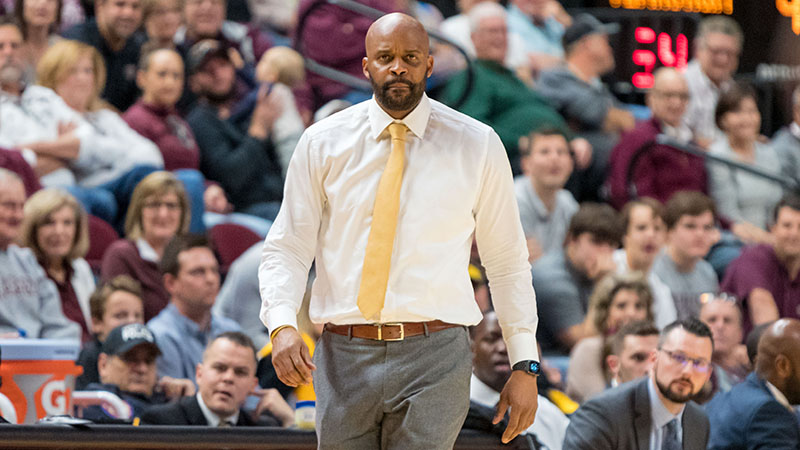 I try to watch as many games as possible to become familiar with team tendencies. Every little nugget of information can potentially help with the process of deciding which situational spots to play and which ones to avoid.
Let's look at the five best situational spots I'm betting on Tuesday night.
I included a glossary of five of my favorite situational handicapping angles at the end of this piece. Spreads are as of 1:30 a.m. ET. YTD: 5-2
---
Illinois +16.5 (at Michigan State)
7 p.m. ET on ESPN
We get to fade Michigan State in another "Fat and Happy" spot after its furious 27-point comeback against Northwestern, which luckily still held on for the cover for us. Sparty is playing like the Big Ten preseason favorite, but they are being overvalued in the market. The betting lines clearly caught up to them during their current 10-game winning streak (1-5-2 against the spread in their past eight games).
It's also Senior Night at the Breslin Center. Bettors often want to back teams on senior day/night, figuring they will be extra juiced for the last home game. However, that perception is factored into the line, and that emotion can actually work against the home team. Additionally, Senior Night is often very melancholy at a program like Michigan State. Sparty only has three seniors on the roster, but they also have a few probable early NBA Draft entrants. Illinois is in rebuild mode in Brad Underwood's first season, but they have continued to give effort most nights. Too much value to pass up on.
NOTE: With the "Fat and Happy" angle, you also can play the first half, which is often a better bet since big favorites can come out sluggish in this particular spot. You should see a first-half line of Illinois +9/9.5.
La Salle +7 (vs. Rhode Island)
7 p.m. ET on CBSS
The temptation for some might be to get back on the horse with Rhode Island after its 16-game winning streak ended, but this is a prime hangover spot. Just look at how teams have recently performed the game after a long winning streak was snapped:
Purdue even lost at Wisconsin after that Michigan State loss. It's not the largest sample size, but the spot plays in the right circumstances. I think Rhody will come out flat on the road against a much inferior La Salle team. The Explorers have failed to cover their past six games, but might look at taking on the top team in the A10 as their Super Bowl. Count me in.
Northern Illinois +10 (at Ball State)
7 p.m. ET on ESPN3
An under-the-radar spot for sure with some MACtion. Ball State comes off a sweep of MAC West leader Toledo in arguably its most complete performance of the season (99-71 win). BSU has stretched its win streak to four, but now has a short turnaround against the worst team in its division (NIU) after beating the best (Toledo). The Cardinals also have a revenge spot with Western Michigan (L 58-73 at WMU on Jan. 13) on Friday night in a rare nationally televised game. NIU should come in with confidence after two wins against Buffalo and WMU in its past three and could get Dante Thorpe (11.7 ppg) back from injury. With the letdown and lookahead both in play, I'm holding my nose and siding with NIU.
Dayton -5 (vs. Saint Louis)
7:30 p.m. ET on ESPNU
Saint Louis previously suspended three of four players involved in an alleged sexual assault. The lone exception initially was standout freshman Jordan Goodwin, but he was then also suspended for the rest of the season last week. SLU circled the wagons in its first game without its best player, as teams often do, by winning outright at Richmond as a +2.5 underdog. The Billikens are now basically down to seven players (only six played substantial minutes last game), which will make it tough to head back out on the road to play in a tough environment at Dayton. The Flyers are also looking for revenge from earlier this season. This looks like a game in which SLU falls behind early and then gets buried. Give me the Flyers.
Vanderbilt +4.5 (at LSU)
9 p.m. ET on SECN
A spot where the line almost looks too easy, which always makes me look for logical reasons to back the side that looked illogical at first glance. On the surface, LSU has revenge (lost 77-71 at Vandy) and has won three straight at home. And Vanderbilt is 0-11 away from home with letdown risk after beating Florida. However, Vanderbilt is playing good basketball of late and matches up well with the poor Tigers defense. I also like to fade home teams after beating a better team at home in their previous game, which LSU did Saturday against Missouri. The Tigers have also been wildly inconsistent, as they haven't won consecutive games since Jan. 10.
---
Glossary of situational handicapping terms
1) Fat and Happy: I look for this angle from the second week of January through conference tourneys. It entails going against a ranked team on a winning streak of three or more games. As teams win, the lines, perception and power ratings all rise, which may offer value on the other side. In the rare occurrence of two ranked teams on these streaks, I look closely at the underdog.
2) Hangover: When a team loses a marquee game or has a long winning streak end, it can have a negative carryover effect.
3) Letdown: We see this all the time after a team follows up a huge win on national television by laying an egg in its next outing against a somewhat nondescript opponent.
4) Sandwich: When a team plays an inferior opponent in between two high-profile opponents and/or rivals.
5) Drop in Class: This situation involves a team playing an inferior opponent after a losing streak against quality teams. I call this "Drop in Class" because it's comparable to a horse being defeated in a stakes race and then dropping in class for a tag in an allowance race.
Editor's note: The opinion on these games is from the individual writer, and is based on his research, analysis and perspective. It is independent of, and may not always match with, the algorithm-driven Best Bets from Sports Insights.