I know it's going to be tough to duplicate the excitement of Friday night's NBA Celebrity All-Star Game (I hope you were really watching Bonnies-Rhody), but I think a spectacular Saturday college hoops slate can help us all move on. In this betting guide, we will cover all the angles of the two biggest games on the card:
West Virginia at Kansas (-3.5) – 6 p.m. ET on ESPN
Villanova at Xavier (+1.5) – 4:30 p.m. ET on FOX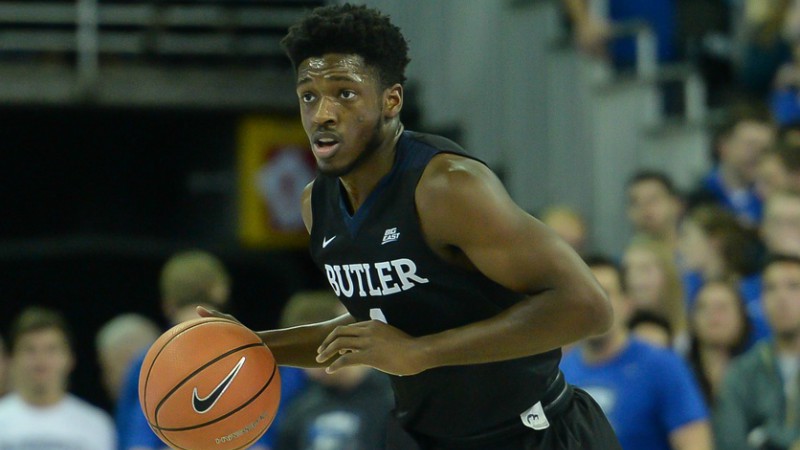 ---
West Virginia at Kansas (-3.5) | O/U: 152.5
6 p.m. ET on ESPN
The Setup
By Stuckey
Kansas and West Virginia met in a top-10 matchup back in Morgantown in mid-January. In that game, Kansas battled back from a 16-point deficit to pull out a five-point road victory. Blown WVU leads in this matchup have actually been a theme in recent years. The last time these teams met in Lawrence, the Mountaineers blew a 14-point lead with under four minutes left, before eventually falling in overtime. And two years prior to that at the Phog, Kansas came from 18 points eown to again win in overtime. These two teams have split their regular season meetings in each of the past four seasons.
The Stakes
By Stuckey
In the NCAA tournament committee's early reveal of the top 16 seeds, Kansas was listed at No. 6 overall (a projected 2-seed). Given that the Jayhawks lead the NCAA with nine "Quadrant 1" wins (home vs. top 30, neutral vs. top 50 or away vs. top 75), a No. 1 seed is certainly within reach. West Virginia was not listed among those top 16 teams, but a road win at the Phog would go a long way in helping its seeding come March.
With a loss, Kansas would be in serious jeopardy of not winning at least a share of the Big 12 regular season for the first time in 14 seasons. Texas Tech currently sits all alone in first place, holding a one-game lead over the Jayhawks. Considering the Red Raiders already beat Kansas in Lawrence and will host the rematch, Kansas needs this game to keep the pressure on Texas Tech, which has a tough schedule down the stretch. In addition to that aforementioned Kansas rematch, TTU has three road contests against Oklahoma State, Baylor, and West Virginia. This game has massive conference repercussions
Sharp Report
By PJ Walsh
Kansas is currently receiving 69% of spread tickets and, while the public is confidently playing the Jayhawks, 55% of dollars wagered have taken West Virginia. With the biggest bets coming down on WVU, a handful of offshore sportsbooks have ticked down from an opener of Mountaineers +3.5 to +3.
Situational Angle
By Stuckey
I expect a fired up West Virginia team out of the gates, as Huggins will have his squad focused on revenge from a bad home loss earlier in the season. That said, this is Kansas at home in a game that means so much in the Big 12 standings. We should get max effort from both.
Schematically Speaking
By Jordan Majewski
When West Virginia Has The Ball
West Virginia's spacing in the halfcourt can be fairly clogged within Bob Huggins' cut-and-fill motion offense. However, the offense has been stellar recently, as the Mountaineers haven't had an inefficient offensive game since their mid-January swoon that started with that meltdown home loss to Kansas. WVU only scored 66 points in 69 possessions in that game, hitting just 5-27 from 3. It also actually turned the ball over at a significantly higher rate than KU.
In theory, KU should struggle against WVU's scheme: Per Synergy, the Jayhawks allow 1.21 ppp on cut action. For WVU to finally avenge their recent nuclear meltdowns against KU, Mountaineer forwards Esa Ahmad, Lamont West and Teddy Allen will need to take advantage of the Jayhawks' two weakest defenders, Lagerald Vick and Svi Mykhailiuk. The enigmatic Ahmad had a solid offensive game in the first meeting (15 points and five rebounds), but he's been wildly inconsistent on a game-by-game basis. West's floor-stretching ability has returned of late (11-of-20 from 3 in his past four games), a primary reason for WVU's improvement offensively.
KU's defense has plenty of holes to attack, and its usual 4-out lineup leaves it vulnerable on the offensive glass, which is, of course, a Huggins specialty. KU allows 1.14 ppp on offensive putbacks, per Synergy. With the WVU offense firing on all cylinders at the moment and KU's issues defending at the 3 and 4, the Mountaineers will have plenty of paths to put up points at the Phog.
When Kansas Has The Ball
I've mentioned before that West Virginia is pressing and trapping less this year, and it's not an insignificant amount. Huggins has been hyper-critical of this defense, and the numbers back up his frustration. While most coaches would love to have a defense that allows just .965 ppp, that actually ranks as the worst defense Huggins has had since the Mountaineers morphed into "Press Virginia" four years ago.
WVU particularly has issues with straight-line drives, as the the perimeter defenders have seemingly been willing to funnel penetration into uber shot-blocker Sagaba Konate (pictured above, right). While that makes some sense in theory, it has led to laziness and poor perimeter rotation on the defensive end (unheard of from a Huggins squad). In fact, WVU currently allows the highest 3-point attempt rate of any Huggins team in the KenPom era, which dates back to the 2001-02 season. That's a dangerous combo against Kansas, which has an elite on-ball guard in Devonte' Graham (pictured above, left) and makes 3s at a high percentage.
In the first game in Morgantown, the Jayhawks came back with simple penetrate-and-kick action between Graham and Mykhailiuk. While WVU is still a very good defensive team, it's just not on the same level as what we've come to expect from Huggins' defenses. That's concerning against an elite offense like Kansas.
What the Metrics Say
By Bryan Mears
West Virginia is one of the most unique teams in the nation, as it relies on very volatile metrics for success. For example, it ranks No. 18 in offensive efficiency, despite ranking 196th in effective field goal percentage. The Mountaineers rely on offensive rebounds to stay afloat, ranking fourth in the nation in that regard. They should have success again on the offensive glass against a Kansas squad that ranks 277th on the defensive boards.
On the other end of the floor, the Mountaineers' aggressive defense ranks second in turnover rate. This game should come down to those two volatile data points. If Kansas can protect the ball and box out, it will sweep the season series.
Getting Trendy
By Evan Abrams and John Ewing
Kansas is just 2-12-1 ATS (14.3%) at home against conference opponents over the past two seasons. The Jayhawks last covered a home game against a Big 12 opponent in February of last season (0-6-1 ATS since). Between 2005 and 2015, Kansas went 54-35-4 ATS (60.7%) at home in conference games.
The Jayhawks have the longest active streak of consecutive weeks ranked (143). But they've performed much better against the spread when they fall outside the top 10, as they are now:
Inside the top 10: 134-143-8 (48.6%) ATS

Outside the top 10: 42-20-1 (68%) ATS
What's Your Favorite Bet?
Stuckey: West Virginia +3.5
Jordan: West Virginia +3.5
Mears: Pass
---
Villanova at Xavier (+1.5) | O/U: 164.5
4:30 p.m. ET on FOX
Get The Edge
SPECIAL OFFER - 35% OFF