BlackJack Fletcher's Favorite Bets: Analyzing Day 3 of the Tourney
Credit:
Kamil Krzaczynski-USA TODAY Sports
What a first two days. We've had no 12-seeds beat a 5, but we have had some upsets, including the first ever 16-seed, UMBC, to defeat a 1-seed, Virginia. This tournament is always wild, and it will continue to be just that. The question now is this: Who do we bet this weekend to make some money? BlackJack has you covered, brother. Here are my favorite plays on this St. Patrick's Day.
You can find all of my plays FREE in the Action app. Download it at actionnetwork.com/app.
WINNERS
#13 Buffalo vs. #5 Kentucky (-6)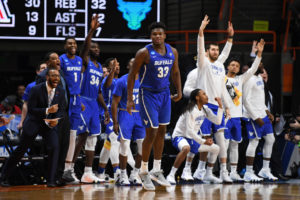 Before UMBC shocked the basketball-watching world, the Buffalo Bulls were the darlings of this tournament, handily beating 4-seed Arizona. The Bulls did what they always do: score. A lot. In a hurry. Arizona simply could not stop them and could not hang with them. Today is a different scenario for the Bulls, however. Kentucky, while erratic at times this year, has seemingly found its stride at the right time. Additionally, because of its length and athleticism, Kentucky is the kind of team that will give the Bulls fits. The Wildcats will be able to cover Buffalo's shooters from the perimeter; they have been excellent at that all season. Kentucky has held opponents to 30 percent shooting from 3-point range this season, good for fourth-best in the country. The Wildcats also have the ability to force the issue in the paint, which was working for Arizona until it abandoned that strategy.
After Buffalo's explosion against Arizona, many people realized that the Bulls can score a lot of points quickly. They've done this all season. Yet, in my opinion, this is the toughest defensive matchup they will face all season, as Kentucky excels at defending the 3-point line, which is where Buffalo lives. I think because of the 89 points the Bulls put up in the Arizona game, this total is inflated as well. This game gives us the rare, double-play opportunity, so let's hit it.
THE PICKS: KENTUCKY -6 AND UNDER 156
#5 Ohio State vs. #4 Gonzaga (-3.5)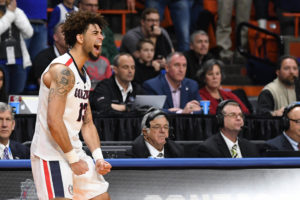 This game should be a great one to watch. These two teams met early this season in Portland, and Gonzaga took it to Ohio State in the form of a 86-59 victory. The Bulldogs are winners of 15 straight and are looking to move on to yet another Sweet 16. Ohio State, on the other hand, got past scrappy 12-seed South Dakota State on Thursday and looks to avenge its early season loss to the Bulldogs. What has my attention in this game is the total: A mark of 140.5 in a game like this feels like a good spot to take the under. Four of OSU's last six have been under this number, and Gonzaga tends to run the score up only against lower-level competition that it sometimes faced in conference play. This game will not have a run-and-gun type of pace. Expect a tighter, more defensive-oriented battle this time around and take advantage of the total.
THE PICK: UNDER 140.5
#11 Loyola-Chicago vs. #3 Tennessee (-5)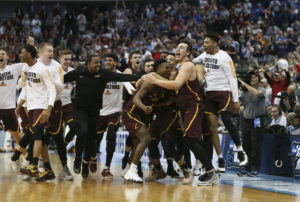 This might be my favorite action of the entire day. We have two slow-paced teams here, who both like being on the under side of the total. In their past 10 combined outings, the Ramblers and Volunteers have combined for eight unders. The Ramblers are not going to push pace or tempo at all; they will try to grind Tennessee down. While the Vols do play a little faster, it isn't by much, and they are also more than capable of dry spells on offense. Their atrocious start against Iowa State in the Big 12/SEC Challenge comes to mind as one example. Factor in that we have a Sweet 16 berth on the line, which is uncommon for both teams in this game, and I expect a tight, deliberately-paced game. That all leads us to the lower side of this 132 total, which I believe should hit comfortably.
THE PICK: UNDER 132
As hectic as the last two days have been, we're only halfway there this weekend. We still have two outstanding days of basketball, so let's sit back, enjoy it and make some money.
Credit: C. Morgan Engel-USA TODAY Sports