Tuesday's Sharp Report: Wiseguys See Eight CBB Games With Value
Credit:
Jeff Blake-USA TODAY Sports. Pictured: Frank Martin
Rejoice, College Hoops bettors. It's Super Tuesday. We have a stacked slate with more than 20 games on tap. Best of all: It's quality, not just quantity. Sharps see a board bursting with valuable conference dogs and soft totals.
After monitoring the market and analyzing all the betting data, here are the eight college hoops bets the professional players are focusing on tonight.
A few reminders:
A really high bet percentage is usually a clear indicator of who public bettors (aka the guys who don't do this for a living) are taking. And breaking news: The majority of public bettors aren't successful over the long haul.
To help locate which games the pros are on, focus on the money percentage metric. If a team is getting a much higher share of dollars compared to bets, that's a good sign that the wiseguys are on them
Don't blindly bet games based on percentages. You also have to look at the line movement. One of the best sharp indicators is Reverse Line Movement: when the betting line moves in the opposite direction of the team the public is betting. Example: Duke is getting 75% of spread bets vs. North Carolina but you see the line move from Duke -1 to +1.5. That's a sure sign the wiseguys are on UNC. Another sharp indicator is a Line Freeze: when you see heavy lopsided betting but the line doesn't budge. This indicates liability and a reluctance to move the line and give sharps a better number. Example: Kansas is -7 against West Virginia and 70% of bets are on the Jayhawks, yet the line remains stagnant and hasn't moved off of 7. That indicates sharp liability on the Mountaineers, with the books reluctant to give sharp contrarian bettors a +7.5 or +8.
Boston College-Pittsburgh Over 140
7 p.m. ET
Pitt ranks almost dead last in scoring (334th, 63 ppg), so it's not surprising to see the public on the under at nearly a 60% rate. But sharps see it differently, which is why the total has risen from 139 to 140. This indicates sharp reverse line movement on a rare contrarian over. The wiseguys first hit the Over 139 at BetOnline, causing a pair of bet signals that moved the entire market.

Maryland (+2) at Nebraska
7 p.m. ET
Recreational bettors don't want to touch Maryland, but the sharps are all over the Terps tonight. They're only getting 20% of bets in the most heavily bet game of the night, giving them great #FadeThePublic value. Meanwhile, the line has moved toward the Terps (+2.5 to +2) despite massively lopsided betting on Nebraska. Why? Because sharps got down on road dog Maryland, hitting them hard at JustBet, CRIS and 5Dimes.


St. Bonaventure at La Salle (pick'em)
7 p.m. ET
St. Bonaventure is 17-6, while La Salle is 10-15. As a result, public bettors are happy to lay the small spread on the road favorite Bonnies. But the wiseguys see value on La Salle. Even though the Explorers are only getting 17% of bets, they account for 25% of dollars, a sign of the bigger, sharper wagers being on the home team. Plus, La Salle has moved from +2 to a pick'em since opening. This was caused by a profitable reverse line move on La Salle +2 at SBG, who has gone 51-31 on the season (+15.4 units). This means that if you bet $100 every time the sharps at SBG triggered a reverse-line college hoops spread play, you would be up $1,540 right now. Late steam from ABC pushed La Salle to a pick'em.



Ohio (+9) at Toledo
7 p.m. ET
Ohio (10-14) is only getting 30% of bets at Toledo (18-7), but it accounts for 60% of dollars, a massive bet vs. dollar discrepancy. Even better, Ohio has moved from +10.5 to +9 since opening. Why would the books drop the line to give public Toledo bettors a better number? Because sharps came in hard on Ohio. Early this morning, sharps pounced on Ohio +10 at the Greek which caused big market-wide movement.


Evansville-Northern Iowa Under 119.5
7 p.m. ET
PJ Walsh has had his eye on this under all day. The total opened at 120 at Bookmaker and early betting pushed it up to 122. That's when sharp bettors got down hard on the under, causing market-wide steam. What's interesting is that wiseguys kept hitting it, even when the line kept falling. This means they saw value at Under 122, Under 121.5 and Under 120.
South Carolina (+10.5) at Tennessee
9 p.m. ET
Public bettors love favorites and home teams, especially when they're highly ranked and facing off against an unranked opponent. More than 70% of bettors are taking the 18th-ranked Volunteers but, they only accounts for 45% of dollars, a sign of predominantly Average Joe Money. Plus, the line has moved two full points away from them Tennessee. Sharps played the Gamecocks at +12.5 at CRIS, and the entire market has since moved to +10.5. It may even fall to +10.

Virginia-Miami Over 120.5
9 p.m. ET
Virginia is known for their stingy defense. They're first in the country in points allowed (52.8 pgg) and despite the low total (120.5), public bettors are still leaning under. However, smart money is on the over (only 48% of bets but it accounts for 70% of dollars). The wiseguys waited for the line to bottom out at 118.5 and then promptly hammered the over, causing a pair of bet signals at CRIS and BetUS that moved the entire market.


Michigan State at Minnesota (+10)
9 p.m. ET
Average Joes love betting on top-five teams, even when they're on the road laying big points. So it's no surprise that No. 2 Michigan State is getting 80% of bets in this late Big Ten showdown. However, sharps see value on the conference home dog covering the big number. Since opening, the line has fallen from Spartans -10.5 to -10 even though they're getting a vast majority of bets. Early this morning, wiseguys hit Minnesota +10.5 at Pinnacle, which is notable since Pinnacle is one of your sharpest offshore books.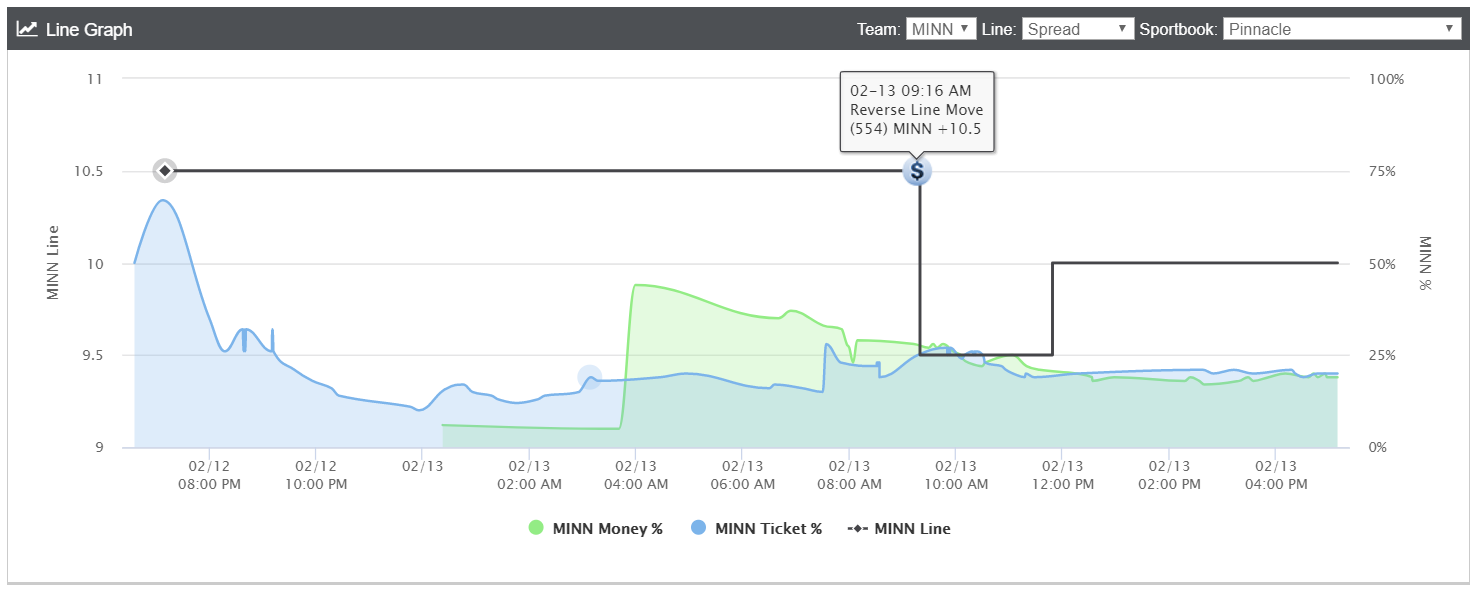 For a more in-depth analysis of tonight's card, sign up for a Sports Insights Pro trial and join our Live Betting Hangouts where we break down the entire board every weeknight 6:30-7 p.m. ET.
For more betting updates, be sure to follow us on twitter @ActionNetworkHQ 
Cover photo via Jeff Blake-USA TODAY Sports