Ultimate Betting Guide for Gonzaga-Saint Mary's
Credit:
Feb 3, 2018; Spokane, WA, USA; Gonzaga Bulldogs guard Josh Perkins (13) shoots the basketball over Brigham Young Cougars guard McKay Cannon (24) during the second half at McCarthey Athletic Center. The Bulldogs won 68-60. Mandatory Credit: James Snook-USA TODAY Sports
You can almost smell March when looking at the glorious college hoops slate on Saturday. The stacked card features two massive top 25 matchups:
(3) Purdue at (4) Michigan State -3
(12) Gonzaga at (11) St. Mary's -2.5
We will provide in-depth betting previews for both by covering the following sections:
Setting the stage
What's at stake
What the sharps are betting
Key trends
Situational angle
Scheme analysis
Matchup to watch
NBA Draft outlook
Who we like
---
Gonzaga at St. Mary's (-2.5)
10:00 pm ET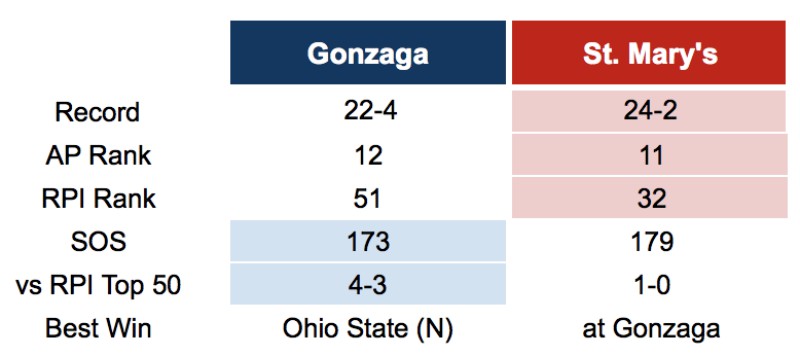 The Setup
By Stuckey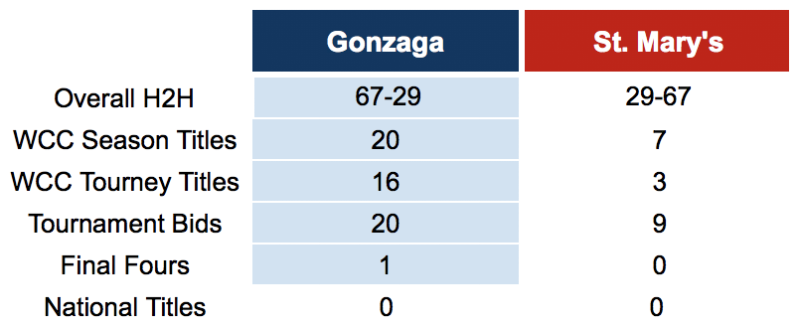 St. Mary's will look for the rare season sweep of Gonzaga on Saturday night in front of a raucous home crowd in Moraga. Some of you may remember SMC swept Gonzaga in the regular season in 2015-16 for the first time since 1995. That marked the first and only time a WCC opponent swept Mark Few since he became head coach in 1999. Despite that sweep, the Gaels actually missed the NCAA tourney after losing to Gonzaga in the WCC Tournament Final. Their 310th ranked strength of schedule ultimately kept them from receiving an at-large bid.
Before their 74-71 victory in Spokane earlier this year, SMC had lost four straight to Gonzaga, all by double digits. Gonzaga has actually won ten of the last 13 meetings with SMC, winning each by double digits. In the three games the Gaels have won during that stretch, they won by a total margin of 11 points.
The Stakes
By Stuckey
Both teams could really use a marquee win for seeding purposes. Believe it or not, despite four RPI top 50 wins, Gonzaga is not currently ranked in the RPI top 50 (No. 51). And St. Mary's only has one RPI top 50 win, which came against the only current top 50 opponent they have played (No. 50 NMSU).
In regards to WCC implications, a lot is on the line. With a home victory, SMC would essentially hold a three game lead with four to play. Considering it finishes the year with San Fran, Portland, Pepperdine, and Santa Clara, it would all but guarantee them a fourth regular season WCC title in the last eight seasons. Conversely, a Gonzaga win would create a tie at the top of the standings.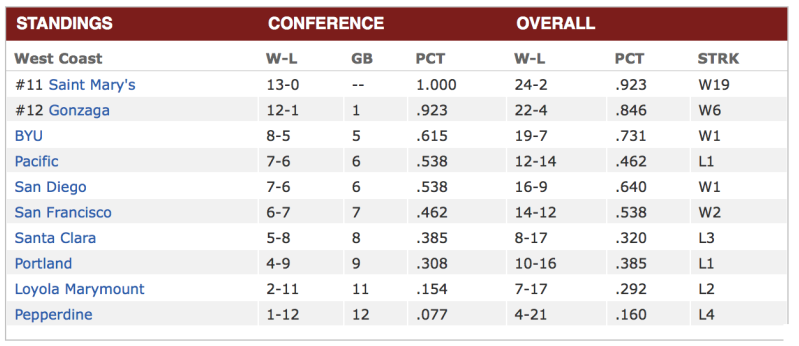 In regards to the WCC tournament, these teams have all but locked up the top two seeds. The top two seeds play the winners of the 7-10 and 8-9 games. Not much to consider here.
Sharp Report
By PJ Walsh
While 54% of tickets are on St. Mary's, 55% of spread bucks are backing the Zags, helping explain the move from Gaels -2 down to -1.5. The total has seen two-way sharp action, with the 'under' getting steamed from 146 down to 143 before 'over' buyback pushed it back up to the current number of 144.
Getting Trendy
By Evan Abrams and John Ewing
This will be just the eighth time since 2005 that two teams ranked inside the top 15 from the same non-power conference will meet in the regular season. The underdog has covered in five of the previous seven.
Gonzaga has lost eight straight games ATS. That is its longest streak within the same season since at least 2001.
Since 2006, Gonzaga has been an underdog in thirteen ranked vs. ranked games. The Zags only won one of the thirteen, while going 3-10 ATS.
Situational Angle
By Stuckey
I give Gonzaga a slight motivational edge, as it looks to avenge a home loss from earlier this year, while keeping its hopes of a regular season WCC Championship alive.
Schematically Speaking
By Jordan Majewski
When Gonzaga Has The Ball
In the first meeting, the Zags didn't play poorly on offense (1.15 ppp), but they were also bailed out by a career game from Rui Hachimura. However, they simply didn't hit enough threes (6-22) to keep up with St. Mary's.
Between Johnathan Williams, Killian Tillie, and Hachimura, the Zags have excelled in post offense. But oddly, in the first matchup, the Gaels defended better in the post. That was the most shocking aspect of SMC's upset win, as it typically struggles with post defense. In fairness, the Gaels weren't phenomenal, but they were better than usual.
Randy Bennett rarely doubles the post, as he is one of the strongest proponents of taking away the three point line. That means Gonzaga will once again have every opportunity to score in the post. Having said that, Josh Perkins and Silas Melson ultimately must hit jumpers if the Zags want to keep up with the elite Gaels' offense.
When St. Mary's Has The Ball
Randy Bennett's teams run some of the best "on-ball" action in the country. What sets the Gaels apart is that they don't use pick and roll to free up their guards, but rather to create easy baskets for their bigs, particularly Jock Landale. Most teams focus on the "pick" in pick and roll offense, but SMC focuses on the "roll", and boy does Landale take advantage. Per Synergy, Landale scores an absurd 1.60 ppp as the roller. Landale also leads the nation in Offensive Rating by a wide margin.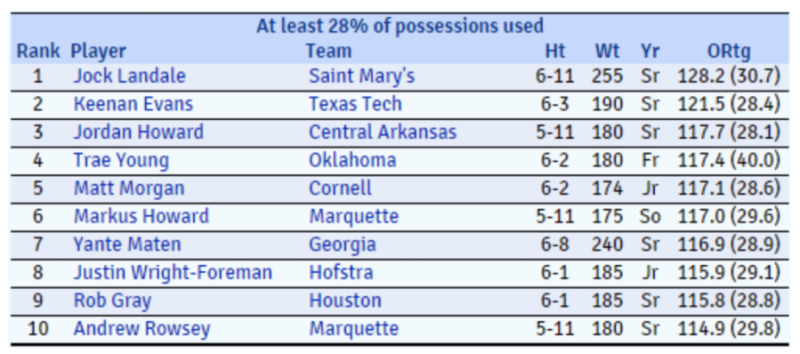 In the first meeting, Gonzaga simply had no answer for Landale, who went for 26 on 12-15 shooting. The Zags started to overplay him on PnR by sending Tillie to help in the post, but that simply led to wide open perimeter looks for the Gaels.
So what can Mark Few do tonight? I think he has to extend pressure on SMC's guards. Emmett Naar has the country's 8th highest assist rate, but he's not immune to turnovers. Few should copy what San Diego did to Naar in its most recent meeting. USD swarmed Naar on every ball screen, disrupting the pick and roll action before it even began. Consequently, Naar turned it over nine times in his worst offensive performance of the year. Of course, because USD brought up a big man to swarm Near with extreme hedges, that allowed Landale to pour in 34 points. It's pick your poison for Few.
Key Matchup Watch
By Bryan Mears
The Gaels are the most efficient shooting team in the nation, leading all schools with a 60.2 percent effective field goal percentage. They're excellent at getting to the rim, ranking 15th in percentage of shots at the rim. And while they don't shoot a ton of 3s, they rank sixth in 3-point percentage (42.1%). That spells trouble for a Gonzaga team that ranks 256th in 3-point percentage allowed (36.6%). If SMC is hitting their 3s like they did in the first matchup (8-13), it should come away victorious. 
What's Your Favorite Bet?
Stuckey: Line looks spot on to me in what should be tight. Pass
Jordan: Zags have no answers for the hyper-efficient SMC offense. SMC -2.5
Mears: Line looks right in what should I see as a coin flip game. Pass
---
Purdue at Michigan State (-3)
4:00 pm ET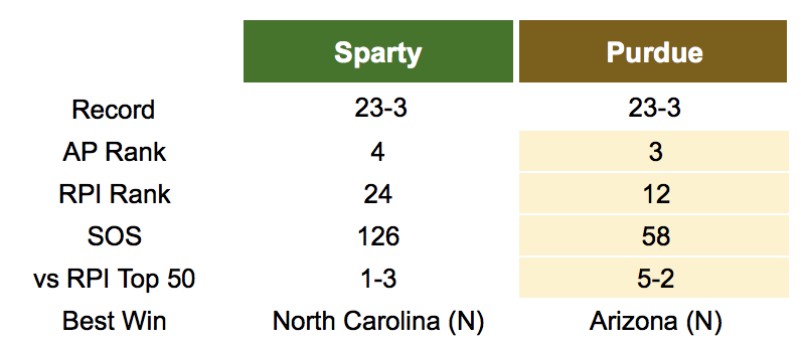 The Setup
By Stuckey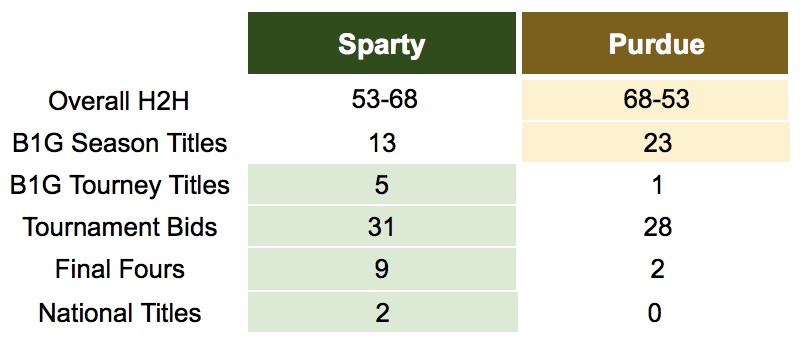 For the first time in 122 meetings, Michigan State and Purdue will face each other with both teams ranked in the top 5. Sparty has won seven straight overall, but their last four haven't come easy. Over their last four games against Indiana, Iowa, Penn State, and Maryland, the Spartans have won by an average margin of only five points. Meanwhile, Purdue just had their 19 game winning streak snapped in heartbreaking fashion at home against Ohio State. That one point loss marked the first time Purdue lost outside of the Bahamas this season.
The Stakes
By Stuckey
The outcome of this game could go a long way in determining which of these teams gets a No. 1 seed in the NCAA tournament, especially since this is the only regular season meeting. A win is probably more important to Michigan State, since its at home and only has one RPI top 50 win (UNC). Looking at its remaining schedule, this will be the last regular season chance to add an impressive win to its resume. Purdue on the other hand already has five top 50 RPI wins.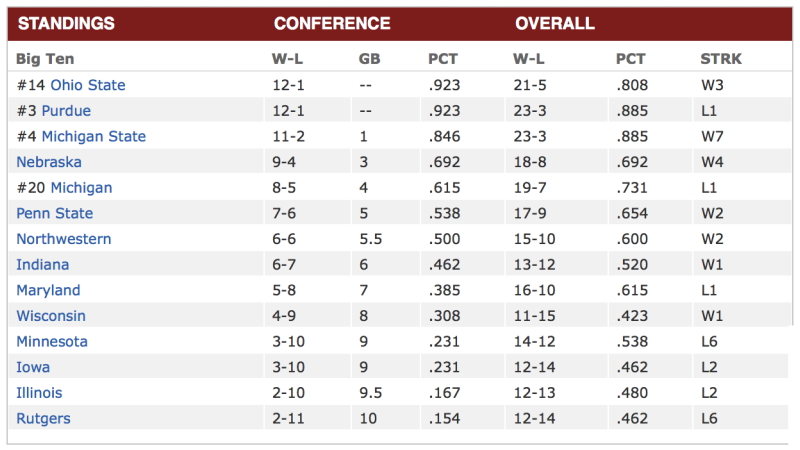 Both teams are part of a tight three team race with the Buckeyes for the Big Ten regular season championship. The loser of Saturday's showdown at the Breslin Center will most likely also lose its shot at said title. In regards to the conference tournament, the first four seeds get a double bye. Both are essentially a shoe-in for one of those slots.
Sharp Report
By PJ Walsh
In terms of the betting market, all has been quiet so far in this matchup. Fifty-seven percent of spread tickets and 68% of dollars wagered have taken Michigan State, yet the line is holding strong at Spartans -3, right where it opened.
Getting Trendy
By Evan Abrams and John Ewing
In regular season matchups of top 5 teams, the underdog is 30-17-2 ATS since 2005. In conference games, that record improves to 21-6-1 (77.8%) ATS!
Purdue is an underdog after losing outright as a 10-point favorite on Wednesday. Top 5 teams getting points after a SU loss against a conference opponent are 11-3 SU and 13-1 ATS since 2005.
Under Matt Painter, Purdue is 0-9 SU against top 5 opponents on the road, although it is 5-3-1 ATS in those games. The Boilers lost the 2nd half straight-up in all nine. Purdue was ranked for two of those nine, but lost both by a combined 34 points.
Situational Angle
By Stuckey
I'm sure Michigan State has had this game circled after losing both games against Purdue last year by double digits. I would've really loved this spot for Sparty if Purdue beat Ohio State. Having said that, I still give the situational edge to State and expect Izzo to take full advantage of the extra day of prep.
Schematically Speaking
By Jordan Majewski
When Purdue Has The Ball
Purdue's post sets and subsequent off-ball motion are among the best in the country. Purdue has the fifth most efficient post offense which it runs at the second highest rate nationally. Izzo doesn't double the post, which you can't do anyway against Isaac Haas, since Purdue has a plethora of lethal shooters and slashers. Izzo will leave the duo of Ward and Gavin Schilling on an island, as they're both excellent individual post defenders.
Look for Matt Painter to run Carsen Edwards and Mathias at Josh Langford, Sparty's weakest perimeter defender. And while Edwards gives up 4 inches, he can blow by Langford with his speed. As a result, Izzo may frequently trade the offense of Langford for the defense of Matt McQuaid, who has quietly become an excellent on ball defender.
When Michigan State Has The Ball
Sparty runs the country's 9th most efficient offense, scoring 1.19 points per possession (ppp). Point guard Cassius Winston is lethal in transition, but the Sparty offense is even more efficient in the halfcourt using Tom Izzo's "Hawk" screens. Michigan State's halfcourt efficiency is even more remarkable considering every single Big Ten coach knows what MSU runs, but still can't stop it. The Hawk sets use double stagger for cutters with frequent ball reversals to clear the lane for Nick Ward, with the happy byproduct of an open Miles Bridges.
Speaking of Ward, his outstanding footwork will cause trouble for Haas, who lacks lateral quickness. The good news for Purdue is that Vince Edwards has excelled as a post defender, which will help when Izzo goes big with Ward and Jaren Jackson. Sparty's most effective offense could actually come via second chance points, as Purdue has struggled on the defensive glass. In fact, you can argue that all three Purdue losses have been the result of poor rebounding. Sparty grabs their own misses at the 5th highest rate nationally and scores 1.12 ppp on offensive putbacks (94th percentile).
The other issue for Purdue is it doesn't force turnovers. When MSU has struggled, it's typically because of Winston turnovers. Purdue plays an excellent contain man to man, but since it rarely pressures and/or gambles, Winston will be able to run that ubiquitous Hawk action unabated.
Key Matchup Watch
By Bryan Mears
In a year where many top teams lack balance, Purdue and Michigan State might have the nation's two most-balanced squads, ranking in the top-15 in both Adjusted Offensive and Defensive Efficiency. That is a good sign for their March outlook, but that's a different story.
I'm most interested in how Purdue will attack offensively. The Boilers rank sixth in the nation in field goal percentage at the rim and third in 3-point percentage. However, they rarely take shots from those respective areas, ranking 342nd and 98th, respectively. Their best avenue for success on Saturday will be from the 3-point line, since Sparty ranks third in FG% defense at the rim. If Purdue can spread Michigan State out, its outside shooting could help them steal one on the road.
NBA Draft Outlook: Jaren Jackson Jr.
By Bryan Mears
Sophomore Miles Bridges leads Sparty in scoring, but freshman Jaren Jackson Jr. is the real prize in the upcoming NBA Draft. Now mocked in the top five most places, the 6'10" Jackson with excellent 7'4" wingspan perfectly fits the mold of a modern NBA big man. He is quite efficient all-around, evidenced by his 67.5 percent true-shooting mark. He';s also comfortable from the college 3-point line, where he hits 44.1 percent. His nearly 80 percent free throw mark suggests that's no fluke.
The majority of Jackson's value, however, comes on the defensive end. He has the lateral quickness to defend both NBA 4s and 5s, and his rim protection is as good as it gets for an 18-year-old prospect. In the Duke-UNC guide, I mentioned Marvin Bagley needs a specific team fit at the next level. In contrast, Jackson can fit any team like a glove.
What's Your Favorite Bet?
Stuckey: State gets their revenge from last season. Sparty -3
Jordan: A plus-matchup for Izzo and crew. Sparty -3
Mears: Too many historical trends favor the dog in this spot. Purdue +3
Editor's note: The opinions on these games are from the individual writers, and is based on their research, analysis and perspective. It is independent of, and may not always match with, the algorithm-driven Best Bets from Sports Insights.
How would you rate this article?