Big Ten Basketball Tournament Preview, Bracket & Odds: 6 Potential Bets for Indianapolis Event
Credit:
Photo by Jaime Crawford/Getty Images. Pictured: Jordan Bohannon (Iowa)
This tournament is wide open.
Anyone from Illinois to Indiana could get hot and win this thing. Hell, Nebraska just ended its season with wins over Penn State, Ohio State and Wisconsin.
Illinois earned the top seed after a wild final week of games. Meanwhile, Rutgers alumni will be telling stories to their grandchildren about the "double-bye Scarlet Knights." This is the highest seed Rutgers has earned since joining the conference in 2015.
The Big Ten is usually a grind — a low-scoring league that relies on defensive-minded teams, which cash unders at a 55% rate.
But this season has been a different story, as the Big Ten features five teams that rank in the top-20 in adjusted offensive efficiency — more than any conference. Meanwhile, not a single team ranks in the top-20 in adjusted defensive efficiency.
So, between high-scoring games and a wide-open field, this might be the best conference tournament of the week.
Where's the value?
---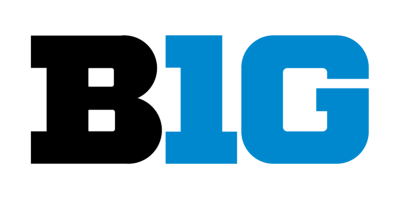 Big Ten Tournament Bracket & Schedule
---
2022 Big Ten Tournament Odds
---
First Four Play-In Games
Fellow Action Network analyst D.J. James has a full preview on the play-in games, so I'll leave the game-day analysis to him.
However, it is worth touching on Nebraska and Penn State.
These three wins to end the season may have just saved Fred Hoiberg's job.
Alonzo Verge Jr. and Bryce McGowens have been the leaders of the Cornhuskers all season. McGowens was the highest-usage freshman in the conference, averaging 17.2 points per game. He was inefficient, however, and it was likely the reason he lost Big Ten Freshman of the Year to Malaki Branham.
But after dropping 25 against Penn State and 26 against Ohio State, McGowens was named Big Ten Freshman of the Week for the second time to cap the season. He also won the AP award for Big Ten Newcomer of the Year.
Bryce McGowens was named the AP's Big Ten's Newcomer of the Year on Tuesday. He averaged 17.2 points and 5.3 rebounds per game on 40.8% shooting during his first season with the Huskers. https://t.co/Sarlvk6yxR

— HuskerExtra (@huskerextra) March 8, 2022
It's worth noting that McGowens is questionable to play on Wednesday. But Hoiberg said in an interview Tuesday morning he was a full participant in practice.
Verge is a machine. Like McGowens, he wasn't the most efficient scorer, but he has a lightning-quick first step and a knack for playmaking. Verge led the league in assists (160) and assists per game (5.5) this season, ranking third nationally in assist rate (42.2%).
Verge dropped 22 assists during Nebraska's final three-game winning streak, as well as 26 points in the win over Wisconsin.
The crazy thing is, all three of these big-time wins were significant ShotQuality losses.

I don't know what to make of that.
I do expect McGowens and Verge to attack Northwestern. Every possession will be in their hands.
---
I love this Penn State team.
No, I adore this Penn State team. Micah Shrewsberry has created a team that is more than the sum of its parts. With a slow tempo, superb ball movement and a strong interior defense, Penn State sticks around in almost every game, and puts its opponents on upset watch.
Major upsets include victories over Indiana, Rutgers, Iowa and Michigan State. Plus, the Nittany Lions finished the regular season going 11-6 ATS as an underdog.
Four players average double digits in scoring. My favorite guy to single out is John Harrar, who is one of the best rebounding bigs in the country. He pulls down over 10 per game and ranks in the top 15 in both offensive and defensive rebounding percentages.
Harrar sets the tone on the interior.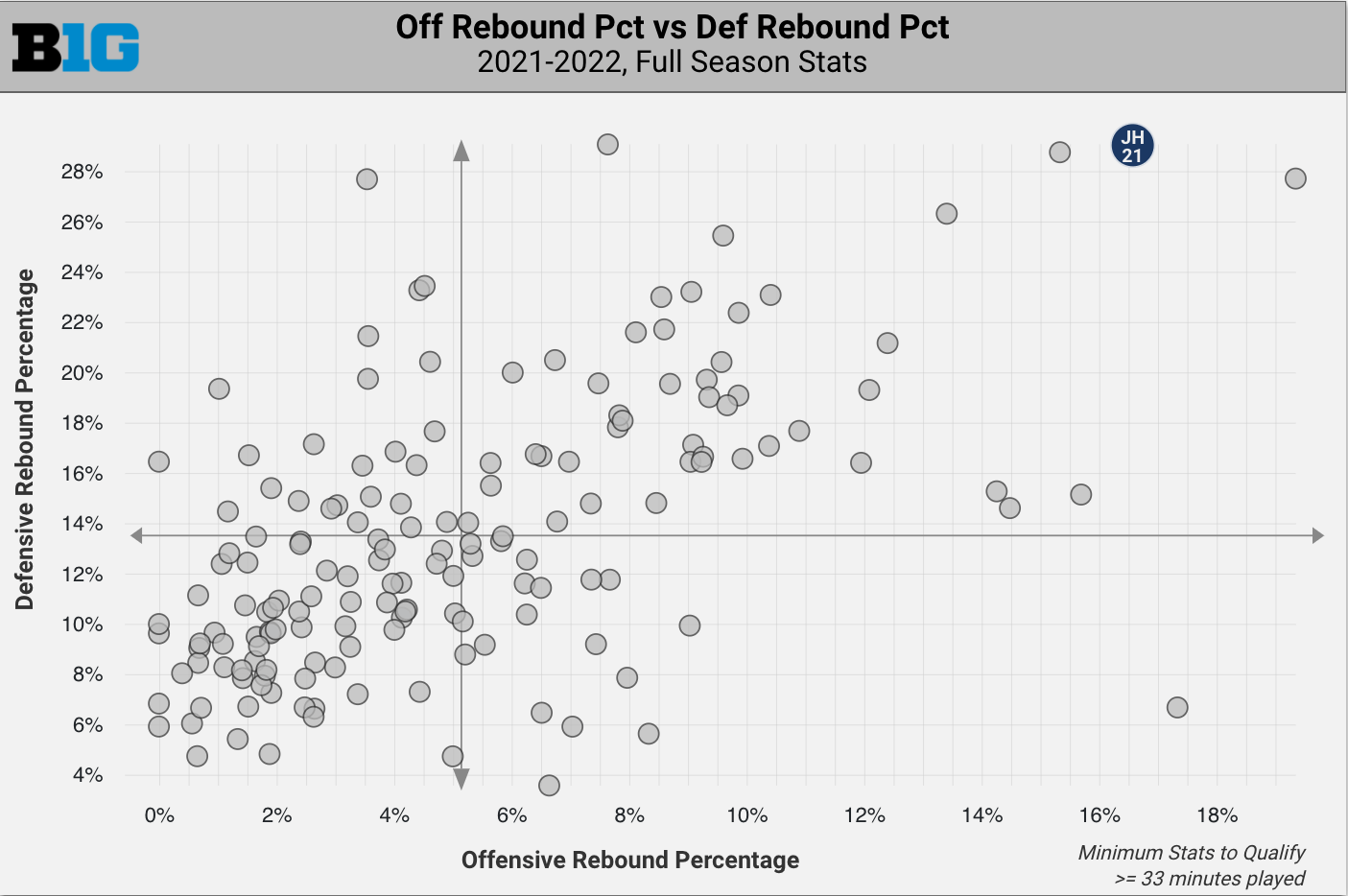 I'm not backing Penn State at -3.5 against Minnesota, both because I don't bet PSU as a favorite and KenPom makes the neutral-court spread just one.
However, I love PSU ATS as an underdog against anyone in this tournament. That includes Ohio State in R2 and Purdue in the quarterfinals — and anyone else if the Lions get that far.
Picks: Penn State ATS vs. Ohio State (in potential R2 matchup) | Penn State ATS vs. Purdue (in potential QF matchup)
---
Second Round: Indiana vs. Michigan
---
This is the most fascinating game of the tournament to me.
Both teams underperformed preseason expectations — although Michigan severely underperformed them — and both ended up on the bubble. This game could have at-large tournament implications.
Moreover, it's a battle of strength on strength. Michigan's offense has been good all season, finishing fourth in the conference in offensive efficiency and first in 2-point percentage.
Hunter Dickinson has been unbelievable in the second half of the season.
But Dickinson's Wolverines are running right into Trayce Jackson-Davis' Hoosiers.
And the Hoosiers have become the best defensive team in the conference. The Indiana frontcourt has been immense, leading the Big Ten in block rate (13.3%) and anchoring a defense that's second in the Big Ten in eFG% allowed (48.2%).
Meanwhile, the Michigan defense has been horrific this season. And the Indiana offense has been similarly bad, specifically behind some of the worst guard play I've seen. We know bad guard play doesn't play well in March.
The matchups are also interesting, as both teams are going to post-up a ton, and both are going to attempt to finish in the paint.
In that regard, the Hoosiers have a clear advantage with their frontcourt.
Via ShotQuality:
Michigan posting-up: .89 SQ PPP, 63rd nationally. 14% frequency, 13th nationally
Michigan defending post-up: .90 SQ PPP allowed, 308th nationally. 9% frequency, 72nd nationally
Indiana posting-up: .92 SQ PPP, 44th nationally. 14% frequency, 11th nationally
Indiana defending post-up: .76 SQ PPP allowed, 85th nationally. 9% frequency, 102nd nationally
Indiana also needs this game way more, as it is in the "First Four Out" in most major bracketology projections.
Michigan might be safely in even with a loss here.
But DeVante' Jones has shown he can carry his Wolverines offensively, putting up 21 on Ohio State's similarly lackadaisical backcourt defense without Dickinson in the regular-season finale. Michigan has also won and covered in five straight games against Indiana.
I have no clue how to bet this game. If you must, I'd probably go under, as it's a morning game and Michigan's defense has been trending up.
But either way, I would watch this game closely.
---
Second Round: Maryland vs. Michigan State
---
It's been a rough ride for Tom Izzo's squad this season. Michigan State showed flashes of brilliance, but ultimately couldn't put it together.
Despite having two of the best floor generals in the conference in AJ Hoggard and Tyson Walker, the Spartans had the worst turnover rate in the league.
But Sparty is getting a Terps team whose perimeter defense is worse than lackadaisical. Maryland's guard tandem of Fatts Russell and Eric Ayala can be excellent offensively — and came up big with 50 points in a win over Ohio State — but they haven't been effective on the other end.
The bigger key for Sparty will be Marcus Bingham Jr. neutralizing Qudus Wahab. Bingham finished top-10 nationally in block rate and anchored a defense that was top-50 in defending finishes at the rim. However, he was really bad defending post-up situations.
In the end, this is a battle between two mediocre teams. But Izzo isn't going out in March without a fight, and I don't trust Danny Manning as far as I can throw him.
I'll take the Spartans to win their third straight game over the Terps on Thursday.
Pick: Michigan State ATS vs. Maryland in R2
---
With Eddie Jordan at the helm, Rutgers finished 3-33 in its first two seasons in the Big Ten. Steve Pikiell took over and has put together one of the best rebuilds in college basketball.
No joke.
This rebuild trails only Scott Drew's at Baylor. Rutgers hadn't made the tournament since 1991, and it would've done it in back-to-back years under Pikiell if the 2020 tournament wasn't canceled. The Scarlet Knights even won a tournament game last season, beating 7-seed Clemson in the first round.
Rutgers has played spoiler plenty this season. Behind heroics from Ron Harper Jr. and a stifling defense, Rutgers upset Purdue in December, Michigan and Iowa in January and Indiana in March.
Moreover, Rutgers became the first unranked team ever to beat four ranked teams in a row. Rutgers downed Michigan State, Ohio State, Wisconsin and Illinois in mid-February. Only one win came by less than eight points.
But here's the issue: Rutgers is a buzzsaw at home and a butter knife on the road. It lost road games to DePaul and UMass in non-conference season. It then went 4-7 SU on the road in conference play, with one of those wins being a two-point squeaker over Nebraska.
The Cornhuskers were 0-10 in conference play entering that game.
If things go as planned, Rutgers will get the red-hot Iowa Hawkeyes on a neutral court in R2.
---
That brings me to my next point: Iowa is my favorite future in this tournament. You can still snag Iowa at +390 on FanDuel at the time of this writing.
Iowa ended the season winning eight of its final nine games before getting an ultra-motivated Illinois team in Champaign in the regular-season finale.
The Illini had just learned they could win the Big Ten regular-season title after Wisconsin dropped an unlikely game to Nebraska. How do you lose that game?
So, the road to the Big Ten Championship for Iowa includes:
Beating either Nebraska or Minnesota in R2
Beating Rutgers on a neutral court in the quarterfinals
Beating Illinois on a neutral court in the semis in a massive revenge-game spot
I love that.
Moreover, Iowa is still underrated in the Big Ten hierarchy. Most fans look at Iowa like a poor man's Purdue — i.e., a great offense with a very suspect defense.
But that's not the case. Iowa's offense is as electric and up-tempo as the Boilermakers and features just as many elite shot-makers. Plus, the unit is led by Keegan Murray, who led the league in scoring (23.3 PPG) and was second in ORtg (129.9). It's nice to have a stud like that in big moments like this.
Moreover, Iowa's defense sneakily improved throughout the season. It's been significantly better than Purdue's.
Need proof? Just look at the final regular-season efficiency numbers:
Final Big Ten efficiency margin numbers. Feels like it is going to be a fun weekend in Indianapolis based on some of the wackiness. pic.twitter.com/ZTQ1bDEeqd

— Dylan Burkhardt (@umhoops) March 7, 2022
Iowa has an argument as the best team in the league. If not, the Hawkeyes are at least the hottest.
Pick: Iowa to win Big Ten Tournament (+390 at FanDuel)
---
What to Make of Top-Three Seeds?
The top three seeds are Illinois, Wisconsin and Purdue.
With that said, we're fading Purdue.
Purdue's offense is so good. But the defense cannot guard a ball-screen to save its life. You can just attack Purdue in that set over-and-over and Matt Painter has no answers.
Against Ohio State, Big Ten Freshman of the Year Branham — who averaged 20 points per game in the final five games — and E.J. Liddell will eat Purdue alive in that set. Then, Wisco's Brad Davison and Johnny Davis will do something similar, as the two did in both games vs. Purdue this season.
Granted, Purdue will get Wisconsin in a revenge spot if it gets past Ohio State. But all-in-all, there are too many challenges for the Boilermakers to make +220 anything close to a good bet. You must stop ball-screens!
Given my disbelief in this Boilermaker team, I'd be willing to buy small futures in Wisconsin (+800) and Ohio State (+1100) on the bottom of the bracket. If Purdue goes down, we'd get a good hedging opportunity in the final.
Plus, Chris Holtmann and Ohio State ran to the championship game last year. Why can't they do it again?
If you're going to take a chunk out of the top-three seeds, I'd probably look at Illinois. Behind Trent Frazier and Alfonso Plummer, the Illini's perimeter defense is hard to crack. Plus, the two are deadly shooters and create plenty of space for Kofi Cockburn to dominate down low.
But my belief in Iowa means I'll be avoiding that bet.
Picks: SMALL Wisconsin to Win Big Ten Championship (+800) | SMALL Ohio State to Win Big Ten Championship (+1100)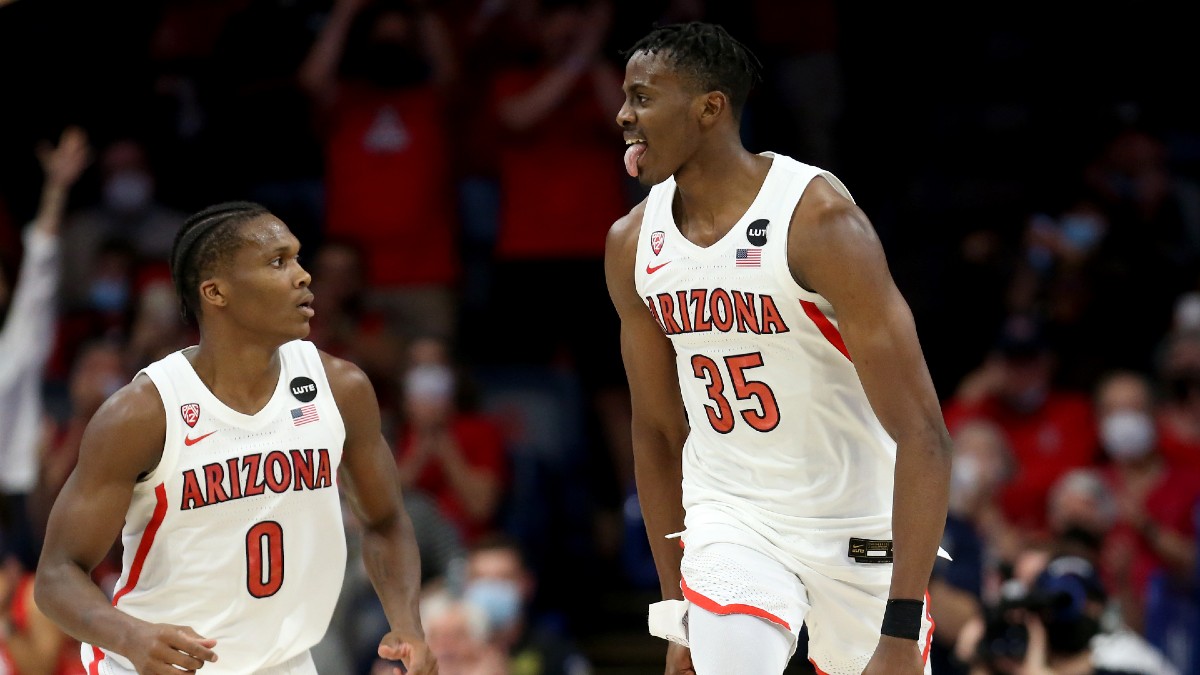 Pac-12 Tournament Betting Preview & Bracket
How would you rate this article?
This site contains commercial content. We may be compensated for the links provided on this page. The content on this page is for informational purposes only. Action Network makes no representation or warranty as to the accuracy of the information given or the outcome of any game or event.