An $11K Salary and Daily Bojangles Trips: How Chris Beard's Wild ABA Season Prepped Him for Final Four
Credit:
Richard Mackson-USA TODAY Sports. Pictured: Chris Beard
Just eight years ago, Texas Tech head coach Chris Beard was in the ABA coaching the South Carolina Warriors.
He made so little (just $11,000 for the season) and helped his players out so much ($10 for every charge taken!) that those close to the team estimate he lost $6,000 that year.
"Coach, we only have four."
"You got four players — total."
"Yeah."
"Hey, D-Long. Call up Nell Holmes."
It's Dec. 11, 2011 and Chris Beard has just told David Long, the assistant coach of the South Carolina Warriors, to call a player who didn't make the team so that he could be the fifth player on the Fayetteville Flight, the team the Warriors are supposed to play.
"Hey Nell," Long says to the voice on the other line. "Can you come to the Myrtle Beach Convention Center?"
When Holmes arrives, he puts on a Fayetteville Flight uniform and plays the whole game. The Warriors get the win.
Such was the life for Chris Beard less than eight years ago. Look at the history of coaches and their rise through the ranks and you won't find any story as great as Beard's. His journey to this year's Final Four with Texas Tech is nothing short of amazing, with stints that included Arkansas-Little Rock, Angelo State, McMurry, and, yes, the South Carolina Warriors, a Myrtle Beach-based team in the ABA, all since 2011.
Dispatched from Lubbock after 10 years as an assistant at Texas Tech, Chris Beard needed to continue to coach. So he took the job, at $300 a game, to coach the Warriors and a roster full of a bunch of hangers on, who at best, had a chance to be a bit player in Europe.
The stories from that season are so outrageous that they're frankly hard to believe. The team began playing that season in the Myrtle Beach Convention Center, but after two games the owners couldn't afford the lease, so they moved to a local rec center, which immediately turned the team into a glorified YMCA group.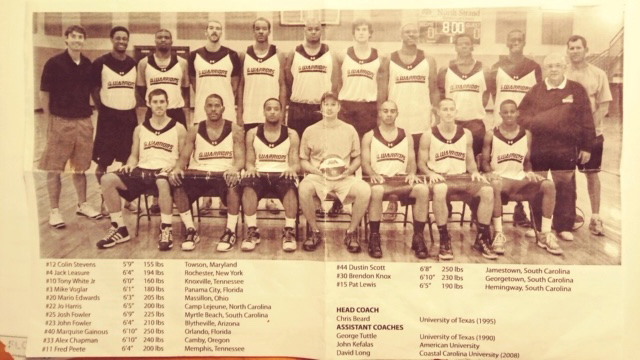 "Our cheerleaders were, well let's just say they weren't in their prime," said Colin Stevens, one of Beard's players. "My wife was concerned."
"One time right before a win, Beard says to us, 'Let's get this one, then you can kiss a 40-year-old cheerleader and get your Bojangles.'"
Neither was a joke. With guys making $50 to $200 a game, getting a food deal was key.
Assistant coach David Long sold a sponsorship to a local Bojangles and in return got the players' names on the 50% off list at three local restaurants.
"We were there almost every day," Long said.
Beard, who later would go on to espouse his love for Whataburger, would try to convince the team to eat the Chicken Rice Bowls. With the team discount, it was less than $2.50 each. Beard put six packets of hot sauce on it, something Long remembers eight years later.
"Bojangles lost money on that deal for sure because guys would eat there several times a day because it was better than ramen noodles," said Corey Haffner, who was part of the ownership group.
Most of the players were from Coastal Carolina, including Stevens, who Beard wooed out of his $45,000 job as a local banker to play again.
Beard had no idea that Stevens would only get paid for games he played in, which became an issue after he got hurt in training camp. Stevens, with a wife and baby daughter, wound up earning around $1,000 total.
"I went from having $11,000 in the bank and no credit card debt to nothing in the bank and $11,000 in debt," Stevens recalls.
And there was no chance his knee was going to get better. The team didn't have a doctor, nor could it afford to reimburse players. And travel made injuries worse. Players drove themselves to games all over South Carolina, North Carolina and Tennessee.
Beard's players all remember his generosity — how he would do anything for his players. His total salary for the season with the South Carolina Warriors was $11,000 (Beard will make $3.3 million from Texas Tech this season, including bonuses), but his players say he gave them so much of his money that they estimated he was down $6,000 by season's end.
Some of that came from when players took a charge — Beard would give them $10.
"They were all so strapped for cash that they couldn't wait to get one on the board," Haffner said.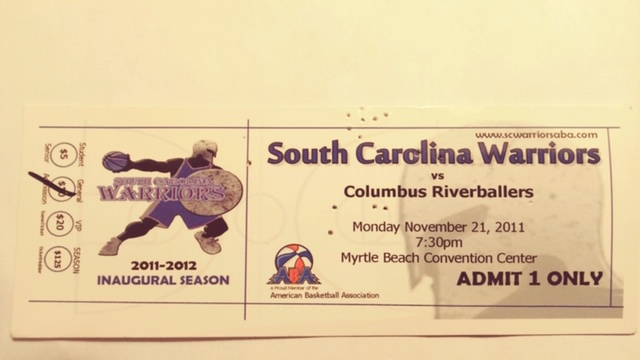 Beard's players also recall the intensity and quality of his coaching, even as fewer than 100 people watched in the stands.
"The practices were amazing, the games were not competitive as in most of them were over in the first quarter," said Jack Leasure, who played on the team. "But he would try to keep us firing during the game. We would be up like 100-56 and he would say, 'We're not letting them score 60,'" Leasure said.
As the other teams would typically play unorganized basketball, Beard's team would be running intricate plays. One game, the South Carolina Warriors won 188-100.
Beard constantly needed new players because he promised them he would make them better and then get them out of there to teams in Europe and South America. He did.
"When we were down to eight players, he threw me into practice," said Long, who was technically an assistant coach. "After that one practice, he said, 'Yeah, you're gonna need to suit up."
Beard, not surprisingly, led his team to an undefeated regular season, the only two losses coming in a three-game championship series with a team in Jacksonville.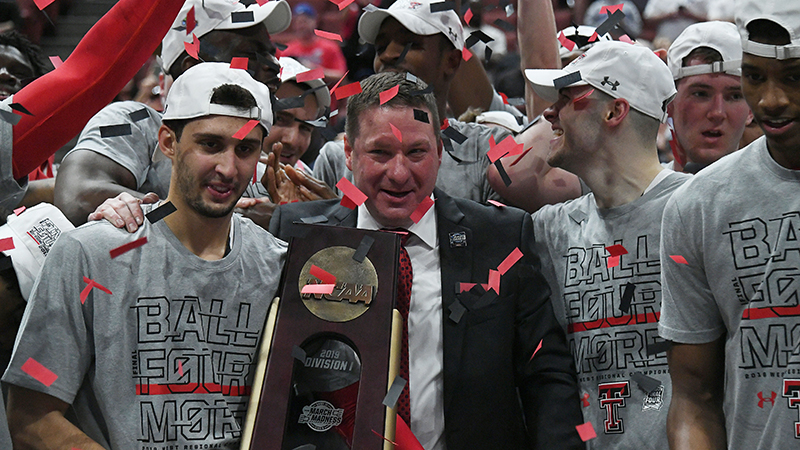 After an ownership change, Beard left the Warriors with his career back on track and headed back to Texas to coach McMurry, a small Christian school in Abilene, Texas, that was transitioning from Division III to Division II.
Today, Beard's team will play in front of nearly 70,000 people. A far cry from the 40 or 50 people in the crowd watching his team play at the Carolina Forest Recreation Center in Myrtle Beach less than eight years ago. But there's a lot that remains the same. It's the same Chris Beard. The same coach. The same guy who loves his players and who wants to have the best game no matter who is watching.
How would you rate this article?