College Basketball Betting Report on Mountain West: Conference Tiers, Futures & More
Credit:
Photo by Mitchell Layton/Getty Images
State of the 2021 Mountain West Conference
Outside of Wyoming's final game in the Diamond Head Classic in Hawaii, non-conference play is complete for all of the teams in the Mountain West.
The hopes of the league getting more than one at-large bid to the NCAA Tournament appear to be in trouble following an up-and-down non-conference run for some of its upper-echelon teams.
Nevada came into the season with plenty of hype but started 1-4. Utah State and Boise State both had terrible losses at home to hurt their resumes and take away from quality wins. San Diego State doesn't appear to be quite as elite as years past, when it was frequently inside the top 25 and would have been a top-two seed in 2020 had there been an NCAA Tournament.
The result is likely a two-bid Mountain West, barring some chaos in the conference tournament in March.
With conference play starting, let's take stock of each team's place in the league now that we have a solid sample size of games to examine.
Author's Note: Odds to win the conference are via DraftKings
---
---
The Favorites
Colorado State began the season at +400 to win the Mountain West and is now the betting favorite after surpassing San Diego State.
The Rams were a popular sleeper for many of the college basketball pundits, and they've exceeded even my own lofty expectations through 10 games.
CSU is one of six remaining unbeaten teams in the country and missed out on a high-profile game with Alabama because of a COVID-19 issue within the Rams' program.
Under head coach Niko Medved, the Rams shoot the 3 as well as any team in the country. They've probably got some regression coming from deep given that it's very rare for a college basketball team to shoot above 41% from 3. The Rams have made 43.8% of their 3s this season.
The Rams have seven players making at least 35% from deep and four guys above 42%.
They've already notched wins against Mississippi State (neutral), Saint Mary's and Creighton (neutral) in the non-conference and have some wiggle room with the NCAA Tournament committee because of those wins.
They don't need to win the conference to make the NCAA Tournament for the first time since 2013.
Bottom line: The biggest questions are the Rams' lacking size (276th in height) and interior defense, which some ShotQuality metrics suggest is far from great.
But if the Rams keep shooting and scoring at an elite rate, they'll win this conference and be a team no one wants to play in March.
Medved is an excellent coach, star scorer David Roddy is a matchup nightmare and the Rams have a lot of versatility, depth and returning minutes.
---
The Aztecs challenged themselves in the non-conference with four games against KenPom top-40 opponents on a neutral court or in a true road environment.
The results were mixed: a 10-point win against Saint Mary's was impressive, but the Aztecs lost at Michigan by 14, to USC on a neutral by 14 and at BYU by six.
SDSU retains its elite defense under head coach Brian Dutcher despite the turnover within the program. However, the scoring and offense just hasn't consistently been there.
Jordan Schakel and Terrell Gomez are gone from this offense, and both were among the best shooters in the country last year, making 46% and 39% from deep, respectively. Also, Matt Mitchell is no longer there as the primary shot-getter and scorer.
Cal transfer Matt Bradley is the primary scorer for the Aztecs this year, but he hasn't been consistent or efficient in the non-conference. He scored just eight points against BYU and three vs. USC.
He'll need to be a lot more efficient as a scorer or else SDSU is going to be a very vulnerable road favorite in conference play.
Bottom line: Dutcher had a great two-year run of offense when he had great individual scorers and shooters, but they're pretty much all gone now. The mediocre offense — from years prior to 2019 — appears to be back.
It limits the Aztecs' ceiling quite a bit, even if the defense remains elite.
Due to the offense, there's very little value to bet on the Aztecs' upside in this conference. They are probably still the most overrated team in the league.
---
The Second Tier
The Aggies are in the post-Craig Smith era and in year one under new coach Ryan Odom. The overall results and body of work in the non-conference have been positive relative to expectations.
Odom lost his first game at home to UC Davis, and that loss is likely to kill any shot of the Aggies making the NCAA Tournament as an at-large. Wins against Oklahoma and Davidson have been impressive, though, and the Aggies played Saint Mary's close, too.
It was always going to be a transition year for USU and losing Neemias Queta in the middle and Marco Anthony on the wing made that even more difficult.
But Odom — an analytically driven coach who loves spacing the floor and shooting and famously upset Virginia with UMBC in 2018 — has gotten results and improved the Aggies from beyond the arc.
Utah State has the 49th-highest rim and 3 rate in the country, per ShotQuality, but also has some 3-point shooting regression coming.
Star man Justin Bean is one of the best all-around players in the conference, but he won't keeping shooting over 50% from 3. UMBC transfer Brandon Horvath won't keep making 45% or more from deep, either.
Bottom Line: The improvements on offense make them a dangerous underdog in this league. Odom is making strides, but the defense is still quite average and the 3-point regression coming means they're probably not ready to compete for a conference title this year.
If you're looking for a long-shot underdog, there's better options lower down the odds list.
---
Unfortunately for Boise State and Leon Rice, the season didn't begin in December. The Broncos really struggled early and probably killed their resume and a shot at an at-large bid with losses to UC Irvine (KenPom: 110), Saint Louis (KP: 82) and Cal St. Bakersfield (KP: 230) in November.
Since the calendar flipped to December, Boise beat Santa Clara and Washington State, two teams in the top-100 nationally.
The Broncos have an excellent interior defense, in part because they've got a ton of length. Boise ranks 19th in 2-point defense and rebounds the ball really well with the 16th-tallest team in Division I.
Boise was a popular underdog pick last year as a sleeper mid-major, but the offensive issues in the halfcourt have persisted this season, too.
Boise starts four seniors and is one of the most experienced teams in the country, yet it can't really shoot the ball at all, struggles at the line (a problem in close games) and turns it over a lot in the halfcourt.
Freshman Tyson Degenhart is a really fun newcomer to watch, and he's been lighting it up from deep.
Bottom Line: The very experienced Broncos could put it together offensively and go on a run to win this league.
The defense appears elite nationally and ranks 14th in ShotQuality, 19th in KenPom and ninth in Bart Torvik.
The offense may have some positive 3-point shooting regression coming too, but they also drew the short end of the stick with only four games against the clear bottom three in the conference.
That keeps me off of their future price.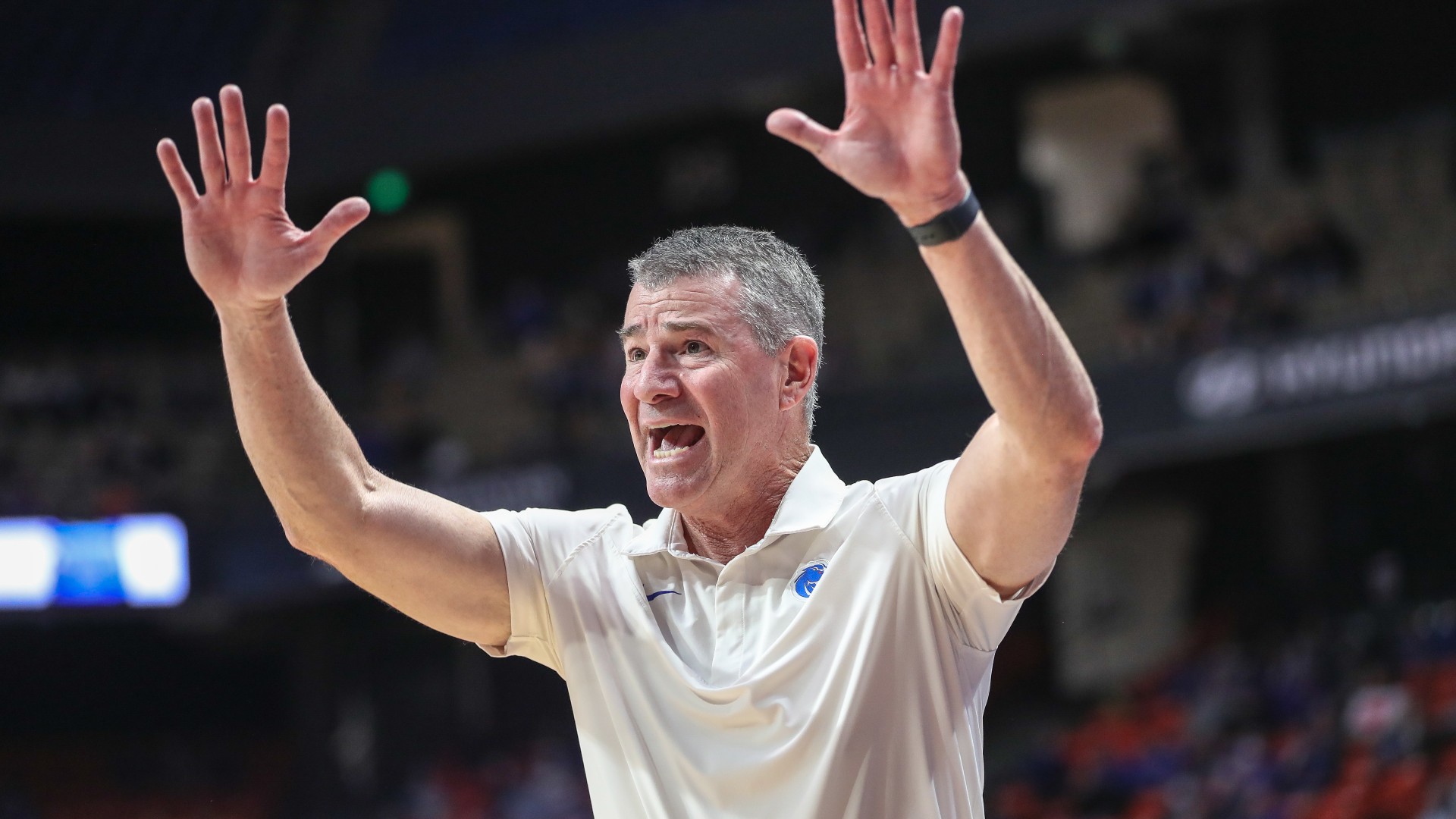 ---
Longshot Hopefuls 
Nevada has disappointed more than any other team in this league thus far. Losses to San Diego, Santa Clara, San Francisco and South Dakota State killed any chance the Wolf Pack had of an at-large bid. They have to win the league in the conference tournament
While the talent is undeniably there, there's been little to like of their performances.
Nevada has won five straight since that stretch of consecutive losses, but none of the wins are against top-100 opponents, and it has barely beat expectations in those games. You could make a case to excuse the slow start if the Wolf Pack had turned a corner in their performances, but they haven't.
The Wolf Pack don't take good shots or generate a ton of open looks on offense to really trust their top-50 offensive KenPom rating.
Bart Torvik rates them considerably lower on both sides of the ball, and I'm personally much closer to Torvik on this team.
Bottom Line: Grant Sherfield is a lot of fun as the Wolf Pack's best player, and he's worth tuning in for some of their bigger games. But this is a classic example of why minutes continuity doesn't mean everything in college hoops.
They don't look any better than last year despite a lot of returning pieces. The Wolf Pack are headed toward another middling year in the conference.
---
The Jeff Linder fan club is gaining more and more members in 2021 after the Cowboys' non-conference play. It's a small miracle that the Cowboys are 10-2 despite shaky shooting from 3. It's perhaps a bigger stunner that they've shot so poorly given the quality of looks they've had.
Wyoming ranks 31st in catch-and-shoot 3-point shot quality, meaning it is getting excellent looks from deep and just not making them. The Cowboys rank 239th in 3-point rate thus far this season, but were 78th last year and returned most of their shooters. You'd expect them to get better, not worse.
The Cowboys have a lot of length that could help them in the half-court defensively. They don't let teams run in transition and if they begin to make 3s, they will be a dangerous dark horse in this conference.
Bottom Line: The Wyoming offense has been even better than anticipated based on underlying metrics and shot quality. If the Cowboys start making more 3s — as they should — this team could take advantage of a soft schedule and win a relatively wide open conference as a big underdog.
Wyoming gets six games against New Mexico, Air Force and San Jose State to pad its record. The Cowboys only play Colorado State once, at home. Wyoming +1500 is worth a bet.
---
The Mountain West is mostly a conference of slow-paced snails and Fresno State is the epitome of that. The Bulldogs rank 344th in pace, slowest in the MWC.
They return almost all of their minutes from last season, and that makes them a potentially intriguing underdog in the middle of the conference.
The Bulldogs did manage to avoid any bad losses in the non-conference, with three defeats at the hands of Cal, San Francisco and Utah. But the Bulldogs also don't have a significant win they can point to and prove their upside potential.
Fresno did beat Santa Clara 59-52 on a neutral — an excellent defensive performance — but there's major questions about the Bulldogs' offense.
Bottom Line: They don't shoot the ball well from deep and while Fresno has improved at protecting the ball and scoring on the interior this year, it relies too heavily on getting to the line and doesn't offer enough shooting to challenge for a league title.
Like so many in this conference, road trips against Fresno's defense will be a tough test for the top of the league and a few are sure to slip up.
---
Five games against top-70 opponents and five defeats — with four of them by double digits. UNLV has had a difficult start to the season in the non-conference, and there's not a ton of positives or upside as the calendar turns to the new year.
The Rebels avoided bad losses and did smash an underrated San Diego team to close out non-conference play, though.
The Rebels' offense, in particular, is pretty uninspiring. It ranks 247th in ShotQuality and the only shooter who's done well from the perimeter has never shot above 30% in his career prior to this season.
If Texas transfer Donovan Williams regresses, there's not much left on the offense to like.
Bottom Line: UNLV's odds have it included in the longshot hopefuls. The Rebels are better than the three teams at the bottom of the conference, but it's hard to make a case for their upside here.
With no shooting and a pretty inefficient offense, the Rebels are in a rebuild.
---
Rebuilding
| | |
| --- | --- |
| Air Force Falcons | +10000 |
| New Mexico Lobos | +10000 |
| San Jose State Spartans | +20000 |
None of these three teams rank inside the top-200 in KenPom. Losses to these three teams will kill the resumes of the teams above them.
Ultimately, it could potentially decide the conference title.
---
Players to Watch
Roddy is one of three players in the league averaging 20+ points per game, but he's also adding 64.4% shooting from 2s and 46.7% from 3.
He adds 7.7 rebounds per game and at 6-foot-5, is a matchup nightmare for opposing defenses.
---
Bean is just a tick shy of averaging 20 points and 10 rebounds per game for Utah State.
He won't keep shooting over 50% from deep forever, but he's still one of the best all-around players in the conference and does it all for the Aggies.
---
In a forward-dominated conference, Sherfield is the best guard.
Nevada has underperformed thus far, but Sherfield is averaging 20 points per game, making 40% from 3 and is second in the MWC with 6.5 assists per game.
---
While Wyoming's shooting has vastly underperformed expectations, the Cowboys big man has dominated the interior.
Ike is averaging 19.4 points and 8.5 rebounds per game and has kept the Wyoming offense afloat while the shots aren't falling. If the shooting improves, the Cowboys will have a lethal inside-out attack with Ike drawing double teams and passing out of the block.
---
Boise has improved since Degenhart has been added to the rotation. He's scored double-digit points in seven straight games.
He's a true freshman and is shooting the lights out from deep. He just might be the difference maker for a Boise offense that desperately needs shooting and more consistent production to pair with its stellar defense.
If he keeps shooting near 40% from 3, Boise will be a dark horse in this conference.
How would you rate this article?
This site contains commercial content. We may be compensated for the links provided on this page. The content on this page is for informational purposes only. Action Network makes no representation or warranty as to the accuracy of the information given or the outcome of any game or event.