Stuckey's Favorite College Basketball National Title Futures: Don't Forget Auburn
Credit:
Orlando Ramirez-USA TODAY Sports. Pictured: Auburn guard Bryce Brown
Stuckey breaks down his favorite college basketball national title futures for 2018-19, including one longshot at 2000-1 odds.
Auburn's experienced backcourt and deep frontcourt make the Tigers' 45-1 title odds very enticing.
Believe it or not, college basketball betting starts on Tuesday. And for those who are wondering, there are 136 days until the NCAA Tournament — also known as adult Christmas.
Before I get into my preseason futures for 2018-19, our new college basketball contributor, Eli Hershkovich, recently wrote why he fancies Tennessee. And I couldn't agree more.
SEC basketball is legit this season and I think that will show come March. Count me in on the Vols, who are 35-1 to win the national title at the time of writing.
Some quick additional context: I generally prefer college hoops future bets that pay at least 30-1. I get that Duke, Kentucky and Kansas have rosters with the most potential, but I just don't see much value at their respective prices.
So, without further ado, let's try to find another winner like last season's 30-1 Villanova, starting with a team at that same price before digging into four others.
---
Syracuse Orange: 30-1
Unit size: 1
This is the team nobody will want to see come March.
I still don't know how Syracuse scored enough to win a few games in last year's tourney, but head coach Jim Boeheim just finds a way with his unique style in March. Syracuse's offense was absolutely horrendous last season, but the Orange had the perfect personnel to fit his 2-3 zone.
Well, they return all five starters — which is the first time since 2000 that Boeheim has that luxury — led by guards Frank Howard and Tyus Battle. Not only will their main rotation players be more mature and better on the offensive end, Syracuse will actually have some depth this season, which is something it severely lacked last season.
Even Boeheim's son, Buddy, will help in that department — especially with perimeter shooting, which 'Cuse could desperately use. While the long-term depth is not a major concern, the Orange could potentially be without starting point guard Frank Howard and their two backup PGs for their opener against Eastern Michigan.
Good luck to the top seeds that see the Orange in their section of the bracket in March, especially if there's a double-digit seed number next to Syracuse's name.
Auburn Tigers: 45-1
Unit size: 0.5
Despite losing two perimeter starters, the backcourt will remain elite with senior guards Jared Harper and Bryce Brown, especially with the addition of VCU transfer Samir Doughty.
Head coach Bruce Pearl can also complement his experienced backcourt with one of the deepest frontcourts in the country.
Don't forget that Auburn had national title aspirations last season before losing forward Anfernee McLemore to injury. Not only will McLemore, Horace Spencer and premiere shot-blocker Chuma Okeke return, Auburn will also get Danjel Purifoy and Austin Wiley back. The two potential NBA players had to sit out last season due to suspensions.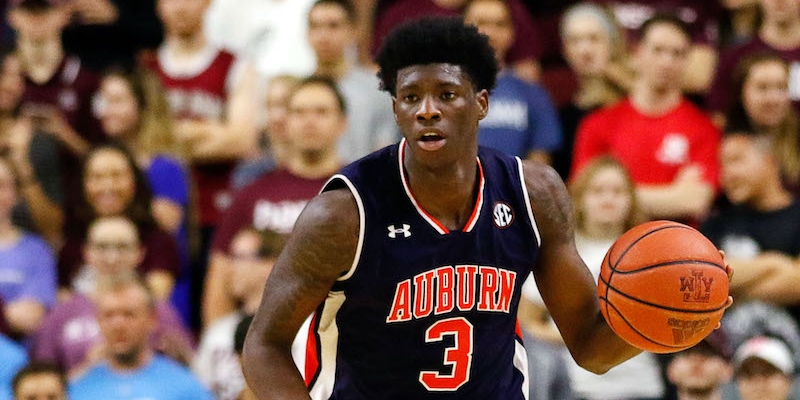 Auburn will control pace, force turnovers and boast one of the nation's best rim-protecting defenses. Add in the Tigers' proclivity for getting to the line (and their success when doing so), and you have a team that can make a Final Four run.
That said, don't panic if things don't go well early.
I have Auburn circled as a potential fade in November, starting with its opener against South Alabama (+20). Not only has conditioning been an issue in recent weeks, but Purifoy won't be available until the 10th game of the season, and both Doughty and Wiley won't play on Tuesday night.
As a result, I didn't invest a full unit on Auburn … yet. I will invest another half-unit at some point in the season, and hopefully at a better price.
Cincinnati Bearcats: 80-1
Unit size: 0.5
I think the departures of three key starters from last season offers value.
Jacob Evans obviously won't be easy to replace, but Cincinnati has some returning pieces in the backcourt, and the Bearcats' frontcourt has a chance to be even more dominant defensively at the rim than last season's elite squad.
Maybe I believe a little too much in Jarron Cumberland, but I loved what I saw from him at the end of 2017-18. I also think junior college All-American transfer Rashawn Fredericks will have an enormous impact. Cincy will likely press more and play faster, per head coach Mick Cronin, which will make guard Cane Broome even more effective.
Call me crazy for backing Cronin, who has had enormous tournament struggles in the past, especially after losing three special players. But this price is simply too high in a very down season for the AAC. There are some pieces here.
St. John's Red Storm: 125-1
Unit size: 0.25
Ponds are wet.
I'm a sucker for bucket-getter Shamorie Ponds, and even got called out by a long-time follower who knew I'd have to sprinkle something on the Johnnies.
Just go ahead and tweet that half unit nibble on the Johnnies at 100/1 🤣

— Brian Leibforth (@bleibforth) November 5, 2018
Head coach Chris Mullin will also benefit from the hardship waiver that the NCAA granted guard Mustapha Heron. Auburn's leading scorer from 2017-18 can play this season and will give St. John's one of the nation's most dynamic backcourts.
Just give me Gus Johnson calling Ponds in the tournament. It's all I want for Christmas.
Georgia State Panthers: 2000-1
Unit size: 0.25
Little Fun Belt dart.
Another star guard who I love is Georgia State junior D'Marcus Simonds, who will lead an extremely experienced Panthers team that should win the Sun Belt.
GSU returns four starters including Simonds, the reigning SBC Player of the Year, and three seniors. The team should also greatly benefit from a trip to Spain over the summer.
When taking this type of longshot, there is no expectation that Georgia State will win it all. It's more about getting into the Big Dance with a star guard and an experienced team. From there, maybe a few things break the right way for the Panthers and they win a few games to provide a hedge opportunity
The Panthers, who have plenty of tournament experience from the past few seasons, play a unique and complex matchup zone that could give certain teams fits come March. If Malik Benlevi can make a smooth transition to the five spot and the team can improve its rebounding some, Georgia State will at least scare someone come March.
Stuckey's College Basketball National Title Futures
Full units: Syracuse 30-1; Tennessee 35-1
Half units:

 Auburn 45-1; Cincinnati 80-1

Quarter units:

St. John's 125-1; Georgia State 2000-1
How would you rate this article?