College Basketball Odds, Picks, Futures: 2022-23 ACC Betting Preview
Credit:
Photo by Lance King/Getty Images. Pictured: Armando Bacot (UNC)
Throughout most of the college basketball regular season last year, fans and pundits alike mocked the ACC for its consistent mediocrity.
North Carolina, Virginia, Syracuse, Florida State and Louisville all massively underperformed — both expectations at the beginning of the season and the traditional norms for their programs.
North Carolina then turned its season around in March and came within a few plays of the national title. Miami (FL) made a run to the Elite Eight, and Duke reached the Final Four in Mike Krzyzewski's final season. Only one conference had three Elite Eight teams: the ACC.
You should expect some of the programs — like Virginia and Florida State — to bounce back from disappointing seasons, but the ACC still isn't as deep as it was in years past.
Also, Syracuse, Louisville and others are struggling in the mid-tier of the league.
North Carolina is expected to be back at the top of the conference, this time from the start of the season. The Heels bring back almost everyone from the team that made the national title game.
Duke doesn't have Coach K anymore, but the Blue Devils boast another elite recruiting class.
---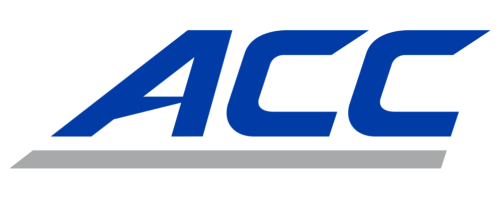 2022-23 ACC Regular Season Futures Odds
---
---
1. North Carolina Tar Heels
| | |
| --- | --- |
| KenPom Rating | 9 |
| Bart Torvik Rating | 4 |
| AP Rank | 1 |
The No. 1 spot in the AP rankings is a sign of the public perception and hype surrounding the Tar Heels, even if the underlying computer models don't quite like them as much.
Last year, UNC lacked defensive intensity at various points of the season that led to embarrassing losses to Kentucky and Tennessee in the non-conference and a loss to Pittsburgh in the league.
The Tar Heels finally bought it defensively down the stretch and took the steps forward required to beat Duke twice and Baylor, UCLA and Saint Peter's in the NCAA tournament.
So, which is the real UNC?
We're going to find out this season when the Tar Heels look to deliver on national title-or-bust expectations.
Nearly the entire lineup is back, including the backcourt of R.J. Davis and Caleb Love. The Tar Heels will start entirely upperclassmen when Leaky Black and transfer Pete Nance are in the frontcourt and Armando Bacot is at center.
UNC seriously lacked depth last season, and it hurt the Heels at times. With the incoming class of freshman competing to be the depth and Puff Johnson in the fold as the expected sixth man, Carolina will better be able to withstand the grind of a full season in the ACC.
Non-Conference Popcorn Game: Nov. 30 at Indiana in the ACC/Big Ten Challenge
Bottom Line: Carolina used the negative criticism surrounding it to fuel itself into the Final Four last year. No one knew what to expect in Hubert Davis' first year last season.
Now that they've shown what they can be, the Tar Heels will have to prove they can sustain that level.
Getting to the top often is easier than staying there. The pressure is on the Tar Heels to prove they can be consistent, but the market is likely to overvalue them after a huge March run.
---

2. Duke Blue Devils
| | |
| --- | --- |
| KenPom Rating | 15 |
| Bart Torvik Rating | 5 |
| AP Rank | 7 |
It's an entirely new team for the Blue Devils besides returning guard Jeremy Roach. Jon Scheyer has plenty of talent to work with in year one, but there should be some expected growing pains, thanks to a large freshmen class paired with a rookie head coach.
Five different players that averaged double-digit points per game will not return for Duke after Paolo Banchero, Wendell Moore Jr., AJ Griffin, Mark Williams and Trevor Keels departed.
The Blue Devils didn't just add freshmen, as Jacob Grandison transferred in from Illinois after he started 23 games for the Illini last season. He shot 41% from deep.
It's comforting for Scheyer that he'll have a true point guard to run the offense (Roach) and a true sharp shooter (Grandison) to rely on. That will help balance the inevitable ups and downs that come with such a young Blue Devils team.
The Blue Devils pulled in three of the five best players in the country, similar to the Zion Williamson-led 2019 Blue Devils. This group may not have the star power of RJ Barrett and Williamson, but Dereck Lively II, Dariq Whitehead and Kyle Filipowski will have the opportunity to play big minutes immediately.
Non-Conference Popcorn Game: Nov. 15 vs. Kansas at Champions Classic in Indianapolis, Indiana
Bottom Line: Coach K may be gone for Duke, but the talent on the roster is as good as ever for the Blue Devils. Scheyer will have a chance to implement his own style on these players immediately.
The schedule is quite difficult in the non-conference, but unlike Duke teams of the recent past that have struggled through conference play, this Blue Devils squad would ideally continue to grow throughout league play.
It's probably unreasonable to expect a deep tournament run in year one from Scheyer, but hey, Carolina just did that. It wouldn't be surprising if Duke won the conference either, given the potential inconsistencies down the road in Chapel Hill.
---
3. Virginia Cavaliers
| | |
| --- | --- |
| KenPom Rating | 5 |
| Bart Torvik Rating | 18 |
| AP Rank | 18 |
Virginia returns 87.8% of its minutes and for a coach as good as Tony Bennett, that usually means improvement and success across the board.
The Cavaliers were terrible in the first half of last season, but did play better down the stretch, including a win at Cameron Indoor.
No team in the ACC returns more production than the Cavaliers, and only two teams in the entire nation return more possessions used, per Bart Torvik.
Kihei Clark is a name you'll hear in college basketball this season and reply, "how is that guy still in college?" The veteran point guard has won a national title and developed his all-around point guard game since.
He's joined in the back court by elite defender and developing scorer Reece Beekman, who has hit some clutch shots for the Cavaliers, but has not consistently shot the ball well.
Virginia lost a ton of talent after the 2020-21 season, and Bennett went to the transfer portal to find some scoring. He landed on Jayden Gardner and Armaan Franklin, who both led the Cavaliers in scoring. It took both time to gel with the team, and that was the cause of the early-season offensive disaster.
Kadin Shedrick is back in the middle and should split minutes with Francisco Caffaro. It wasn't a vintage pack-line defense last year under Bennett, but another year in the system should help their efficiency numbers in terms of protecting the rim.
Bennett brought in another transfer — Ben Vander Plas from Ohio — to provide some much needed shooting help. The Cavaliers need to make more shots if they want to be a top-15 team nationally, and Vander Plas should help that a bit.
Non-Conference Popcorn Game: Nov. 18 vs. Baylor in Las Vegas, Nevada
Bottom Line: KenPom is definitely too high on Virginia, but the Cavaliers will be back in the NCAA tournament this season and in the upper tier of the ACC.
They'll be difficult to beat and well-coached as always, but they still lack the offensive explosiveness of the 2019 and 2021 teams to do real damage and win the conference.
Those Cavaliers teams played solid defense and could shoot from everywhere. This team will still be reliant on 2-pointers and will be prone to bad shooting nights that make them upset-prone.
Their ceiling is likely to be determined by the production of their incoming freshmen and how much the defense actually improves.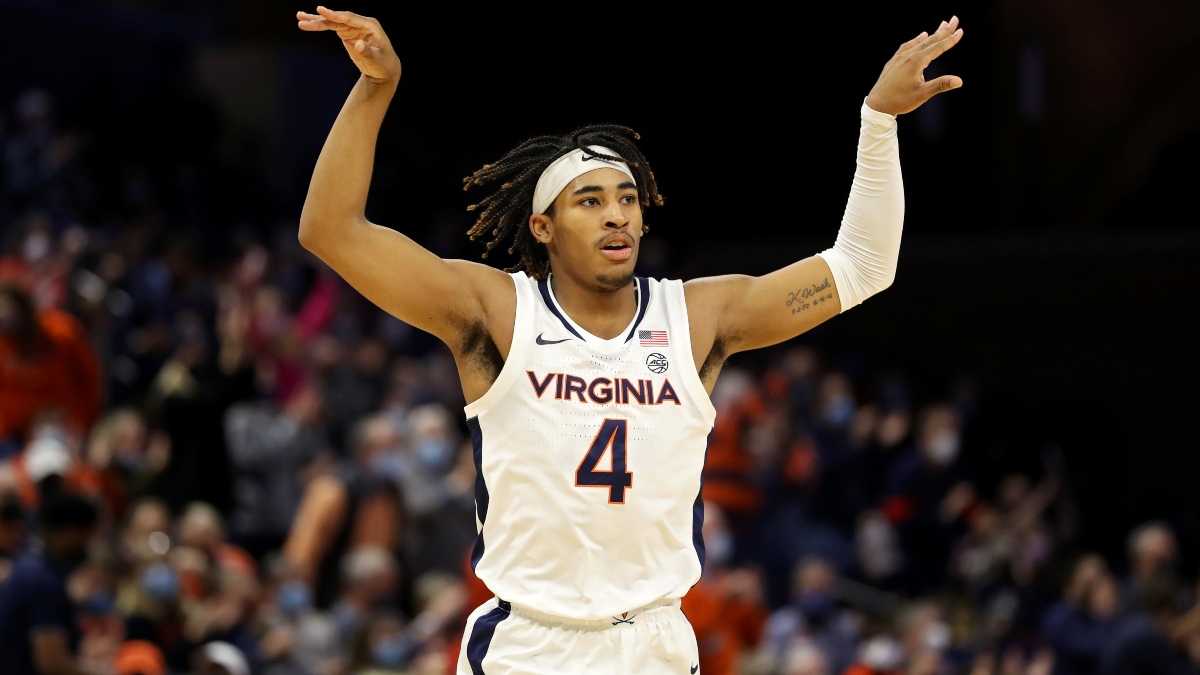 ---
4. Virginia Tech Hokies
| | |
| --- | --- |
| KenPom Rating | 21 |
| Bart Torvik Rating | 24 |
Virginia Tech was one of the unluckiest teams in the entire country last year and consistently underperformed the underlying metrics that suggested it was quietly an excellent team.
The Hokies will shoot as well as any squad in the country once again, and few coaches in college basketball are better at scheming shooters into open 3s than Mike Young.
The Hokies did lose some talent for sure — All-ACC second teamer Keve Aluma is gone, as is Storm Murphy and Nahiem Alleyne (UConn). But Virginia Tech returns three different 40% 3-point shooters to the backcourt in Sean Pedulla, Hunter Cattoor and Darius Maddox.
Cattoor had a historic performance to help the Hokies win the ACC Tournament. That came just days after Maddox hit a game-winning buzzer beating 3.
The Hokies will also have Justyn Mutts back in the frontcourt to help defensively and on the glass. He averaged 10 and seven last year and should produce more with more minutes this season.
Non-Conference Popcorn Game: Dec. 7 vs. Dayton
Bottom Line: Pedulla took a huge step forward at point guard toward the end of last season. The Hokies may not have as much depth as last year, but positive regression alone is enough to make them a fringe top-25 team.
There will be variance when you shoot as much as VT does, but the efficiency numbers look solid once again.
---
---
5. Florida State Seminoles
| | |
| --- | --- |
| KenPom Rating | 65 |
| Bart Torvik Rating | 72 |
It was a down year in Tallahassee for Leonard Hamilton and the Seminoles. Even for a team that had as much depth as they did, injuries and a lack of development and cohesion played a role in the Noles missing the NCAA tournament.
Florida State is poised to have growing pains yet again in 2022-23. Even with most of the rotation returning, a lot of the players are inexperienced.
The Seminoles could realistically start four underclassmen, along with Caleb Mills in the backcourt.
Florida State is known for its length and excellent defense, but it actually finished last season 106th in Defensive Efficiency. Given Hamilton's track record and the depth this year, a major bounce-back season on defense should be expected.
Hamilton also isn't just relying on his youth to win games this year. He added two transfers — — Darin Green (UCF) and Jaylan Gainey (Brown) — to fill out the bench.
Non-Conference Popcorn Game: Nov. 18 vs. Florida
Bottom Line: Florida State doesn't have the top-end NBA-level talent that jumps off the court when you watch it, but it should be healthier and is another excellent bounce-back candidate in the ACC this year.
The defense is a great buy-low and fewer injuries should enable Hamilton to keep running out his deep bench.
---

6. Miami (FL) Hurricanes
| | |
| --- | --- |
| KenPom Rating | 42 |
| Bart Torvik Rating | 23 |
Miami (FL) spent most of the 2020-21 season dealing with injury after injury and went into last year as a positive regression candidate.
Even the most optimistic fans and pundits didn't see the Hurricanes making it into the Elite Eight, though. The Hurricanes beat Duke in the regular season, crushed Auburn in the tournament and survived Iowa State.
Miami played like one of the most away-from-the-basket teams in the league, without a true big man and with a ton of slashing and scoring guards.
The Canes do lose a good amount of production with the departures of Kameron McGusty, Sam Waardenburg and Charlie Moore. That's about 40 points per game.
The Hurricanes will be undersized yet again in 2022-23, but that can help them create matchup mismatches against opponents that lack athleticism.
Miami will once again need to dominate the turnover battle to overcome its inevitable rebounding issues. Miami's defense was elite at turning over opponents last year, and it never turned it over itself.
The Hurricanes won't have a major contributor taller than 6-foot-9. That means their tallest starter could be just 6-foot-7.
Nijel Pack transfers in from Kansas State and joins the returning production of Isaiah Wong and Jordan Miller.
Non-Conference Popcorn Game: Nov. 19 vs. Providence at Mohegan Sun in Connecticut
Bottom Line: Miami's lacking size can get exploited by some teams and ultimately limits its ceiling and ability to live at the top of the ACC.
But no one is going to want to play the Canes because of how much they frustrate their opponents with an active defense and the ability to turn players over.
A finish in the upper-half of the ACC and another at-large bid to the NCAA tournament is likely.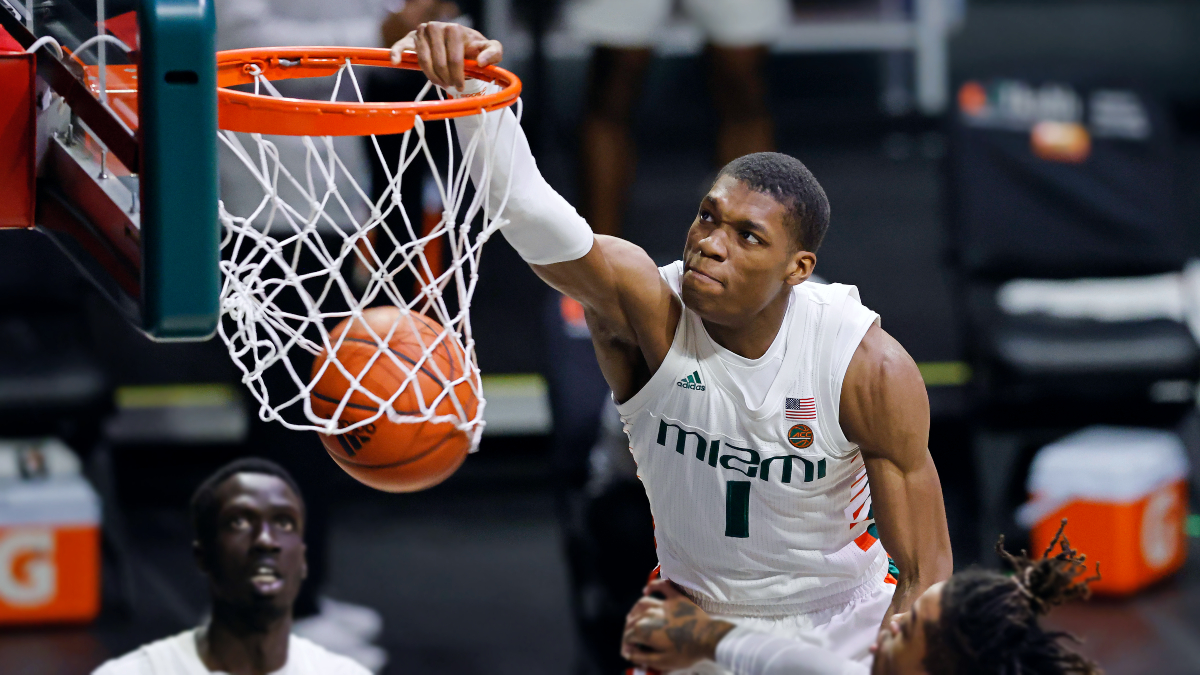 ---
7. Notre Dame Fighting Irish
| | |
| --- | --- |
| KenPom Rating | 43 |
| Bart Torvik Rating | 28 |
Between returning production and age, few teams in the country are more experienced than the Fighting Irish.
Freshman sensation Blake Wesley is gone to the NBA and point guard Prentiss Hubb is gone, too. But the Irish have a trio of super seniors — Cormac Ryan, Nate Laszewski and Dane Goodwin — returning to the starting lineup. They'll be able to shoot and score with any lineup in the country.
Mike Brey also brings in freshman stud guard JJ Starling from La Lumiere. There's a lot of expectations, and there's a necessity for him to produce early in his career.
If this Notre Dame offense is going to work, it will be because of Starling. Why? Well, the guard depth behind him is limited, as it's really just veteran Trey Wertz in the backcourt.
Non-Conference Popcorn Game: Nov. 30 vs. Michigan State
Bottom Line: The Fighting Irish will have limited athleticism on the defensive end and that will always hold them back a bit. But Notre Dame's offense is going to be elite at spacing, shooting and passing once again.
A trip to the NCAA tournament should once again be expected.
---
8. Wake Forest Demon Deacons
| | |
| --- | --- |
| KenPom Rating | 80 |
| Bart Torvik Rating | 84 |
Year one under Steve Forbes was a tremendous success, even though the Demon Deacons lost to Boston College in the ACC Tournament and failed to make the Big Dance.
Forbes took a group of almost entirely transfers and rejuvenated the program. The Deacs hadn't had a winning record in the league in 12 years until he led them to 25 overall wins.
Wake did lose ACC Player of the Year Alondes Williams and Jake LaRavia. Dallas Walton and Isaiah Mucius are gone too, but Forbes went back to the transfer well to find more talent.
Daivien Williamson and Damari Monsanto are back in the fold this year and Forbes added Tyree Appleby (Florida), Andrew Carr (Delaware), Jao Ituka (Marist) and Davion Bradford (Kansas State).
Monsanto missed a lot of last season recovering from injury, but showed huge flashes of potential when he was able to return in the second half of the year.
Non-Conference Popcorn Game: Nov. 29 at Wisconsin
Bottom Line: Forbes has an extensive record of success in junior college and at the mid-major level in college basketball. He's clearly very comfortable using the transfer portal and showed a real ability to develop and coach up talent to play above their recruiting rankings.
It's hard to see Wake Forest getting to the NCAA tournament, but it could be on the bubble yet again.
That's a testament to Forbes' quality as a coach and program builder.
---
---
9. Syracuse Orange
| | |
| --- | --- |
| KenPom Rating | 54 |
| Bart Torvik Rating | 79 |
Jim Boeheim enters his 46th year as head coach of Syracuse. His 45th was the first in his tenure that the Orange had a losing record.
It was a down year for Syracuse because it wasn't able to get any stops on the defensive end. The zone had a lot of holes, lacked athleticism and didn't produce the deflections and shot contests that had defined the better Syracuse teams of the last decade.
Both Boeheim kids are gone from the rotation, as is sharp shooter Cole Swider.
Joseph Girard III is back, though, and Jesse Edwards took a huge step forward at center last year. Girard won't be a point guard as much this year, as freshman Judah Mintz and returnee Symir Torrence should help the Orange's offense run more smoothly.
Girard has proven himself as a shooter and scorer, but hasn't been a great distributor. Boeheim doesn't normally like to rely on freshmen, but he has to this year with all of the youth coming in; he's likely to start two freshmen.
The most important player for Syracuse might be Benny Williams, a highly-touted recruit last year that failed to make an imprint.
Non-Conference Popcorn Game: Nov. 29 at Illinois
Bottom Line: The defense will be better, but the offense will take a step back after losing a lot of its scoring weapons. The Orange will once again be near the bubble, but are likely to end up short of the NCAA tournament for the second consecutive season.
There's a lot more questions than certainties with this Orange team.
---
10. NC State Wolfpack
| | |
| --- | --- |
| KenPom Rating | 81 |
| Bart Torvik Rating | 92 |
Like Florida State, NC State had a tough run with injuries last year; Manny Bates was out for the season before it really even began.
But head coach Kevin Keatts went at the transfer portal hard to try to get his program back on track. The Wolfpack could start as many as three transfers alongside Casey Morsell and Terquavion Smith.
NC State returns less than half of its minutes and production, and Keatts doesn't have the track record to prove he can succeed with plugging-and-playing all of these transfers.
The Wolfpack no longer have the 30 points per game they received from Jericole Hellems and Dereon Seabron, so even though Smith has the potential to be one of the best players in the league, the Wolfpack will need transfers to step up.
Jarkel Joiner (Ole Miss) is the most promising of those transfers, and he's the likely point guard. Jack Clark (La Salle) can shoot a bit, but jumping from the A-10 to the ACC is a big leap.
Non-Conference Popcorn Game: Nov. 23 vs. Kansas in Nassau, Bahamas
Bottom Line: NC State has been stuck in the lower-to-middle of the ACC for the past few seasons, and I don't see that changing much in 2022-23.
Smith will be fun to watch, but this program continues to seem stuck in the doldrums.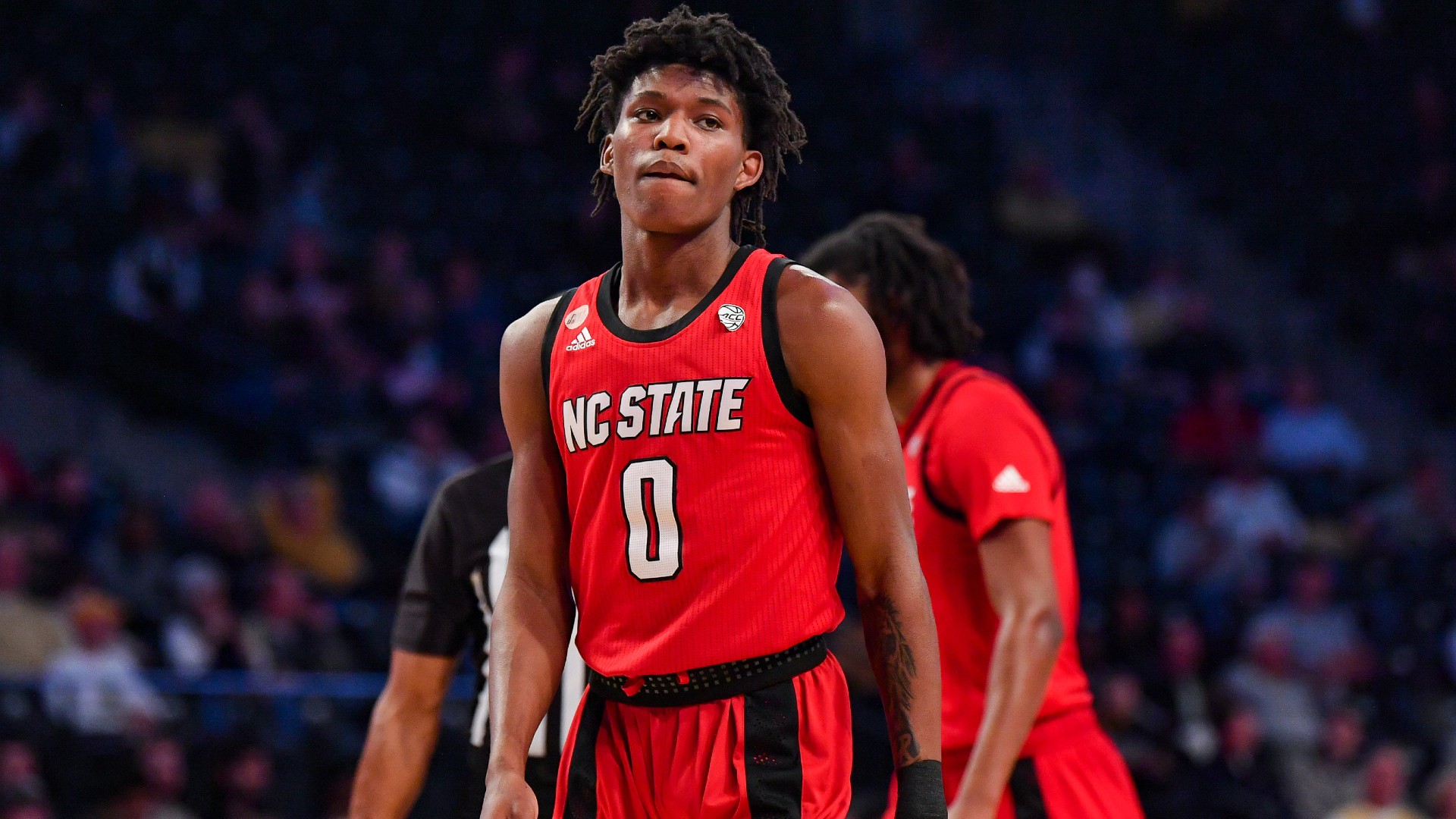 ---
11. Boston College Eagles
| | |
| --- | --- |
| KenPom Rating | 74 |
| Bart Torvik Rating | 77 |
The Eagles made some real improvements at the end of last season and return a lot of production this year — only Virginia and North Carolina return more minutes.
The question is how much improvement BC will really receive.
There's no go-to scorer or player you're expecting to take a huge leap. The Eagles are a balanced attack that don't rely too much on one player. That can be good for consistency, but it's hard to improve as a team unless everyone gets better and they gel as a unit.
Mason Madsen is an intriguing transfer from Cincinnati, and the team is plenty experienced now with four upperclassmen starting.
Non-Conference Popcorn Game: Nov. 18 vs. George Mason
Bottom Line: The Eagles scheduled a very easy non-conference schedule that includes zero opponents in the top 100 of KenPom. The Eagles could try to build some confidence and bolster their record in the non-conference.
The signs are pointing up for Earl Grant after a solid end to last year, but it still feels like BC is at least a year away from being in the middle tier of the ACC.
---
12. Clemson Tigers
| | |
| --- | --- |
| KenPom Rating | 60 |
| Bart Torvik Rating | 58 |
Four of Clemson's top seven scorers from last season are gone. Al-Amir Dawes, Naz Bohannon, Nick Honor and David Collins all departed from the program, so this feels like a true rebuilding year for the Tigers.
They're very inexperienced coming into the season. Plus, their most reliable player — PJ Hall — is battling an injury right now.
The Tigers don't look like a great jump-shooting team on paper, and the point guard play is also a big concern.
The Tigers lost their primary ball handlers and were a top-60 team at protecting the ball last year. If that drops off, the offense is going to have major problems consistently scoring.
Non-Conference Popcorn Game: Nov. 25 vs. Iowa in Niceville, Florida
Bottom Line: Brad Brownell's seat is at least somewhat warm entering this season, and his roster looks a bit devoid of talent. There's a big reliance on freshmen too, as he didn't hit the transfer portal hard to find immediate talent to bolster their tournament hopes.
If Hall isn't at his best, it's easy to see a bad season for the Tigers.
---
---
13. Louisville Cardinals
| | |
| --- | --- |
| KenPom Rating | 91 |
| Bart Torvik Rating | 101 |
It would be normal to expect a bounce back for this program after the disaster of the last couple seasons. But there's just not a lot of talent to look forward to here.
In the ACC, only Duke returns less production than Louisville.
Also, the Cards didn't make any notable impact transfers outside of Brandon Huntley-Hatfield. Malik Williams, Noah Locke and Dre Davis are all contributors that won't be back this year.
Kenny Payne is inheriting a mess, and he might turn it around, but that won't be in year one. Kamari Lands is an intriguing freshman to watch and El Ellis is back, but the Cardinals don't have anyone who averaged double digits last year.
Non-Conference Popcorn Game: Nov. 29 vs. Maryland
Bottom Line: This program needs a full rebuild from the ground up, and the Cardinals are not ready to compete in the ACC this year talent wise.
---
14. Georgia Tech Yellow Jackets
| | |
| --- | --- |
| KenPom Rating | 117 |
| Bart Torvik Rating | 99 |
Georgia Tech loses both Michael Devoe and Jordan Usher. With them, I would have been a huge buyer on the Yellow Jackets.
They blew leads in multiple games and struggled with turnovers in a major way last season.
But they're a bounce-back candidate because of that, in theory.
Then you look at the roster, and you don't see a ton of talent on it. Josh Pastner doesn't have an impact freshman coming in, and while this is an experienced team, this is not a group that looks ready to compete in the middle tier of the ACC.
Non-Conference Popcorn Game: Nov. 21 vs. Utah in Fort Myers, Florida
---

15. Pittsburgh Panthers
| | |
| --- | --- |
| KenPom Rating | 84 |
| Bart Torvik Rating | 124 |
If you're looking for a team that could go full Louisville and implode this year, it may be Pittsburgh.
The Panthers just lost Dior Johnson before the season even began after his arrest. John Hugley IV is a big time interior presence, but there's no shooting at all on this team and the guard play is a major question.
The Panthers lost three players who averaged more than nine points per game.
Jeff Capel III went hard to the transfer portal and brought in three potential starters, but there's no reason to expect the culture in Pittsburgh to be successful.
Outside of the Justin Champagnie run, this program has been a mess under Capel.
Non-Conference Popcorn Game: Nov. 11 vs. West Virginia
---
2022-23 ACC Futures & Picks
Duke and North Carolina are clearly inflated in the market, and given the youth of the Blue Devils and inconsistency of the Tar Heels, the ACC should once again be widely competitive at the top.
The two teams I'm eyeing up are Florida State at +2200 and Virginia at +750. The Seminoles are a good buy-low candidate, given all of the injuries and other issues they had last season. The gap between them and the the top four in this league isn't big at all.
Virginia is well built for the ACC regular season, and although the Cavaliers don't have a lot of top-end talent or shooting, Bennett is one of the most consistent coaches in the league. They won't be as anemic offensively and few teams in the country have more returning production.
How would you rate this article?
This site contains commercial content. We may be compensated for the links provided on this page. The content on this page is for informational purposes only. Action Network makes no representation or warranty as to the accuracy of the information given or the outcome of any game or event.