College Basketball Picks, Predictions: Calabrese & McGrath's Pick & Roll, Including Robert Morris vs. Milwaukee, NJIT vs. Vermont
Credit:
Photo by Mitchell Layton/Getty Images. Pictured: Dylan Penn (Vermont)
Another college basketball Saturday means another edition of the Pick & Roll from Mike Calabrese and Tanner McGrath.
Both writers came through with two best bets for Saturday's college hoops games, including picks for Robert Morris vs. Milwaukee and NJIT vs. Vermont.
Check out all four of their best bets for Saturday's college basketball slate below.
Saturday brings four more picks from your two-man pick-and-roll team at the Action Network, and boy, do Mike Calabrese and Tanner McGrath have a treat for you this week.
McGrath targets the ACC bounce-back spot of the day, but otherwise, the three dive deep into the dumpster and find you three of the best low-major spots of the day.
If you like Horizon, ASUN and America East basketball, this article is for you.
---
---
Calabrese's Top 2 Saturday Picks
Queens University vs. Kennesaw State
---
It's Senior Day at Kennesaw State, and what a time to celebrate for the Owls. In its last game, KSU dropped Liberty to take sole possession of first place in the ASUN.
The Owls' one-game lead is essentially a game-and-a-half thanks to that head-to-head win over the Flames.
Their schedule features Queens (t-9th in ASUN), North Alabama (5th) and Central Arkansas (t-12th) down the stretch.
The Owls handled Queens by nine and UCA by 16 in their previous meetings, so it's only natural for Kennesaw to take a moment to exhale with its first ASUN regular season title within its grasp.
It's also time for the Owls to start looking ahead. Kennesaw has never gone dancing and is projected as a 14-or-15 seed by Bracket Matrix at this point.
If they can secure the regular season title, they will lock up a first-round bye and home-court advantage through the ASUN conference tournament.
A letdown spot emotionally against a team that never goes down without a fight? Sign me up.
Queens has only lost by more than 10 points once this season, a 12-point road loss at La Salle. In ASUN play, the Royals have lost their nine conference games by an average of 4.5 points.
A big reason for their stability has been their backcourt. AJ McKee and Kenny Dye have been a revelation in conference play, averaging 36 points per game as a duo.
Dye has been particularly effective from long range, canning 41.7% of his attempts against conference foes.
But Dye isn't even the Royals' best 3-point threat. Chris Ashby has been instant offense off the bench, connecting on 42% of his shots from deep. Ashby gave Queens 15 points off the bench in its last meeting against Kennesaw.
Kennesaw won't face much resistance on the offensive end because the Royals are bottom-of-the-barrel in nearly every defensive metric (325th in defensive efficiency, via KenPom). But there is one last red flag for the Owls outside of the situational element of this game.
The Owls are dreadful from the foul line (67%, 317th), a factor that should leave the backdoor open for a team that loves to bomb away from 3-point land (26.7 3PA, 15th).
I would play this down to Queens +7.5.
Pick: Queens +8.5 (Play to +7.5)
What is QuickSlip?

QuickSlip is an Action Network feature that allows users to automatically pre-load their bet slip at FanDuel Sportsbook.
---
Vermont vs. NJIT
---
A West Coast road trip put a damper on the Catamounts' season. Vermont got bodied by Saint Mary's, a 26-point loss that's more forgivable given the heights achieved by the Gaels this season.
The Catamounts followed that up with a double-overtime loss to Cal State Fullerton, which is nothing more than an average Big West team.
They ended the road trip with a two-point loss at USC that could have been their signature win of the season.
Before you knew it, UVM was 2-7 overall and its public attention had evaporated.
Fast forward to Saturday night, and the Catamounts are a 16-10 and a dominant 10-2 in America East play. That's the Catamount program we've come to know and love over the past decade.
They have the second-most efficient offense in conference play and the best defense, far and away.
The Cats' +4.5 turnover margin per game is what helps them pull away from lesser opponents. Those extra possessions make them a strong bet against the spread in AE play, evidenced by their 23-10 ATS mark in conference since last season.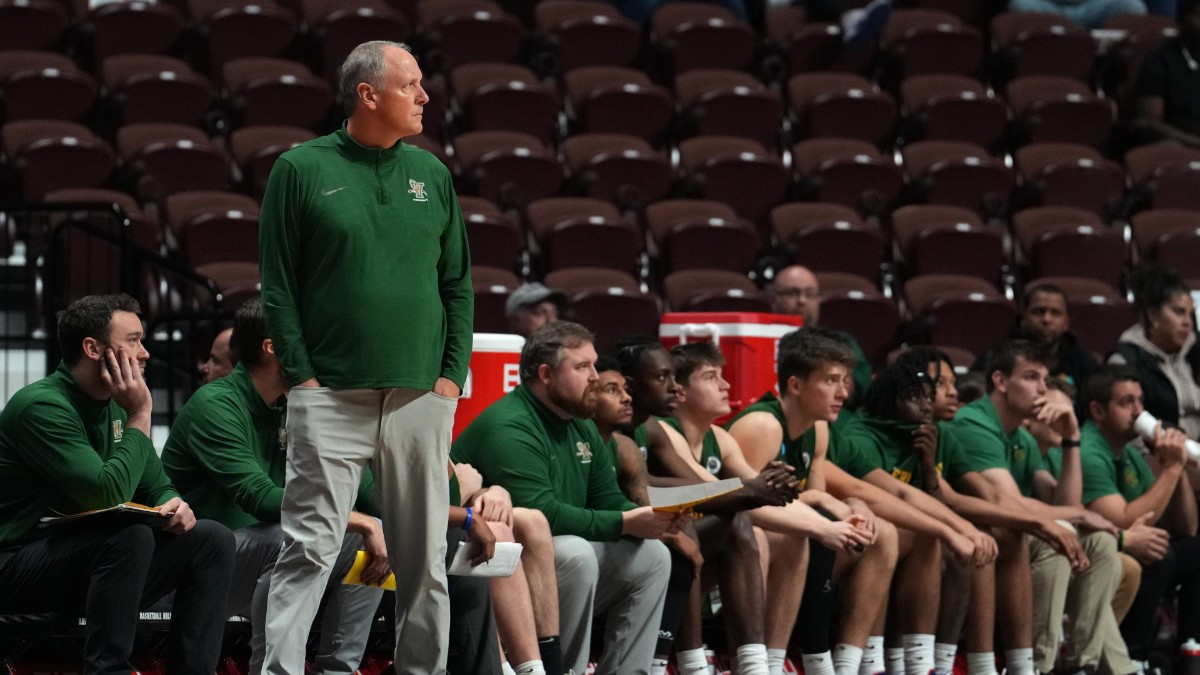 From a personnel standpoint, they have their go-to duo to rely upon.
Dylan Penn was a standout at Bellarmine, leading the Knights to the ASUN Tournament title last season.
It took a bit of time for him to find his footing in AE play, though. He slogged through a four-game 11-for-40 shooting slump. UVM lost two of those games outright, and the offense was stuck in the mud.
Since the Catamounts' last meeting with NJIT, he's caught fire, averaging 15.5 points per game on 66% shooting from the field. When their floor general is that efficient, the Cats are a covering machine (7-1 ATS, last eight).
It hasn't only been Penn, by the way. Finn Sullivan has also taken over in the last eight games. The 6-foot-4 wing has poured in 17 points per game on 38% shooting from 3-point range.
The Cats have also shored up their defensive rebounding, rising all the way to 16th nationally in DReb percentage.
When you pair that with their precise offensive sets and unwillingness to turn the ball over, teams don't get many extra opportunities to get the best of them.
UVM has the ninth-lowest turnover rate in the entire country.
NJIT has been competitive at home this season, but the Highlanders don't have the recipe to challenge UVM for more than a half. They can't shoot (303rd eFG%), they don't crash the glass (304th OReb%) and they don't put pressure on opponents (330th, 10.6 TO per game).
Despite a solid 3-point showing up in Burlington (57.1%), NJIT lost by 16 as 14-point underdogs.
If NJIT doesn't catch fire from deep, this will be a runaway.
I would play this up to UVM -12.5.
Pick: Vermont -11 (Play to -12.5)
---
---
McGrath's Top 2 Saturday Picks
Pitt vs. Virginia Tech
---
Essentially right when the buzzer went off at the end of Georgia Tech's 77-70 win over Virginia Tech, every sharp in the world looked collectively at each other and said:
"Virginia Tech on Saturday, I don't care the points."
Saturday is the most obvious bounce-back spot for Virginia Tech, coming home after a loss to face a Pitt team sky-high in the market.
Pitt has now won six straight, and "Jeff Capel, brick-by-brick" chants are breaking out near Acrisure Stadium.
But let's not get ahead of ourselves because the Panthers are due for a letdown loss.
This is not only because Pitt has won three of those six by one possession, but also because it's due for monstrous amounts of defensive regression. The Panthers have allowed .96 PPP this season, but ShotQuality projects that number closer to 1.03.
Specifically, the Panthers are due for a lot of negative regression on the interior, where their post-up and rim-protection defensive numbers are buoyed by good fortune.
Remember, Pitt still doesn't have John Hugley IV, so Capel has been patching together an interior defense and has gotten lucky doing it.
I'd look for Grant Basile and Justyn Mutts to take advantage on Saturday. Behind those two, the Hokies rank in the 92nd percentile in post-up frequency and the 93rd percentile in post-up PPP.
And I feel good about Virginia Tech overall.
Its last two losses were graded as analytical wins by ShotQuality (Boston College and Georgia Tech), and the Hokies are a different beast with a healthy Hunter Cattoor.
Image Credit: Hoop-Explorer
Remember, the Hokies lost four straight when Cattoor was sidelined. They're 4-5 since (with some bad luck).
The Hokies have won four of their last five matchups versus the Panthers. Given the situation, I'll bet on Virginia Tech to beat Pitt one more time.
---
Milwaukee vs. Robert Morris
---
Milwaukee is licking its wounds after a 29-point defeat at the hands of Youngstown State. The game put the Panthers behind the eight-ball for the top seed in the Horizon Tournament, so you know that locker room is not pleased.
But I'd look at it a bit more objectively.
Youngstown State is so much better than the rest of the Horizon that I'm not sure any team deserves to stay within 20.
And especially not Robert Morris, who lost to the Penguins by 22 back in early January.
RMU is coming off back-to-back mediocre wins over Purdue Fort Wayne and Green Bay. Milwaukee will be a solid step up in competition.
Meanwhile, the Panthers are looking to bounce back against a significant downgrade in competition.
It's a solid sell-high spot for RMU and an even better buy-low spot for Milwaukee.
Milwaukee's offense is pretty solid despite a high turnover rate, and ShotQuality actually projects the Panthers as the best half-court offense in the league.
Likewise, Milwaukee's defense is solid on the interior, boasting the top eFG% allowed in the Horizon.
Specifically, Milwaukee's press has given Horizon opponents fits this season. The Panthers press more than 98% of college teams, holding opponents to just .780 PPP in those situations, which ranks above the 80th percentile.
Robert Morris is not a good press offense, ranking below the 30th percentile in PPP against the press. In the first meeting between these two, RMU managed just .840 PPP in 20 press possessions, eventually falling 77-69.
I expect a similar result on Saturday.
And given Milwaukee's recent embarrassment, we're likely getting the Panthers at a discount.
---
How would you rate this article?
This site contains commercial content. We may be compensated for the links provided on this page. The content on this page is for informational purposes only. Action Network makes no representation or warranty as to the accuracy of the information given or the outcome of any game or event.