March Madness Player Draft: Trust Brandon Miller, Jalen Wilson, Zach Edey?
Credit:
Jamie Squire/Getty Images. Pictured: Kansas guard Jalen Wilson.
I've spent my life in love with brackets of all kinds, with the NCAA Tournament near and dear to my heart. In reality, though, my March Madness gambling history starts not with a bracket, but with a draft.
When I was in elementary school, my dad would let me tag along with him to an annual NCAA Tournament player draft. About a dozen participants drafted individual players snake-style, aiming to score the most total points.
Drafts like that have been around for decades and are as popular as ever this March. It takes the predicative nature of a bracket and adds an extra layer. Who has more value, the 10-point-per-game scorer on a top seed or the leading scorer on a 3-seed? What about a 4-seed? What about one of the biggest scorers in the country on a double-digit seed?
Those are the questions March Madness drafters (or auction participants!) need to answer. Here's how I'd plan out the top of my board for a draft this week.
---
1. Brandon Miller, Alabama
This is as close to a no-brainer as I can imagine in recent history.
Not only does Miller play for the top overall seed and score over 19 points per game, but he also plays for one of the highest-tempo teams in the nation. The Crimson Tide score 82 points per game and will look to put up a ton of points, even in the early rounds against lesser opponents.
Miller has scored in single digits just once all season and is nearly a sure bet to hit 15-plus in every Alabama game.

2. Jalen Wilson, Kansas
Despite recent evidence to the contrary, I can't quit my belief that Kansas is the best team in the nation. Because of that, I'm committed to a deep Jayhawks run, even in the face of a tough test in the West Region.
Wilson has failed to score 10 or more points just twice this season and has dropped 20-plus in five straight games. Maybe the simplest reason to hitch your wagon to Wilson comes in form of his playing time.
Wilson simply doesn't sit. He played the most minutes in the brutal Big 12 and the 12th-most in the nation.
3. Zach Edey, Purdue
He's going to be the National Player of the Year for a reason. Edey can dominate in the paint against any opponent. He's hit double figures every game this season and is averaging 23 points per game since Feb. 1.
The only concern with Edey is foul trouble. Referees have no idea how to handle the 7-foot-4 big man, but he has handled that well. He's yet to foul out of a game and hasn't hit four fouls in a game since November.
4. Azuolas Tubelis, Arizona
This is the first drop-off. If you're in a snake draft, this is the pick where things can really shift. None of the other top seeds have a secondary scorer worth gambling on this early, and we'll get to Houston and Marcus Sasser in a moment.
Among the 2-seeds, I lean toward Tubelis because of his recent scoring and consistency. Since Feb. 1, he's scoring 19.3 points per game, and he's hit 25-plus points on seven occasions this year.

5. Jaime Jaquez, UCLA
Over Jaquez's last 10 games, he's averaging 20.3 points per game. Why favor Tubelis over him? Because I'm less confident in UCLA's chances to advance.
The Bruins have the injury bug and are stuck in the difficult West Region. Gonzaga is a far more threatening 3-seed than Baylor.
---

6. Marcus Carr, Texas
Fear not, those of you investing in Marcus Carr: he will get shots up. He's hoisted eight or more deep balls in nine different games this season. He's attempted double-digit field goals in 26 of Texas' 34 games.

7. Gradey Dick, Kansas
At this point, I'm comfortable dipping back into the top seeds for secondary scorers. Dick slots ahead of Alabama's second-tier scorers because of his boom-or-bust potential. In his last 10 games, the freshman has six games of 15+ points and four games of eight or fewer points.
I'm confident Kansas will reach the second weekend, so hopefully his booms and busts even out to about his scoring average.
8. Mark Sears, Alabama
The Crimson Tide score too much to ignore for any longer in a draft. Yet, Alabama's scoring is so balanced after Miller that it's hard to pinpoint who could have a big tournament.
Sears hasn't hit double figures in any of his last four games. There could be some shooting regression coming out of that slump, though. In those four games, Sears is 4-of-33 from the field and 4-of-27 from deep.
He might be due for a heater.

9. Marcus Sasser, Houston
This is another inflection point. There are a few reasons to be wary of Sasser.
First, he's nursing a groin strain that kept him out of the AAC title game. Second, Houston plays at a glacially slow pace and is very comfortable winning a rock fight. Lastly, the Cougars haven't been playing their best basketball of late and are more upset-prone now than they were earlier this season.
The Cougars are just 1-4 against the spread in their last five games.
10. Noah Clowney, Alabama
He's probably not going to score 20 or more in a game, having done so just once this season. But at a certain point it's worth investing in a player who is a relatively low risk to get bounced early.
11. Drew Timme, Gonzaga
Yep, still worth taking Timme this early. In what feels like his 10th year on campus, Timme is still one of the most reliable scorers in the country.
There's a chance he straps the Zags to his back and refuses to lose this month. The way the Gonzaga offense has been humming, it would be silly to let him slip any further than this.

12. Adam Flagler, Baylor
Another familiar face. He bucks the trend of trusting season-long scoring averages, with freshman Keyonte George leading the Bears in scoring. I trust Flagler's postseason experience and would rather ride with him.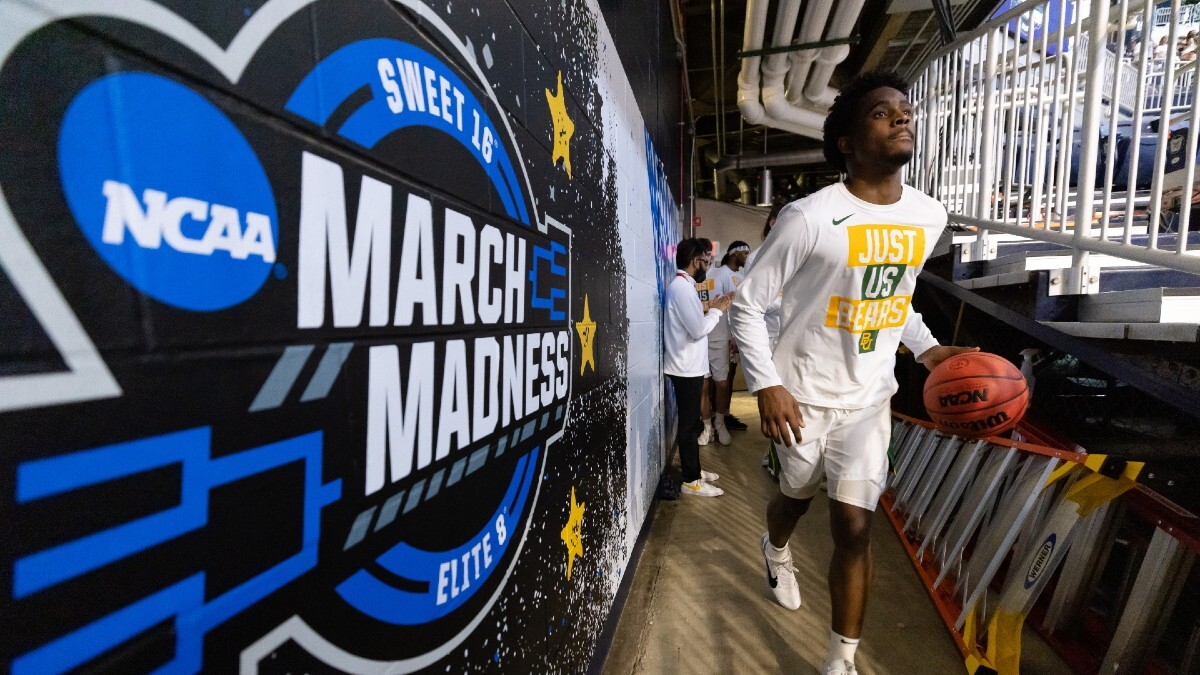 13. Jarace Walker, Houston

14. Jamal Shead, Houston
15. Fletcher Loyer, Purdue
We dip back into the 1-seeds for less-reliable scorers with a little more likelihood to give you a few more games. As safe as you may think the leading scorer from your favorite 2-, 3-,  or 4-seed is in this tournament, a few decades of history show that trusting the top seeds is much safer.
16. Tyler Kolek, Marquette
Kolek isn't the Golden Eagles' leading scorer, but he's the straw that stirs the drink for Marquette.
These drafts typically don't reward secondary statistics like assists (or else he'd jump up these rankings), yet I still feel more comfortable taking the guy who has the ball in his hands and was named Big East Player of the Year.

17. Keyonte George, Baylor
George is the leading scorer on a 3-seed that has one of the most potent offenses in the nation. Plus, the Bears have such a porous defense that they Bears need to outscore teams.
18. Kam Jones, Marquette
Jones leads Marquette in scoring, with a real chance for a boom game or two.
19. Markquis Nowell, Kansas State
I prefer Nowell to teammate Keyontae Johnson for the same reason I liked Kolek. I'll trust Nowell to call his own number or soak up late-game free throws as the primary ball-handler.

20. Adama Sanogo, UConn
It's tempting to put some stock into an old adage like, "Guards matter more in March," as I have a few places above. Yet for UConn, there's no clear and obvious guard to usurp Sanogo as the safest choice.
Jordan Hawkins comes with risk and reward. In two of his last three games, he failed to clear five points.
Next Up: Sir'Jabari Rice (Texas), Keyontae Johnson (Kansas State), Jordan Hawkins (UConn), Souley Boum (Xavier), Julian Strawther (Gonzaga), KJ Adams (Kansas), Braden Smith (Purdue), Oumar Ballo (Arizona), Kendric Davis (Memphis)
How would you rate this article?
This site contains commercial content. We may be compensated for the links provided on this page. The content on this page is for informational purposes only. Action Network makes no representation or warranty as to the accuracy of the information given or the outcome of any game or event.