Sunday NCAA Tournament Player Prop Picks: Our Early Afternoon Picks, Including Illinois, Baylor & Wisconsin (March 21)
Credit:
Andy Hancock/NCAA Photos/NCAA Photos via Getty Images. Pictured: Brad Davison.
The early slate of games features two matchups of noteworthy programs.
Loyola Chicago looks to retain its Cinderella title against No. 1-seeded Illinois, while Wisconsin looks to take down Baylor.
On fire with his props so far in the tournament, Brandon Anderson delivers three for bettors.
NCAA Tournament Player Prop Picks
Second Round, Sunday March 21
March Madness is back!
We've waited two years for this weekend, and we've got big news at The Action Network: Our handy dandy Props Tool is expanding to college hoops, and it's killing it so far — already 16-8 through the first round!
The Props Tool has been racking up NBA wins all season, with a hit rate over 60% and a 20% return on investment. Now, we're releasing it for college hoops, just in time for the 2021 NCAA Tournament.
---
---
For those who are new to this article, we'll be using the Action Labs Player Prop tool to compare our NCAAB projections to the props posted at a variety of sportsbooks. Each bet is then graded on a scale from 1-10, with 10 being the best possible grade.
Below, I have laid out three prop bets that I'm playing from Sunday's NCAA Tournament afternoon matchups, the case for each bet and the best books to find odds on those player props.
---
Note: All photos below are via Getty Images.
---
Ayo Dosunmu, Illinois
(1) Illinois vs. (8) Loyola Chicago, 12:10 p.m. ET on CBS
---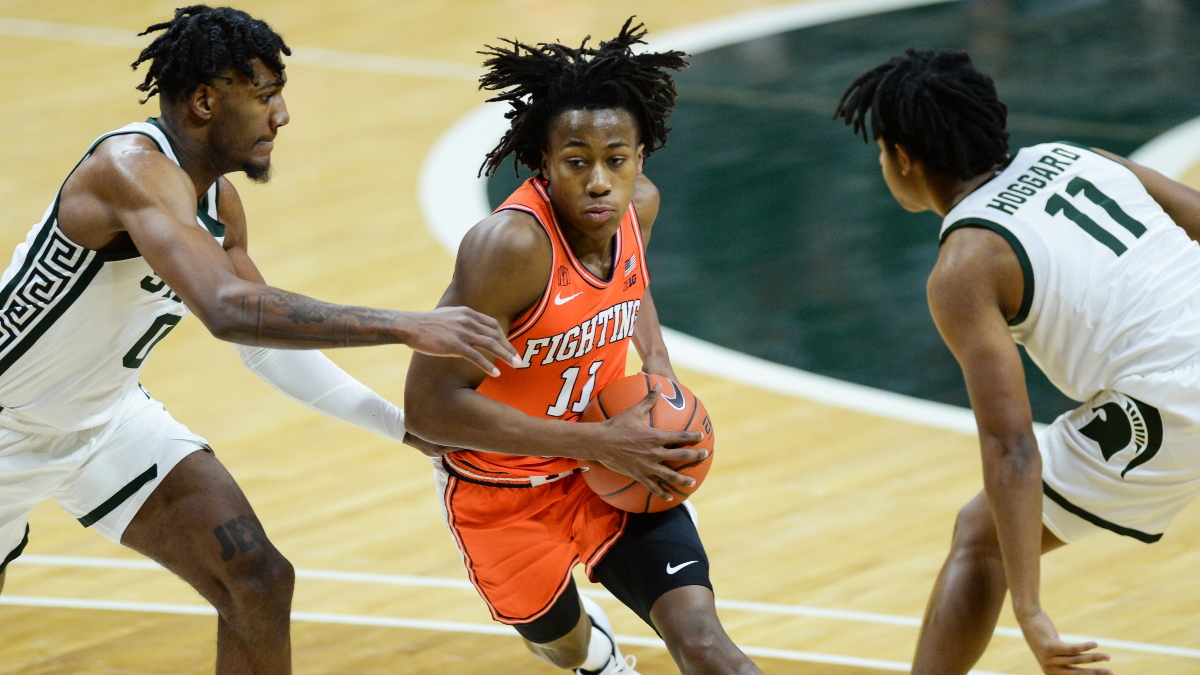 Ayo Dosunmu under 5.5 assists (-112)

---
Ayo Dosunmu might be the best closer in college hoops. The First Team All-American scored 20.6 points per game on 49% shooting from the field while adding 6.5 rebounds and 5.4 assists, filling up the box score and leading Illinois to a Big Ten championship and its first No. 1 seed in over a decade.
Well, this is where the rubber meets the road, because Loyola is really, really good. The Ramblers are way underseeded by most advanced metrics, and they're led by Cameron Krutwig and Sister Jean, who led this team to the Final Four just a few years ago.
Loyola Chicago plays at a glacial pace, and the Ramblers have one of the best defenses in the entire country. They're going to slow this game down and make it a race to 60, and that's just not the sort of game that suits Ayo Dosunmu's high-flying style. This will be a mean, physical game, and Dosunmu is at his best using his speed to get downhill and break apart the defense on the fly.
The slower pace won't be good for assists, since fewer buckets mean fewer assists anyway. Dosunmu is under 5.5 assists in 17 of his 27 games this season, hitting the under 63% of the time, and that's even amidst an All-American season playing 35 minutes a game, usually at a fast pace.
We project Dosunmu at just 4.0 assists, which gives this prop a whopping 25% edge in our favor and makes it the top play of the afternoon. I'd play all the way to -150.
---
MaCio Teague, Baylor
(1) Baylor vs. (9) Wisconsin, 2:40 p.m. ET on CBS
---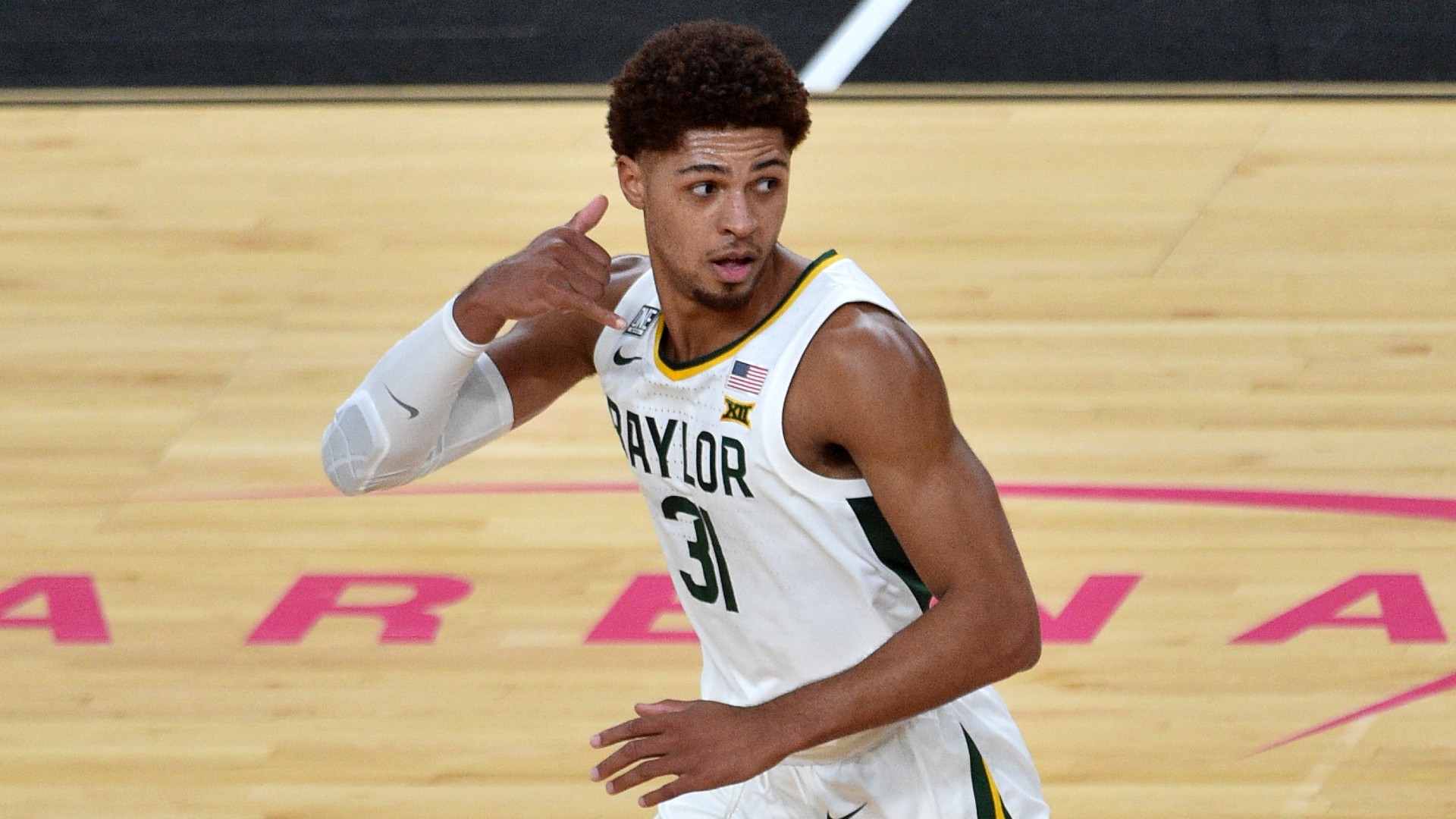 MaCio Teague under 17.5 points (-108)

---
As awesome as Jared Butler and Davion Mitchell are, Baylor's third sometimes overlooked guard often ends up leading the team in scoring. MaCio Teague can get molten lava hot from behind the arc, though his 40% shooting ridiculously ranks only fifth on the nation's best 3-point shooting team.
Teague ended the season on an absolute tear. He hit an incredible 10 treys in a win over Texas Tech, pouring in 35 points in that one. Teague also had 17, 19, 22 and 24 points over his final five games. He averaged 23.4 points per game during that stretch and shot a scorching 57% from 3-point land.
That's what the books have in mind when they set a high line like this, but it's important to remember the rest of Teague's season. In the first 20 games this year, Teague was at just 14.6 PPG and made only 33% of his threes. He was more ordinary than extraordinary. He was under 17.5 points in 14 of those 20 games, though he's obviously been over it in four of the five since.
Like Loyola, Wisconsin is a tough physical team that plays a turgid pace and tough defense, and the Badgers are especially good defending the three. They're not nearly as good inside the arc, but most of Teague's biggest scoring games have come when he's gotten hot deep.
We project Teague at 14.7 points, so I'll play the under as high as -130.
---
Brad Davison, Wisconsin
(1) Baylor vs. (9) Wisconsin, 2:40 p.m. ET on CBS
---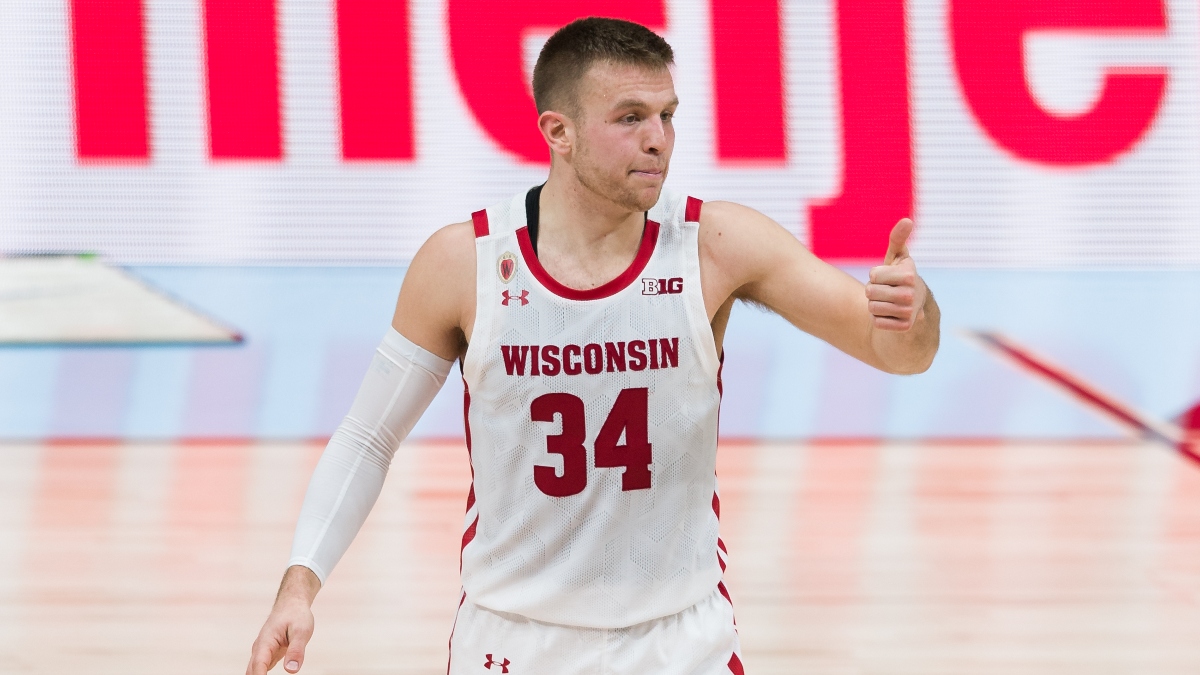 Brad Davison under 12.5 points (-106)

---
Brad Davison is one of those terrific Wisconsin defenders, and doesn't it feel like this kid has been playing Badgers basketball for about a decade now?
Davison is a hard-nosed defender who relishes the opportunity to get under the opponent's skin, draw charges, and generally drive them crazy. He's that dude who picks you up 94 feet at the YMCA and absolutely wrecks your night. That's Wisconsin basketball, and that's Davison to a T.
Unfortunately, that style of play can get you in foul trouble, and I think Davison could get into some foul trouble against Baylor's dynamic trio of guard. Davison will have his hands full focusing on defense here, and that should take the majority of his attention. He had four fouls in seven games this year, including some of Wisconsin's toughest, like Iowa (twice) and Illinois.
In round one against North Carolina, Davison unexpectedly became a scorer with 29 points on a career-high five 3-pointers, but he's unlikely to repeat that here. Not only will Davison have his hands full on defense, but he'll also be up against a couple all-conference defenders when he tries to score on the other end too.
Davison has scored under 12.5 points in 20 of 30 games this season, hitting the under 67% of the time. We project him at 10.2 points, and I'll play him here to -130.
---
---
How would you rate this article?