College Basketball Pick & Roll: Calabrese & McGrath's 6 Best Bets & Player Props on Saturday
Credit:
James Black/Icon Sportswire via Getty Images. Pictured: Illinois Fighting Illini guard Ayo Dosunmu (11).
The Action Network's duo of Mike Calabrese and Tanner McGrath is back for another week of college hoops action.
This week, the pair is on different sides of a game for the first time, and they both make their case against each other.
Check out breakdowns for all four bets and two player props below.
After a few weeks of feeling each other out at the betting window, Tanner and Mike appeared ready to carve up the Saturday slate. But lo and behold, the very first game on their respective radars had the Action Network teammates facing off against one another.
Come for the comprehensive breakdown of St. Bonaventure-Saint Louis and stay for the other five picks that are not in conflict with one another.
---
McGrath's Top 2 Saturday Picks
St. Bonaventure +2.5 at Saint Louis | 2 p.m. ET
---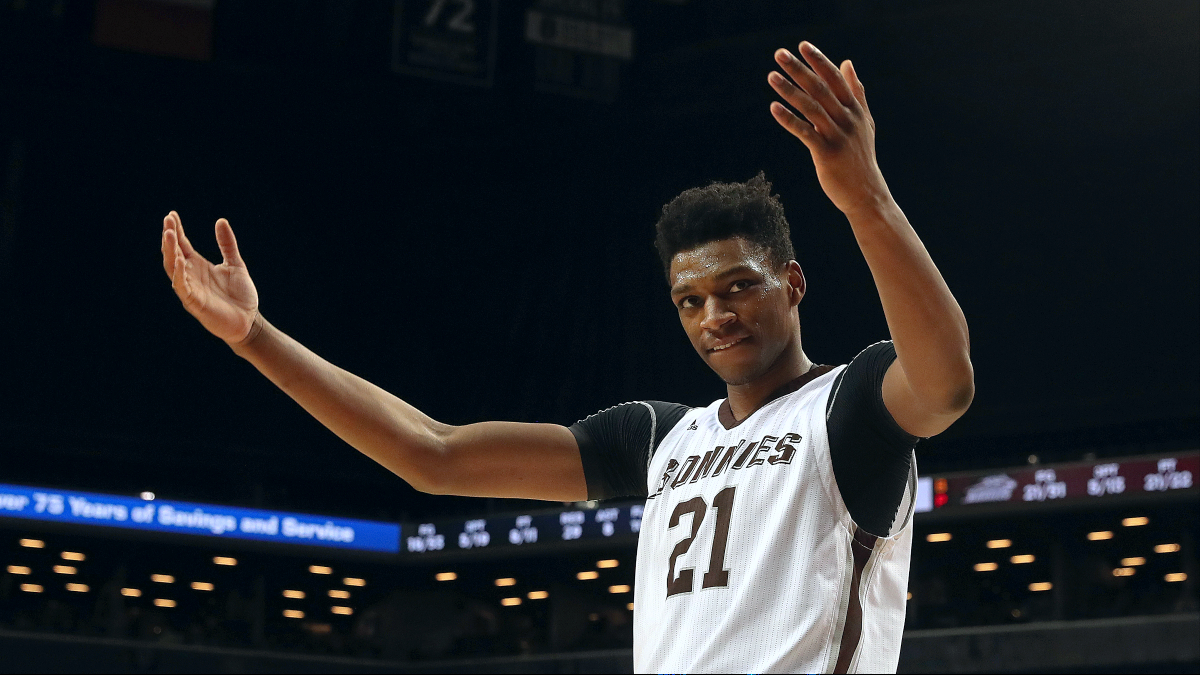 ---
Dear Mike,
Later in this article, you are going to attempt to fade the St. Bonaventure Bonnies. I am warning you now, this is a mistake.
At the moment, St. Bonaventure is projected as a 10-seed in the NCAA Tournament. And right now, I'd pick them to make the Sweet 16.
St. Bonaventure is 9-1 on the season and have won seven in a row. It's won those seven games by an average margin of 13.5 points and is 6-1 ATS. The Bonnies are dominating right now.
It's because of Mark Schmidt's stifling defense. St. Bonaventure is first in the Atlantic 10 in defensive efficiency, per KenPom, with opponents shooting just 44.5% from 2-point range against them.
Plus, during this seven-game winning streak, the Bonnies are allowing just 58 points per game. That includes allowing only 66 points to Richmond, which owns the No. 1 offense in the conference, and just 54 points to VCU, which is in second place in the conference.
I think Saint Louis is a good team, and I believe the Billikens have a lot of potential. However, since returning from a month-long hiatus in play due to COVID-19 protocols, Saint Louis has lost back-to-back games.
The Billikens dropped a home game to Dayton and a road game to La Salle. In the two losses, it shot just 7-for-32 from 3-point range while allowing a combined 51 free-throw attempts. Terrible efficiency on both ends.
I like Saint Louis. And Mike, I believe you'll make some valid points about the matchup tonight.
However, it just happens that my argument for St. Bonaventure is much stronger. Please do not take it personally when the Bonnies defense is too much for the Billikens offense.
Sincerely,
Tanner
---
Photo by Al Bello/Getty Images.
---
West Virginia -2 vs. Kansas | 2 p.m. ET
---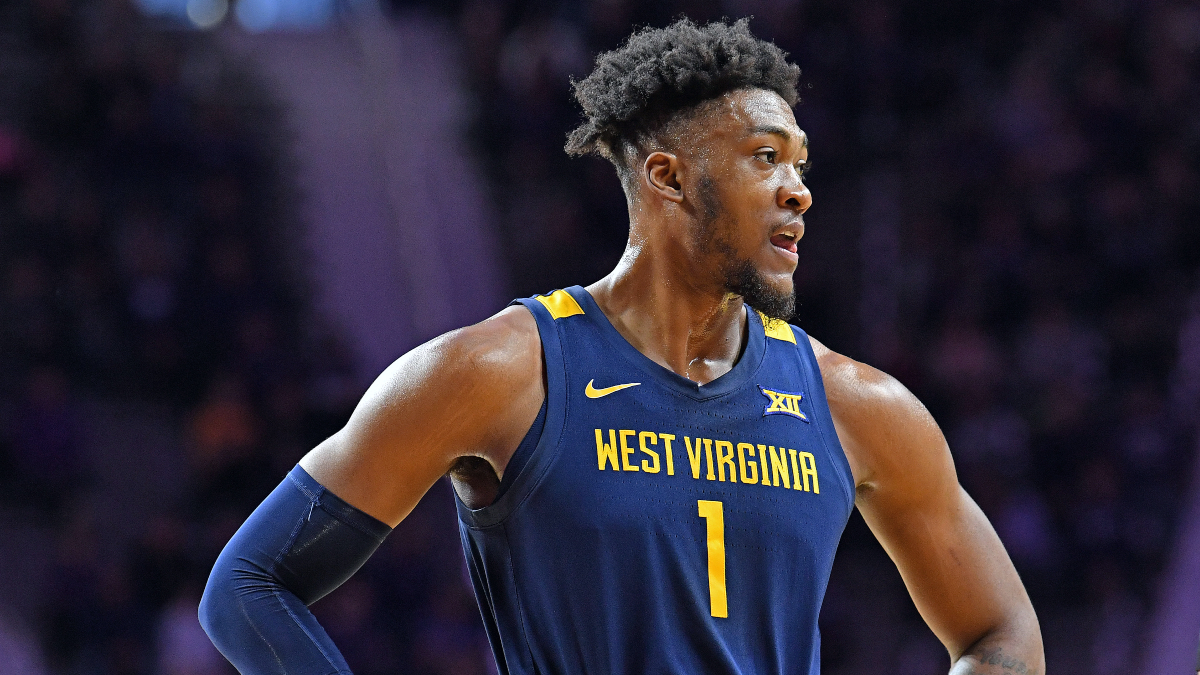 ---
Kansas and West Virginia are very similar teams.
Kansas is 12-6 overall and 6-4 in conference play this season, while West Virginia is 12-5 overall and 5-3 in conference play.
Kansas is 7-10 ATS this season while West Virginia is 8-9 ATS.
West Virginia ranks 21st in KenPom adjusted efficiency while Kansas ranks 22nd in that metric. The NCAA NET rankings have Kansas at 22nd and West Virginia at 25th.
While Kansas is a defensive team and West Virginia is an offensive team, these teams are neck-and-neck in almost every overall metric.
However, Kansas has been very poor on the road recently.
In fact, Kansas is 0-4 SU and 1-3 ATS in its last four road games. It lost straight up to both Oklahoma State and Oklahoma as home favorites, lost to Tennessee by 19 as 3-point underdogs and only covered against Baylor by drilling a half-court buzzer to cover the 8.5-point spread.
Moreover, the Jayhawks have struggled in Morgantown recently as well.
West Virginia is 6-2 SU and ATS in its last eight games at home against Kansas, and I'm banking that this duo of Miles McBride and Derek Culver can take down the Jayhawks again today.
Between the Jayhawks' road struggles and how short the spread is, I'll happily play the Mountaineers in Morgantown today.
---
Photo by Peter G. Aiken/Getty Images.
---
Calabrese's Top 2 Saturday Picks
Saint Louis -2.5 vs. St. Bonaventure | 2 p.m. ET
---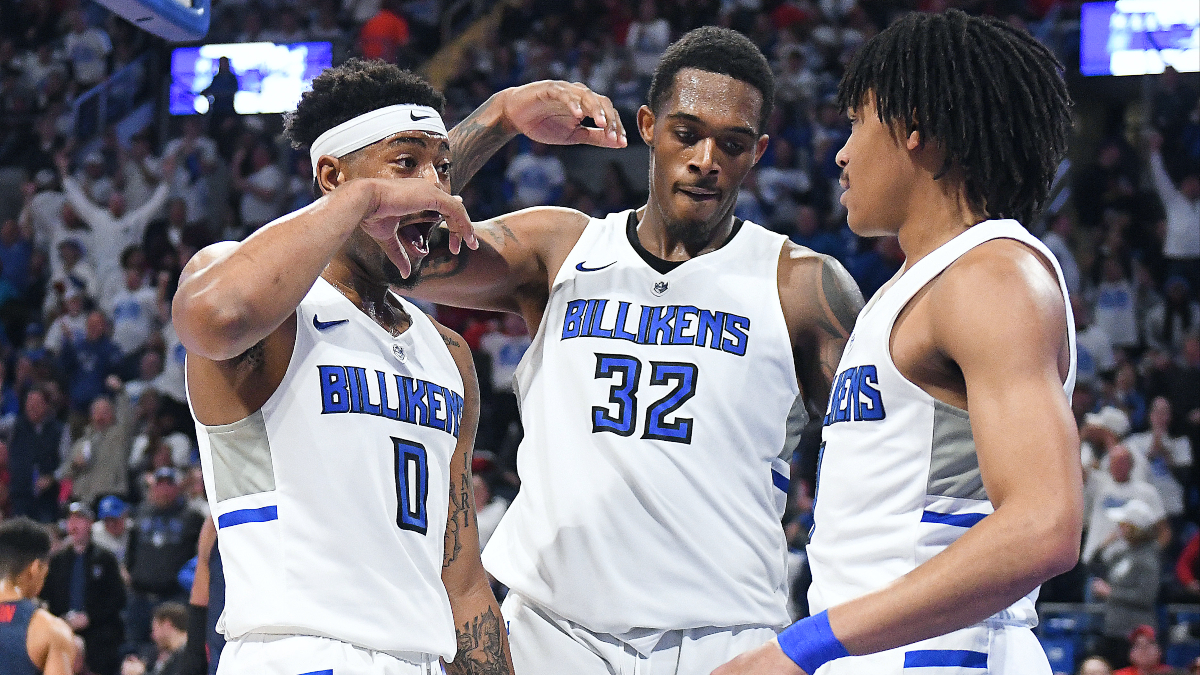 ---
What a difference a month makes, or more accurately, what a difference six weeks make.
On Dec. 23, SLU had just crushed UMKC on the hardwood and had recovered nicely from a single-digit loss at Minnesota, its lone defeat of the season.
The book on the Billikens was that they had it all from a mid-major perspective. They had a high-scoring and efficient offense to pair with a stingy, albeit foul-prone, defense.
Jordan Goodwin and Javonte Perkins were providing the scoring punch on the wings and Hasahn French was holding things down on the low block. Life was good in the Gateway to the West.
Then a slew of postponements left the Billikens on the pine for nearly a month. And once they returned to action, they were rusty.
Losses to Dayton and La Salle have now put them on the wrong side of the bubble. The sky is falling in St. Louis, and this line reflects that perception.
But here's the thing: the personnel that rocketed St. Louis into the AP top 25 and secured it a win over LSU, remains the same.
If the Billikens had lost a key starter or been exposed against better competition, I might be buying this new reality. But this midseason swoon appears to be layoff-related, and I'm ready to back the Billikens now that they have two games within the same week for the first time since mid-December.
Looking back at my power rankings I had this game penciled in as SLU -7.5 had it played back in early January.
The five points of value is nice, but crossing the one-possession threshold is what really matters to me.
Now that SLU has cleaned up its horrid foul shooting issues from a year ago, I feel comfortable it can close out the Bonnies on its home floor and get back on track.
---
Photo by Keith Gillett/Icon Sportswire via Getty Images.
---
Chattanooga +7 vs. East Tennessee State | 4 p.m. ET
---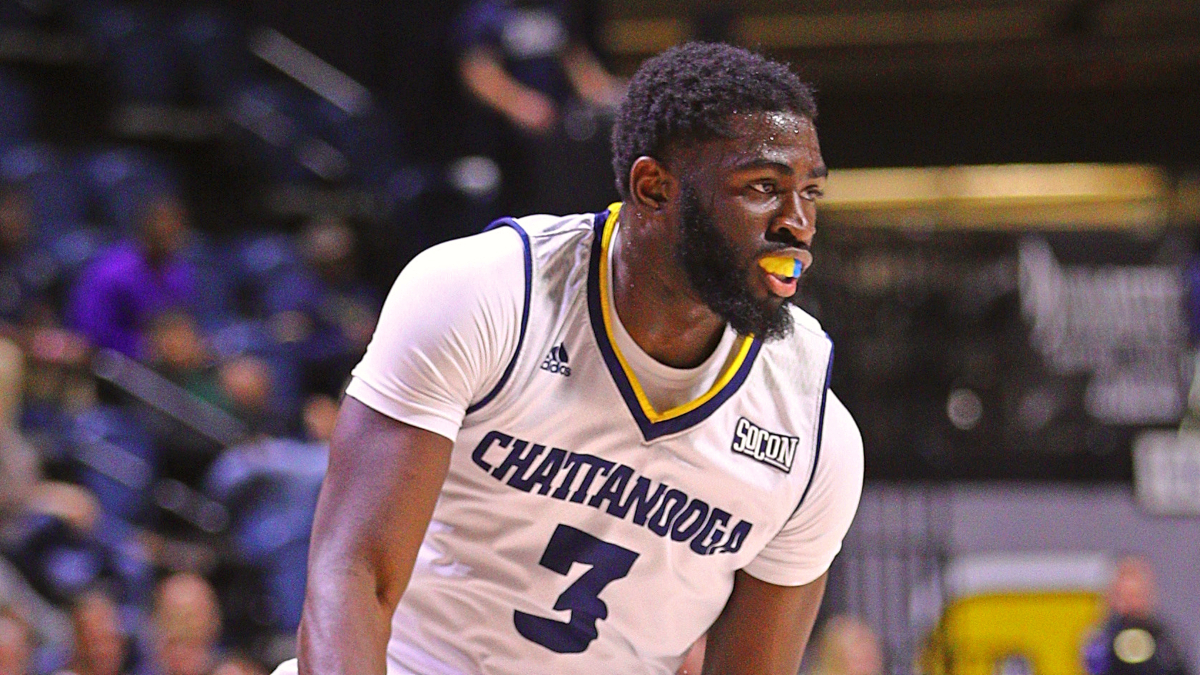 ---
The Mocs started the season red-hot, winning their first nine games straight up. That fast start also coincided with a 5-2 start at the betting window.
But just as southern Tennessee was in the grips of Chattanooga Fever, the Mocs hit a skid and dropped 5-of-8.
They've struggled against the class of the SoCon, losing games to Furman, Wofford and UNCG by an average of 10 points per game.
So, why am I back on the Mocs' locomotive as they travel to ETSU? Pretty simply, foul shooting.
I've been targeting elite foul shooting teams catching between 5-10 points this season in the hopes that the foul shooting edge can lead to backdoor covers where needed.
Chattanooga is the nation's fifth-best foul shooting team at a hair under 80%. Three starters shoot 83% or better.
And when it hits crunch time, the Mocs have done a great job at getting the ball to Malachi Smith, a career 82+% foul shooter.
East Tennessee State struggles from the line, checking in at 68.1% (242nd). This issue just reared its ugly head against Mercer in ETSU's last game.
The Pirates let the Bears stay in the game down the stretch, connecting on just 53% of their foul shots.
I'm also banking on a positive regression from Stefan Kenic.
The Serbian stretch four has been off in his last four games. As the Mocs third-leading scorer he's capable of big nights, evidenced by four 19+ point performances. If he can chip in at least 12 points in this one, I think the seven-point spread will prove to be too generous.
---
Photo by Frank Mattia/Icon Sportswire via Getty Images.
---
McGrath's Top Player Prop Bet
D'Mitrik Trice (Wisconsin) Under 11.5 points at Illinois
---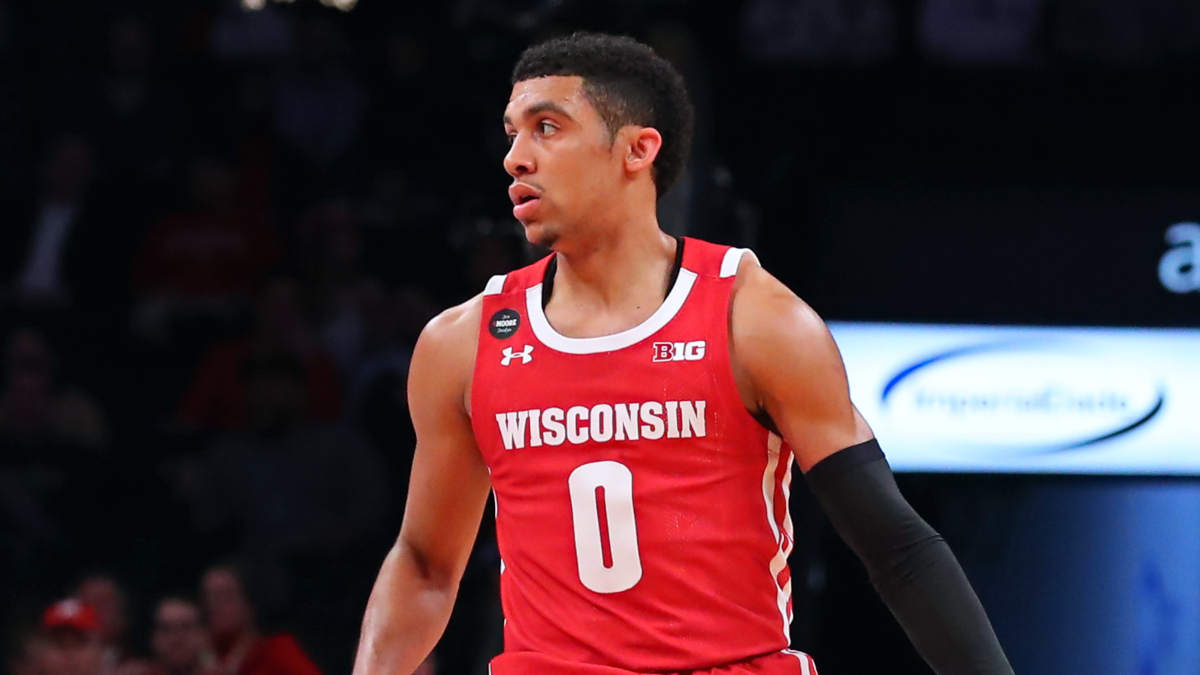 ---
Wisconsin is an experienced team that attacks teams through ball movement, ball security and 3-point shooting.
However, the primary issue with the Badgers is their lack of a true No. 1 option — a player who can go bucket-for-bucket down the stretch in tough games.
For a moment, senior guard D'Mitrik Trice was becoming that guy. In a five-game stretch between Christmas Day and Jan. 12, Trice averaged 24.8 points per game while scoring 20 points or more four times.
But Trice has really cooled off since then.
In the six-game stretch since that Jan. 12 game, Trice has been scoring just 9.3 points per game on only 32.7% shooting.
Moreover, in his last two games — both played against a very defensively-troubled Penn State team — Trice scored a combined six points on a horrific 2-for-14 shooting.
So, Trice is in a slump. And while he's proven his offensive capabilities, I don't believe he will bounce back in this one.
Illinois has been playing at an extremely high level recently and now ranks third in the Big Ten in defensive efficiency.
Against Iowa, Illinois held Luka Garza to just 19 points on 9-for-18 shooting. In the next game against Indiana, Illinois held Trayce-Jackson Davis to just 19 points on 6-for-18 shooting.
Both Garza and Davis are clear No. 1 options who score with volume and efficiency on a consistent basis. Trice is none of those things, and I believe Illinois will have no issue containing a slumping Trice.
I really believe Trice scores, at most, 10 points tonight.
---
Photo by Rich Graessle/Icon Sportswire via Getty Images.
---
Calabrese's Top Player Prop Bet
Ayo Dosunmu (Illinois) Over 20.5 points | Play up to Over 22.5
---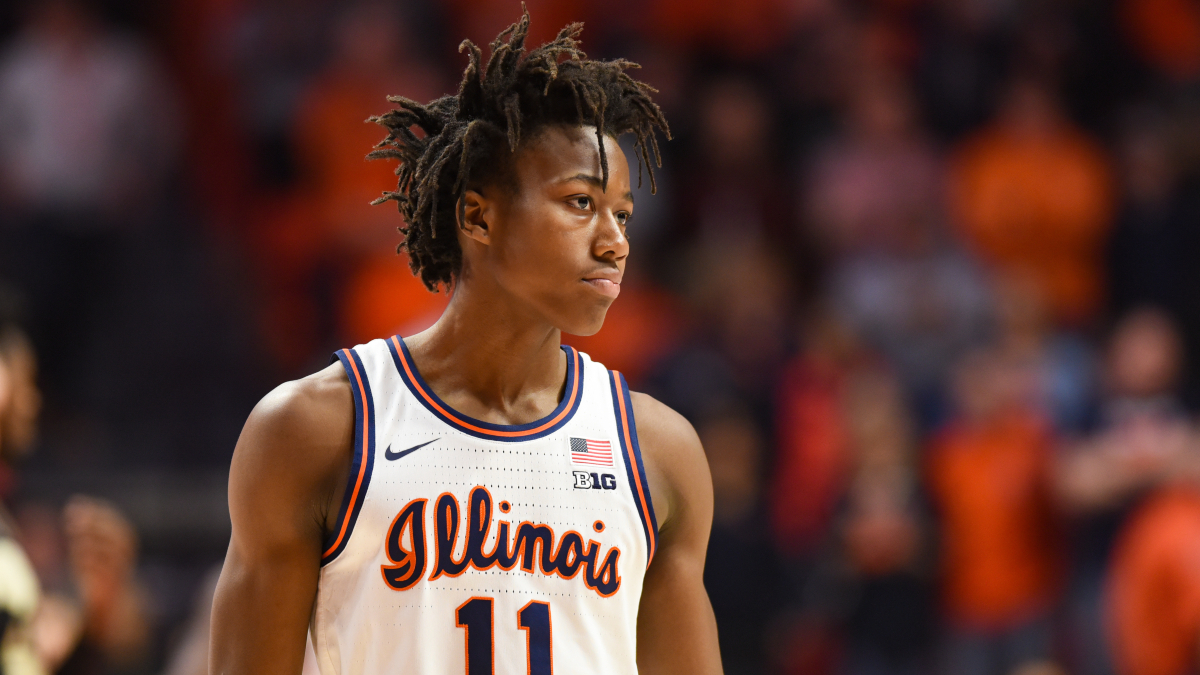 ---
Illinois' Brad Underwood was thrilled to escape Bloomington with an overtime win on Tuesday, and I can understand his excitement.
When you can win on the road without a strong performance from your leading scorer, that's a great sign that you can handle the ups and downs of March basketball.
As for Dosunmu, it pays to back the junior combo guard when he's coming off of an off-night.
So far this season, Dosunmu has failed to score 15 or more points on four occasions, including Tuesday night at Indiana. In the following games, he's bested a 21.5-point over/under two out of three times.
This total is predicated on Wisconsin's defensive reputation, but it's worth noting that the Badgers have surrendered 77 points or more in three of their last eight games.
It's possible to crack the Wisconsin defense, and I think Ayo is in line to do just that.
---
Photo by James Black/Icon Sportswire via Getty Images.
---
How would you rate this article?