College Football Oddsmakers Tell All: Biggest Liabilities, Popular Heisman Bets, Surprise Teams
Credit:
Mark J. Rebilas, USA Today Sports. Pictured: Tua Tagovailoa
What teams are the sharps betting to win the National Title? What season win totals have moved the most?
Darren Rovell spoke with three bookmakers to get a feel for the betting market ahead of this weekend's season opener.
With the college football season upon us, we sat down with three bookmakers — Jeff Sherman of the SuperBook at the Westgate in Las Vegas, Tony DiTommaso from Cantor Gaming and a representative from FanDuel who wished to remain anonymous.
We asked them a variety of questions, all to help us paint a picture of what the market looks like heading into the 2019 NCAA Football season.
Some of the information the bookmakers shared with us was to be expected. It looks like Alabama, Clemson and Georgia will obviously be popular teams again in 2019 but there are a few surprise teams (UMass and Utah State anybody?) that will have bookmakers sweating this fall.
What are your most popular Heisman bets?
Jeff Sherman, SuperBook:
From a ticket standpoint, we've seen the most on Oregon quarterback Justin Herbert, Georgia quarterback Jake Fromm, Oklahoma quarterback Jalen Hurts and Clemson quarterback Trevor Lawrence.
From a money standpoint, it's Lawrence, Hurts and Alabama quaterback Tua Tagovailoa.
FanDuel:
The most tickets we have written are on Hurts (11.5%), then it's Fromm (11%) and Texas quarterback Sam Ehlinger (9%).
Who are your greatest liabilities in the Heisman market?
Tony DiTommaso, Cantor Gaming:
Our biggest liability is Michigan quarterback Shea Patterson at 30-1. We would also lose money on Georgia running back De'Andre Swift.
Sherman:
Fromm and Swift for us.
FanDuel:
Number one is Shea Patterson at 40-1. Ehlinger is number two for us.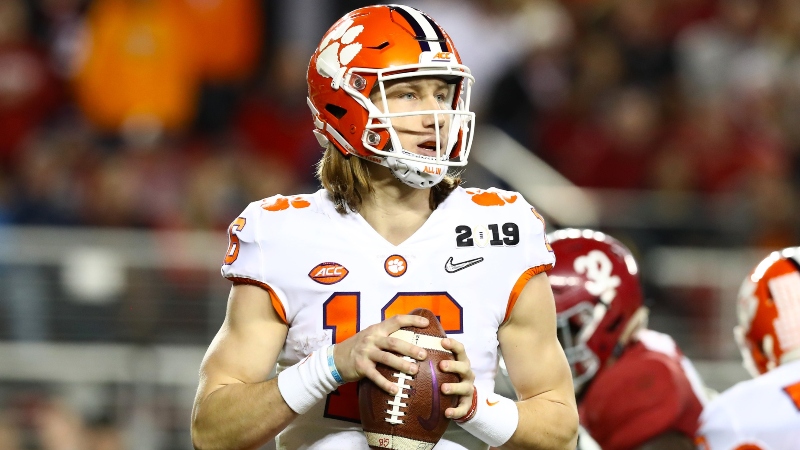 What win totals have moved the most?
Sherman:
We only had one team where the number actually moved. UNC went down to 5 from 5.5 after the under was pounded. Ohio State has stayed at 10 wins, but money on the under resulted in the odds going from +110 to -110. Sharps took the under on Washington (9.5), so odds changed from +120 to even money.
DiTommaso:
Bettors liked Michigan State on the over at 7.5 wins so that number we now have at 8. Kentucky we moved from 7.5 to 7 wins after action on the under. Notre Dame stays at 9.5, but there's been enough action on the under to take it from -110 to -180. The number moved on Washington for us too. From 10 wins to 9.5.
FanDuel:
UMass was actually the big one for us. The under was pounded so much at 4.5 (-110) that it's now down to 2.5 (+125). Michigan State to go over 7.5 wins was also popular and has moved from +100 to -180. Action on the over for Marshall has pushed them from 6.5 to 7.5.
FanDuel:
Seventy-eight percent of our tickets are on Alabama to win the conference at -170.
Sherman:
Georgia is our top ticket and money.
We've taken more money on Auburn, Kentucky, Texas A&M, Mississippi State and LSU than Alabama to win the SEC. Alabama is seventh for us in ticket and money.
We've seen a big move on LSU, from 60-1 to 25-1 to win the conference.
What other conference title futures have moved?
Sherman:
We've moved Nebraska from 25-1 to 50-1 to win the Big 10.
DiTommaso:
We've moved Nebraska from 20-1 to 14-1.
SuperBook:
Oklahoma has gone from +350 to +180. Texas A&M opened at 50-1 and now they're 30-1.
FanDuel:
We've had a lot of money come in on Nebraska at +1250 to make the playoff. These guys are betting it as if it's already done!
Have their been any notable wagers on surprise teams?
Sherman:
We took $100 on Arizona State at 1,000-1 to win it all and $300 on Texas Tech at 500-1. The funny thing about that one is that we have since moved them to 1,000-1. We took two $100 bets on Kentucky at 2,000-1 and $100 on Utah State at 5,000-1.
DiTommaso:
We took a $100 Duke wager at 2,000-1. I called our sportsbook to make sure the customer knew it wasn't basketball. We took another $100 bet at the same odds for Colorado.
What are some of your biggest wagers?
Sherman:
Someone put $10,400 to net $8,000 on Auburn to go under 8 wins. We also had $8,000 bet on the over on TCU would net $8,000 as well.
FanDuel:
Our biggest bet is Alabama to win it all (+230). It's $15,000 to net $34,500.
DiTommaso:
We have a $10,000 bet on Alabama to win the National Championship that nets $15,000.
What National Title Futures are you sweating?
DiTommaso:
We lose the most from Texas, who went from 25-1 to 15-1. There's six-figure liability there. As far as a big move, we've seen Michigan State go from 250-1 to 100-1.
Is there a new team that you can see the public falling in love with this season?
Sherman:
I think it's Georgia. We're taking everything — wins, conference title odds, playoff odds and champion.
DiTommaso:
For us, especially out here in Vegas, I think that team is Washington.
FanDuel:
We recently went into Pennsylvania and obviously started taking significant action immediately on Pittsburgh and Penn State. Now eventually we see ourselves in 30 to 35 states so it will balance out, but it doesn't now.
How would you rate this article?