Michigan Wolverines 2017 Betting Preview: Maize and Youth
Offseason Notes
Michigan only returns 5 starters from 2016, but that does not necessarily mean the season is lost. The Wolverines may lack experience, but the roster will be filled with an abundance of talent. Ohio State dealt with similar turnover last season, but they still managed to get to the College Football Playoff.
I would now like to take this time to apologize to all of the Michigan fans for including a positive statement about Ohio State in the first paragraph of their 2017 preview. Please accept this sad Buckeyes fan gif as a token for my desire to make amends.
It is a little difficult to go into too much detail about the 2017 two deep since Harbaugh hasn't updated the depth chart since the end of last season, but I will give it a shot starting with the offense, which only returns 4 potential starters. Wilton Speight, one of those four, will most likely get the nod at starting Quarterback to start the season. Speight, who had a pretty decent 2016 campaign (especially if you remove the Iowa game), will need to be sharp week 1 when the Wolverines face Florida, aka DBU, in Arlington.
Michigan did lose their starting Running Back, De'Veon Smith, but will still have an experienced backfield as 3 of the other 4 top rushers from a season ago all return. This group, led by speed back Chris Evans, accumulated over 1500 yards in 2016.
The receiver position is probably the biggest unknown on offense for Harbaugh going into 2017. They lost both leading Wide Receivers (Amara Darboh and Jehu Chesson) to the NFL. Additionally, they will need to replace All American Tight End Jake Butt, the 2016 John Mackey Award winner (given to the nation's best Tight End).
The Offensive Line also has a few question marks especially on the right side of the line as Michigan will need to replace Erik Magnuson at Right Tackle. You might recognize the name of one of the potential new starters at RT, Jon Runyan Jr. Wilton Speight should at least feel confident about blindside protection since the left side of the line will be a rock led by Preseason All B1G Left Tackle Mason Cole. The Senior returning starter is one of the most experienced players on the roster with close to 40 starts, and also adds flexibility after spending all of 2016 at Center.
The Michigan Defense, which tallied 46 sacks and a silly 120+ Tackles for Loss in 2016, only returns 1 starter from one of the most dominant units in the country. Only 2 other teams have less S&P Defensive Returning Production than the Wolverines, who lost 10 of their top 14 tacklers.
Michigan had the Nation's best Defensive Line in 2016, as evidenced by the fact they lost all 4 starters to the NFL. However, the Defensive Line should once again be the core strength of the team led by two Preseason All B1G players, Maurice Hurst and Rashan Gary, who combined for 61 tackles, 16.5 TFL, and 5.5 sacks as backups in 2016.
Michigan does need to replace two starting Linebackers, including do-everything-backer Jabril Peppers, but Senior LB Mike McCray (the only returning starter) will return to lead a very talented group.
The secondary is the most inexperienced unit of a very inexperienced team as they only return 12% of the defensive backfield snaps from 2016. The front 7 should be dominant once again, but the development of the secondary can take this defense to another level.
The true question that remains to be answered at Michigan is if Harbaugh has already taken the recruiting to a level where they simply can plug and play into their system without a dropoff? The 2017 performance in the secondary and at wide receiver should give us the answer.
Expected Win Totals
CW Projected Total Wins:             8.2
CW Projected B1G Wins:             5.7
Posted Total Wins:                     O 9 -115
2017 Schedule
Home Field Advantage:               2.2
Opening Power Rating:               63
Date
Away
Home
CW Line
Sep 2
Florida
Michigan
MICH -4
Sep 9
Cincinnati
Michigan
MICH -24.5
Sep 16
Air Force
Michigan
MICH -26.5
Sep 23
Michigan
Purdue
PUR +17.5
Oct 7
Michigan St.
Michigan
MICH -13.5
Oct 14
Michigan
Indiana
IND +8
Oct 21
Michigan
Penn St.
PSU -4.5
Oct 28
Rutgers
Michigan
MICH -28.5
Nov 4
Minnesota
Michigan
MICH -10.5
Nov 11
Michigan
Maryland
MD +15.5
Nov 18
Michigan
Wisconsin
WISC -1.5
Nov 25
Ohio St.
Michigan
MICH +5.5
Legend:

Off Of Bye

/

Overlook Watch

/

B2B Road Games

/

Neutral Site
Betting Notes
Take the current line of Florida +4 in Week 1 (and also look at the under). This number opened Gators +7 early in the spring before getting to as low as +2 prior to the suspension of several Gators (including star receiver/returner Antonio Callaway). However, I don't envision much offense in this game and fully expect this number to come back down to 3, and possibly even settle at +2.5 before kick. Michigan will struggle to move the ball against Florida, 2nd in the nation in S&P+ Returning Defensive Experience. Also, I'm sure the Gators have seen film of their 41-7 2016 Citrus Bowl defeat to the Wolverines quite a few times this week.
I did initially hit the Michigan Season Win Total Under 10, but that number eventually juiced out before settling at 9, which is where it belongs given their unforgiving schedule. Michigan will play two teams coming off byes in B1G play (Penn State/Indiana) and are on the second leg of back to back road games for two Conference games (Penn State/Wisconsin).
I recommend an investment in the Penn State –7 Game of the Year line (or better) on October 21st as it is very rare to see a team coming off of a bye get to face a conference opponent on the back end of consecutive road trips.
Michigan will be in a tough spot when they head to Bloomington the week before Penn State and the week after Michigan State. I'll look for anything over +7 here.
Is this the year Michigan beats Ohio State? Harbaugh is 0-2 vs the Buckeyes, who have won 5 in a row and 12 of 13 in the series (well, technically 11 since Ohio State had to vacate their 2010 season). Wolverines fans do have the overall bragging rights as Michigan is 58-48-6 all time in "The Game" which has been played since 1897. Michigan also has the largest margin of victory, 86, in the historical rivalry. 86-0 in 1902 in case you were wondering.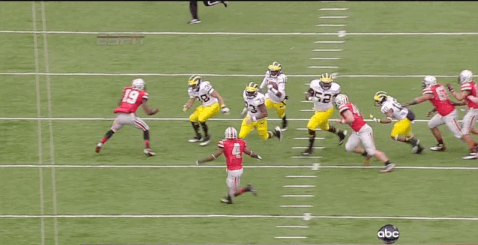 X-Factors
Rashan Gary (DL) – It isn't easy to replace 4 starting Defensive Linemen who left for the NFL, but it is a lot easier when you have Rashan Gary. The 2017 Preseason All American was the overall number 1 recruit of the 2016 class. Gary, who will move to DE this season, has the chance to be the best defensive player in the country. Defensive Coordinator Don Brown has said he could be the best he has ever seen. 6'5, 287, and runs a 4.57 40. That's scary.
Donovan Peoples Jones (WR) – Harbaugh's top recruit of his 2017 class (top 15 overall and number 1 WR) was Wide Receiver Donovan Peoples Jones, who will be expected to produce from day 1 for a very inexperience receiving core.
Khaleke Hudson (LB) – The sophomore will be tasked with filling the shoes of Jabril Peppers at the Viper position. He will be required to play all over the field and must create havoc in the opposing backfield.
Useless Trends
Michigan is 1-5 ATS after a bye week since 2014 which will apply to their matchup with Michigan State on October 7th.
It all goes right if…
Michigan finds a way to beat Penn State in late October. This would set up a likely scenario where the winner of the showdown with Ohio State in the Big House wins the East Division and receives a berth to the B1G Championship. With a loss in Happy Valley, Michigan would most likely need wins at Wisconsin and against Ohio State in consecutive weeks to even have a chance at the Division. Any Maize and Blue postseason dreams don't start with Florida in game 1, but rather with Penn State in game 7….if they don't forget about Indiana in game 6.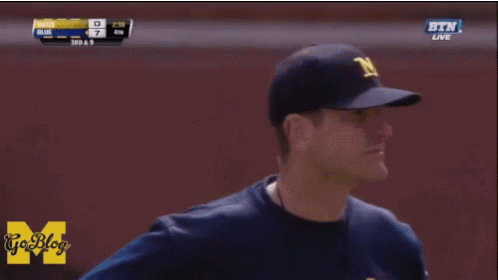 It all goes wrong if…
There isn't much that can happen on the field that will deter the direction of the program given the elite state of recruiting. Everyone in Ann Arbor is familiar with the uphill battle the Wolverines face in 2017 with an inexperienced roster playing a tough schedule in a difficult division. There should still be unbridled enthusiasm once the season starts, but expectations are a little subdued knowing that 2018 presents a much more ideal chance for a run at a National Championship.
Betting Recap
Florida +4 Week 1 (neutral)
Indiana +7 or better
Penn State -7 or better
---
For more, check out the full B1G Conference Preview.
How would you rate this article?