Penn State Betting Preview: Playoff Bound?
Offseason Notes
Penn State, ranked 27th overall in S&P+ Returning Production, brings back 16 starters in 2017, including over 90% of their skill players snaps. The Nittany Lions will attempt to defend their B1G Title with one of the most talented rosters in the country.
The offense should be absolutely electric once again as Penn State returns some of the most potent skill position players in the country. This discussion starts with their two potential Heisman candidates, QB Trace McSorley (29 TD/8 INT in 2016) and RB Saquon Barkley (1500 yards/18 TD in 2016). Penn State also has one of the best Tight Ends in college football since Senior TE Mike Gesicki decided to delay his eventual NFL career. Penn State will need to replace their number 1 receiver from a season ago in Chris Godwin, currently a member of the Bucs roster. However, this shouldn't be a major concern with the return of Gesicki and the other 3 top returning receivers from 2016.
Penn State's Offensive Efficiency and Explosiveness rated Top 20 in almost every category in 2016 although the Offensive Line has room for improvement in a few advanced rushing metrics such as Adjusted Line Yards and Stuff Rate. However, a lot of their struggles can be attributed to the injuries and lack of continuity Penn State dealt with last season up front. The offensive line, which returns 4/5 starters and appears healthy, could potentially be a strength in 2017. Keep your eye on Michael Menet, one of the most prized Offensive Line recruits in Penn State history. He should, at the minimum, provide excellent depth at Guard.
The Penn State Defense was just as good in 2016, ranking Top 25 in Rushing, Explosiveness, and Efficiency categories. The Nittany Lions might have one of the strongest defenses up the middle in 2017, as they have a dominant defensive line, outstanding Middle Linebacker in Jason Cabinda and one of the nation's best Strong Safety in Marcus Allen (110 tackles in 2016). Manny Bowen, who had 8.5 TFLs in 2016 and was rated as the most productive rusher in the B1G by PFF, returns at Outside Linebacker to join Jason Cabinda as two potential All Conference LBs for the school known as LBU. The biggest hole the defense will need to fill is at Defensive End as they are projected to have two newcomers starting out on the edge. They must find a pass rush to replace the production of Garrett Sickels, now a member of the Colts.
The Special Teams outlook is just as strong as offensive and defensive reports. Tyler Davis, first team All B1G, returns at Kicker. Davis made all 62 PATs and 22 of 24 Field Goals in 2016. He will now also take over kickoff duties for Joey Julius, who left the program due to an eating disorder. Blake Gillikin, considered the best Punter in the Conference, also returns and should help the Nittany Lions with the field position battle frequently in 2017. Gillikin had 13 Punts of 50+ yards last year and helped Penn State move from 110th to 28th in Punt Efficiency.
Expected Win Totals
CW Projected Total Wins:            10.8
CW Projected B1G Wins:             7.8
Posted Total Wins:                    O 9.5 -130
2017 Schedule
Home Field Advantage:               2.9
Opening Power Rating:               64.5
Date
Away
Home
CW Line
Sep 2
Akron
Penn St.
PSU -28.5
Sep 9
Pittsburgh
Penn St.
PSU -14.5
Sep 16
Georgia St.
Penn St.
PSU -34
Sep 23
Penn St.
Iowa
IUPA +9
Sep 30
Indiana
Penn St.
PSU -14.5
Oct 7
Penn St.
Northwestern
NW +6
Oct 21
Michigan
Penn St.
PSU -4.5
Oct 28
Penn St.
Ohio St.
OSU -10
Nov 4
Penn St.
Michigan St.
MSU +10
Nov 11
Rutgers
Penn St.
PSU -31
Nov 18
Nebraska
Penn St.
PSU -18.5
Nov 25
Penn St.
Maryland
MD +17
Legend:

Off Of Bye

/

Overlook Watch

/

B2B Road Games

/

Neutral Site
Betting Notes
As loaded of a roster that Penn State has on paper, I will be avoiding any futures on the Nittany Lions given their tricky schedule and brutal Division.
I would recommend taking a look at Northwestern +7 or better on October 7th, as Penn State should do just enough against a quality underrated opponent a week prior to their bye.
Any Ohio State -7 or better on October 28th is suggested against Penn State. The Buckeyes, who should be well rested and seeking revenge from the 2016 loss, may get a banged up and fatigued Penn State squad who plays Michigan the previous week.
During the regular season, Penn State went 4-1 in games decided by 7 points or less. The 1 loss was to Pitt in week 2, which was actually not an upset at the time as the Panthers were 5 point favorites.
It should be interesting to see how this particular Penn State roster embraces that hunted role as opposed to the hunter role they embraced in 2016. They certainly won't be able to sneak under anyone's radar in 2017.
X-Factors
Lamont Wade (CB) – Highest rated recruit from a very successful 2017 recruiting class. The Pennsylvania product will compete for the starting Cornerback position now open after the John Reid injury in the Spring. Reid also returned punts for Penn State, which is an area Wade could potentially contribute to as well.

Chasz Wright (RT) – Nicknamed 'Big Bacon', Wright is leading the competition to be the starter at Right Tackle. Big Bacon played in 14 games and started 5 in 2016. Listed at 6'7 350, Wright will be expected to help out the Rushing S&P+ categories that fell out of the Top 100 (Stuff Rate, Adjusted Line Yards) last year.
Useless Trends
Penn State is 0-5 straight up as a road underdog since 2014
It all goes right if…
They can get to their bye week healthy and unblemished, avoiding potential upsets to Pitt and Northwestern. After their bye, they play 3 consecutive games against Michigan, Ohio State, and Michigan State which will require all of their roster depth. 3-1 in October may be good enough to get a repeat B1G Championship game berth, but you can throw this scenario out the window if they lose at Northwestern.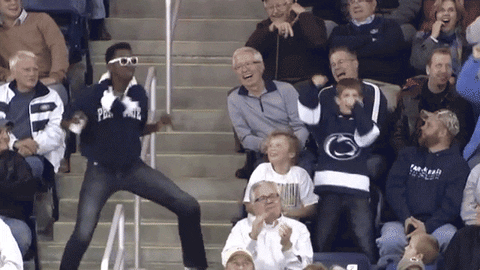 It all goes wrong if…
They win the B1G for a second straight year, but are once again left out of the College Football Playoff. Happy Valley will burn.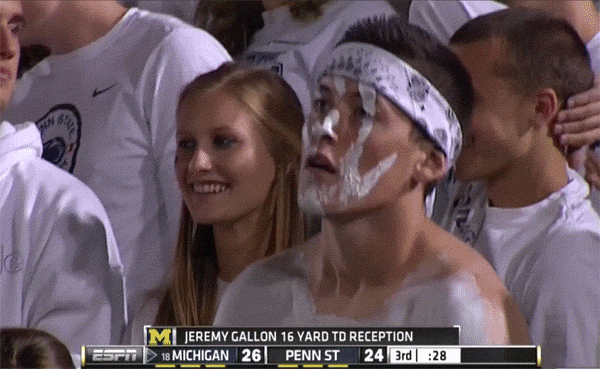 Betting Recap
Northwestern +7 or better

Ohio State -7 or better
---
For more, check out the full B1G Conference Preview.
How would you rate this article?